A new show reveals how the 2001: A Space Odyssey director first developed the vision that set him apart. BBC Culture takes a look at ten rarely seen images.
I
In April 1945, at the age of 16, Stanley Kubrick snapped a newspaper vendor looking at headlines that shouted 'Roosevelt Dead!'. This was no shoot-from-the-hip picture, however: the future director of 2001: A Space Odyssey and A Clockwork Orange gave the vendor careful instructions on how to pose, offering an early sign of the vision that would have him lauded as one of the most important directors of the 20th Century.
Kubrick sold that photo to New York's Look magazine, initiating a relationship that lasted until 1950. A new show at the Kunstforum Vienna reveals a selection of the 27,000 photographs he took while on assignment for the magazine, a five-year stint that served as an apprenticeship in crafting visual stories.
A shoeshine boy gazes up at a flock of birds; a besuited man stands in front of a circus balancing act; a showgirl applies lipstick in the mirror. Each image has its own narrative, laying down the blueprint for a technique that Kubrick described with the words: "Well, I never shoot anything I don't want."
The magazine photographs allowed Kubrick to experiment in composition, atmosphere and timing to develop his narrative style. Offering a glimpse of a lesser-known chapter of his career, they also signal his move into directing: Kubrick's first film, a documentary made in 1951, focused on the boxer Walter Cartier – a subject he had photographed for Look.
If you would like to comment on this story or anything else you have seen on BBC Culture, head over to our Facebook page or message us on Twitter.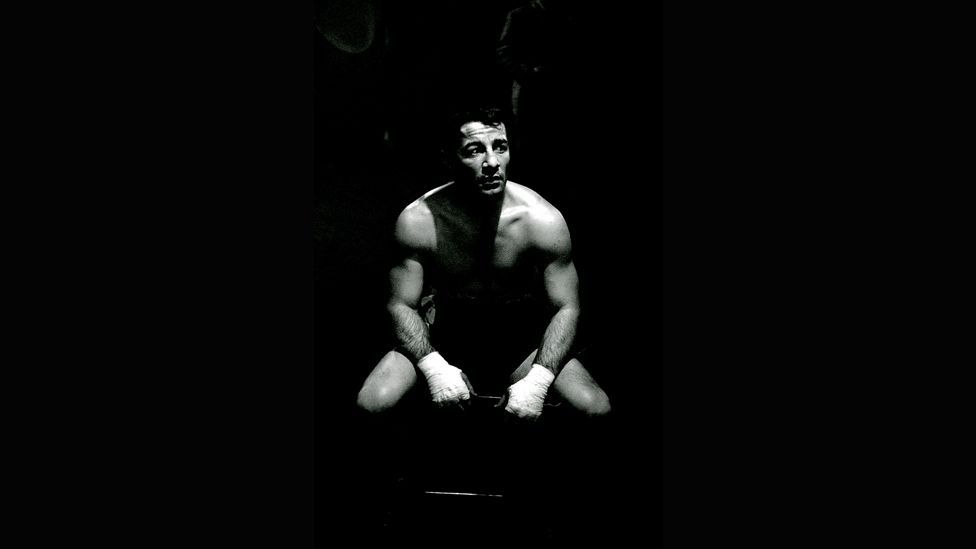 Rocky Graziano – Portrait, 1947 (Museum of the City of New York/Geschenk von Cowles Communications, Inc/SK Film Archives, LLC)
Rocky Graziano – Portrait, 1947 (Museum of the City of New York/Geschenk von Cowles Communications, Inc/SK Film Archives, LLC)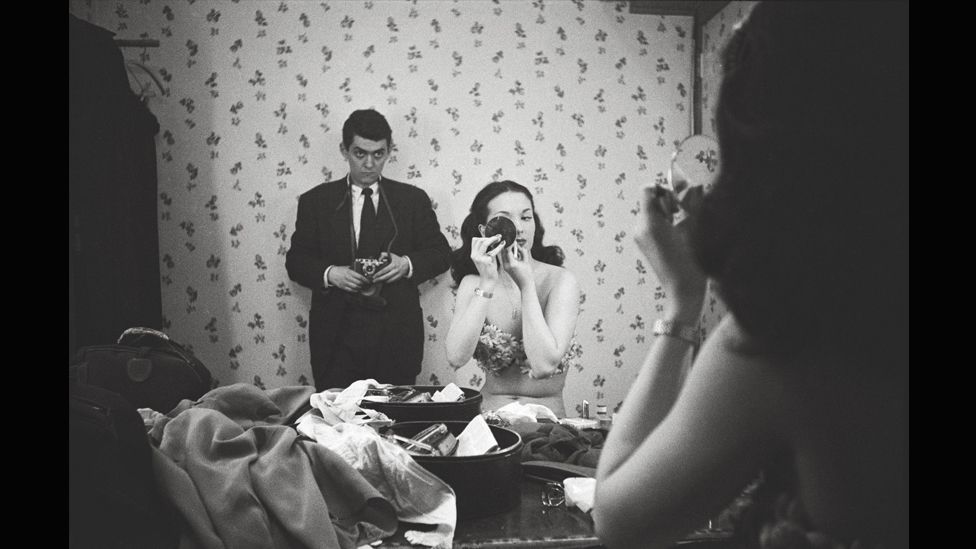 Showgirl – Kubrick photographing Rosemary Williams, 1949 (Museum of the City of New York/Geschenk von Cowles Communications, Inc/SK Film Archives, LLC)
Showgirl – Kubrick photographing Rosemary Williams, 1949 (Museum of the City of New York/Geschenk von Cowles Communications, Inc/SK Film Archives, LLC)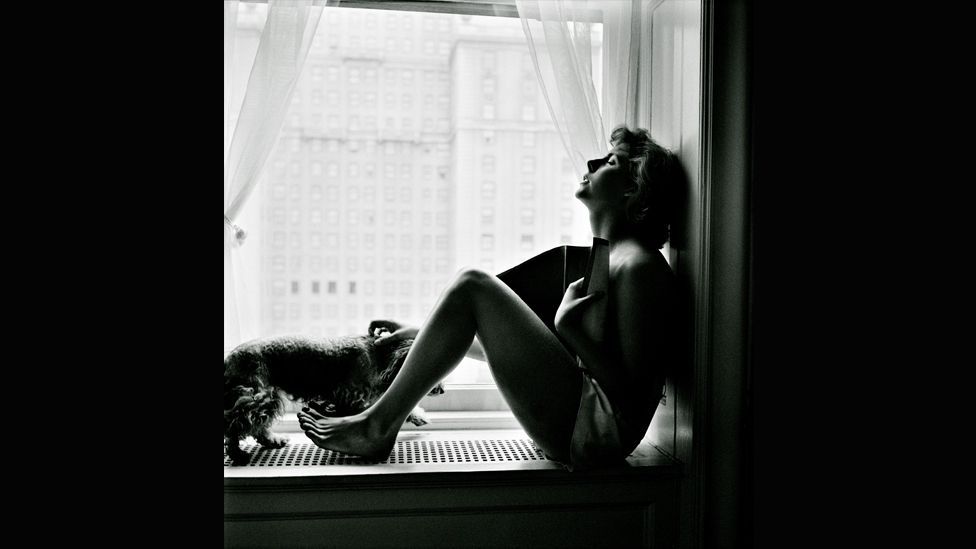 Betsy von Fürstenberg – Reading a script in the windowsill, 1950 (Museum of the City of New York/Geschenk von Cowles Communications, Inc/SK Film Archives, LLC)
Betsy von Fürstenberg – Reading a script in the windowsill, 1950 (Museum of the City of New York/Geschenk von Cowles Communications, Inc/SK Film Archives, LLC)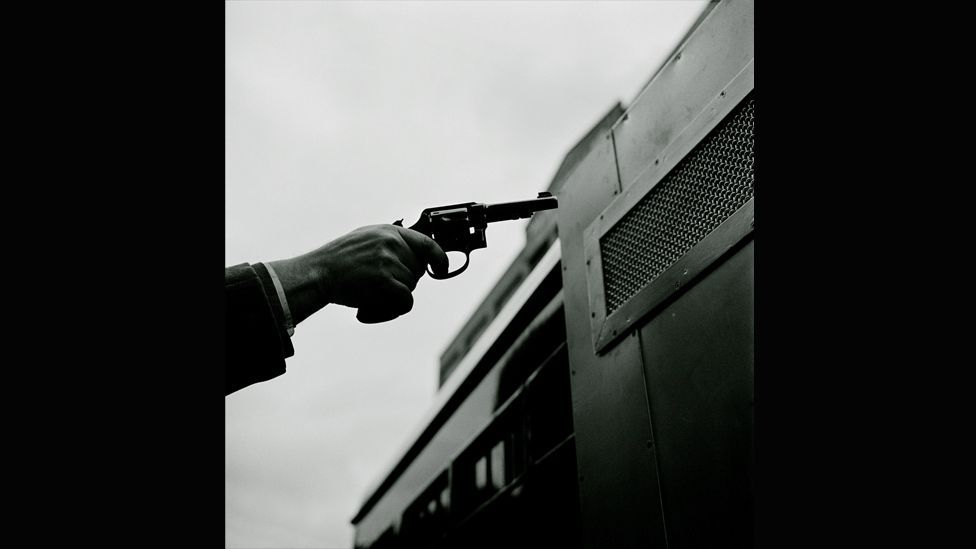 Paddy Wagon – Gun used in the television show Paddy Wagon, 1948 (Museum of the City of New York/Geschenk von Cowles Communications, Inc/SK Film Archives, LLC)
Paddy Wagon – Gun used in the television show Paddy Wagon, 1948 (Museum of the City of New York/Geschenk von Cowles Communications, Inc/SK Film Archives, LLC)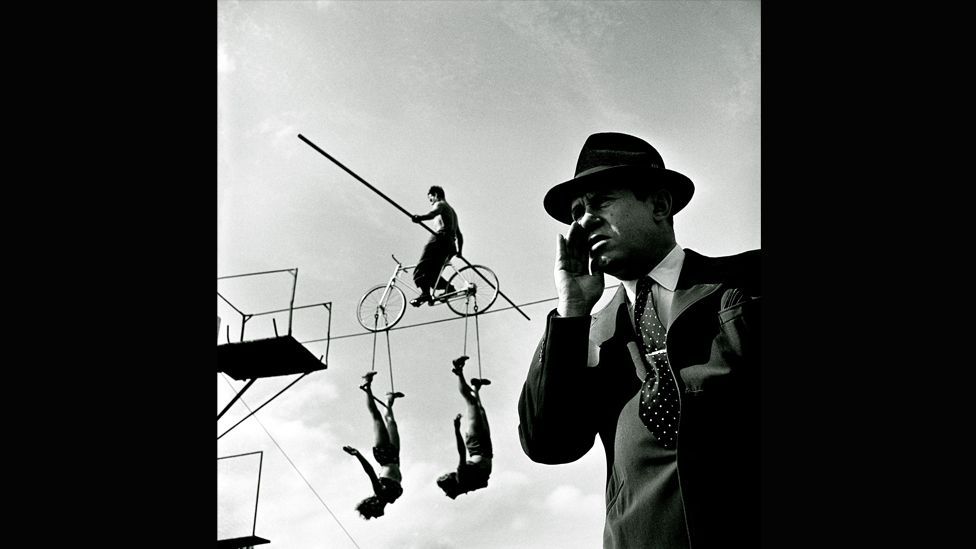 How the Circus gets set – Balancing act with trapeze artists, 1948 (Museum of the City of New York/Geschenk von Cowles Communications, Inc/SK Film Archives, LLC)
How the Circus gets set – Balancing act with trapeze artists, 1948 (Museum of the City of New York/Geschenk von Cowles Communications, Inc/SK Film Archives, LLC)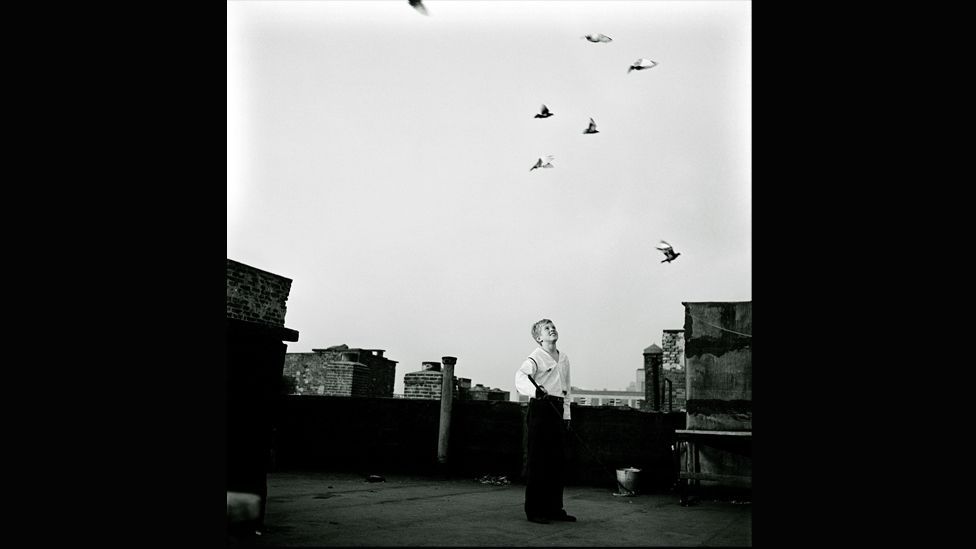 Shoe Shine Boy – Mickey with pigeons, 1947 (Museum of the City of New York/Geschenk von Cowles Communications, Inc/SK Film Archives, LLC)
Shoe Shine Boy – Mickey with pigeons, 1947 (Museum of the City of New York/Geschenk von Cowles Communications, Inc/SK Film Archives, LLC)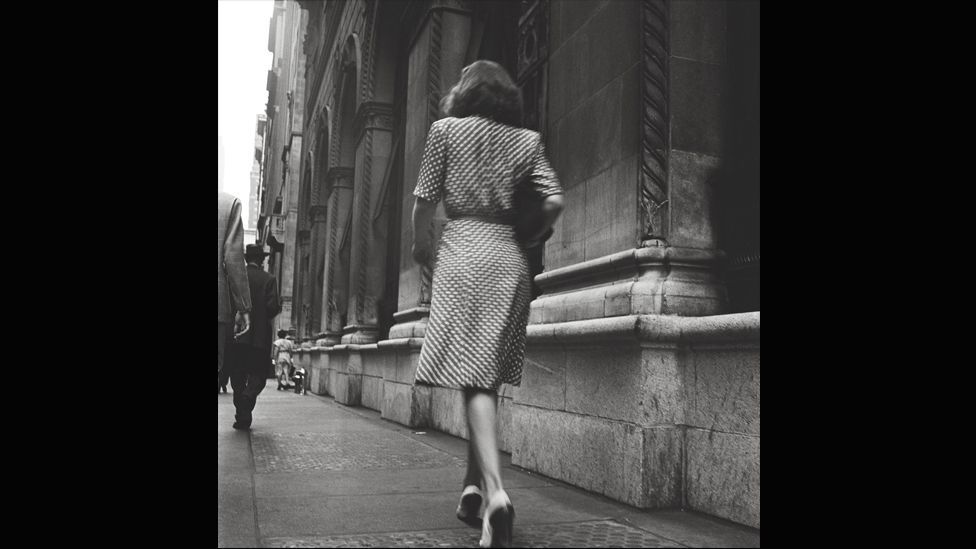 Street Conversations – Woman walking down the street, 1946 (Museum of the City of New York/Geschenk von Cowles Communications, Inc/SK Film Archives, LLC)
Street Conversations – Woman walking down the street, 1946 (Museum of the City of New York/Geschenk von Cowles Communications, Inc/SK Film Archives, LLC)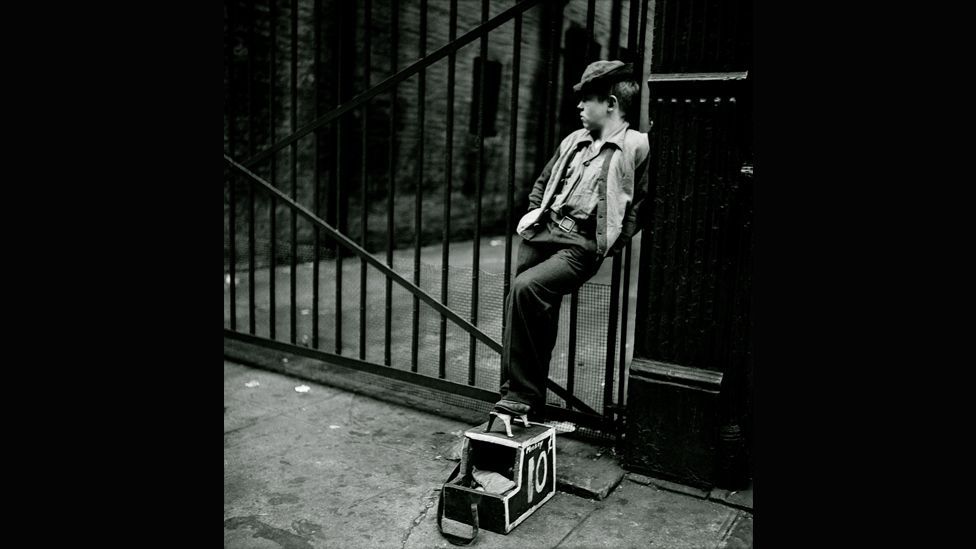 Shoe Shine Boy – Mickey with his shoe shine stand, 1947 (Museum of the City of New York/Geschenk von Cowles Communications, Inc/SK Film Archives, LLC)
Shoe Shine Boy – Mickey with his shoe shine stand, 1947 (Museum of the City of New York/Geschenk von Cowles Communications, Inc/SK Film Archives, LLC)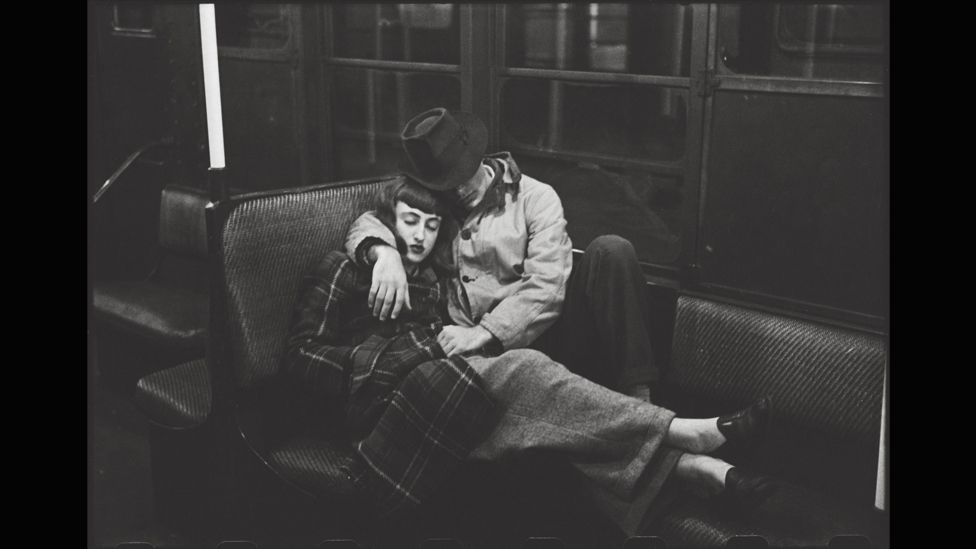 New York Subway – Young lovers, 1947 (Museum of the City of New York/Geschenk von Cowles Communications, Inc/SK Film Archives, LLC)
New York Subway – Young lovers, 1947 (Museum of the City of New York/Geschenk von Cowles Communications, Inc/SK Film Archives, LLC)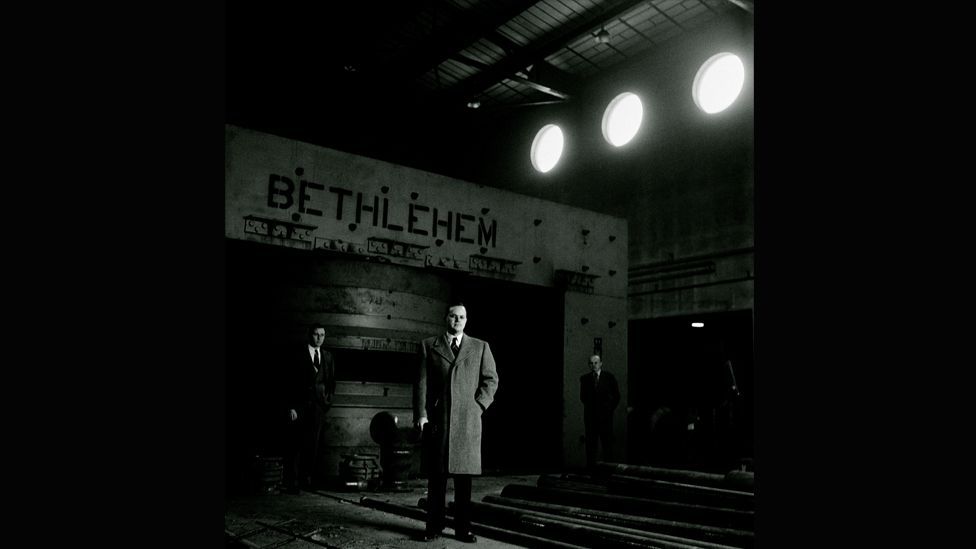 Columbia University – Three men in an industrial space, 1948 (Museum of the City of New York/Geschenk von Cowles Communications, Inc/SK Film Archives, LLC)
Columbia University – Three men in an industrial space, 1948 (Museum of the City of New York/Geschenk von Cowles Communications, Inc/SK Film Archives, LLC)