A new collection of works by five of America's best-known courtroom artists showcases a unique art form. Peter Bowes takes a closer look.
D
During an era when cameras were largely banished from the courtroom, Elizabeth Williams and her fellow illustrators had front row seats at some of the most celebrated legal dramas.
"We created the only visual record of these trials and this is America's history," says Williams.
The Illustrated Courtroom, co-authored by Williams and journalist Sue Russell features illustrations by Howard Brodie, Aggie Kenny, Bill Robles, Richard Tomlinson and Elizabeth Williams. They cover some of the most memorable criminal cases of the past 50 years – from Charles Manson to Michael Jackson.
TV stations and newspapers used the illustrations around the world. Alongside the words written by court reporters, they tell the stories of high-profile legal showdowns.
"It was important to give the public a sense of these trials," says Williams.
"Most of these images are from television news so they have never been published. You would see them on the news for a few moments and then they were gone forever.  It's important for young people to learn about American legal history this way."
The book's front cover features an illustration encapsulates courtroom the value of courtroom art."
Bill Robles was on his first court art assignment, on 5 October, 1970, when the accused mass murderer Charles Manson leapt across the defense table to attack the judge with a pencil.  Manson had apparently become agitated when he was denied the chance to cross-examine a detective. He was brought down by a quick-responding courtroom bailiff and restrained by police officers. Robles, who recalls that "the adrenaline kicked in big time" when he saw what was happening, captured the moment.  His drawing was the main story on that night's CBS Evening News with Walter Cronkite.
The illustration, says Williams, is a classic example of a courtroom artist responding to a headline-grabbing moment that unfolded in a split second.
She adds:  "It's almost like watching a baseball game – you can sit around for a very long time drawing a witness or a specific scene and then all of a sudden – that thing happens and ... that's when you have to fly into action. You have got to deliver the 'money shot'."
Charles Manson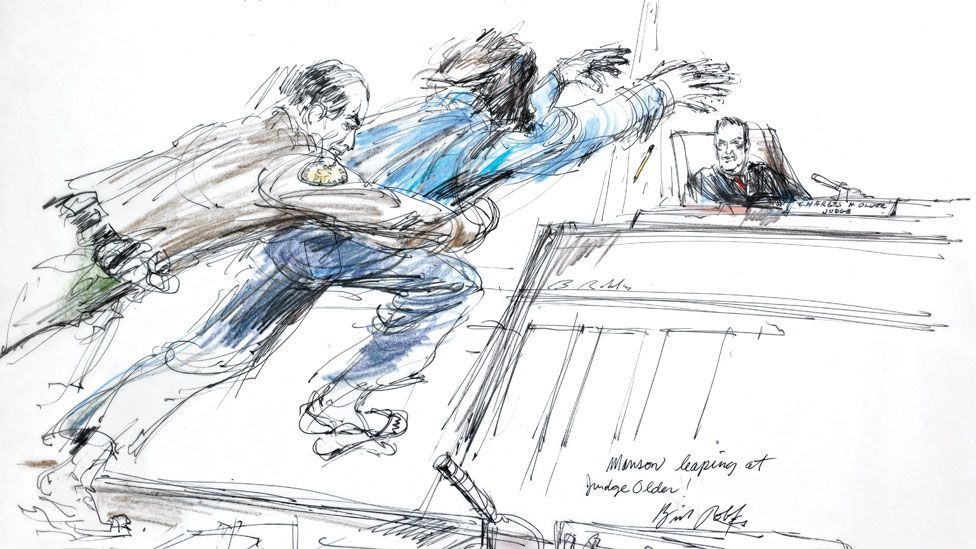 Charles Manson (Bill Robles)
The trial of hippie cult leader Charles Manson and his female followers enthralled America. It was 1970 and the era of electronic media beaming live courtroom pictures in peoples' homes was yet to start. It was left to the courtroom artists to relay the drama of the gruesome murder case. Bill Robles was able to capture the nuanced demeanour of the accused killer. Courtroom insiders soon became aware of the so-called "Manson stare," when the defendant fixed his eyes on a juror or prosecutor and sometimes, the courtroom illustrator. Robles says he chose to look away, but others, such as fellow illustrator Howard Brodie, stared right back, until Manson seemed to become uncomfortable and averted his eyes. 
Watergate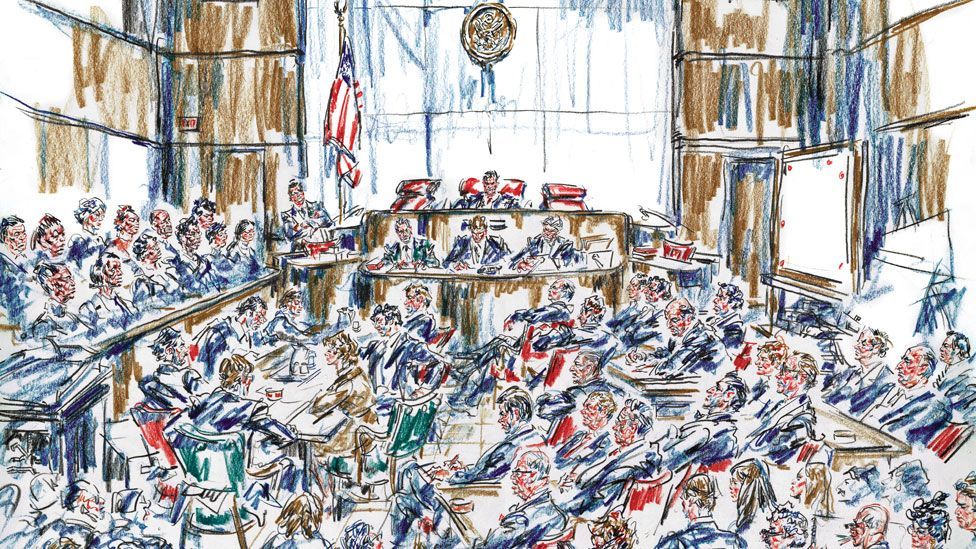 Watergate (Illustration by Howard Brodie. Copyright estate of Howard Brodie)
Watergate, the political scandal that rocked the United States in the 1970s, led to a major federal court showdown in October 1974.  The affair stemmed from a break-in at the Democratic National Committee headquarters at the Watergate office complex in Washington DC. The attempt by the administration of Richard Nixon to cover up its involvement led to 69 government officials facing perjury, obstruction of justice and other charges. Nixon eventually resigned the presidency.  The most significant trial was that of the president's key power players. It was known as the Watergate 7's cover-up trial, and took place in the spacious, decorous sixth-floor courtroom in the Federal Courthouse, close to the White House.  Howard Brodie's illustration captures the grandeur and seriousness of the occasion.  
Ted Kaczynski, 'The Unabomber'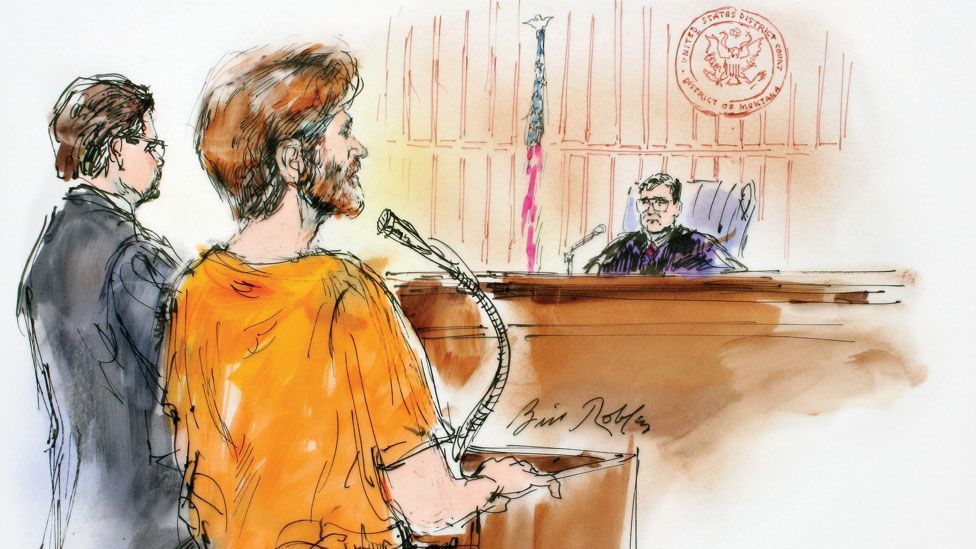 Ted Kaczynski, 'The Unabomber' (Illustration Bill Robles/CBS News)
Ted Kaczynski, a mathematician and serial killer, become known as the Unabomber. Over 20 years he mailed bombs to universities and airlines, killed three people and injured 23 others. The bearded recluse lived a survivalist lifestyle in the woods of Montana while carrying out his reign of terror. He was caught in 1996 after sending out a 35,000-word essay on modern society.  His writing style was recognised by his brother. He was sentenced to life in prison after pleading guilty. Bill Robles, who drew Kaczynski in a Sacramento court said the defendant, who was known for his wild looks, appeared like "more of a Christ-like figure and looked anything but menacing".
James Ray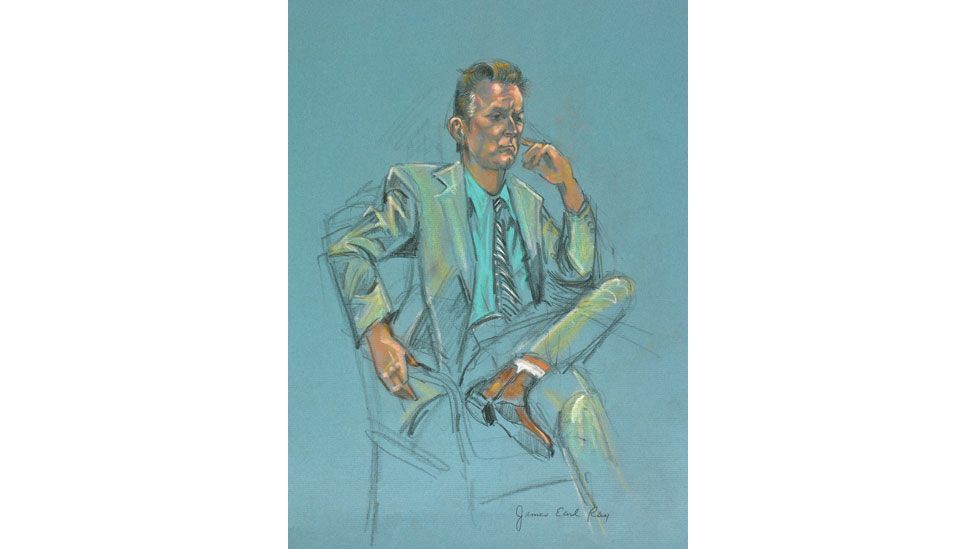 James Ray (Aggie Kenny/CBS News)
The assassination of the civil rights leader, Dr Martin Luther King Jr, on 4 April, 1964, in Memphis, Tennessee, resulted in riots in many US cities and an outpouring of grief around the world. James Earl Ray, a petty criminal, admitted to the murder. His fingerprints were found on a rifle in the bathroom of a nearby lodging house, from where the FBI believed he fired the fatal shot. Ray later recanted his confession but he avoided the death penalty by entering a guilty plea and was sentenced to 99 years in prison.  Illustrator Aggie Kenny drew Ray at an evidential hearing in Memphis.  She said she was struck by the defendant's "unruly hair and white socks revealing his legs". Kenny adds: "He appeared quiet and resigned."  
Mark David Chapman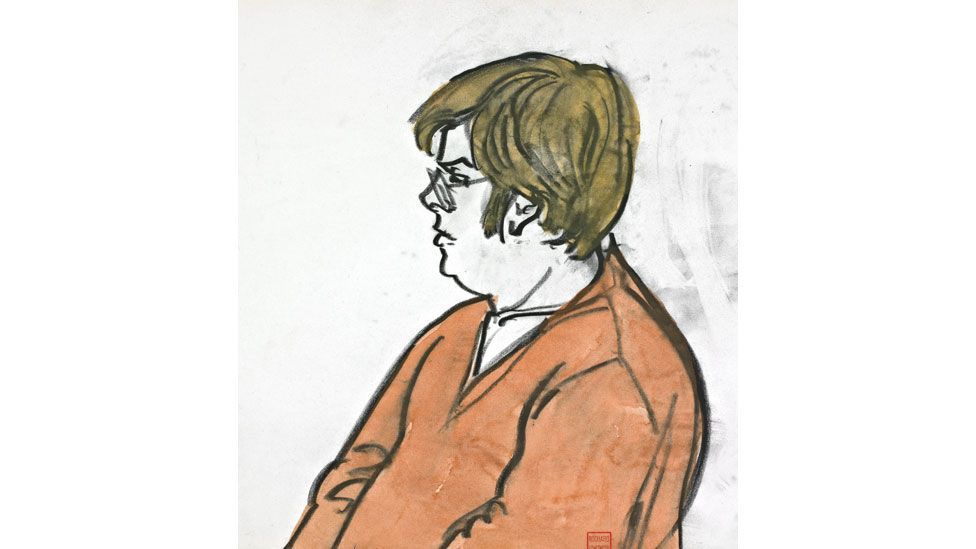 Mark David Chapman (Richard Tomlinson, John Jay College of Criminal Justice)
Mark David Chapman, a portly and goofy-looking 25-year-old, appeared in court for the assassination of John Lennon in December 1980. He shot the singer in the back four times, outside the Dakota building, Lennon's home in Manhattan. The former psychiatric patient had once viewed Lennon as his hero but had apparently become disillusioned over his idol's wealth.  At the scene Chapman made no attempt to escape and was apologetic when the police arrived. The next day he appeared in Manhattan Criminal Court on murder charges. Illustrator Richard Tomlinson said Chapman seemed very bland – he had "nothing going on in his face".  Recalling a later hearing, Tomlinson, who had met Lennon a few years earlier, says drawing the singer's killer left him "feeling nothing". "Who was this chubby, sick little kid anyway?"
Roman Polanski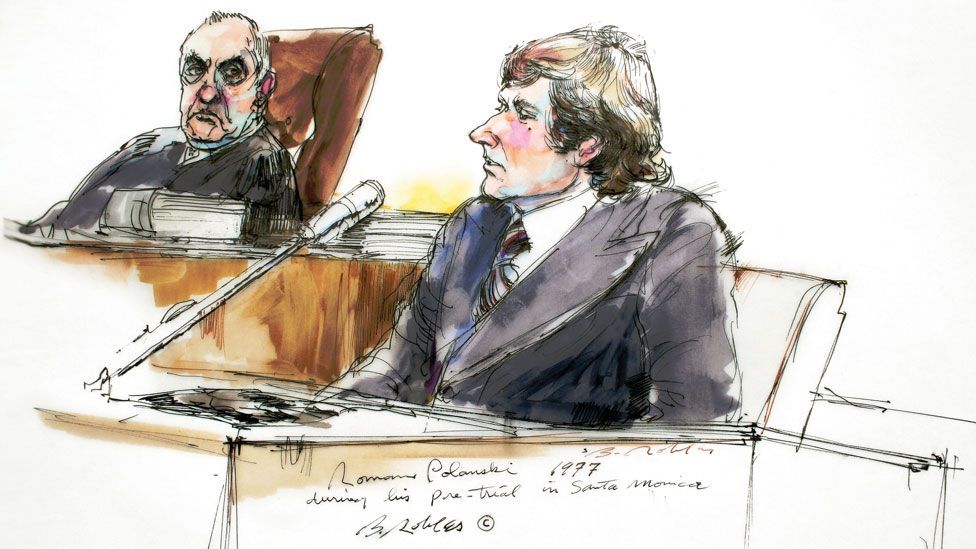 Roman Polanski (Bill Robles)
The trial of Roman Polanski and the film director's subsequent self-imposed exile from the US has intrigued Hollywood for almost four decades. The Chinatown and Rosemary's Baby director was accused of raping a 13-year-old girl at the home of Jack Nicholson.  Eventually six charges, including child molestation, rape by use of drugs and sodomy, were dropped, when Polanski pleaded guilty to unlawful sexual intercourse with a child. The director fled the US on the eve of his sentencing and currently lives in France. Illustrator Bill Robles said Polanski was a delight to draw during a hearing in 1977. "With his unusual features, his long hair, and his small figure impeccably dressed in a double-breasted blazer, he was fascinating."
Michael Jackson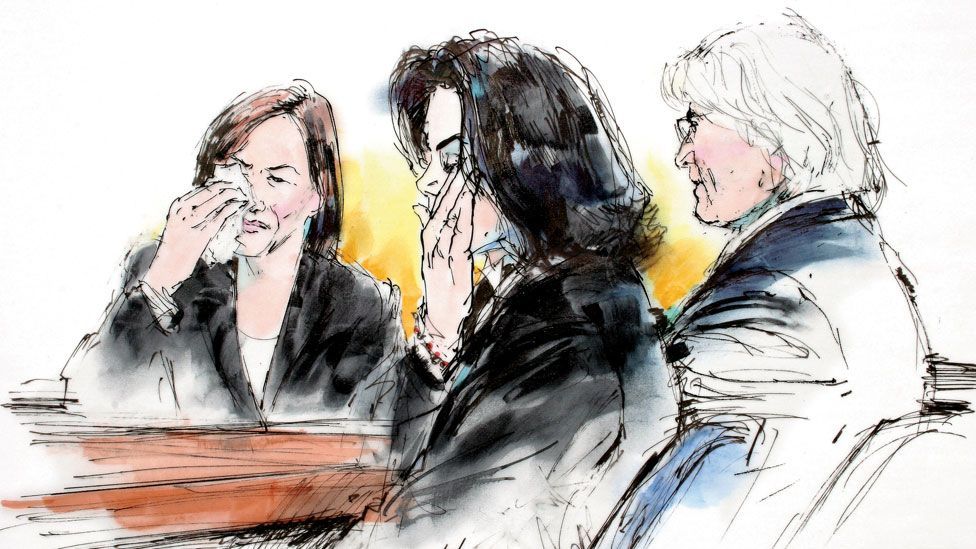 Michael Jackson (Bill Robles)
The trial of Michael Jackson on child abuse charges in 2005 drew worldwide attention. The health of the pop icon visibly deteriorated during the almost four-month trial, when lurid allegations were made about his relationship with a teenage boy. The King of Pop was found not guilty on all charges and illustrator Bill Robles was on hand to capture the moment when the jury announced its decision. "As the verdicts were read and we heard 'not-guilty', 'not-guilty', Michael didn't move a muscle.  Then he did pull out a hanky and do a little blotting.  His female lawyer started to cry, too. She was very emotional," recalls Robles. Jackson's lead lawyer, Tom Mesereau, an imposing figure with flowing white hair, remained stoic. In the book, Robles reflects on the intense interest shown in the trial by the media. He says: "The days when 28 national and international media representatives shot my work for their respective outlets were the best I've ever had in my career, financially and professionally."
Martha Stewart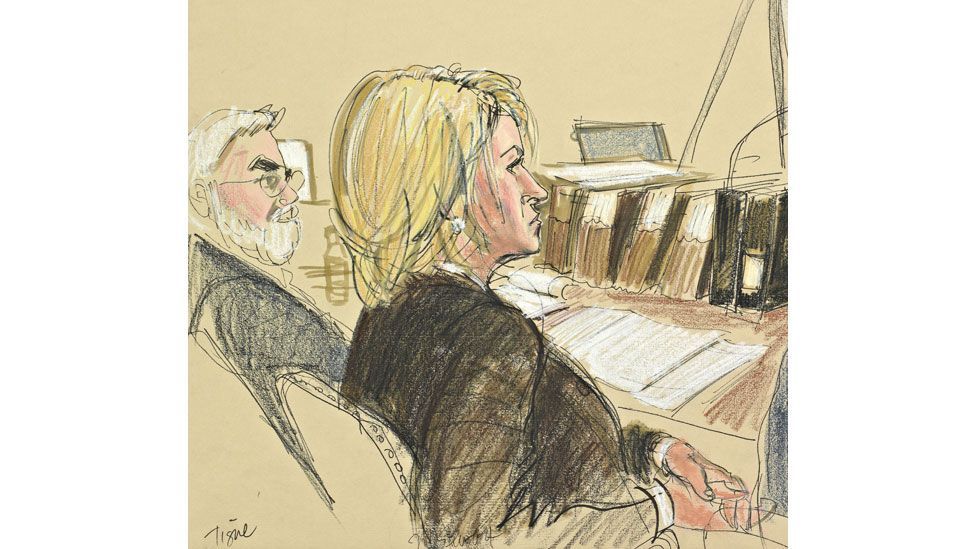 Martha Stewart (Elizabeth Williams/Newsday)
It was almost inconceivable that Martha Stewart would be sent to jail.  But the so-called domestic goddess, beloved by fans in the US as a TV personality, businesswoman and writer, saw her world implode during a trial at Manhattan Federal Court.  She was accused of securities fraud and making false statements to investigators. For illustrator Elizabeth Williams, the trial presented a huge opportunity. She sought out and secured a front row seat that allowed a side view of the lawyers with Stewart seated at the defense table. "She was not easy to draw. She did not face us, she was very far away and she would rarely look," says Williams.  The challenge, she explains, was to capture Stewart's "beauty and her power" all at the same time. Martha Stewart was found guilty and put behind bars for five months.
Dominique Strauss-Kahn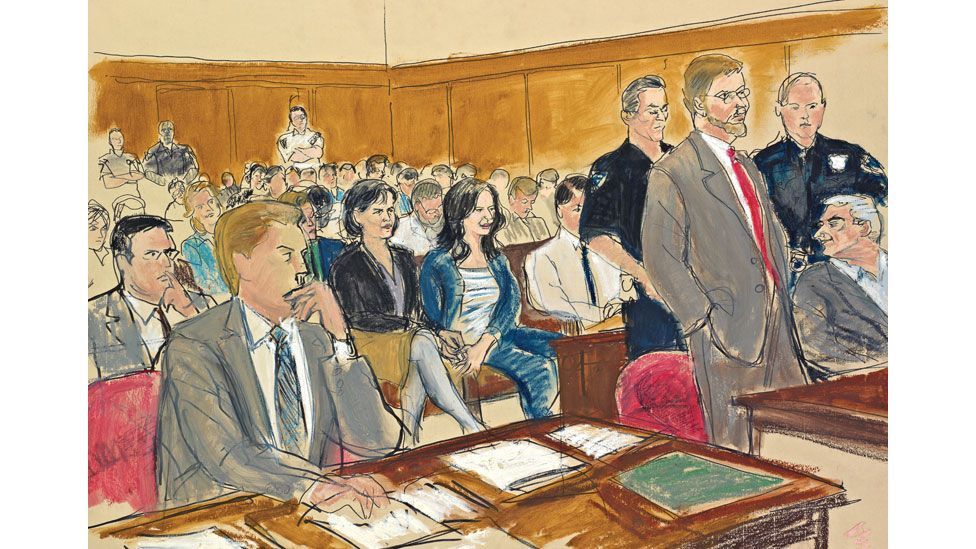 Dominique Strauss-Kahn (Elizabeth Williams/CNBC News)
The case of Dominique Strauss-Kahn, the former head of the International Monetary Fund (IMF), accused of sexually assaulting a hotel maid, did not go to trial. The criminal charges were dismissed when the prosecution lost faith in the alleged victim's credibility. But at this bail hearing, on 19 May, 2011, the courtroom was packed, as Strauss-Kahn's wife and daughter, hand-in-hand, took their seats in the public gallery. "It was an emotional moment we all wanted to capture," recalls illustrator Elizabeth Williams, in her book. "Strauss-Kahn looked back at his wife and daughter, trying to catch their eyes, clearly asking for some kind of acknowledgement. His daughter looked his way and smiles.  But tellingly, his wife – looking somewhere between seething and traumatised – stared straight ahead." 
If you would like to comment on this story or anything else you have seen on BBC Culture, head over to our Facebook page or message us on Twitter.