The Italian-born architect's radical approach to the design of people-friendly buildings in Brazil should receive greater recognition, Jason Farago argues.
L
Like no other country of its size, Brazil has projected its character to the world through modern architecture – the government buildings and housing projects of Brasília, the skyscrapers along São Paulo's broad Avenida Paulista, the pleasure palaces of Rio's Sambódromo and Maracanã stadium. We think we know the look of Brazil. For all the beauty of Copacabana and the Amazon, Brazil in our imaginations is a built environment, one where International Style modernism was souped up with plunging curves, organic detailing, and lush greenery.
One woman in particular can help us expand our view not just of Brazil but of modern architecture at large. Lina Bo Bardi, an Italian-born architect with an uncommon commitment to building for society's needs, was just getting her practice started when Lúcio Costa and Oscar Niemeyer began to adapt international modernism for local purposes. But while Brazilian architecture went through its utopian phase, Bo Bardi stood at a distance, constructing some of Brazil's most incisive and successful buildings not just in the richer south of the country but in her beloved Bahia, in the culturally vibrant but economically disadvantaged north. She has been called "the most underrated architect of the 20th Century," and in this centenary year of her birth, she is finally getting the broader attention she deserves.
Last year the Swiss curator Hans Ulrich Obrist mounted an art exhibition in Bo Bardi's home in São Paulo, for which Brazilian artists and foreigners responded to the architect's life and work. A traveling exhibition, Lina Bo Bardi: Together, has been touring around Europe; its latest iteration opens at the Deutsches Architektur Zentrum in Berlin this month. And on 13 June, the Johann Jacobs Museum in Zurich launches a six-month season devoted to Lina Bo Bardi with an exhibition that looks at the legacy of Bahia on her practice, and how the region's African-influenced culture informed her work throughout her life. Roger M Buergel, the curator of the Zurich exhibition, has argued that "Bo Bardi is exceptional in her formal understanding of that … vast and mysterious entity called 'the social,'" and that's the best reason for looking at her work today. For at a moment when much architecture seems designed for promotional photographs devoid of people, Bo Bardi made buildings for interaction, experimentation, life itself.
Design for living
Achillina Bo, as she was named, was born in Rome in 1914 and, after her studies, went to work in Milan under Gio Ponti – an architect and designer who also founded the noted magazine Domus, which she went on to edit. (It's still in print, and recently published a killer photo series from her Teatro Oficina in São Paulo.) In 1947, when her husband Pietro Bardi was invited to found a new art museum in Brazil, the couple relocated to São Paulo. One of her first projects in Brazil was her own home, the Casa de Vidro (Glass House), in the then-suburban, now-tower-ringed neighborhood of Morumbi: an exquisitely harmonious insertion of a transparent box on stilts into lush Brazilian vegetation. International and local, urban and tropical, Bo Bardi's Glass House bears the hallmarks of Italian rationalism – the industrial materials; the simple, repeated forms – but also incorporates elements of traditional Brazilian rural architecture, such as two squat, solid volumes that support the glass box from the back.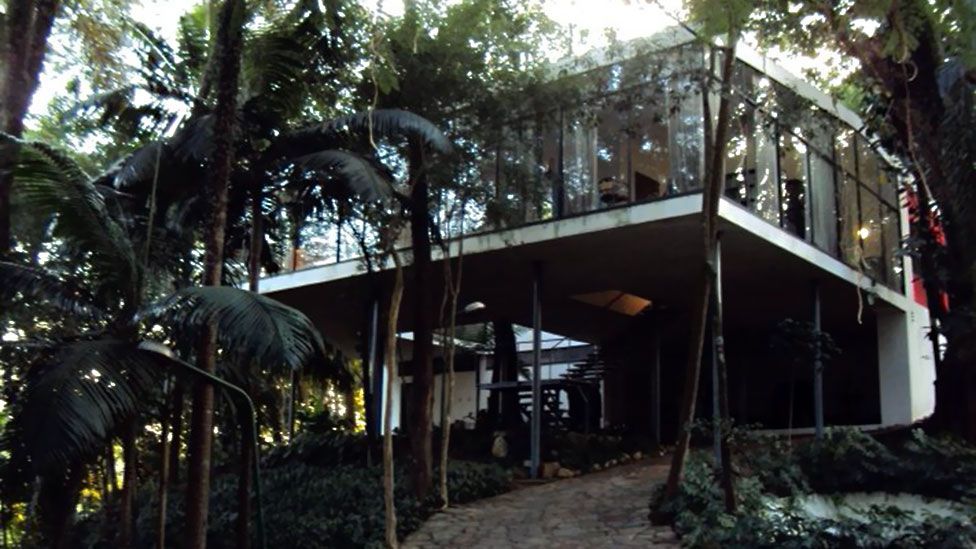 Casa da Vidro (Thiago Esperandio/Ministério da Cultura/ CC BY 2.0)
The Glass House was a precursor to her most important mid-century project: a permanent home for the Museu de Arte de São Paulo, which her husband had been directing from a temporary space in a newspaper office. The MASP was meant to express Brazil's ascent on the international stage – as well as the ascent of wealthy, cosmopolitan São Paulo against its traditional rival, Rio de Janeiro – and Bo Bardi proposed a daring, iconic building worthy of the job. On a prime lot on Avenida Paulista, the museum comprises a hulking concrete and glass box suspended eight metres off the ground, held in place by bright red pillars and creating beneath it a public gathering space. She described it as her "fixed tropical greenhouse," and today paulistanos still relax, gossip, skateboard, and occasionally protest under its canopy.
Homegrown spaces
Unlike Niemeyer, Costa and Brazil's more famous modernists, Bo Bardi always insisted on the importance, even the supremacy, of Brazil's own culture, which too many elite Brazilians dismissed in favour of an internationalism that was really just Europeanism. The heart of Brazil, for Bo Bardi, was not the metropolitan south but Bahia, a region she adored. She called it "the Brazilian mezzogiorno" – establishing an analogy between the poorer north, with its vast and semi-arid backlands known as the sertão, and the underdeveloped south of her native Italy. In the early 1960s, while living in the Bahian capital of Salvador, she even designed and directed two museums, one of which, the Museu de Arte Popular, was stuffed with local artifacts in a display diametrically opposed to Western modernist hierarchies.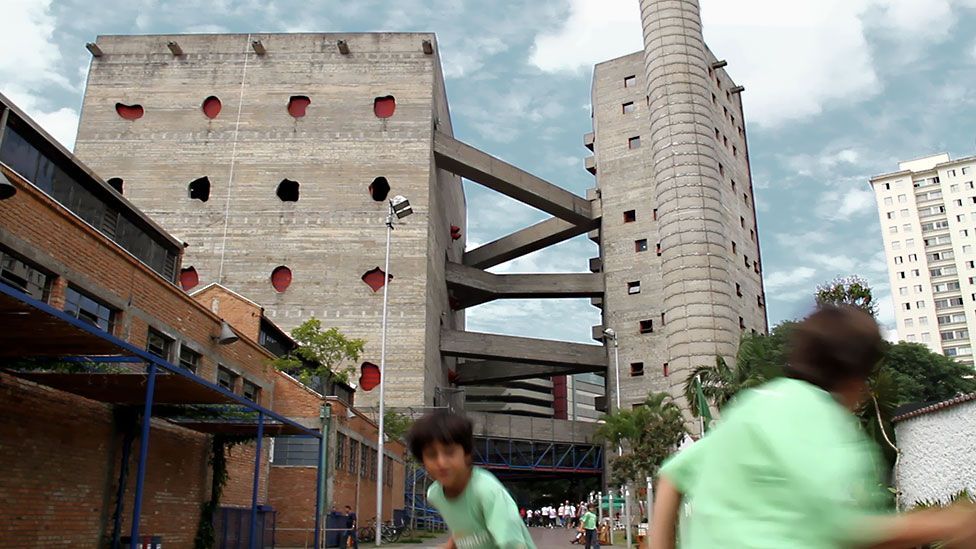 SESC Pompéia from the exhibition Lina Bo Bardi: Together (Tapio Snellman)
Yet in 1964, just six months after the opening of the Museu de Arte Popular, the armed forces led a coup d'état that overthrew Brazil's democratic government. "The happenings of 1964 reduced Bahia and Brazil to silence for almost 20 years," Bo Bardi wrote; indeed, the military government closed Bo Bardi's museum almost immediately. Many artists and architects went into exile – Niemeyer, a diehard communist, went into exile in France in 1966 and remained abroad for two decades. Bo Bardi stayed. She had no major commissions for a decade, devoting herself to curatorial and theatrical projects, and her insistence on staying in Brazil goes some way to explaining her low international profile today.
In the early 1980s, though, as the dictatorship's rigidity began to assuage, Bo Bardi completed one of the most extraordinary projects of recent Brazilian architecture: the SESC Pompéia, a social and cultural centre adapted from an obsolete oil drum factory in downtown São Paulo. It now includes football fields and a swimming pool and a theatre. Rather than tear down the preexisting concrete structure, Bo Bardi looked at how locals were already using it, and then refined her design to favour the functions that the community actually needed. In a city and a country with strong class divisions, Bo Bardi's SESC Pompéia is the rare urban space open to all – from international gallery-goers to neighbourhood old-timers looking for a chess match.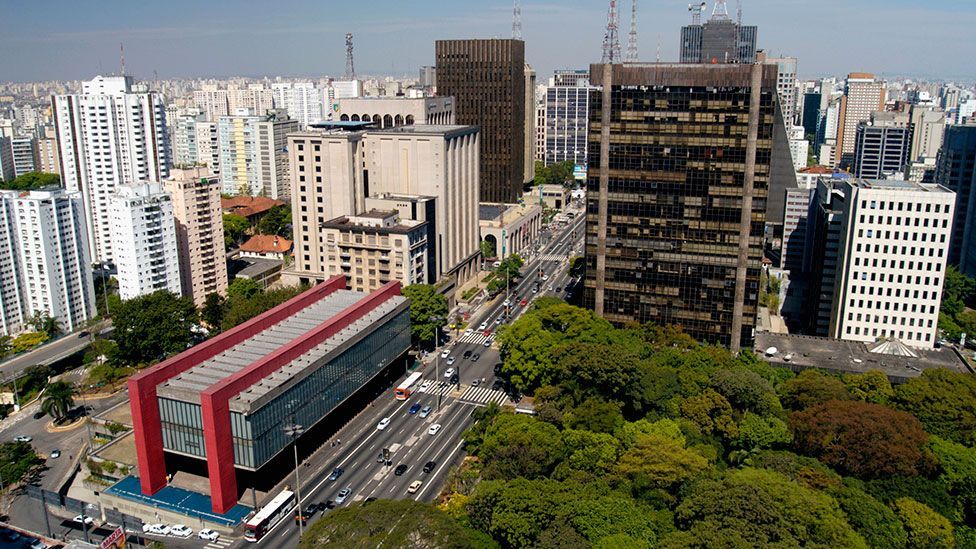 (SambaPhoto/Paulo Fridman/Getty)
In 1958, at a lecture in Salvador, Bo Bardi defined architecture as "an adventure in which people are called to intimately participate as actors". For all the beauty and surprise of her built projects, that's Bo Bardi's greatest legacy: she established an architectural vocabulary that favoured collaboration, participation and social mixing, and she lived it as much as she preached it. She had no office, preferring to work on construction sites during the day and draft in her home at night; she refined her designs years after completion, listening and collaborating to the people who passed through them. Could her extraordinary buildings have arisen in any other country? Or did Bo Bardi need Brazil to break the assumptions of a so-called international style and to establish a more social, more democratic form of architecture? She suggested the latter: "I wasn't born here," Bo Bardi said. "I chose to live in this place. That's why Brazil is my country twice over."
If you would like to comment on this story or anything else you have seen on BBC Culture, head over to our Facebook page or message us on Twitter.