Bobby Womack was one of soul's most distinctive voices. Now he is gone and the sound he invented is close behind, writes Greg Kot.
W
When Bobby Womack died a few days ago at the age of 70, another link vanished to a musical tradition that grows more precious and rare with time.
Soul music as practised by Womack and countless peers in the 1950s, '60s and '70s arrived as the most tactile variety of the 20th Century's popular music: to feel was all. It was bred in the gospel music of the African-American churches of the US Deep South and the ghettos of northern cities such as Chicago, Cleveland, Detroit and St Louis.
Gospel music doesn't get the recognition of blues and country as an influence on the rock 'n' roll era, but during the '40s it represented the hardest edge of American music, with singers pushing the limits of their voices in vocal quartets or organ-and-piano combos that foreshadowed the rock instrumentation of subsequent decades. In addition, the church was something of a sanctuary, where African-Americans could most freely express themselves. Gospel was the most heightened form of that expression, as demonstrated by vocalists and groups such as Mahalia Jackson, Sister Rosetta Tharpe, Marion Williams, The Soul Stirrers and the Blind Boys of Alabama.
Soul brothers
It was in this tradition that Womack emerged. Born in 1944, he was singing and performing with his siblings in the Womack Brothers' gospel group by the time he was 10. The group toured with The Staple Singers from Chicago, who were already establishing a ground-breaking sound around Pop Staples' treble-soaked guitar and teenage Mavis Staples' expressive contralto.
The Womacks were championed by Sam Cooke, who was among the first gospel singers to move into secular music. Cooke signed the Womack Brothers to his SAR label in 1960 and rechristened them The Valentinos. Their sound was essentially unchanged – it still featured the call and response and strident lead vocals of their church days – but they were now singing about secular subjects. Bobby Womack sang harmonies in the group with his gritty voice, and his songwriting talent was a crucial ingredient in the group's success – his It's all Over Now was faithfully covered by the Rolling Stones and became a UK no 1 pop hit in 1964.
Womack's singular style flourished during the '70s, and many of his lyrics put a philosophical spin on the daily drama played out on inner-city streets and tenements. The temptation and redemption themes of the Bible were now played out in domestic scenes every bit as riveting as spiritual stories. As with Ray Charles and James Brown before him, and alongside contemporaries such as Aretha Franklin, Marvin Gaye and Donny Hathaway, he took self-expression to new levels. It was only appropriate that Womack's two foremost albums in the '80s were dubbed The Poet and The Poet II. 
'A new church'
Like Gaye, Stevie Wonder, Al Green, Bill Withers, Ronald Isley and other key soul singers of the era, Womack had created a new church for '70s African-Americans, one in which the singer embodied many roles: philanderer, hustler and outcast, but also philosopher and, above all, preacher. Tucked within the soul masterpieces of the day – Papa Was a Rollin' Stone, What's Going On, Fight the Power – was a kind of moral code, about lines that couldn't be crossed if a relationship (to a lover, a friend, society, God) was to remain solvent. Artists openly struggled with these issues in these vividly written, expressively sung tales. "It's you that I want, but it's Him that I need," Green sang on the title track of his 1977 masterpiece, Belle. The message to any listener was clear: our souls, our direction as human beings is at stake in the everyday decisions we make.
But soul music began to fade in popularity amid the rise of disco in the late '70s, and though there have been several key practitioners since – including Luther Vandross, Mary J Blige and D'Angelo – the connection to the circumstances that led to its creation in the first place barely resonate with new generations of artists and fans.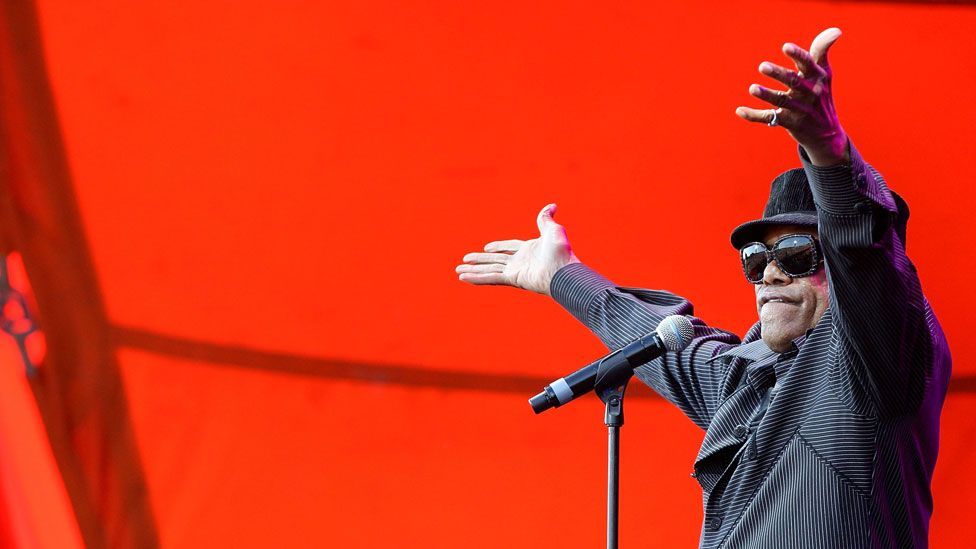 Bobby Womack at the Roskilde Festival, 2013 (Getty Images)
Yet Womack's late-career resurrection, with the help of Damon Albarn of Blur and Gorillaz, was no nostalgia act. His Albarn-produced 2012 album, The Bravest Man in the Universe, brought him full circle, back to the church music that provided his foundation. He turned the gospel classic Jubilee (Don't Let Nobody Turn You Round) into a defiant cry against the drugs and illness that haunted the final decades of his life.
It's too much to ask any contemporary singer to measure up against that sort of performance, that one-of-a-kind history that defined artists of a certain generation such as Womack, Cooke, Brown, Gaye, Vandross and others who are now gone. Like the urban blues or the hard country artists of that era, they will remain as touchstones for new generations to draw inspiration, but the circumstances that created them can't be replicated. Today's neo-soul artists – whether they're John Legend, Alicia Keys, Maxwell or Jill Scott – are more directly informed by different traditions: hip-hop, new-jack swing, the hybrid styles of Michael Jackson and Prince. The connection to gospel music, and the historical urgency that gave soul music its power will never be quite the same. Bobby Womack is gone, and the sound and style he invented is close behind.
Greg Kot is the music critic at the Chicago Tribune. His work can be found here 
If you would like to comment on this story or anything else you have seen on BBC Culture, head over to our Facebook page or message us on Twitter.