From the lustrous whiskers of England's medieval knights to Magnum, PI and Movember – Lucinda Hawksley charts the changing fashions of the hirsute upper lip.
T
Throughout history facial hair has fallen in and out of fashion. Hairy faces have been lauded, derided, immortalised in art and even legislated against. The rise and curl of the moustache has never been straightforward. 
Since the first caveman picked up a hinged shell and tweezered whiskers from his face, men have shaped their facial growth. Over the centuries the moustache has been more popular at some times, less so at others – but it never disappears entirely. As social history goes through new and varied phases, so does pogonotrophy (or the art of cultivating facial hair).
England's medieval knights had armour made to accommodate their lustrous moustaches. In the 14th Century, Edward, Prince of Wales was commemorated by an effigy on his tomb in Canterbury Cathedral. It shows the prince in full battle dress, with chainmail encasing his face and neck, but allowing his long whiskers to flow over the top.
The moustache as fashion symbol really came into its own in England following the heavily bearded Elizabethan era. When King James I came to the British throne he was proud of his dapper moustache, which he had immortalised in art. His son, King Charles I, made the goatee and handlebar moustache iconic, and this was copied by every man of fashion when portraits by Sir Anthony Van Dyck went on display. Perhaps it was through sheer jealousy of the monarch's magnificent moustaches that led the more frugally moustached Oliver Cromwell to lead a republican revolution. He not only executed the king, but also one of the king's most loyal followers, Arthur Capel. In a miniature portrait by John Hoskins, Capel has a remarkable moustache: thick, lustrous and swept back and upwards like a pair of looped-up theatrical curtains.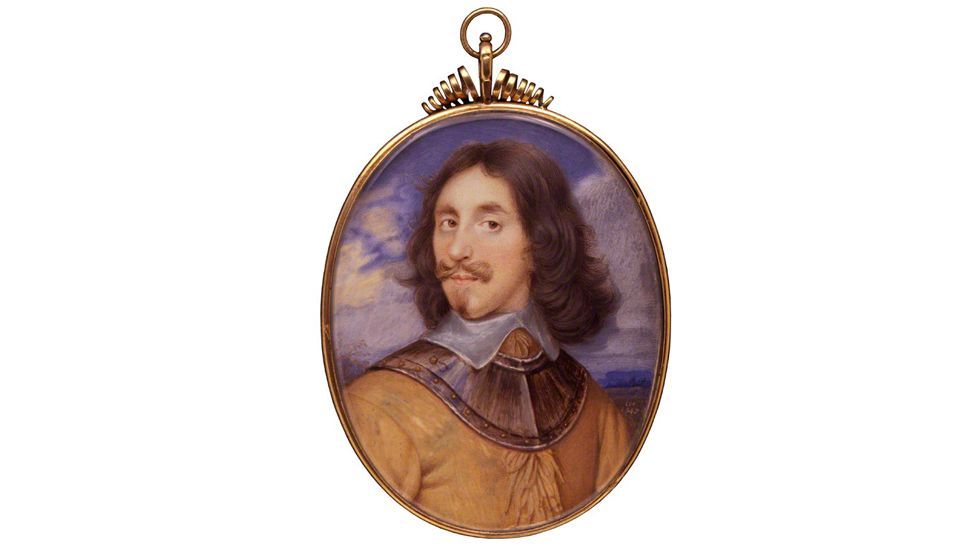 The extravagantly moustachioed Baron Arthur Capel was executed alongside King Charles I of England (National Portrait Gallery)
When Britain tired of Puritan rule, craving theatres, dancing and debauchery once again, King Charles II came to the throne. Portraits show he grew a moustache in his early teens – perhaps unsurprising for someone who fought his first battle at the age of 12.
Whiskers of war
During the late 17th Century, beards fell spectacularly out of fashion in Europe – helped in Russia by Tsar Peter the Great's 'beard tax' – and as a result moustaches flourished. By the early 1800s moustaches were flamboyant, curled and often carefully sculpted to link up with excessive sideburns.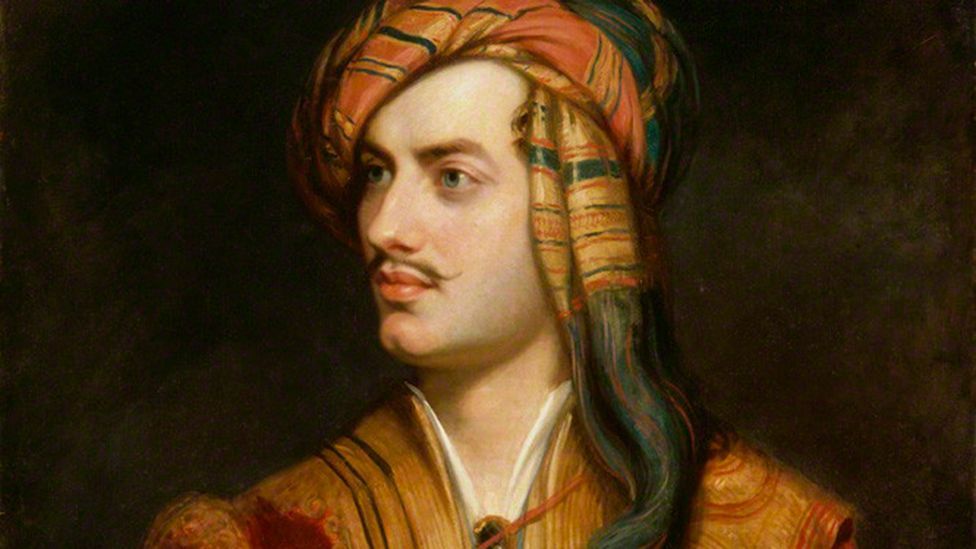 Byron modeled his pencil-thin moustache and exotic Albanian get-up in Thomas Phillips orientalist portrait of 1835 (National Portrait Gallery)
The younger generation eventually kicked out against all this hairy fashion. They wanted to emulate a poet who was 'mad, bad and dangerous to know'. Lord Byron kept his face free of hair except for a romantically curling, slender moustache, going against the prevailing facial hair conventions, just as he did in all other aspects of his life. For several decades the Byronic style was the sexiest look around and moustaches ruled the roost – but all that was to change in 1854, with the Crimean War and the return of the massive beard.
When the war ended in 1856, returning soldiers were barely recognisable behind their vast crops of facial hair. Deciding that beards were the signs of heroes  British men started once again to grow their own. Beards were everywhere and moustaches were lost amongst the general "face fungus" (as Edwardian novelist Frank Richardson termed it). It was a dark time for the moustache.
By the end of the 19th Century, beards were finally out of fashion, except amongst older, conservative men. The young man's friend was the discovery of bacteria – and newspaper reports that linked germs with beards. Throughout Europe and North America, new rules were made to prevent bearded men from handling food and bearded hospital patients began to be shaved, whether they wanted to be or not. The future was looking smooth-chinned and moustachioed.
Meanwhile the moustache was aided in its war of dominance against the beard, by a different type of conflict. World War I saw shaving refuseniks scuppered – because the seal on gas masks wouldn't work with beards or whiskers. Yet for those who yearned to grow a moustache, times were hard – only certain ranks in the military were permitted to grow moustaches. When the war ended, a moustache revolution began. Men who'd been forced to shave every day now grew them with abandon.
Hair today
The moustache had become the symbol of the modern man. In 1920, a young Agatha Christie published her first crime novel, The Mysterious Affair at Styles, introducing Hercule Poirot and his famous moustaches. In Hollywood, Clark Gable, Errol Flynn and Ronald Colman sported moustaches that could make a heroine swoon – but as the world entered an economic depression, the moustache-on-the-street became an endangered species. In 1932 WC Graham published How to Get a Job During a Depression. This was no time for frivolous facial hair: "Shave off that moustache if you're looking for a job" he advised, "A moustache … [may] help in getting a job as a 'gigolo' or sheik, but there are practically no openings for them during a depression." When actor Charles Laughton made the newspapers in 1936 with the news he was growing a beard and moustache, readers were assured it was solely for his upcoming film role as Rembrandt.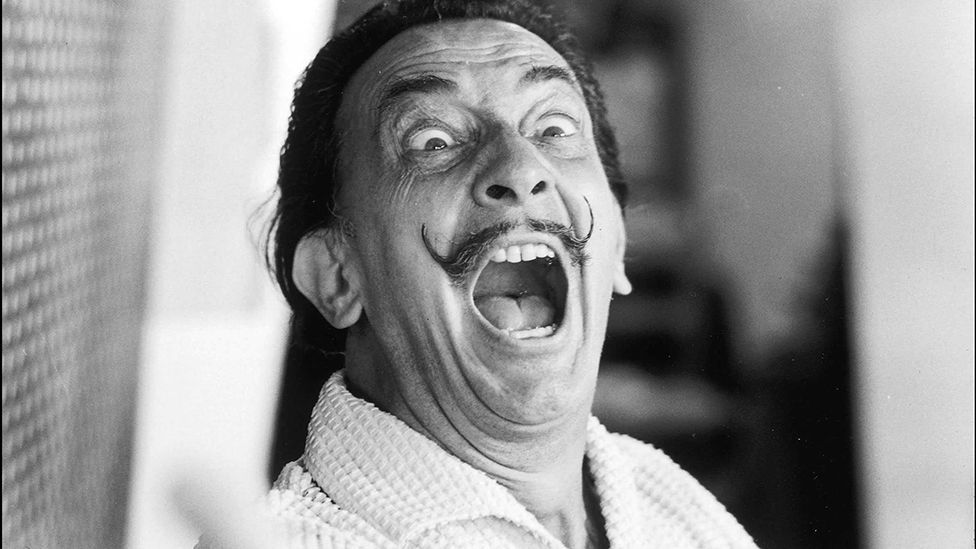 Dalí's moustache was "the most serious part" of his personality, according to the artist (Rex/Sipa Press)
In Spain, the moustache was entering the world of Surrealism. Salvador Dalí's moustache was a thing of legend and, in the early 21st Century, was voted the most recognisable moustache in history. In 1954, Dalí was interviewed and asked if his moustache was intended to be a joke; he responded it was "the most serious part" of his personality.
After World War II toothbrush moustaches – unsurprisingly – fell out of fashion, but a new style of facial hair was being twirled with panache. The handlebar moustache was the symbol of the bravest heroes of the war: the fighter pilots. In 1947, moustachioed actor – and former RAF pilot – Jimmy Edwards held a party in his dressing room at a London Theatre. This was the inaugural meeting of The Handlebar Club, which still thrives. Men who wish to become members must have: "a hirsute appendage of the upper lip, with graspable extremities". (The club has a strict "no beards" policy.)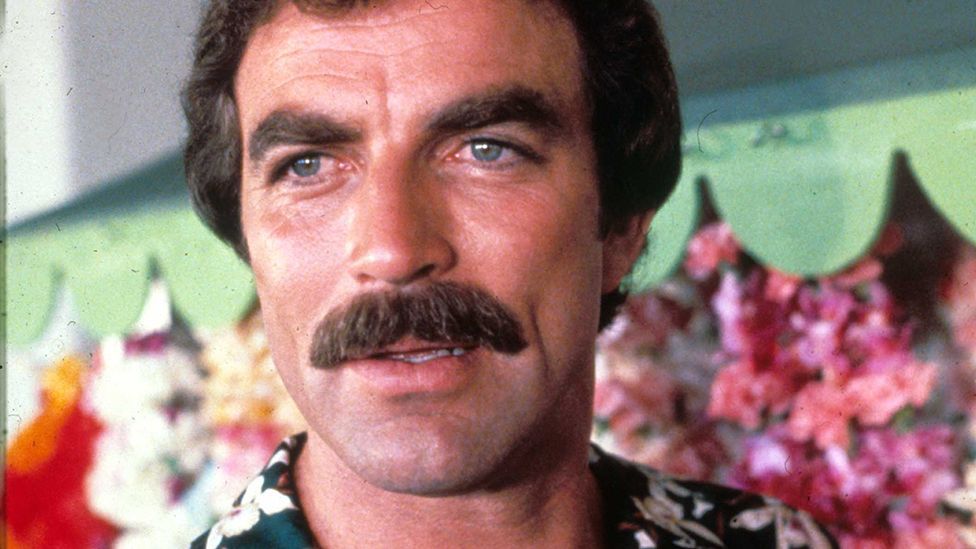 Tom Selleck sported one of the most memorable moustaches of the 1980s in the television series Magnum, PI (Rex Features)
In the 1960s and '70s beards were back with a vengeance and, once more, the moustache faded into insignificance, but in the 1980s its limelight returned. Tom Selleck's moustache in Magnum, PI, won the hearts of housewives from Maui to Manchester. What Selleck made sexy, other actors – Eddie Murphy, Dick van Dyke – tried to emulate, but none could top the Magnum moustache. In the 1990s, Selleck came back for more when his facial hair landed the role of 'moustache that gets to kiss Monica Geller' in Friends. But Selleck pales into insignificance alongside the world's longest moustache, which belongs to Ram Singh Chauhan from India. When it was measured for the Guinness Book of Records, in 2010, it reached to over 14 ft (4.29 m) in length.
Tom Selleck and Ram Singh Chauhan aside, it still took a brave – and thick-skinned – man to grow a moustache at the end of the 20th Century. That was all to change after 2003, the year in which Movember was born. The annual event, in men cultivate moustaches to raise awareness for men's health issues, was dreamt up over a drinking session by three Australian friends. The idea of being sponsored to grow a moustache was born. As Movember went global, men looked to the Golden Age of Hollywood for inspiration. In 2012, Philips launched an ad campaign, complete with instructional video, on "How to create the Clark Gable moustache".
Every ensuing Movember has witnessed the moustache receives another boost in popularity and many hirsutely challenged men can be seen starting to cultivate their growth several months in advance. But how long will the mo-fest last? History has shown that facial hair fashions can be as mercurial as the platform shoe and high-waisted trousers, but for the moment the moustache is well and truly back.
Lucinda Hawksley's new book Moustaches, Whiskers and Beards will be published by London's National Portrait Gallery in October 2014.
If you would like to comment on this story or anything else you have seen on BBC Culture, head over to our Facebook page or message us on Twitter.