Ever since Marlene Dietrich famously wore a man's dress suit, 'le smoking' has symbolised confidence and female sexual empowerment. Katya Foreman takes a look.
F
From the bikini to the mini, several once-controversial women's garments have blended into the fashion mainstream. In a lofty league of its own however, is 'le smoking', the first tuxedo for women, designed half a century ago by Yves Saint Laurent. The legendary couturier is said to have been inspired by the personal style of French artist Niki de Saint Phalle, who would wear a black-tie trouser suit with heels. Its name nods to 19th Century men's smoking jackets, so called because their silk lapels were designed to allow any ash falling from after-dinner cigars or cigarettes to slide off, keeping the jacket clean.
Buoyed by the release of two competing Saint Laurent biopics this year, le smoking is enjoying a comeback in the hands of the house's current creative director, Hedi Slimane, as the androgynous formalwear alternative of a niche crop of women with the confidence – and figures – to pull it off. A case in point is Angelina Jolie, who hit the red carpet at this year's Baftas in a slim-cut Saint Laurent smoking. Worn with black patent leather heels and an unbuttoned white shirt, an untied dicky bow draped seductively at the collar, the actress looked archly feminine next to her partner Brad Pitt, who wore a traditional Valentino tux.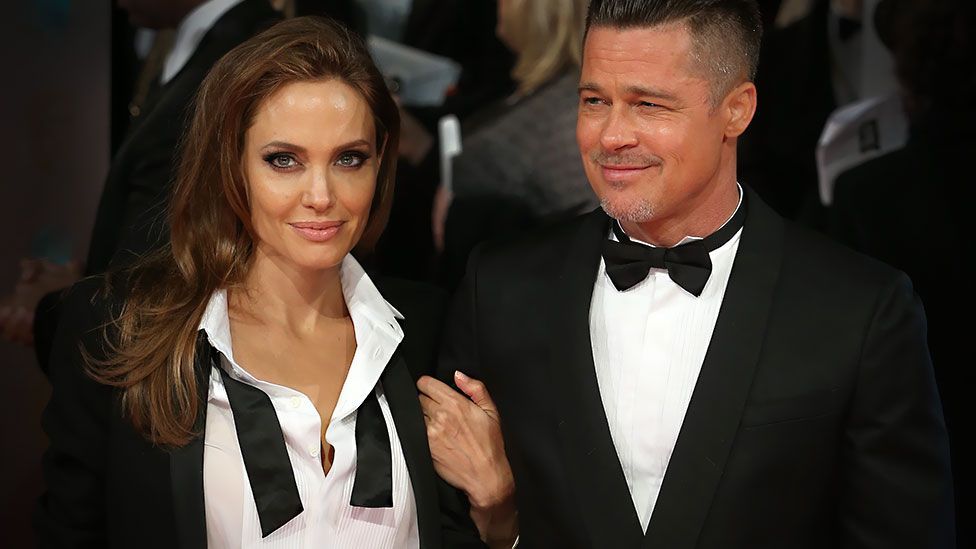 Angelina Jolie and Brad Pitt attend the 2014 BAFTA Awards (Chris Jackson/Getty Images)
The iconic suit continues to create a strong statement, perfumed with the irreverence and ambiguity evoked by one of the first female stars ever to adopt a men's tux: Marlene Dietrich. Bringing drag to glamorous new heights, the German-born actress famously donned a top hat, tux and white bow tie for her role as cabaret singer Mademoiselle Amy Jolly in Josef von Sternberg's Morocco (1930). Still decades away from trousers becoming accepted as a fashion item for women, it was a bold move deemed as scandalous by some. But Dietrich, who performs a number in the film before downing a glass of champagne and planting a kiss on a well-to-do female punter, was all about pushing boundaries.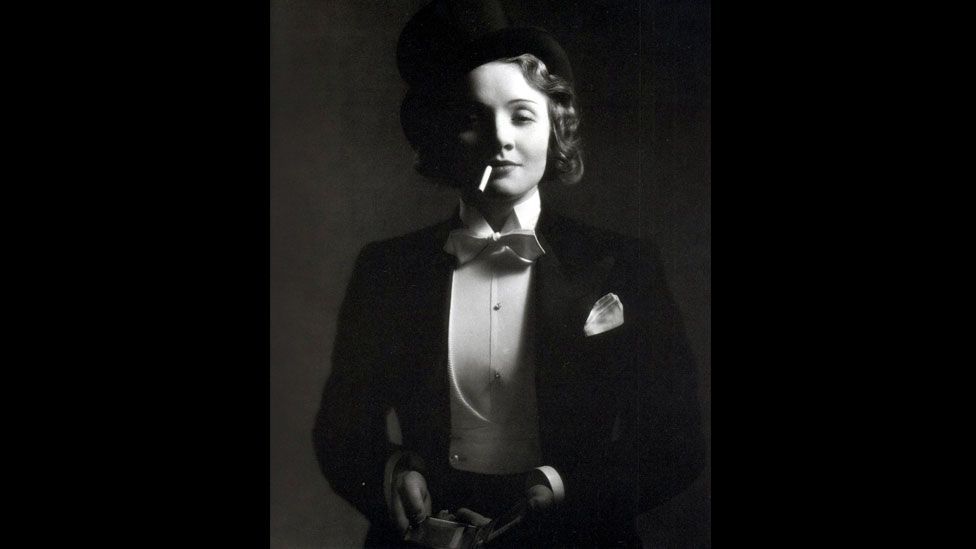 Marlene Dietrich (Morocco / Paramount Pictures)
Original sin
"What's amazing [is that] I don't think they've done anything as delicious, sexually, as that since," commented the American playwright, stage director and screenwriter Arthur Laurents in the 1995 documentary The Celluloid Closet. "They didn't pretend it was anything but what it was; she was doing it to turn on both the woman and the man, which appealed to everybody. As it should; it was so free." The writer and raconteur Quentin Crisp, who was also interviewed for the documentary, said: "Whereas sissy characters in movies were always a joke, there's no sin like being a woman. When a man dresses as a woman, the audience laughs. When a woman dresses as a man, nobody laughs. They just thought she looked wonderful."
Even as late as 1966, the year in which Saint Laurent debuted le smoking in one of his couture shows, the concept of a woman in a tuxedo suit – traditionally the Rolls-Royce of men's black-tie wear - ruffled feathers. "When Yves Saint Laurent's smoking made its first appearance in an haute couture collection, it started a revolution. A man's article of clothing thus became the symbol of female emancipation," stated the press release for the 2005 exhibition Yves Saint Laurent Smoking Forever, which showcased the designer's countless interpretations of the suit up to his retirement in 2002, from the dress version to the smoking jumpsuit and bolero.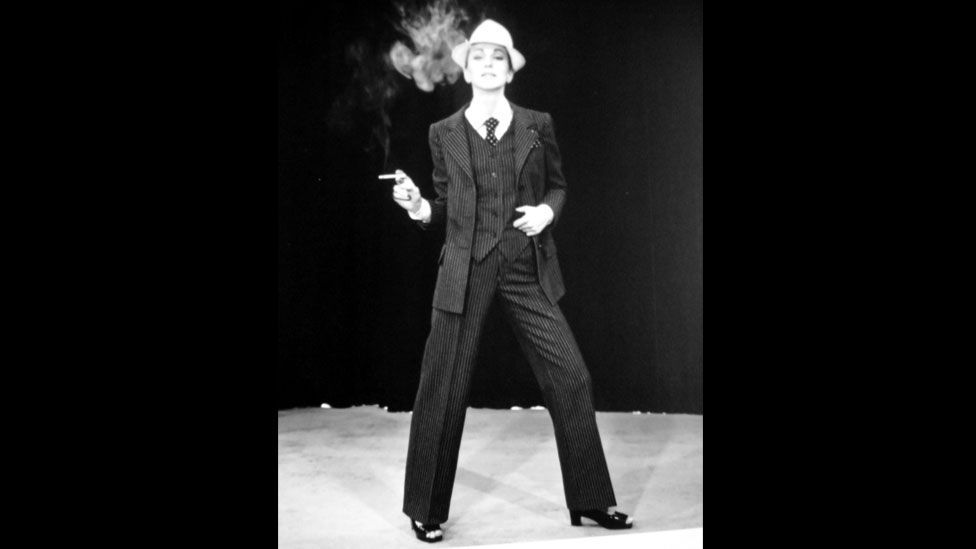 French artist Niki de Saint Phalle (NPR)
"I don't remember my first tuxedo – but I know I have always worn one with nothing underneath," Saint Laurent muse Betty Catroux told Suzy Menkes, then style editor of the International Herald Tribune, at the show's opening. "The thing about a tuxedo is that it is virile and feminine at the same time," purred Catherine Deneuve. While Saint Laurent recalled the time he took French pop star Françoise Hardy to the Paris Opera dressed in one of his suits. "People screamed and hollered. It was an outrage."
Speaking to the BBC, Violeta Sanchez explained that at the time, it was quite something for the stuffy bourgeois set to see women "take possession of man's attire, and the freedom it gave her. It took her out of that spot where she was fragile."  Sanchez is something of an expert, having played muse to the late German photographer Helmut Newton, whose powerful immortalisations of le smoking included the iconic 1975 Rue Aubriot series for French Vogue. "He perfectly got the gist of [le smoking], and all its ambiguity," said Sanchez who was 'discovered' by Newton around 1980. The actress, who didn't mix in fashion circles at the time, had chosen to wear a smoking-inspired tux for the occasion, and by the end of the meal, a bewitched Newton had asked her to pose for him. "I was obsessed with cinema at the time, and was a fan of Marlene Dietrich's wardrobe. The fact that she dressed like a man to me was ultimately elegant and sexy, and because I had an androgynous physique, it was also something that suited me," said the actress, who went on to walk in Saint Laurent's couture shows, also starring in a number of the house's campaigns photographed by Newton.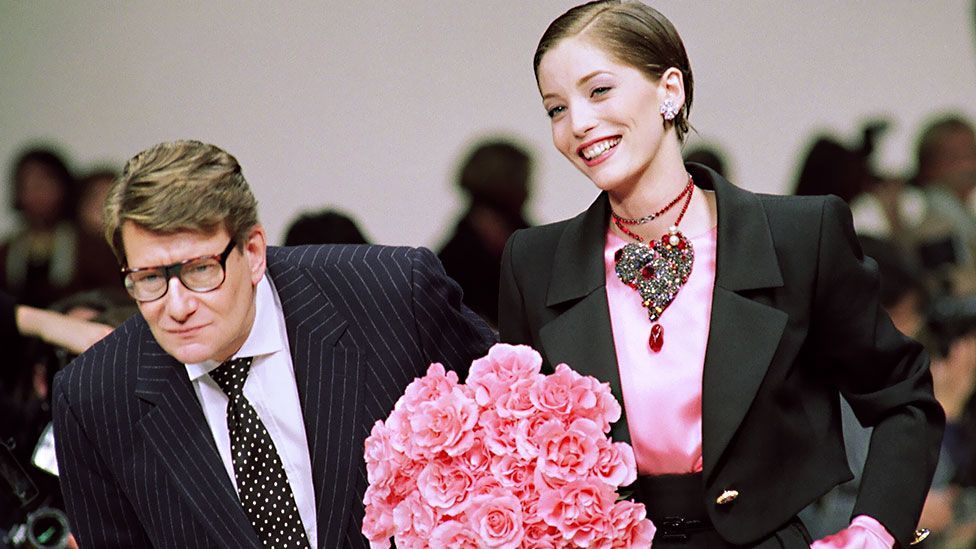 Yves Saint-Laurent with Lucie de la Falaise in 1993 (Pierre Guillaud/AFP/Getty Images)
Power dressing
Offering a sophisticated new attitude, le smoking, with its sharply tailored, minimalist lines, was the precursor to the power suit. Diane Keaton, Liza Minnelli, Charlotte Rampling, Lauren Bacall and Faye Dunaway figured among the constellation of strong women contributing to its myth. "This was a radical change for professional women, who could wear a practical suit which also looked elegant," recalled Bianca Jagger in an homage to Saint Laurent that ran in The Guardian in late 2008, a few months after the designer's passing. A white Saint Laurent trouser suit became the signature style for Jagger, who donned a skirt and cream tuxedo jacket (with nothing underneath) by Saint Laurent for her wedding to Mick Jagger in 1971.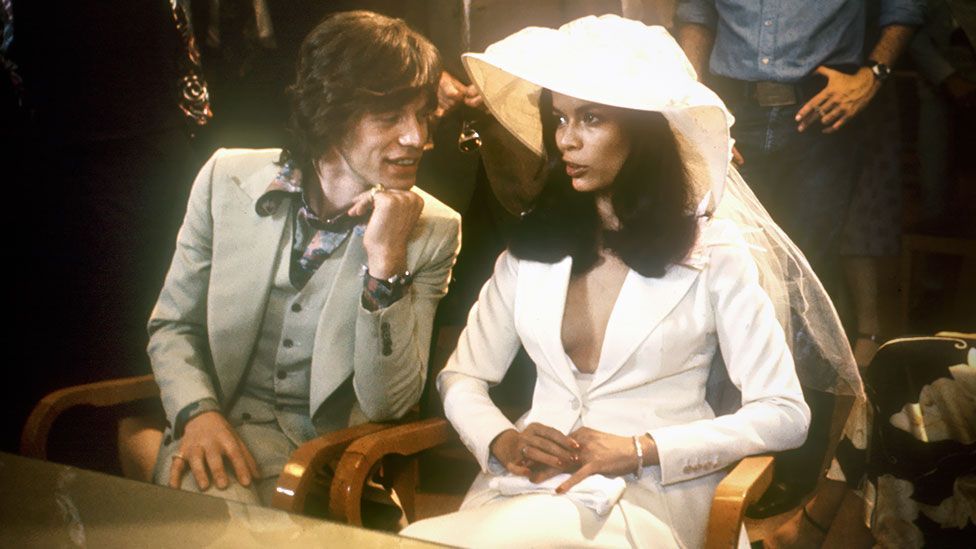 Mick Jagger and Bianca Perez Morera de Macias marry in St Tropez (AFP/AFP/Getty Images)
"To see his influence you just have to look at the women who now wear trouser suits, influenced by his classic designs – everyone from Hillary Clinton to [former] French justice minister Rachida Dati. It was part of my liberation to be able to wear trouser suits because it makes life so easy." Parting the sea of ubiquitous mermaid frocks, modern-day ambassadors, meanwhile, include Anne Hathaway, Ellen DeGeneres, Jennifer Lawrence, Ellen Page, Emma Watson, and Kim Kardashian.
"If Kate Moss and Angelina Jolie are wearing it, the new generation is going to be totally convinced," commented Sanchez, whose evergreen penchant for smokings runs in the family. Posing alongside her mother, Sanchez's 15-year-old daughter, Luz, was asked to model at the Autumn/Winter 2014 collection of Atelier Pallas, a niche, Paris-based label specialising in made-to-order smokings and smoking-inspired jackets and dresses. Sanchez remains a diehard ambassador for the garment, which has shaped her life story. "A smoking is a smoking; if it suits you, your problem is solved. You don't need a gazillion dresses to choose from. And also, you're not selling meat; you're selling personality, charisma. It's so right for now, because these people who do red carpets all the time, it's like a dog chasing its tail. They don't know what to show any more, or what colours to wear, and they end up looking quite terrible most of the time," said Sanchez. "If they can get some sort of chic relief from a smoking suit, then why not? There is a lot you can do with a smoking."
If you would like to comment on this story or anything else you have seen on BBC Culture, head over to our Facebook page or message us on Twitter.