The neon sign has lit up downtown areas from Las Vegas to London for more than 100 years. But is its cheerful glow in danger of being snuffed out?
I
In recent months, New Yorkers have campaigned – successfully – for the preservation of a huge neon sign that, for decades, has blazed over Brooklyn's Ninth Street advertising 'Kentile Floors'. As part of a redevelopment programme, the sign will be moved elsewhere, celebrating not so much the products of a synthetic flooring factory that ceased operations in the early 1990s, but an enduring love affair for neon  shared by people from cities around the world.
Writing in the New York Times, Ginia Bellafante says that the tiles made by Kentile Floors contained asbestos and, as a result, "the company faced years of litigation from plaintiffs who contended its products were responsible for cases of cancer and other dangerous illnesses". Bellafante sees the campaign for the Brooklyn sign as "an extension of creative class fetish for the workingman's life, the same sensibility that has resulted in the fashion for Carhartt jackets, Esso shirts, trucker caps, factory paraphernalia and so on among recent graduates of better Eastern colleges – the ultimate symbols of denied privilege."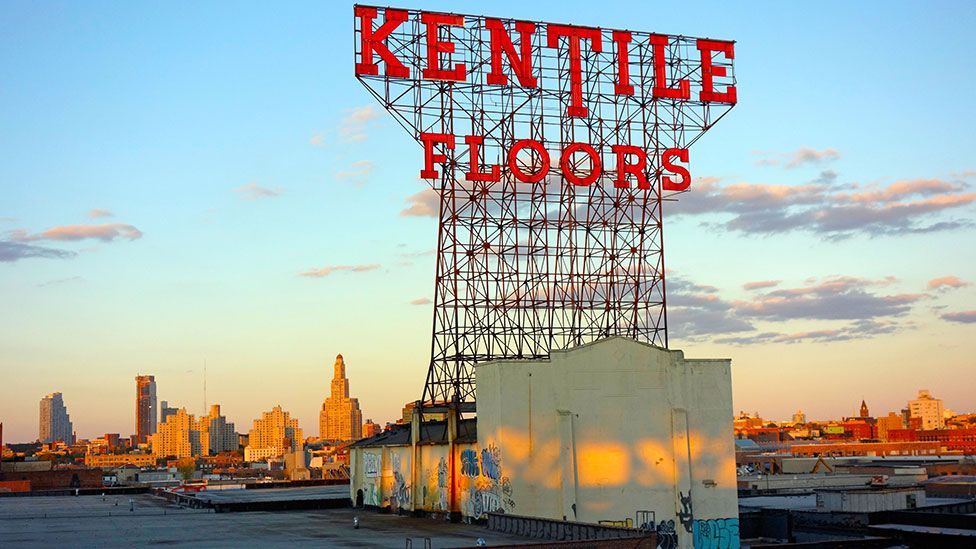 New Yorkers campaigned to save the iconic Kentile Floors sign in Brooklyn (Randy Duchaine/Alamy)
Perhaps. And yet, there's something else about Kentile Floors and other venerable neon signs that attracts so many of us no matter what they were originally designed to sell: they attract the eye like fireworks. They animate city centres. They evoke nostalgic worlds of 1930s cocktail bars, speakeasy diners, sensual nightclubs and the sheer excitement of going downtown. As Petula Clark sang in her global hit, Downtown, from 1964:
Just listen to the music of the traffic of the city
Linger on the sidewalk where the neon signs are pretty
Energy replacement
For many years, one of London's best known and loved neon signs advertised the bubbly energy drink Lucozade. It was seen by countless people heading into the centre of town along the elevated road from Heathrow Airport. Dating from 1954, this cheerful sign depicting a bottle pouring sparkling golden bubbles into a wine glass – its original message "Lucozade Aids Recovery" had been changed to "Lucozade Replaces Lost Energy" in the 1980s – was threatened 10 years ago when the building it adorned was demolished. After a vigorous six-year campaign by local residents and other supporters, the sign was placed in the care of Gunnersbury Museum, and a replica fixed to the side of a nearby car showroom. "There was no energy lost" quipped Margaret Hodge, Britain's culture minister, "in the campaign by residents."
And, when last year JC Decaux, the signage and street furniture company, announced plans to replace the replica with a digital screen showing the comforting old bottle – so redolent of childhood for millions of people – mutating into the moody, modern Lucozade Sport drink, the fight was on again. By now, Lucozade was owned by the Japanese drinks company Suntory, and perhaps there was a failure to understand just how much the happy marriage of neon and nostalgia has meant to so many people.
Neon lights may have been replaced by LED installations and fast-moving digital displays along main roads and in city centres worldwide, and yet neon retains its popular appeal. The last traditional neon sign in London's Piccadilly Circus – celebrating Sanyo, another Japanese company, since 1987 – was replaced in 2011, yet in Las Vegas, the Neon Museum, housed in the spectacular Space Age former lobby of La Concha Motel designed by Paul Revere Williams, has been busy organising tours of the desert city's spectacular neon heritage to busloads of enthusiastic visitors. And, there is always Hong Kong, a city that remains an homage to the allure of neon signs.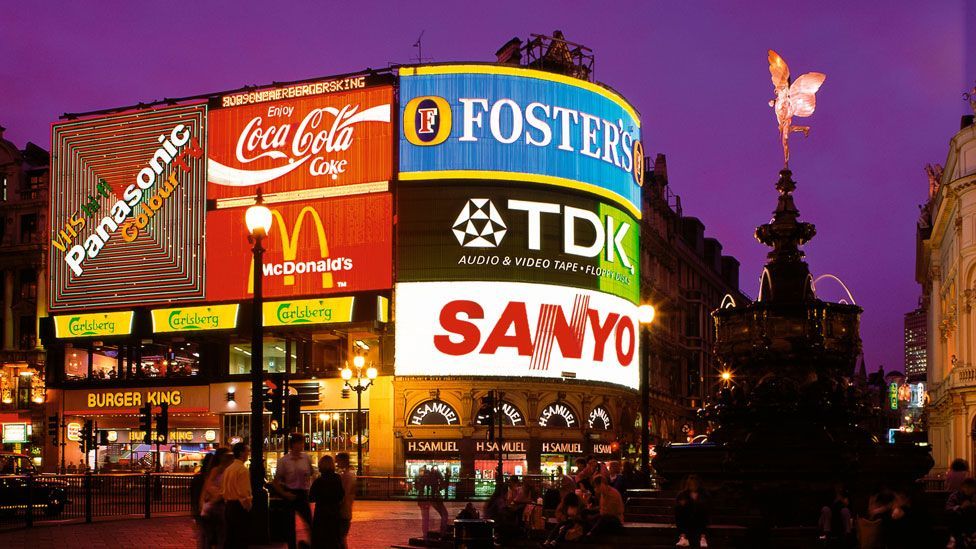 The last neon sign in London's Piccadilly Circus was replaced in 2011 (Alamy)
Kings of neon
It had all begun in 1896 when William Ramsay, the distinguished British chemist and future Nobel Laureate, discovered the spectacular qualities of the scarce gas – it forms just 0.0018% of the Earth's atmosphere – when he placed neon in a glass container and charged it with electricity. It was, he said, like the Northern Lights, a blaze of brilliant crimson light that held his fellow scientists spellbound. 
In 1910, Georges Claude, a French engineer and entrepreneur, demonstrated two 12m-long bright red neon signs at the Paris Motor Show. The public was wowed. In the years leading up to World War I, Claude's company, Air Liquide, laced Paris with neon signs, and in 1919 – when the lights of Europe went on again – he even lit the entrance of the Paris Opera with neon. Four year later, Claude sold a pair of neon signs to Earl C Anthony's Packard dealership in Los Angeles. This set the tone and pace for all the many neon advertising signs – including Kentile Floors – that were to shine from coast to coast across the United States over the following decade.
If neon signs lit up the Roaring Twenties, they helped make the Depressed Thirties more tolerable. Hollywood, Times Square, countless cheap and cheerful movie theatres and family diners: neon signs were never less than jolly. They were also an art form in their own right, each sign handcrafted. There was undeniable artistry, too, in the way colours could be conjured and mixed with the use of different gases. While neon blazes red, argon offers violet light, helium pink, krypton silvery white and xenon pale blue. Today, even as neon has fallen from favour among advertisers, it is much favoured by artists, among them Dan Flavin, Tracey Emin and Bruce Nauman.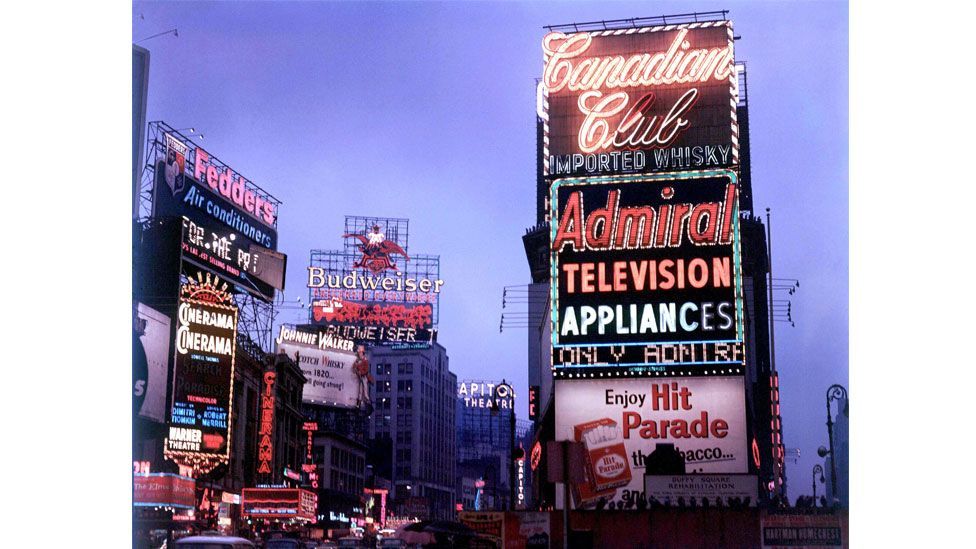 Neon signs create iconic landmarks in city centres, such as New York's Times Square (Rex)
Neon signs will forever conjure the worlds of 1930s Las Vegas and Shanghai – where the first was a 1926 sign for Royal Typewriters on Nanjing East Road – Havana and Hong Kong, along with Times Square and Piccadilly Circus. And, before this, they have shone in memorable films like Ridley Scott's magnificent Bladerunner of 1982, on album covers like John Lennon's Rock'n'Roll 1975, as well as lighting – in bands of pure white – Hong Kong's origami-like Bank of China designed by the celebrated Chinese-American architect I M Pei and opened in 1990.
There was a period, though – between the 1960s and 1990s – when neon signs became associated with run down areas of the world's inner cities. From the '90s, these districts have been increasingly redeveloped and brought back to comfortable and profitable life. For a dark spell, though, here were the realms of back street dives, of sex shops and hostess bars, with neon showing the way to the seedier sides of city life. And, high above them, those old signs waving a flag for a blue-collar, industrial world of synthetic floor tiles, wheel aligning and automobile parts.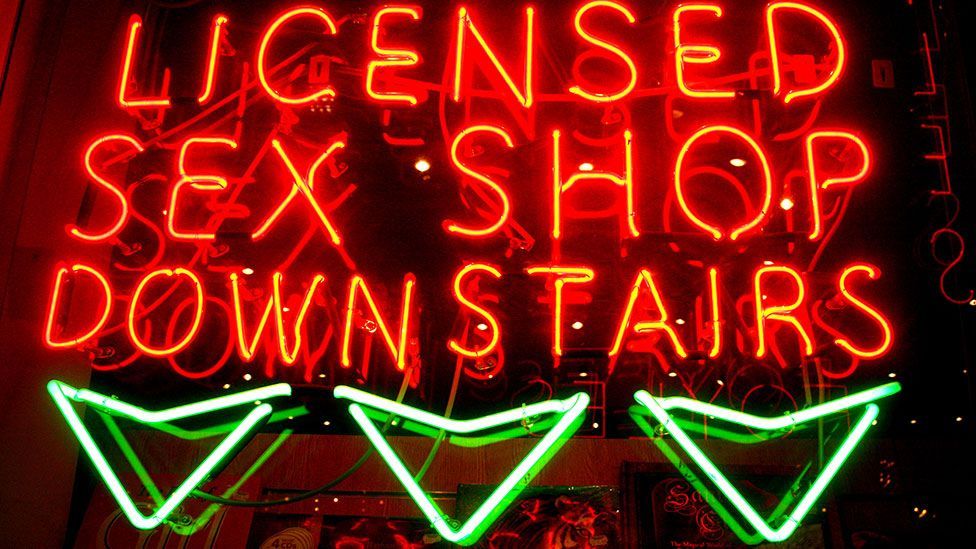 Neon signs became associated with cities' rundown areas (Jeffrey Blackler/Alamy)
Neon, though – despite the economic allure of cheaper fluorescent and LED lighting – has shone on into the 21st Century, against the odds, with residents determined to keep signs for Lucozade and Kentile Floors alight, as well as entire city centres, like Hong Kong's. Neon will long spell 'downtown' in bright, emotionally uplifting and hugely popular firework light.
If you would like to comment on this story or anything else you have seen on BBC Culture, head over to our Facebook page or message us on Twitter.