During WWI, artists created optical illusions on water with camouflage 'dazzle paintings'. Now a sculptor and a painter have revived the technique.
T
The periscope broke through the water. The U-boat captain had to be quick: he had just a few seconds to find his target and fire. And then the ship he was tracking appeared to break up, jolt, change direction. The torpedo missed.
That was the idea, anyway. The scientist John Graham Kerr first suggested the use of camouflage to make it difficult to calculate a ship's course in 1914, but it was an artist who developed the technique. British marine painter and poster artist Norman Wilkinson was inspired to create 'dazzle' camouflage after serving as a Royal Navy volunteer in a submarine patrol at Gallipoli and on a minesweeping ship off the British coast. Instead of attempting to render warships invisible, he aimed to confuse the enemy with contrasting colours and shapes that distorted the ship's form and obscured its movement in the water.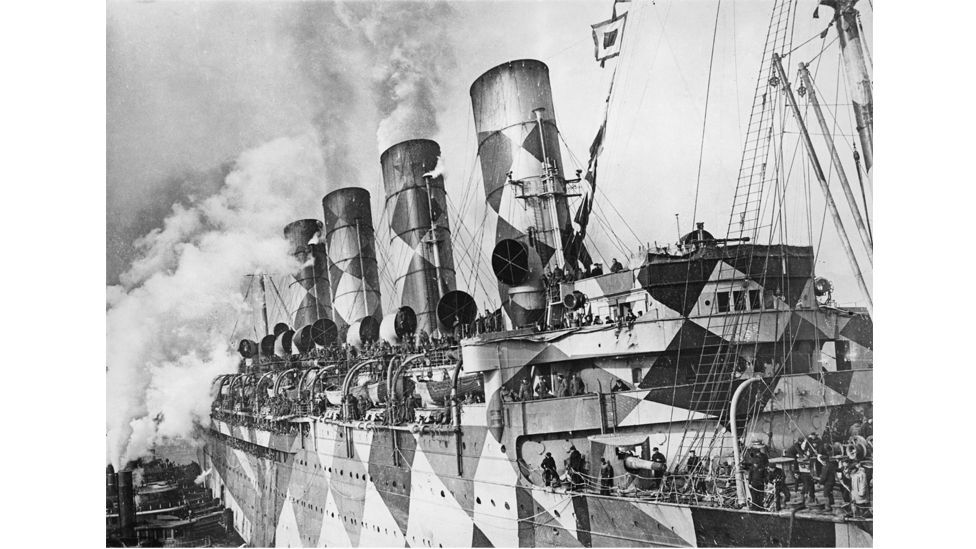 The troopship USS Leviathan, 1918. (Hirz/Frederic Lewis/Archive Photos/Getty Images)
Now the optical illusions have been revived as part of a series of art commissions celebrating the centenary of World War I. Venezuelan artist Carlos Cruz-Diez has created a new work for a historic pilot ship in Liverpool, and in London today, Tobias Rehberger unveiled his transformation of the HMS President, which served as a 'dazzle ship' during the conflict. The German sculptor won the Golden Lion award at the 53rd International Venice Biennale with a cafe he created using the principles of dazzle painting.
Although Wilkinson's own artwork was traditional – he was commissioned to create paintings for the smoking rooms on the Titanic – his dazzle designs have been compared to the Cubism of Pablo Picasso and Georges Braque. Curves on the hull of a ship could create the impression of a wave, shapes on smokestacks suggested the ship was facing another direction, and patterns at bow and stern made it hard to see which was which.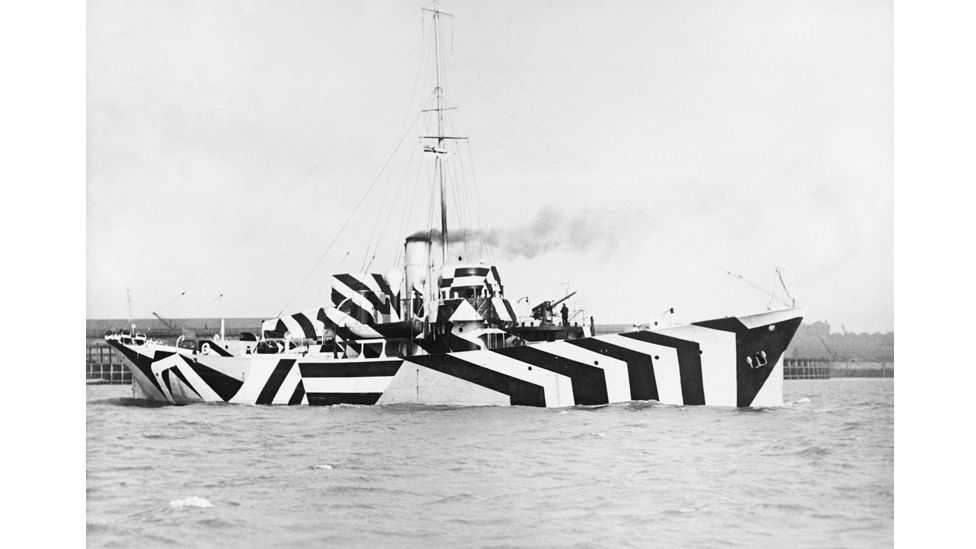 Gunboat HMS Kildangan in dazzle camouflage, 1918. (IWM via Getty Images)
As head of a new dazzle camouflage section of the Admiralty, Wilkinson brought together a team of artists from the Royal Academy of Arts in London to create hundreds of unique patterns. One of his team, Edward Wadsworth, had helped to found the art movement Vorticism in 1914. The US Navy was so impressed it applied the camouflage to its own ships: one newspaper described their fleet as a "flock of sea-going Easter eggs".
Rehberger was attracted to the designs in part because they seemed so unlikely. "Camouflage usually means you can't see something, but instead on these ships there's a loud graphic pattern – it's an amusing paradox," he says. "It's funny to imagine they were all sailing around with these pink and blue and black-and-white striped boats."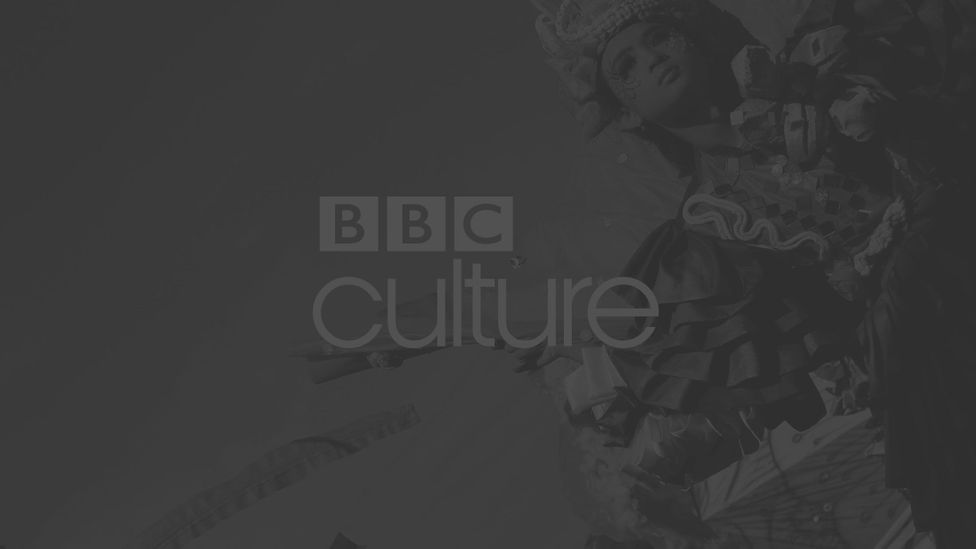 This video is no longer available