The Japanese-American artist, who died in late June, challenged the notion that conceptual art appeals to the head alone, writes Jason Farago.
M
Most artists' names, on the walls of museums, appear with numbers after them in parentheses: a year of birth, usually, followed by a hyphen and then a year of death or else a small, mortality-challenging blank space. On Kawara, the great Japanese-American artist who died this summer, preferred a different style. He preferred to give his age in terms of the days of his life that had elapsed. The number ticked up and up until June 2014: 29,771 days, each one of them a treasure.
Kawara, who was born in 1932 and emigrated to the United States in 1964, is best known for his sober, sequential paintings that depict the passage of time with the greatest economy possible. In thousands of meticulously painted canvases, he spelled out the date of their creation in white letters on a solid black, blue or red background, some as small as a piece of A4 paper, others more than two metres wide. If the painting was not finished at midnight, he destroyed it; if he was traveling, he wrote the date in the local language. Each was a self-portrait, and also a commemoration. Each is just like the others, and yet they're hand-painted and have their tinges, their own little quirks, that set each one apart. In a real (and not at all morbid) way, Kawara's Today series could only end at the artist's death – at the exact moment when the paintings were transformed from testimony to a life being lived into memorials for a life that came and went.
Ars longa, vita brevis, goes the Latin motto: art is long, life is short. But with Kawara they were exactly the same length.
From theory to practice
Two years ago I went to the David Zwirner Gallery in New York for one of the largest retrospectives of Kawara's date paintings: more than 150 of them, some made more than four decades before and some just weeks old. I had expected it to make me think, and it did. What I was not prepared for was the sudden, almost overwhelming emotional force of Kawara's work, which offered joy and surprise, meditativeness and ontological terror, in doses I could not have foreseen. His posthumous retrospective at the Solomon R Guggenheim Museum in New York, scheduled for early next year, will offer much larger audiences the chance to encounter his deeply thoughtful but also deeply affecting art.
We too rarely speak about the emotional force of conceptual art – a phrase that Kawara did not use; indeed he rarely spoke about his work at all. Part of this has to do with the rhetoric that early conceptualists employed to justify their quite radical practices in the late 1960s. In his famous 1967 statement Paragraphs on Conceptual Art – the essay that gave us the term, written a year after Kawara began his Today series – the artist Sol LeWitt made it clear that he had no patience for anything but ideas. "It is the objective of the artist who is concerned with conceptual art," he wrote, "to make his work mentally interesting to the spectator, and therefore usually he would want it to become emotionally dry." Never mind that LeWitt frequently broke his own strictures, and that gallery-goers frequently fall for the beauty and elegance (rather than geometric acuity) of his wall drawings.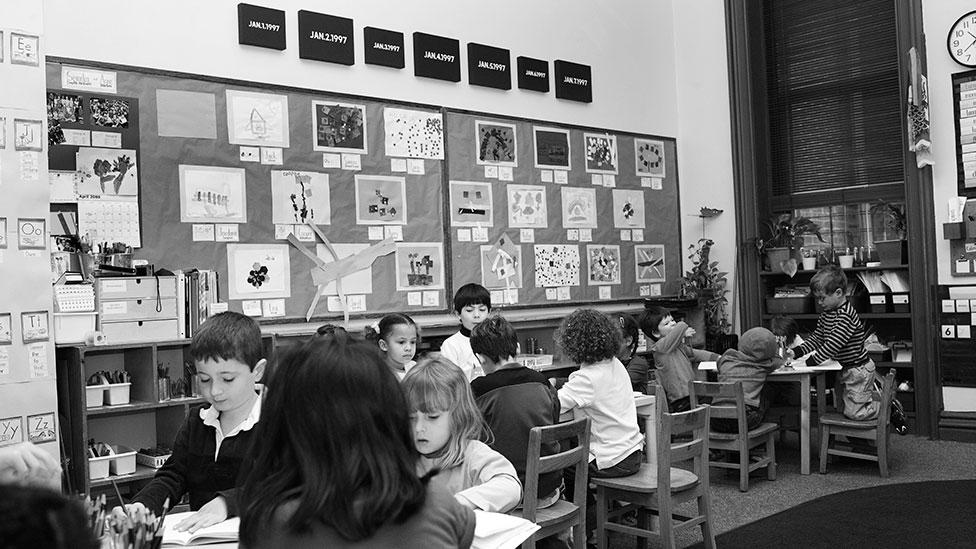 An installation view, where works from the Today series were hung in kindergartens (David Zwirner, New York/London / Brad Harris)
Even beyond that, I'd note that many of the most enduring and trenchant works of what gets lumped into the hazy category of "conceptual art" are precisely the ones that make use of fissures, failures, uncertainty and absurdity, rather than the ones that close themselves in. Lawrence Weiner reduced art to words on a wall, but its power derives from his inscrutable, sometimes hilarious style. Hanne Darboven produced giant handwritten pages of numbers, but she tethered them to musical compositions and even photographs of birds. Daniel Buren purged all compositional elements from his paintings of stripes, but that served to emphasize, rather than suppress, the social and cultural world in which they were made.
Not for the mind alone
Still, a misunderstanding persists: that conceptualism is mere philosophy in the art gallery, purged of any engagement with the real world and any purchase on the emotions of viewers. No one put the argument more bluntly than Kim Howells, who served under Tony Blair as Britain's culture minister. In 2002, at Tate Britain in London, he was asked for his response to the art of the four nominees for that year's Turner Prize, the highest honour in British contemporary art. Howells' response, which he posted on a notice board at the exhibition's exit, read: "If this is the best British artists can produce then British art is lost. It is cold, mechanical, conceptual bullshit."
Ignore, for a moment at least, the centuries-out-of-date Cartesianism of such a stance – the belief that the intellect and the emotions, the head and the heart, can be cleaved apart so cleanly. Ignore, too, the use of "conceptual" as an insult, as if any intellection at all was by itself proof of low artistic quality. More to the point: deriding all conceptual practices as "cold" doesn't even do justice to the very work that Howells was looking at. One of the artists on view that year was Liam Gillick, who was nominated for a highly complex installation that made use of solid-coloured stained glass panels that transformed the spaces of the gallery into sites of contemplation and surprise. Sure, you could read the abstruse texts that went with them, and ruminate on dislocation and globalisation and all that fun. But the art worked through affect as much as intellect – the coloured light changed your perception, altered your mood and operated in a realm beyond language and reason.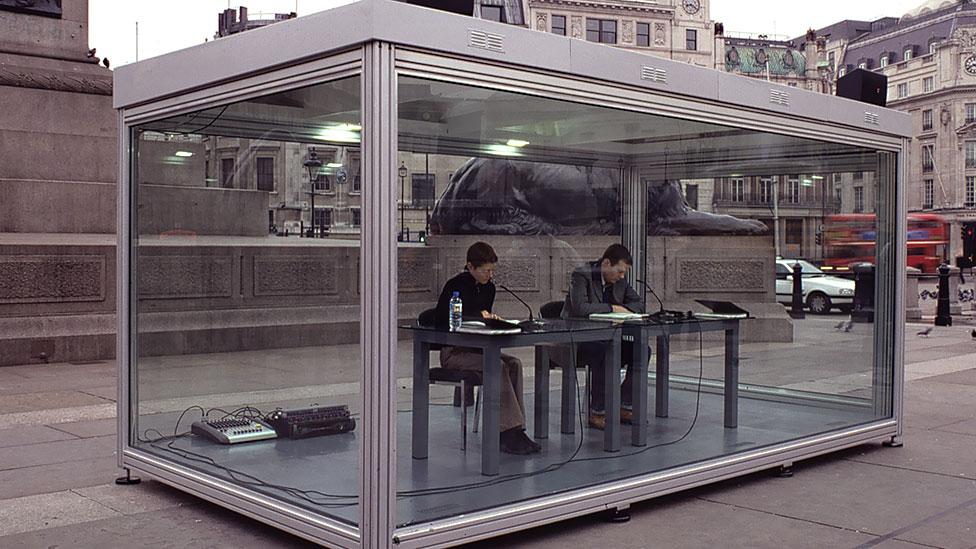 Reading One Million Years (Past and Future) installed in Trafalgar Square, London in 2004 (David Zwirner, New York/London / Marcus Leith)
Art is not philosophy, and art is not decoration either. Art is a portal onto something beyond the world at hand, accessed not through the intellect or the emotions alone but through both at once, in free exchange – and at times it can be too intense to bear. The Dutch critic Alexander Mayhew experienced something like that when he participated in a performance of one of Kawara's most powerful works: One Million Years, which requires participants to recite, one by one, years from deep prehistory out into the unimaginable future. You sit at a desk, a giant book of numbers in front of you, and intone: 973,612 BC. 973,611 BC. 973,610 BC. Cold, mechanical conceptual bullshit? Not to anyone who experiences the beautiful, dreadful power of Kawara's epic memorial, as Mayhew did at the microphone that day. "You have to say goodbye forever, but you do not want to let go," he wrote. "It makes my voice tremble with hesitation and sadness. I have to contain myself. The instructions said nothing about crying while reading."
If you would like to comment on this story or anything else you have seen on BBC Culture, head over to our Facebook page or message us on Twitter.