People are gathering in Berlin for ultra-intimate gigs in people's homes – and even on their balconies. Thomas Rogers explores a scene where the most intimate venue is the best.
A
At 7pm on a Friday night, a dozen people are standing anxiously in a Berlin classroom, listening to Lorenz Pöllmann take attendance. "Frau Hildbebrandt?" the softly-spoken Stuttgart native calls out to the crowd of mostly twenty-somethings, before shaking his head and continuing down the list. Although the setting is a college located in an old factory building, tonight's crowd isn't here to take part in a seminar, but to attend one of the secret concerts Pöllmann has been organising around the city for the past several years.
Pöllmann's Cosy Concerts, which take place in various small spaces, are part of an increasingly popular Berlin trend of throwing intimate musical events in unconventional, usually private, locations. Although similar projects have been organised in cities around the world, over the past five years, the German capital has become something of a hotspot for fans of super small-scale concerts – some, like the Home Opera concerts, specialise in one genre of music, while others, like Séjour, in living-room locations.
Once he's finished taking attendance, Pöllmann leads the group, which registered online in advancedownstairs and into the school's sparse, humid basement. There, a relatively new band, Fox on the Run – fronted by Jasper André Friedrich, a well-known figure from the East German punk scene – is getting ready to launch into a raucous set. The space is dark and sweaty; the only seats are wooden crates and chairs carried down from the school; the walls are ringed with shelves holding cables and insulation. It's an impractical setting for a concert, but as the evening progresses, it becomes a uniquely relaxed one. Sitting just a few feet from the band, the audience can see the sweat beading on André Friedrich's forehead as they banter with him between songs. 
Pöllmann's Cosy Concerts series first took shape in 2010, when the professor of media and event management and a friend came up with the idea of reviving the concept of the musical salon and reinventing it for the modern age. "We wanted to do it with pop and rock and other genres," he explains. He recruited local bands and convinced them to host concerts in their own spaces – like living rooms and rehearsal spaces. The feat wasn't always easy: "Some bands really didn't want people to use their toilets," he says, "even though we promised we would clean them after."
To avoid overcrowding the small venues, people had to reserve the free tickets in advance, but even so, he managed to attract several hundred concertgoers to the series' inaugural 2011 edition, and even more the following year. "It was a total success," he says. One of his favourite locations, he says, was a greenhouse on top of a building in the city's Neukölln neighborhood that "was filled with plants and usually used by the band to drink beers." Because of his heavy teaching workload, this year's festival was a truncated one – only three planned concerts, one of which is a public event at a record store with the singer-songwriter, Mädchen aus Berlin – but he's convinced that the series is a perfect fit for Berlin. "It's a bit of a guerilla idea," he says, noting that it fits into the city's long tradition of flouting rules and norms.
Noisy neighbours
Elena Brückner, a Berlin native who's been organising a local edition of the Dutch living-room concert series Live in the Livingfor the past eight years, agrees: "In Berlin we're used to using spaces differently [from] how they were intended to be." The city's techno culture, for example, first took hold in abandoned warehouses and bunkers after the fall of the Berlin Wall, when the sheer number of empty buildings made it easy for organisers to throw illegal parties without the authorities ever taking notice. Although Berlin is no longer as freewheeling as it was then, that same anarchic attitude still remains a part of the city's social fabric. "I think a lot of Berliners now undervalue that there are still a lot of undefined spaces here," she says. "Private spaces, like living rooms, are defined, but they're still informal – it's very Berlin." It also helps that the city's reasonable rents make it more likely that people have sizeable living rooms to throw concerts in.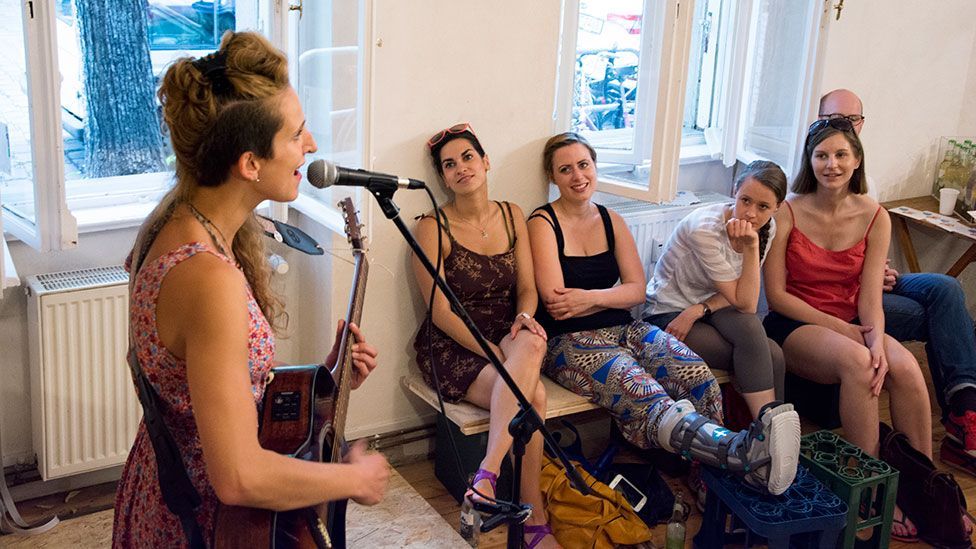 In addition to flats and private homes, 2014's Cosy Concert venues include a school and a small record store (William Rockel/BBC)
For Brückner – who also works as a theater director and was, she claims, the first person to bring the concept to Berlin – the biggest appeal of the home concerts is their sense of intimacy. When she first encountered the idea of the 'living-room concert', on a trip to the Netherlands, she loved peeking through the hosts' CD collections to get a sense of who they were. "I guess you can't do that so much anymore," she says, "but you can look at their books, and seeing a person's apartment still tells you a lot about the person." And, even as an organiser, the living-room concept allows the kinds of unpredictability you wouldn't have in a more official venue. "One time we were disassembling furniture before a concert and one person got buried under his own bed," she says. 
Since last year, another even more unconventional concert event, called The  Night of the Singing Balconies, has been taking place in the eastern neighbourhood  of Friedrichshain. But unlike Brückner and Pöllmann, the concert's organiser, Volker Siems had a very specific social purpose: to bring neighbours together. The event – which consists of a number of short concerts on people's balconies, ranging from opera to Tibetan music, performed to prearranged walking groups – was an outgrowth of his other community-building activities, like organising flea markets and picnics. He was motivated by what he sees as a growing alienation between Berlin's residents.
Up close and personal
Berlin has become a magnet for people from around the world, drawn by the city's cheap cost of living and its reputation as a nightlife mecca, or driven by the desire to get away from countries hard-hit by the euro crisis.  "We now living in this very cosmopolitan city," says Siems. He hopes that with events like the Singing Balconies, and his other concert series, Singing Living Rooms, he can help foster a sense of community between long-time residents and new arrivals. "There are so many treasures hidden behind the building facades, that we can access if we're a bit less anonymous with one another."
That same communal spirit is in evidence at the Fox on the Run concert. Although the basement is sweltering, the chatty crowd sticks around after the set to drink and jam on the instruments. André Friedrich, the former GDR punk, sits in the corner sipping a beer. Although he used to play concerts in front of 10,000 people, he says prefers being close to the audience and seeing their reactions to the music. It reminds him of the illicit concerts he used to play in East German squats: "Sometimes half of the floorboards would be missing and people would step through the floor."
Mostly, though, he likes being able to measure people's reactions to the music as he plays. If there's anything he could have changed, it would have been to make the concert even smaller. "We could easily have been closer," he laughs.
If you would like to comment on this story or anything else you have seen on BBC Culture, head over to our Facebook page or message us on Twitter.