New terminals are cropping up all over the world at a stratospheric rate– but what happens to the ones that are no longer useful? Jonathan Glancey investigates.
I
It is hard to predict quite what commercial flight will be like in future decades, yet we can be sure that many of today's ambitious new airport terminals, some designed by the world's most highly rated architects and engineers, will be redundant faster than you can say Concorde. Because so many more of us want to fly each year, ever further, more frequently and as cheaply as possible, aircraft and airports are multiplying at a stratospheric rate. Airport terminals, however, are big, highly specialised and costly buildings. Are they doomed to be demolished as numbers multiply or can new uses be found for them? Much, it appears, turns on just how big they are.
This spring, Aéroports de Montréal and Transport Canada announced the demolition of the colossal terminal at Mirabel Airport, the world's largest – by area – when it was opened in 1975 by the charismatic Canadian Prime Minister Pierre Trudeau. 'Montreal's Ghost' had been all but vacant for more than a decade when the decision was made. There have been various plans to turn it into a school, a hospital and, most recently, an amusement park. They have all fallen through.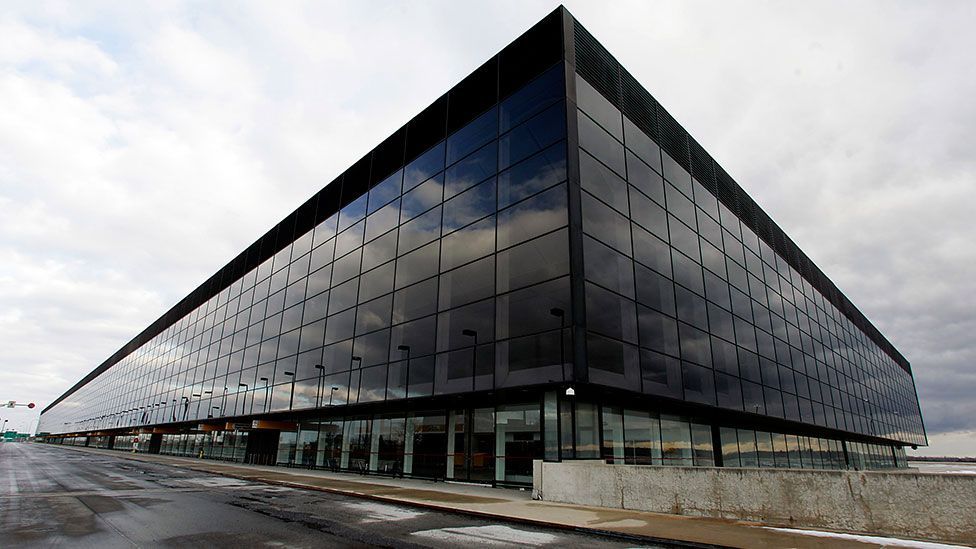 Mirabel's design consists of a minimal structure in dark glass over a concrete bunker (Christinne Muschi / Corbis)
The terminal's design might have been impressive – a monumental dark glass box crowning a concrete undercroft – with the shortest possible walks for passengers from check-in to waiting planes, but the sheer size of the building has defeated even the most plausible plans. It had been built largely as a vanity project at the time of the 1967 Montreal Expo, when the Canadian city was on a roll.
Mirabel was located 34 miles from downtown Montreal. A much-vaunted rail link to the city was never built. Toronto, meanwhile, boomed, becoming Canada's centre for international air travel. Flights to and from Montreal have been diverted from Mirabel to the older Dorval airport, since renamed Montreal-Pierre Elliott Trudeau International.
In recent years, the empty terminal has been a gift to filmmakers wishing to shoot in a large modern airport. You can see the building masquerading as JFK in Steven Spielberg's The Terminal , a film from 2004 about a Kafkaesque anti-hero, played by Tom Hanks, trapped in a terminal, and in Warm Bodies, a zombie romance from 2013. 
Behind the times
Other impressive modern terminals have been faced with demolition not so much because of their size, but because they have been deemed unfit to cope with the demands of increasingly large airliners. From January 1970 when the Boeing 747, or 'Jumbo Jet', first flew in regular service from New York to London, the fate of buildings like the exquisite TWA Flight Center at JFK was more or less sealed. Opened in 1962, the building that New York architect and historian Robert Stern called the "Grand Central for the Jet Age" closed in 2001, when TWA went out of business.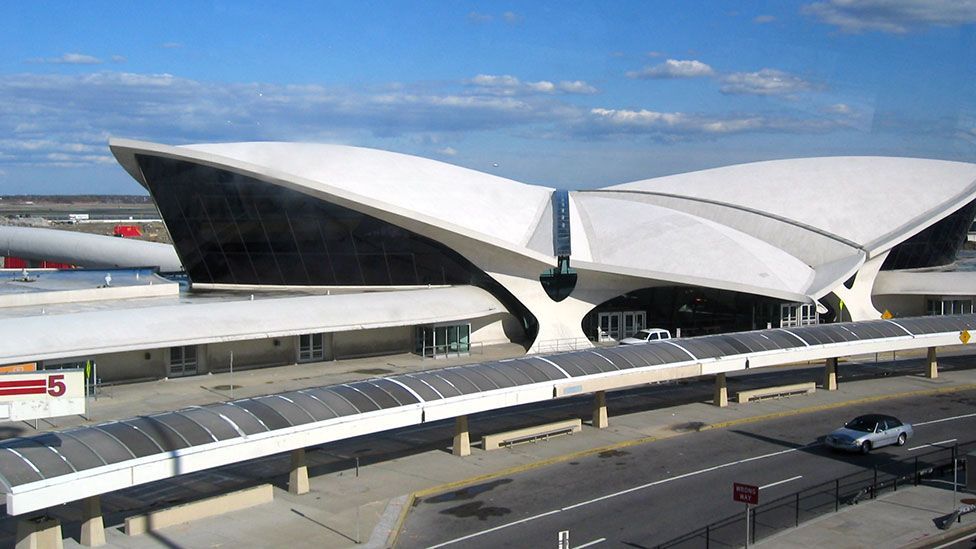 Finnish-American architect Eero Saarinen's futuristic design for the TWA Flight Center evokes the thrill and glamour of 1960s air travel (Evan P Cordes / Flickr / CC BY 2.0)
Designed by Eero Saarinen, the TWA Flight Center, or JFK Terminal 5, remains the world's most compelling and photogenic airport building. Sensuous, cinematic and an utter delight to the roving eye, it survives – all swooping lines and lightweight concrete – to evoke the excitement of the early Jet Age. It has however been cut down to size. Although declared a Historical Landmark of New York City in 1994 and placed on the National Register of Historic Places 11 years later, only the core of the terminal survives. Encompassed since 2008 by a new Terminal 5 designed by Gensler architects and serving the airline JetBlue, Saarinen's gem fails to shine as it should today. Not only have its wings been clipped, but plans to turn the bird-shaped building into a conference centre, restaurant or hotel have all fallen by the way.
The latest, by the Budapest-born hotelier André Balazs, would have seen the Saarinen-designed terminal re-open as the spectacular lobby of a 150-room hotel. A listed historic monument that played fly-in parts in ABC TV's Pan Am and Catch Me If You Can, Hollywood's take on the life of the brilliant con man Frank Abagnale, played by Leonardo DiCaprio, the TWA Flight Center will survive even if it is some while yet before all parties can agree on what best to do with it.
Meanwhile, the equally fine, although often underrated Terminal 6 at JFK has been demolished. The building was opened in 1969 and designed by IM Pei, the Chinese-American architect whose Glass Pyramid is much admired by millions of visitors to the Louvre from around the world. Marketed by National Airlines as the 'Sundrome', this light, elegant, calming and transparent building was a subtle riposte to Saarinen's swooping Terminal 5.
It was an elegant modern pavilion, nothing more or less than a great horizontal steel truss – its roof – held up by 16 cylindrical concrete columns, with wrap-around floor-to-ceiling panels of sheer glass. Perhaps the 'Sundrome' was too modest, and although it had the virtue of passengers being able to see right through it from entrance to aircraft, it was not a place for the kind of shiny shops and temporary food-stalls that define the latest mass-transit terminals where the very notion of repose is traduced at every possible commercial twist and turn. 
Soaring again
Smaller and older airport buildings have fared much better than Saarinen's and Pei's. Dating from 1939, the delightful Terminal A at Billy Bishop Toronto City Airport, closed in 2010. It has since been moved, by trailer, 230-metres southeast from its original plot and turned into an aviation museum, restaurant, events space and area for private pilots.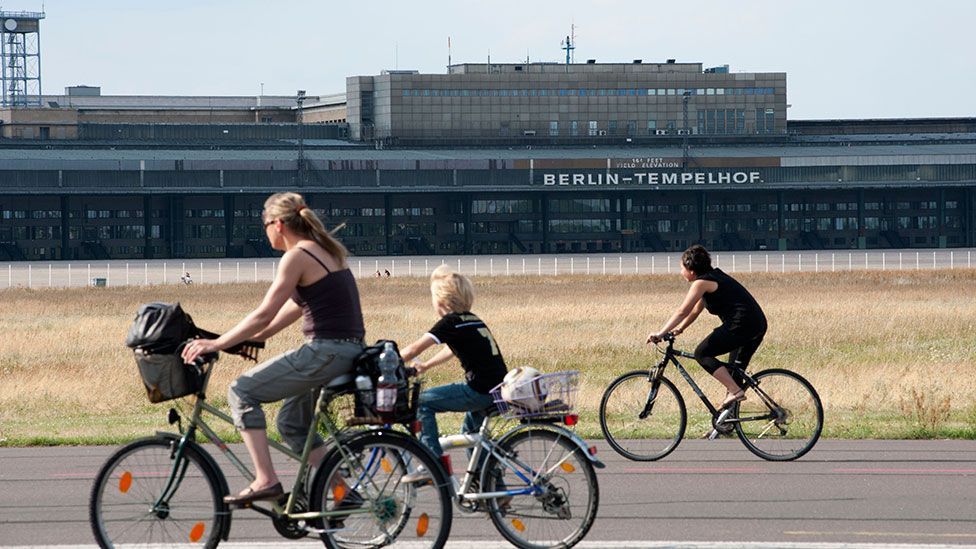 Berliners voted in a referendum in May 2014 to preserve Tempelhof's landing field as a public park (Urbanmyth / Alamy)
And since 2000, the 1928 Art Deco terminal building of the very first purpose-built international airport – Croydon, in south London – has been home to an aviation museum along with a business centre, while Budapest Terminal 1, a highly distinctive design in the guise of a bird in flight by the Hungarian architect Karoly David Jr – designed in 1939, opened in 1950 and closed two years ago – has been re-opened as a sympathetically restored events centre.
There is, though, one large – and historic – airport that has survived in its entirety, finding a new and much liked use as an expansive city park and events centre. This is Tempelhof, built between 1936 and 1941 as a key part of Albert Speer's redesign of Berlin. The architect was Ernst Sagebiel who had set the tone for stripped, classical Third Reich architecture with his earlier Reich Air Transport Ministry for Hermann Goering (still very much there in Berlin). Tempelhof's 1.2km-long airport building served the city until 2008. Now it is home to architects' and artists' studios as well as offering the city a new park where Berliners cycle, picnic, jog, skate, grow vegetables and, appropriately, fly kites. Tempelhof was famous for housing what must have been the world's smallest duty free shop, and yet despite being so out of step with today's insatiable global retail culture, it has overcome its dark history and commercial limitations to serve its host city well even after the last aircraft have flown its monumental nest.
If you would like to comment on this story or anything else you have seen on BBC Culture, head over to our Facebook page or message us on Twitter.