This year is the 400th anniversary of El Greco's death but his works can feel shockingly modern. Jason Farago examines how his works influenced Manet, Cézanne, Picasso and Pollock.
F
Few artists stick out from the standard tale of western painting more pointedly than El Greco, the great outlier of the late 16th Century. Deeply religious, passionately single-minded, he merged the art traditions of three different countries and found his own unsettling painterly language, one that took a very long time to find its most receptive audience. Flip through the pages of a textbook or wander through the permanent collection of a major museum and you can sometimes fool yourself that art history is a clear and predictable progression, one style and one century inevitably giving way to the next. But art history, we know, isn't nearly so simple, and El Greco, like few other painters, gives the great delight of seeing that story disrupted and contradicted.
El Greco and Modern Painting, a major exhibition now on view at the Museo Nacional del Prado in Madrid, demonstrates the influence of the Spanish-Greek artist on figures as divergent as Manet and Picasso, Beckmann and Pollock. It also, inevitably, suggests that El Greco was in some sense 'modern' himself. Wrenched out of time, El Greco speaks more easily to secular museumgoers than many religious artists of the 16th century. We can look at his altarpieces and his portraits as bold experiments with form and colour, or see in his torqued figures the presentiment of abstraction. Yet looking at El Greco's influence on modern artists offers a chance to see not only what is timeless in the artist's work, but also what's not. And putting El Greco alongside the moderns can help us see art history as more than just a series of dots on a line, but a multi-directional conversation that upsets time itself. 
For another age?
El Greco – or Domenikos Theotokopoulos, as he was born – was born in 1541 in Crete, which was then a colony of the Most Serene Republic of Venice, the reigning bosses of the Mediterranean. After training as an icon painter, he moved to Venice and later to Rome, yet despite the booming market for religious painting in the midst of the Counter-Reformation, El Greco's career took some time to get going. It wasn't until the late 1570s, when he settled in Toledo, Spain, that the artist began developing both the contacts that would sustain his career, as well as the groundbreaking, disturbing, unprecedented style that would characterise his mature art.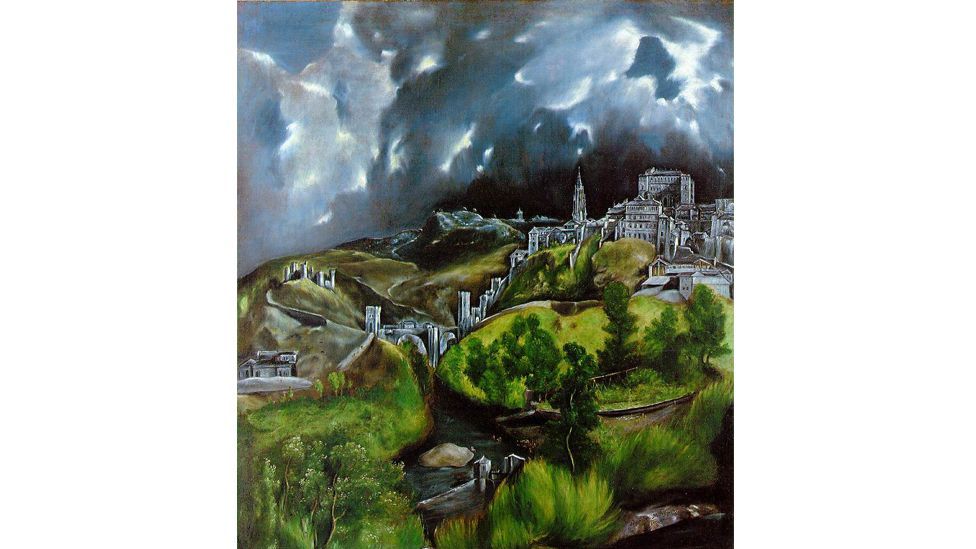 View of Toledo by El Greco (Metropolitan Museum of Art, New York)
In Venice, the young El Greco produced composed, vibrant tableaux in the manner of Titian (whom he may have worked for at one point; the historical record isn't clear), and had he stayed there he might be remembered today as a talented but not extraordinary painter of the late Renaissance. But in Spain his art became more penetrating, more Mannerist, and much more idiosyncratic. Figures, especially faces, became elongated and corkscrewed, almost post-human. Striking, at times reckless use of chiaroscuro makes pink and blue robes burst from the canvas. Rather than anatomical verisimilitude, El Greco's Spanish-period paintings strove for religious intensity and sensual potency, and he was happy to sacrifice naturalism to get there. Looking today at his creepy eschatological Vision of Saint John, from 1608–1614, it's hard to imagine how the conservative religious community of Toledo would have understood its anguished gray sky, its unorthodox use of scale and its transformation of holy figures into stark, twisting panes of colour. You can only conclude that El Greco knew his audience was not just the folks in town, but past masters, future admirers and probably divine observers too.
El Greco was not a lone wolf or a hermit. He was a shrewd businessman and he had supporters, though nothing on the level of such hustling artist-politicians as Titian or Rubens. After his death in 1614, however, at the dawning of the Baroque era, El Greco fell from favour. His idiosyncratic, sometimes disturbing style, with its bold rejection of naturalism – the very thing that makes him seem so fresh today – marked him in the 17th and 18th centuries as at best a minor painter on an off-ramp of art history, and at worst a madman. But El Greco wasn't mad at all. He was single-minded, extravagant, stubborn perhaps and willing to wait for fame: for centuries, if needed
Rescued from history
El Greco's revival began, like modern art itself, in Paris in the 19th Century. A new gallery of Spanish art at the Louvre – featuring nine El Grecos, plus a few that were misattributed – enraptured painters like Eugène Delacroix, who owned a copy of one of El Greco's scenes from the Passion. Édouard Manet, the man with whom modern art truly begins, was a total Hispanophile, and in 1865 he traveled to Madrid and Toledo to see El Greco's work up close. Velázquez, Murillo and the other painters of Spain's Golden Age enraptured Manet, but he had to work hard to assimilate their exacting compositions into his own flat, blunt style. El Greco hit closer to home. Manet's Dead Christ with Angels, now on loan to the Prado from the Metropolitan Museum of Art, is deeply indebted to an El Greco annunciation from around 1600: in both, the angel swoops down from the right of the composition, blue-gray wings splitting the sky.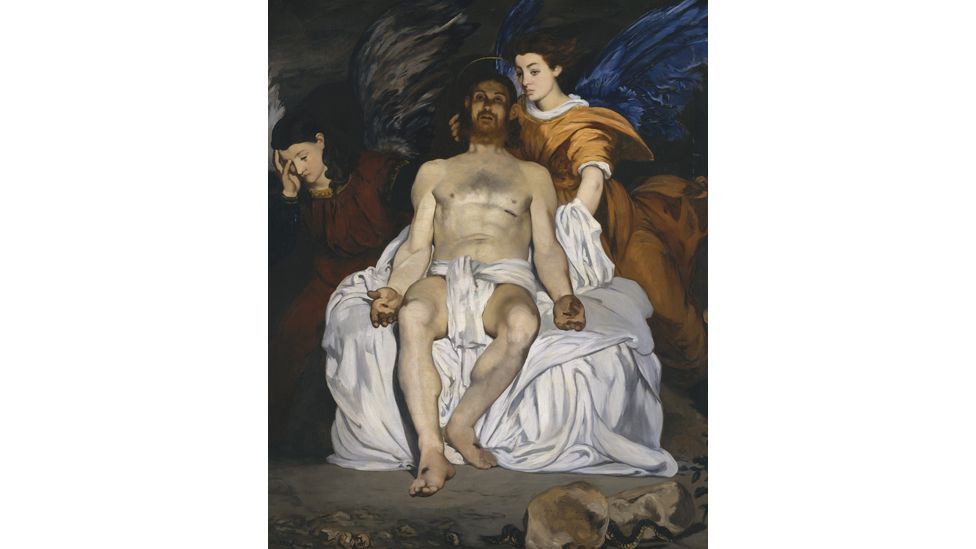 The Dead Christ With Angels by Manet (Metropolitan Museum of Art, New York)
Paul Cézanne never made it to Spain, but in 1885 he began copying an old portrait of a woman with a fur stole from a woodcut reproduction, one that was then credited to El Greco but is now in question. The copy is hardly Cézanne's most interesting work, but as he ventured further into the analytical mode that would lay the foundations for abstraction, El Greco's influence endured: compare the older artist's barren View of Toledo, with its radical articulation of space through color, to Cézanne's landscapes of Mont-Saint-Victoire. Even Cézanne's bathers, if you're feeling generous, seem to recall that Vision of Saint John from three centuries past – a painting that we know influenced Cézanne's biggest fan, Pablo Picasso, whose Demoiselles d'Avignon uses similar compositional logic. "Velázquez! What does everybody see in Velázquez these days?" Picasso once wailed. "I prefer El Greco a thousand times more. He was really a painter."
Les Demoiselles d'Avignon by Picasso (The Museum of Modern Art, New York)
Cézanne and Picasso's admiration did not account for the fact that El Greco was an extremely religious artist, and that his deformations had a theological goal: in escaping from the exigencies of mimicry, he thought he could open a portal onto the divine. That was the appeal of El Greco for many German and Austrian artists of the turn of the 20th Century, among them Max Ernst, Franz Marc and Oskar Kokoschka, who found in El Greco a prototype for their expressionist paintings, which freighted landscapes and portraits with emotion. Even Jackson Pollock, not the first artist you might name as a disciple of the Old Masters, learned something from his Greek-Spanish precursor. His sketchbooks are filled with more than two dozen drawings after El Greco, translating his Vision of Saint John into the combustible forms that would inform his early paintings, and lead eventually to his drips.
It's easy to say that El Greco was 'ahead of his time', a modern artist born too soon. But in their recent, groundbreaking book Anachronic Renaissance, the art historians Alexander Nagel and Christopher Wood show that art has never been locked down to a single spot on a timeline, but rather constantly oscillates between past and future, and even between temporality and eternity. A painting from the 16th Century has something to say about its historical moment, yes. But it is also imbued with the art of the past, reactivated by viewers in the future and – as was widely believed then – invested with a breath of divinity that stands outside time itself. "The work of art", write Nagel and Wood, "is a message whose sender and destination are constantly shifting." Few artists prove that as solidly as El Greco, an artist in time and out of sync at once.
If you would like to comment on this story or anything else you have seen on BBC Culture, head over to our Facebook page or message us on Twitter.