Beloved of philosophers and presidents alike, the Citroën DS caused a sensation when it was launched in 1955. Jonathan Glancey tells the story of a French icon.
T
This week, the Divine DS concept car is launched at the Paris Motor Show. DS are letters that spell "Citroën", as well as Deese – or goddess – loud and clear, and have done so since the mid-1950s when the legendary Citroen DS, one of the most stylish and influential cars ever built, made its debut at the Salon de Paris on 5 October 1955.
The Divine DS is certainly luxurious, assuming your idea of luxury stretches to an interior laced with Lesage embroidery, Swarovski crystals, switches decorated with gemstones and more digital gizmos on display than you can find in an Apple store. This is clearly a car for new markets, notably China and south-east Asia. From an engineering point of view it offers little new: the Divine is mostly about fashion, ambience and, it has to be said, bling.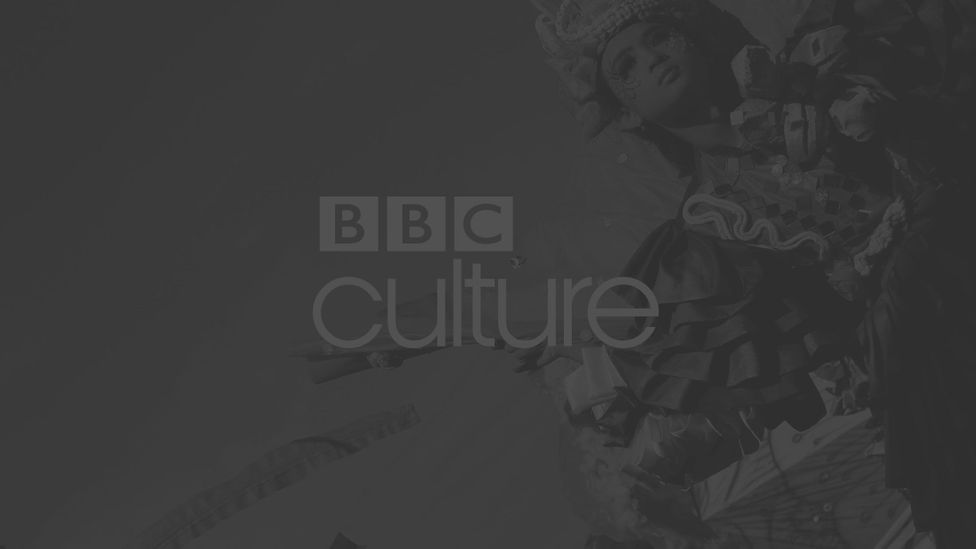 This video is no longer available
An original 1960s Citroën DS television advert
When it was revealed to the public in 1955, the Citroën DS was truly sensational. A seamless fusion of innovative engineering, new materials and imaginative design, it caught the mood of the time. Citroen took 12,000 orders on the first day of the Paris show. At a time when France was struggling back towards la vie quotidienne, here was a futuristic and utterly French design that made people proud.
French bred
The DS had been long awaited. It was the replacement for the much loved Traction Avant, first produced in 1934 and one of the most advanced cars of its time. Its styling was by Flaminio Bertoni, an Italian draftsman, craftsman, painter, sculptor and architect who set up Citroën's first design studio soon after he arrived in Paris in 1931. Bertoni also shaped Citroën's TPV (Toute Petite Voiture - 'Very Small Car') that was put into production as the 2CV in 1948 and was still being made in the same Paris factory 42 years later. Another of his designs was the corrugated HY van on sale between 1947 and 1981.
All these Bertoni creations, engineered under the direction of the brilliant André Lèfebvre, a former aviation engineer, racing driver and racing car designer, were long lived. This is because they were unlike anything else on the market, possessed of immense character, well made, practical and ahead of their time when launched.
From the shark-like, or space-ship styling to the comfortable if minimalist interior with its single spoke steering wheel and to such deft engineering as all-round disc brakes, adjustable ride height, hydro-pneumatic suspension and clutchless gearshift, the Bertoni-designed DS was a marvel. In Mythologies, published in 1957, the French philosopher Roland Barthes wrote: "I think cars today are almost the exact equivalent of the great Gothic cathedrals: I mean the supreme expression of an era… It is obvious that the new Citroën has fallen from the sky." More empirically, and at the time of the Paris show, British car journal The Motorcalled the DS "one of the biggest advances in production car design in the whole history of motoring", while from Australia, Wheels magazine described it as "just about unlike a car as anything on wheels can be."
It was certainly different. Not only did it make every other car shown at the 1955 Salon de Paris look old-fashioned, it also drove beautifully, its ride described as like that of a magic carpet. Citroën had long been good at suspension: any of its cars could be driven along rutted French farm tracks without breaking eggs.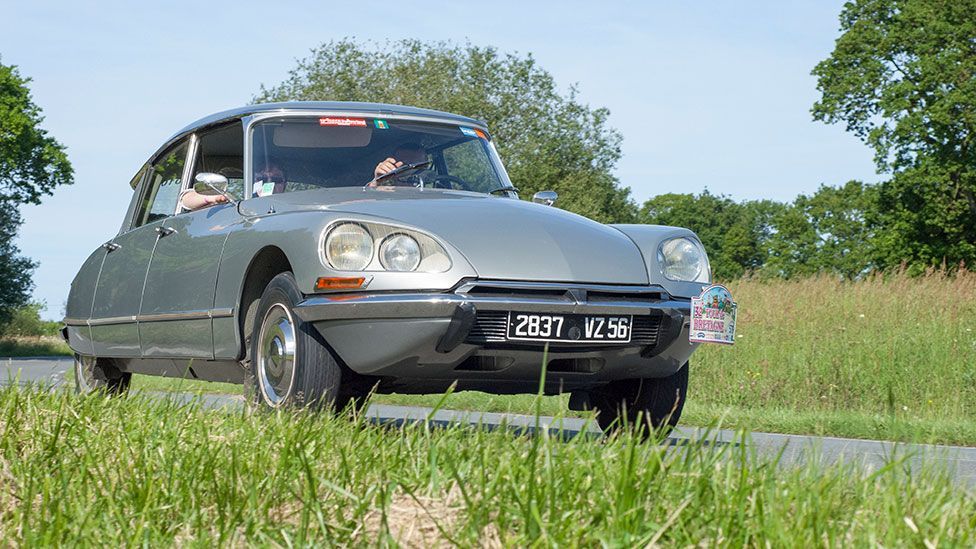 Citroen had long been good at suspension: suitable for driving on bumpy French roads (Les. Ladbury / Alamy)
Beauty on a budget
An economy model, the ID – or Idee – helped to boost sales as the French economy got into its post-war stride, while from 1958, buyers could also choose a very beautiful two-door drop-head version – the Decapotable, with modified bodywork by Henri Chapron (these are valuable today) – and the Break, or Safari as it was happily known in Britain, a five-door estate car. While DS production peaked in 1970, and went on to reach a grand total of nearly 1.5m, with cars built in England, Australia, South Africa and Yugoslavia as well as in Paris, sales never really took off in the United States. Americans found the DS underpowered and lacking in what they had come to expect as necessities rather than luxuries: air-conditioning, electric windows and fully automatic transmission.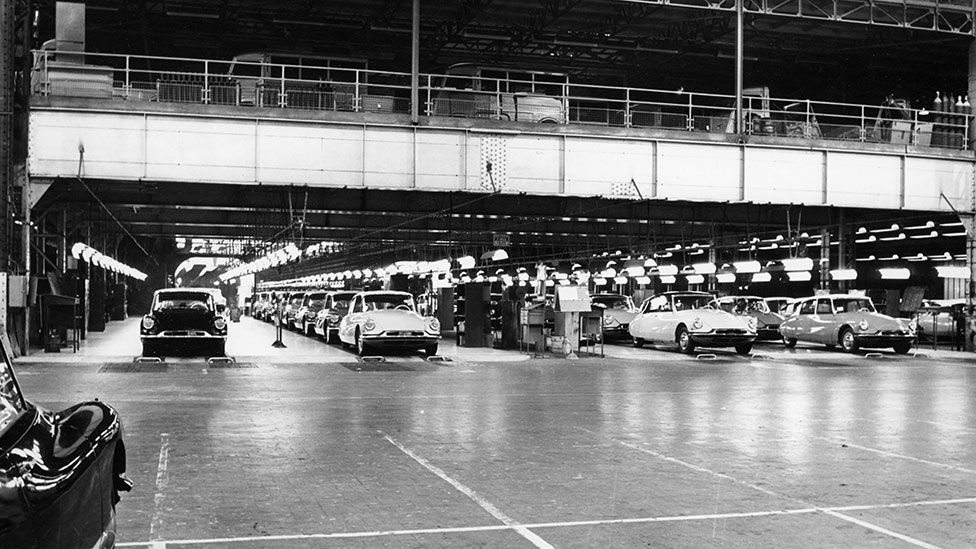 DS production peaked in 1970, with nearly 1.5m cars built all over the world (Heritage Image Partnership Ltd / Alamy)
The DS was given a slight, although significant facelift in 1967 by Citroën's Robert Opron, an architect by training who had joined the company five years earlier. Opron faired in the Citroën's headlamps and had them swivel as the car turned to light up sharp bends at night. He also gave the DS a "nose job", making it even more shark-like than ever.
Meanwhile, the DS had long established itself as a car suited to middle-income families, and especially to architects, designers and engineers: to them it was a perfect expression of Modernist design. The radical English architects Alison and Peter Smithson owned a DS; they published a book, AS in DS: an eye on the road, designed in the guise of the car's distinctive tapering floor plan. Abounding in sketches made, and photographs taken, on journeys from their London home to their weekend retreat in Wiltshire, it was, they said a record of "changing sensibilities of a passenger in the car to the Post-Industrial landscape". Roland Barthes would have approved.
Charles de Gaulle, president of France from 1959 to 1969, most definitely approved of the DS. He was very nearly assassinated in August 1962 when being driven from the Élysée Palace to Orly airport through the Parisian suburbs. A hail of machine gun bullets burst the tyres of his DS, yet the car's sophisticated suspension allowed it to escape from the scene at full speed. When offered one of the custom-designed and armour-plated 6.3m long Henri Chapron DS Presidentials in 1968, de Gaulle opted to stay with his trusty original.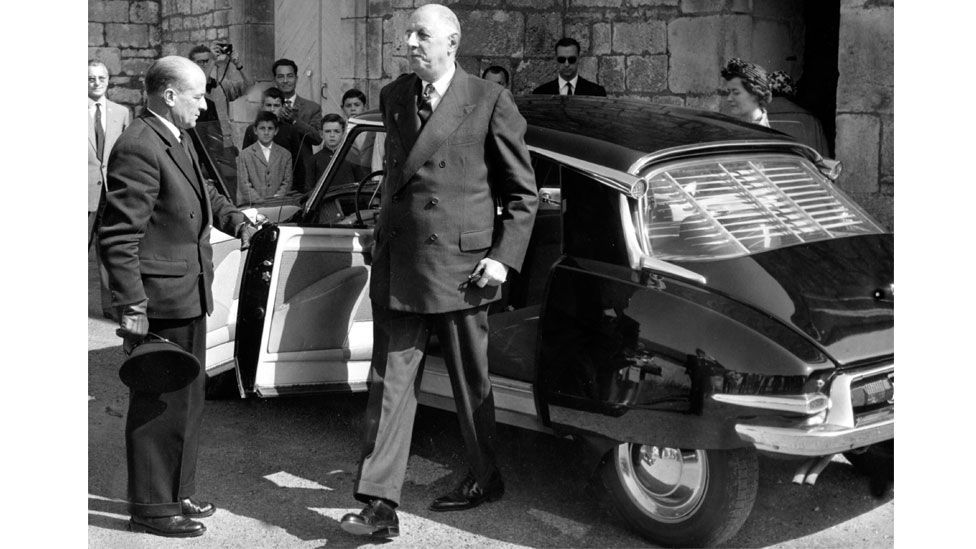 President Charles de Gaulle was one of the many famous advocates of the DS (Keystone Pictures USA / Alamy)
Citroen has yet to properly replace this most special of cars. The DS Divine is a diversion. Meanwhile, there are plenty of classic DSs to choose from. Try one, and like Roland Barthes, Wheels, The Motor, President de Gaulle and 1.5m original buyers, you will surely become a devotee of the French goddess.
If you would like to comment on this story or anything else you have seen on BBC Culture, head over to our Facebook page or message us on Twitter.