He's one of the best-selling authors of all time but his work doesn't get much respect from the literary establishment. Jane Ciabattari asks if that's fair.
S
Stephen King has had an uncanny ability to hit the commercial bull's-eye from the beginning of his career. In the 40 years since his first novel, Carrie, he has published more than 50 books, all of them international best sellers. Shortly after its release, Carrie was turned into a blood-drenched film by Brian De Palma. And in 1977 King's novel The Shining, set in a wintry ski resort and featuring a paranormal child and a maniacal father, further showcased his unparalleled gift for psychological terror. When Stanley Kubrick turned that novel into a film in 1980, the Stephen King industry was born. There are now more than 100 films and TV programmes based on his work, and he shows no signs of slowing down – not with his legions of fans, hungry for more.
But the respect of the literary establishment has always eluded King. For years, the question of whether he was a serious writer was answered by a quick tabulation of book sales, film deals, income and sheer volume of output, which added up to a resounding 'no'. Commercial triumph did not equal literary value. Being a best seller was anathema. (Tell that to 21st-Century authors like Chimamanda Adichie, Richard Flanagan and Donna Tartt, who have translated literary laurels into sales.)
Sissy Spacek earned an Oscar nomination for Carrie – a film that brought both the actor and Stephen King to wide attention (Alamy)
From the beginning, King was dismissed as a 'genre writer'. But really, he is polymorphous. In addition to horror, science fiction and fantasy novels, he has written historical fiction (his recent 11/22/63, in which a man travels back in time to kill Lee Harvey Oswald, won a Los Angeles Times book award and was a New York Times 'top ten of the year' pick), Westerns and literary short stories, which he describes as "the way I affirm, at least to myself, the fact that I haven't sold out".
The curse of popularity
King has always been clear about the inspiration he has drawn from respected literary forebears.  His short story The Man in the Black Suit, an homage to Hawthorne about a man who meets the devil on a walk through the woods, won an O Henry award after being published in The New Yorker. His ongoing connection with and affinity to Edgar Allen Poe was first made explicit with his 1975 version of The Tell Tale Heart, retitled Old Dude's Ticker. HP Lovecraft inspired his 1987 science fiction novel The Tommyknockers, and King's work also has similarities with the work of inventive literary authors: George Saunders, Karen Russell, Karen Joy Fowler, Michael Chabon, to name a few who blur genre boundaries, dabble in fantasy and adopt the conventions of horror and fantasy without losing respect.
But does any of this really mean we should take King seriously? The question is sure to rise again in November with the publication of Revival, a 'pact with the Devil' novel featuring a New England-born rocker with addiction issues and yet another diabolical reverend.  My answer is a conditional 'yes'. He keeps millions of readers engaged at a crucial time in the world of books, as technology continues to transform reading in unpredictable ways. King has been one of the first to experiment with new technologies, coming up with online serial novels and the first downloadable e-book, Riding the Bullet.
At his best, King is a masterful storyteller. He is able to create worlds infused with a sense of right and wrong, good and evil. He writes of familiar family crises, fears of the unknown and the yearning to belong. At a time when we are barraged with horrifying events – beheadings, Ebola, serial killers, plane crashes, police shootings, mass murders, cyberbullying – his visceral stories provide a catharsis, sometimes even a sense of order. Some victims can be avenged in fiction, if not in life. King may simplify, but he does it without contempt for his characters or readers. He may write too much, but his best work endures. He may be, at times, sophomoric, but he also can be superbly Gothic.
Canon fodder?
I put the question of King's literary merit to Yale University's Harold Bloom, the legendary critic and author of The Western Canon. Bloom issued a stinging rebuke of King in 2003, when King was given the US National Book Foundation's annual award for 'distinguished contribution to American letters'.  Bloom called the honour "another low in the shocking process of dumbing down our cultural life. I've described King in the past as a writer of penny dreadfuls, but perhaps even that is too kind. He shares nothing with Edgar Allan Poe. What he is is an immensely inadequate writer on a sentence-by-sentence, paragraph-by-paragraph, book-by-book basis."
Is it possible Harold Bloom might have changed his mind over the last tumultuous decade? It seems not. "Stephen King is beneath the notice of any serious reader who has experienced Proust, Joyce, Henry James, Faulkner and all the other masters of the novel," Bloom tells me.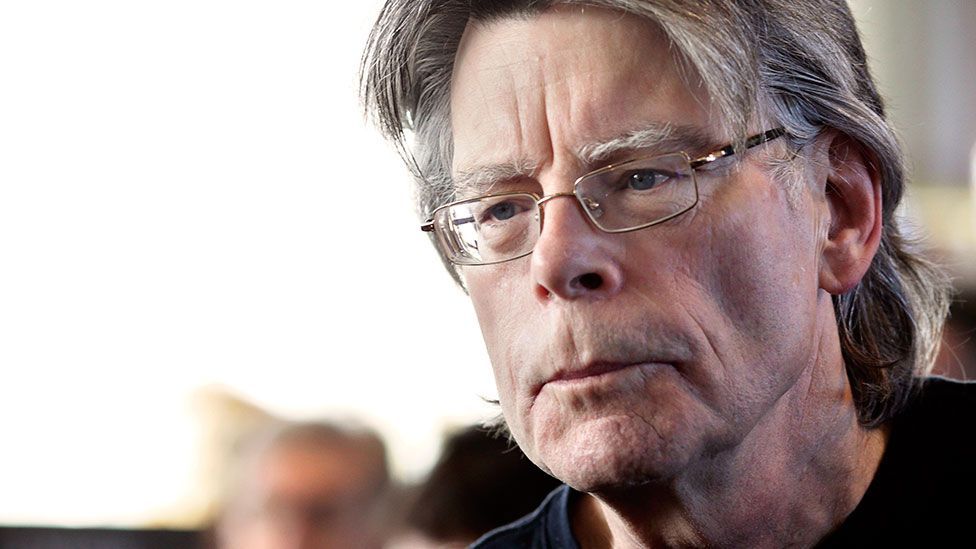 Stephen King at a book signing in Paris for his novel Doctor Sleep, a follow-up to The Shining (Getty Images)
From the other side of the genre divide, I posed the question to the prolific horror writer Peter Straub. Straub has a shelf full of Bram Stoker awards and has edited multiple anthologies, including Poe's Children and the Library of America edition of HP Lovecraft's Tales; he collaborated with King on The Talisman (1984) and its 2001 sequel Black House. "It's an odd question," says Straub, who ranks King with Dickens, Wilkie Collins, Raymond Chandler, Bram Stoker and Conan Doyle. "In a way, it has been asked about him almost since he began publishing. In the late '70s, the question was really rhetorical, because the answer was understood to be 'no'. A writer with such immediate access to the imagination of so many readers, a lot of them unsophisticated, could not presume to seriousness. Now, his readership is even larger and more inclusive and the similarities between King and Dickens, always visible to those who cared for King's work, have become all but unavoidable. Both are novelists of vast popularity and enormous bibliographies, both are beloved writers with a pronounced taste for the morbid and grotesque, both display a deep interest in the underclass."
In his time, Dickens was reviled by high-brow contemporaries, including George Eliot, who attacked him for "enjoying an extravagantly high reputation" and "being rewarded for his labours, both in purse and in credit, at an extravagantly high rate." Eliot posed the same question that dogs Stephen King: "Who, it may be asked, takes Mr Dickens seriously? Is it not foolish to estimate his melodramatic and sentimental stock-in-trade gravely?" Dickens has stood the test of time. Today no-one disputes his worth. The best of Stephen King's work is has become so embedded in the culture I suspect he faces a similar fate.
If you would like to comment on this story or anything else you have seen on BBC Culture, head over to our Facebook page or message us on Twitter.