A new exhibition of war photography at Tate Modern looks beyond gory realism. For Remembrance Day, Alastair Sooke takes a closer look.
W
What are the most powerful images of the 20th Century? For many people, the likeliest candidates would come not from the world of fine art, with its obvious contenders such as Picasso's Guernica or one of Bacon's screaming popes, but from the sphere of photography. More specifically, it is the photography of war that has yielded some of the most searing and indelible images of the past hundred years.
Robert Capa's blurry, black-and-white shots documenting the landing of American troops on Omaha Beach in 1944; the naked nine-year-old girl screaming in terror and running down the middle of a highway following a napalm attack during the Vietnam War in 1972. Visceral and in-the-moment, war photography often transports the viewer unforgettably into the midst of conflict. Confronted with chaos, it is the skill or good fortune (or both) of a successful photojournalist to illuminate a moment of telling clarity within the general fog of war.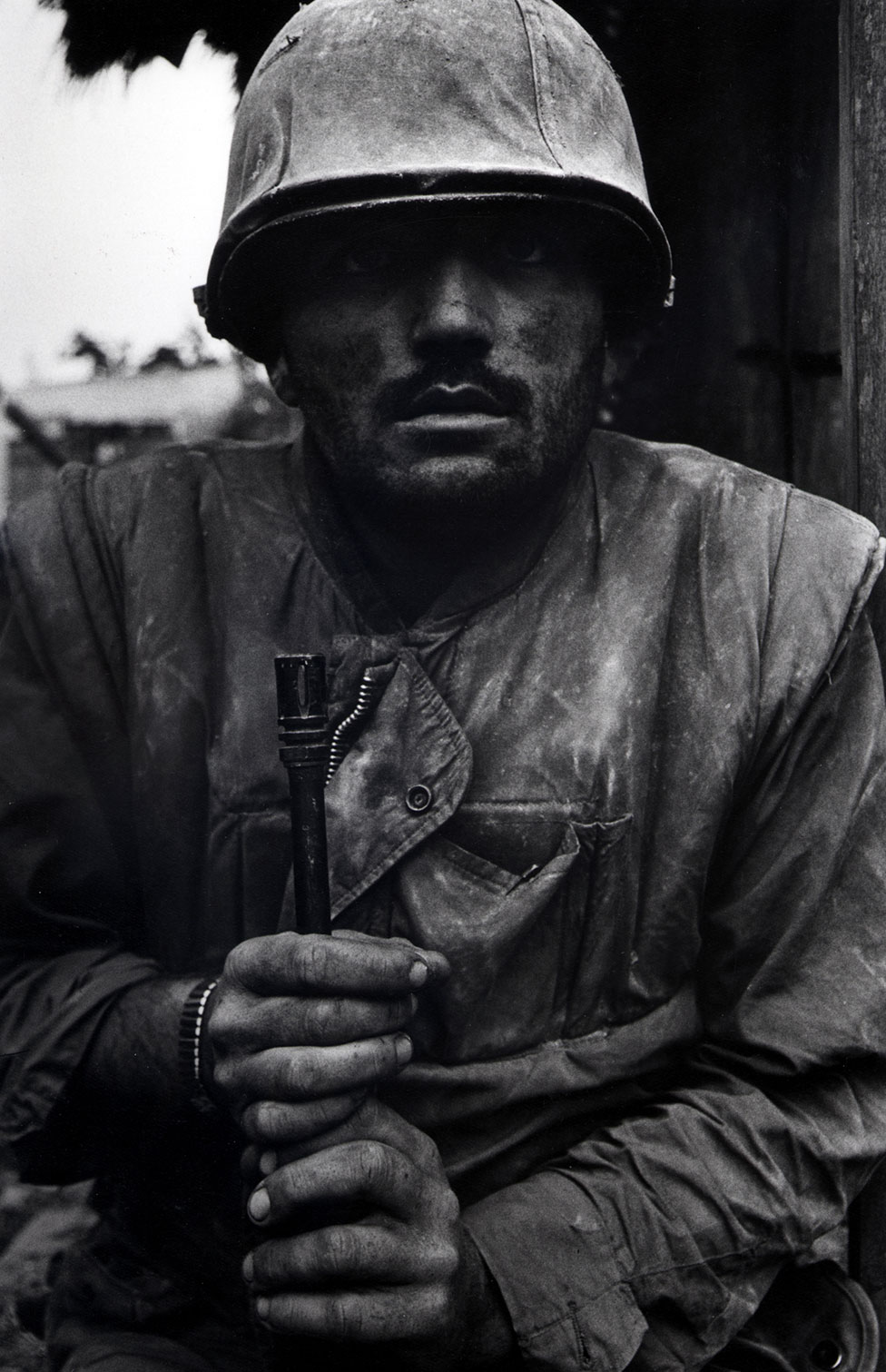 Classic photojournalism - Don McCullin's famous image of a shell-shocked American marine (Don McCullin)
Yet not all photography about war has to look like this – as Conflict, Time, Photography, a new exhibition opening at Tate Modern in London later this month, suggests. Although the show will acknowledge classic photojournalism, including Don McCullin's well-known image of a shell-shocked American marine sitting huddled and wide-eyed while pitifully clutching the barrel of his gun, as he contemplates the cost of the battle for the Vietnamese city of Hue, this will be the only example of the genre. "This isn't an exhibition of war photography so much as an exhibition of work by artists about conflict," explains the show's curator, Simon Baker. "And that's a different kind of thing: the reflection on events, rather than the recording of events."
The limits of realism
So how can photographers respond to conflict if not by employing strategies commonly found in photojournalism about war? One alternative approach is to focus less on documenting the heat of battle and more on remembrance – something that feels relevant this year, which marks the centenary of the start of the World War One.
Some of the most moving evocations of the Great War were captured by commercial photographers who arrived in northeast France in the wake of the conflict, when people began travelling to the region in order to see for themselves the extent of the devastation of local villages, towns, and cities. There was enormous appetite for images recording the destruction, available in the form of cheap guidebooks and postcards.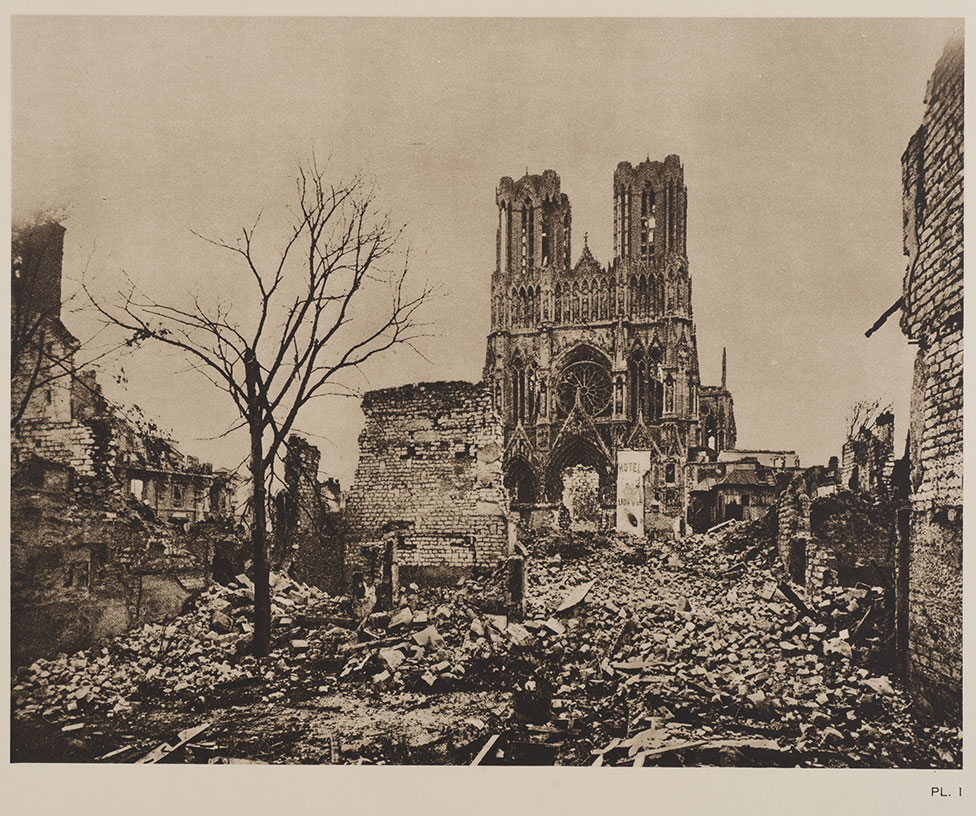 A postcard of Reims in 1927 - 300 million were sent by people visiting the western front after World War One (Pierre Anthony-Thouret)
"This is one of the first episodes of mass tourism in the history of the world," explains Baker. "There were 300 million postcards sent from the western front, for instance by people visiting the places where their relatives had died. And the photographers had to make these incredible compromises: making photographs of places that weren't there anymore."
In the case of Craonne, which was entirely obliterated by artillery, the village had to be rebuilt on a nearby site, while the ruins of the original settlement were abandoned to nature. As a result, the only way for photographers to identify Craonne was by providing a caption.
"The idea of photographing absence became really important," says Baker. "War is about destruction, removing things, disappearance. A really interesting photographic language about disappearance in conflict emerged and it is extremely powerful. How does one record something that is gone?"
Seeing what can't be seen
This is a challenge still faced by photographers today. Two years ago, the British documentary photographer Chloe Dewe Mathews set about creating a series of her own responding to the World War One. Called Shot at Dawn, it expresses her shock upon discovering that during the conflict around a thousand British, French and Belgian troops were condemned for cowardice or desertion before being executed the following morning by firing squads consisting of comrades from their own battalions. "I never knew this happened," she tells me. "Until quite recently, no one really talked about it, because the subject was so contentious and taboo."
Researching her series, Dewe Mathews worked closely with academics to locate the forgotten places along the western front where these unfortunate combatants had been shot. She then travelled to each spot and set up her camera there at dawn, recording whatever could be seen a century after the executions had taken place.
The results are eerie and elegiac – otherwise unremarkable, empty landscapes infused with a powerful sense of mourning, outrage and loss. Commissioned by the Ruskin School of Drawing and Fine Art at the University of Oxford as part of 14-18 NOW, a cultural programme in the UK marking the centenary of World War One, the final series contains 23 images, which have been published together as a book. Five of them will be included in the new exhibition at Tate Modern.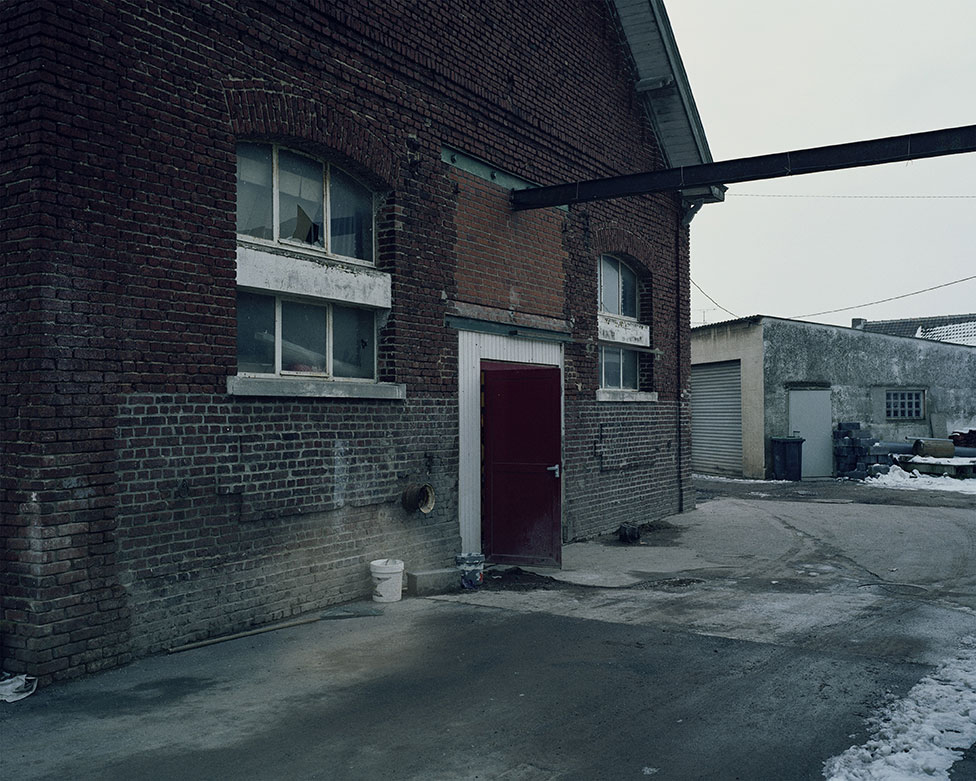 For her Shot at Sawn series, British photographer Chloe Dewe Mathews revisited the locations of World War One executions (Chloe Dewe Mathews)
"This is the complete antithesis of photojournalism," Dewe Mathews explains. "Arriving 100 years late to an event – it's absurd. Frequently, in the mornings, I was thinking: 'This is ridiculous.' Getting up in the darkness and driving off to some ditch in order to set up my camera – passing farmers would ask, 'What the hell are you doing?'"
As the series progressed, though, any lingering sense of absurdity receded. "Suddenly I would be drawn to some dank bit of earth, and I would feel this sense of this person who had stepped there in the past. It was a visceral, physical thing. By taking these photographs, I wanted to stamp the presence of those people back onto the environment."
Simple yet eloquent, Shot at Dawn is testament to the notion that the photography of war doesn't have to be about carnage and bloodlust – at least, not overtly. "Our world is saturated with [photojournalistic] images of war," Dewe Mathews says. "They don't work anymore – certainly, they don't feel meaningful to me. Seeing a dynamic composition, or extreme emotion on someone's face: images like that engage us for one or two seconds, but then we pass on. With Shot at Dawn, it was nice to have the opportunity to think about something very quietly, rather than going for the guts."
The irony is, Dewe Mathews' 'quiet', poetic approach still gets you in the guts just the same.
Alastair Sooke is art critic of The Daily Telegraph.
If you would like to comment on this story or anything else you have seen on BBC Culture, head over to our Facebook page or message us on Twitter.