A global project invites members of the public to pose nude for artists. After 20 years of life drawing, Tanis Taylor decided to take part – on the other side of the easel.
Y
You can tell a lot about a person from the way they undress. Life models often have a silk robe that sort of sighs to the ground before they take their pose. Some walk out of the toilets stark naked making small talk with the class. Others never make eye contact. I remember one sitter who took her clothes off item by item and sat glowering at us from her bar stool for a full hour. I'm wondering, when my time comes, what I will do. How I will expose my average, totally naked, 40-year-old body to a roomful of strangers. How would you?
My fellow sitter has just left the platform. Young, bearded and heavily tattooed, he high fives all the artists on leaving and does not strike me as naturally bashful. I go to the toilet. I apply some translucent powder – about the only thing I'll be wearing for the next 30 minutes. It does nothing to cover the vivid blush spreading from my cheeks to what used to be my cleavage when I wore clothes to hold it together. And now? Now I walk into the studio in front of eight men and two women, say hello and drop my shirt in a rather apologetic way.
I am part of illustrator Mike Perry's global pop-up experiment: his appeal to the public to 'Get Nude. Get Drawn'. In cities around the world, he gathers together the artists and illustrators he admires and stages events asking members of the public, via social media, to pose for them.
"It started in 2011, I wanted to get back into life drawing but I didn't have the patience to sign up to a regular class," says Perry. "I thought it would be cool to see if some strangers would be willing to come out and pose. We did it as a one-night pop-up and put the word out through Twitter. We honestly didn't expect anyone to come. But the response was awesome. And the drawings were so exciting, much more so than with a model."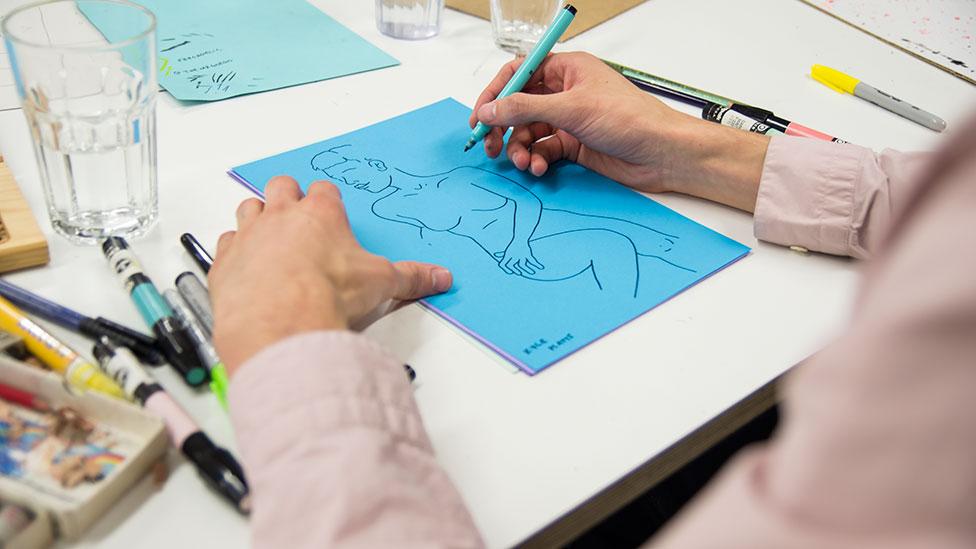 Illustrator Kyle Platts at the Get Nude Get Drawn event in London. (Olivia Howitt)
The project has had an enthusiastic response, with volunteers for events in New York, Amsterdam and London. Sitters have included a couple on their first date, a sleep-deprived mother of two, tourists on a stag do and a girl who had been advised by her therapist to come along to get over a pubic hair phobia.
"You get all sorts. You get the person who doesn't care at all, you get those in the middle ground – 'yeah I'm uncomfortable but only because I've never done this before'. And then you get the ones who are incredibly, excrutiatingly uncomfortable and are almost trying to prove something to themselves … you really get the bravery it's taking and you can tell that they really want to do this thing."
Has he noticed any cultural generalities? British prudity? American exhibitionism? A normalising of nudity in the Netherlands? "There's nothing noticeable," he says. "People are people – there's the same mix here as anywhere." The only difference, he delicately hints, is that we Europeans might still be more hirsute than our American sitters. And he's not talking about a fashion for beards.
Skin deep
The audience's beard count is high at this evening's version of Get Nude. Get Drawn hosted by It's Nice That's Printed Pages. I sit, unsure and naked, in an open-plan East London studio with white curtains for modesty. The people around me are drawing on pieces of A4 coloured paper in pen and ink and, when I adopt certain poses, I can see exactly what they are doing. In one sketch my belly is bigger than my boobs.
I lock my gaze onto the pot plant. I tell myself I can do this thing. I've been on the other side of the easel for more than 20 years. I know that where I'm standing is hallowed ground. Sacred. A life drawing discipline is non-judgemental; no body fascism here. The droop of a breast, the swell of a stomach – these are all friends to the artist. Think the dimpled flesh in the paintings of Lucian Freud or Jenny Saville. The best life models I've ever drawn didn't have the honed bodies of dancers; they were the ordinary ones with their ordinary details – the bite of a bra strap, fallen arches from years of bad shoes – this is what I love to draw.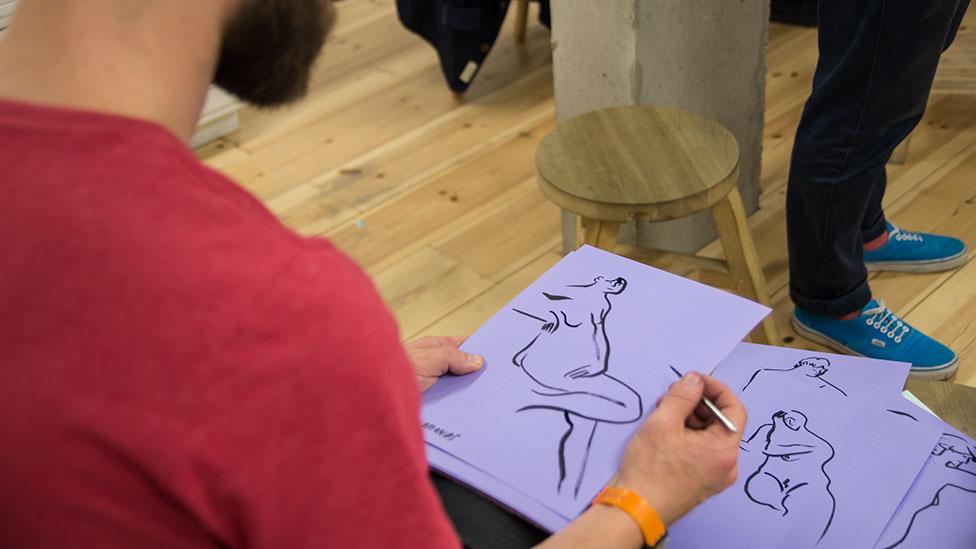 Illustrator Will Edmonds at the Get Nude Get Drawn event in London. (Olivia Howitt)
I strike a pose which I hope is interesting while revealing absolutely nothing. I have stopped breathing. I notice that my stomach is clenched. Mike offers some direction and mutely I obey. I hope I'm doing it 'right'. At one stage I worry that a particular artist is bored. I realise that, although there is no judgement in the field, I have brought my own – 40 years of critical body image and British shame.
I try an experiment. Six minutes after the session begins, in a collapsed standing pose – head lolling down, legs crossed – I decide to look at my naked body with a simple curiosity. I notice the contours of my body – a set of interlocking shapes – and the different tones of my skin. It is interesting, nothing more. But my breathing relaxes. I notice that there's music playing. I raise my gaze from the pot plant to one of the artists and slowly, tentatively, begin to take my space.
The naked truth
There are unwritten social contracts as to how we – women in particular – should get attention. To ask for it too directly is considered gauche. The idea of not being seen, painful. Instead, I have used a range of secondary manipulations: be clever, be funny, be coy; cleavage, heels, seduction. To suspend all of this, even for 30 minutes, to take the spotlight wordlessly and be appreciated for my form alone, is different. To stand in my vital and imperfect, ageing and alive body and be witnessed by strangers feels liberating. It's the ultimate no make-up selfie.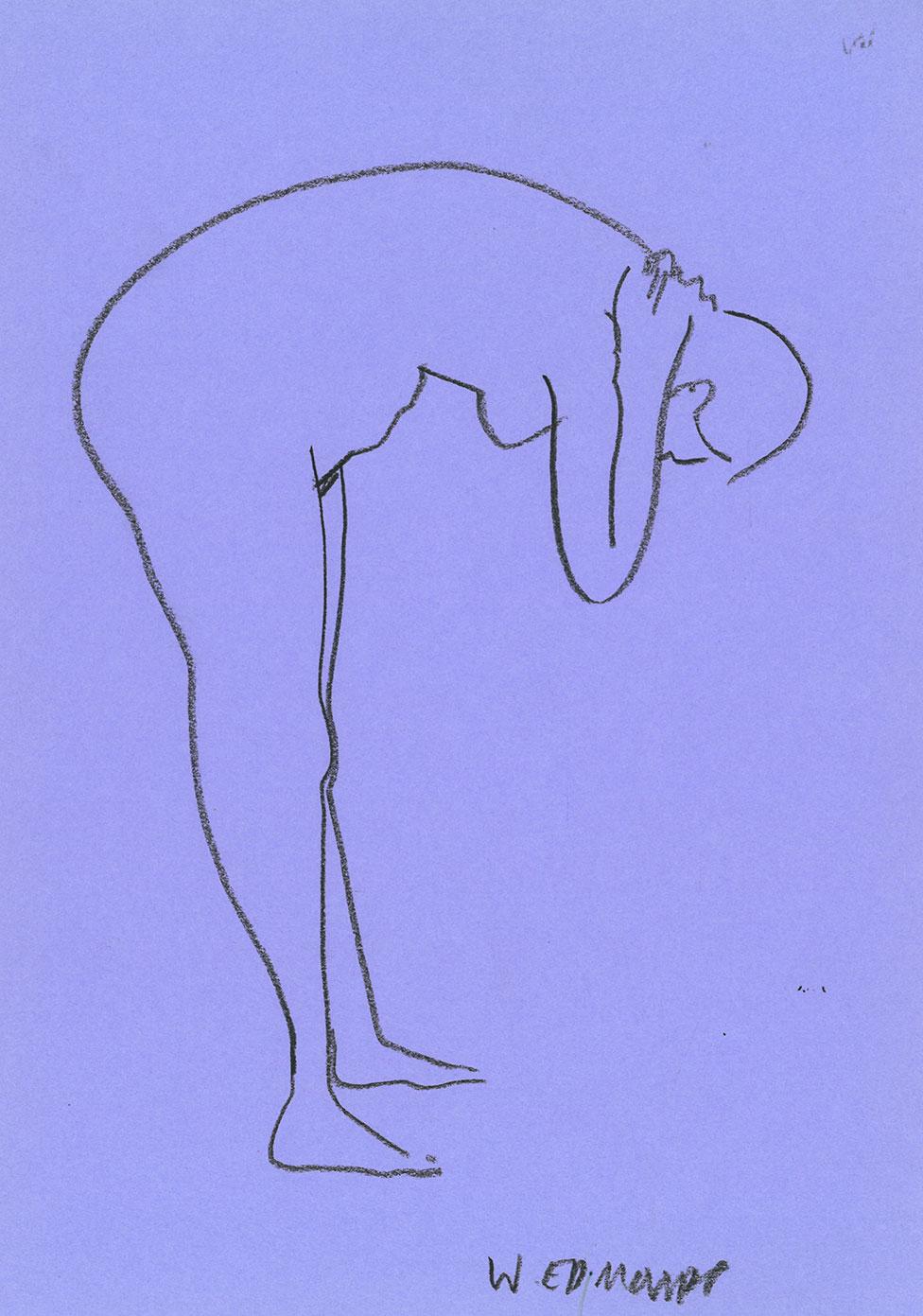 A drawing of Tanis by Will Edmonds
No longer do I feel demure and distant, I feel totally involved – inviting, curious and challenging. The experience is not erotic. I can feel the attention of the artists on me now: their eyes on my body and their pens scratching furiously, trying to express the bends and grooves of my curves, and I feel almost architectural.
Once the session is over, I pull on my shirt and with it all of the social conventions (and sexual tensions), eclipsed for the last half an hour. But in the following weeks, subtle effects remain. Taking the spotlight – suffering the scrutiny until I began to feel its warmth – felt like a direct and honest way to receive attention; something I can practice, with my clothes on, in my life.
Much has been written about the therapeutic effects of being witnessed by a non-judgemental other. Artists like Ellen Fisher Turk use nude photography with women to challenge the historic views we might hold of our own bodies, encouraging subjects to write journals about their images. I buy a small picture of myself from the exhibition. I like it. It doesn't look like me but it captures something that resonates.
Artists are always, really, drawing themselves even when they are drawing someone else. Lucian Freud talked about the model serving "the very private function for the painter of providing the starting point for his excitement". I would argue that that excitement works both ways; that the act of being seen rather than watched is in itself remedial. I would thoroughly recommend it.
If you would like to comment on this story or anything else you have seen on BBC Culture, head over to our Facebook page or message us on Twitter.