A new dance production at the Sydney Festival is breaking taboos and challenging perceptions. Clarissa Sebag-Montefiore takes a look.
R
Rope cuts into a dancer's copious flesh and distending rolls of blubber create a swollen, moving sculpture. What begins as grotesque – a bulbous, bulging body – slowly, gradually transforms into something more graceful.
Nothing to Lose, which premieres at the Sydney Festival on 21 January, is breaking boundaries by putting seven plus-sized dancers on stage. The show hopes to challenge not only the way that we think about fat bodies – but how we see them.
"[We want] to bring out the inherent unique movements of bigger bodies," says the production's artistic associate and fat activist Kelli Jean Drinkwater. Director Kate Champion of Force Majeure, the pioneering Australian dance company behind the show, agrees: "The body speaks volumes. You are in awe of the sense of these bodies moving."
"Just putting a fat body on stage is a statement," Champion acknowledges. She wants the audience to shed their assumptions about fatness and allow themselves to become entranced. But, in a world dictated by size 0 fashion models, glossy advertising, and a billion dollar diet industry, can we ever consider fat beautiful?
Nothing to Lose thinks we can. In the trendy Sydney suburb of Newtown dancers rehearse – all of whom unapologetically self-identify as fat . One woman thunderously flops onto the floor, time and again, collapsing to the boom of ominous music, her feet tied coyly with red ribbons. She does this with abandon. If nothing else, this is a celebration of the statuesque splendour of the fat body.
"I had noticed for quite a while that my eye was drawn to the bigger person on the dance floor. They were the ones who seemed to own the moves in a more intoxicating way," Champion, 53, a svelte former dancer, who is half the size of her charges, recalls.  "And I thought wow, why don't we see that?"  
Ahead of the curve
Larger people are, for the most part, rendered invisible in society. In her essay Headless Fatties (2007) British psychotherapist Charlotte Cooper points out that photographs used by mainstream media to illustrate the obesity crisis are often cropped, leaving just torsos. This objectification, she writes, renders people "reduced and dehumanised as symbols of cultural fear: the body, the belly, the arse, food."
"Fat bodies are believed to be lazy, inactive, unattractive, asexual, unhealthy, unsuccessful and unhappy," notes Cat Pausè, a researcher in Fat Studies at Massey University, New Zealand. Fat activism – which started in the 1960s as a call for equal rights and less discrimination – has endeavoured to replace societal shame with pride.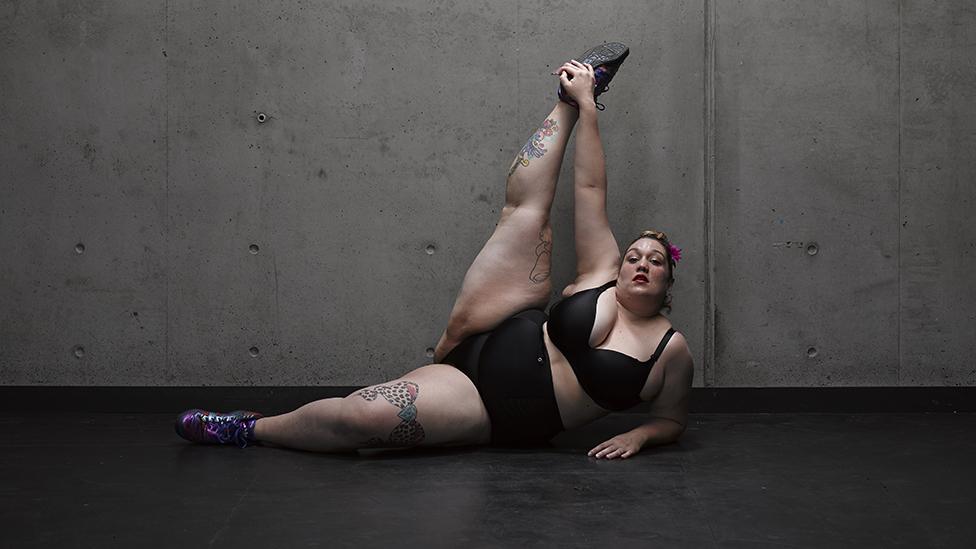 Dancers including Lala Gabor (pictured) sent audition tapes to take part in Nothing to Lose: five women and two men were selected (Toby Burrows)
Drinkwater, 39, grew up in a small beachside town in Australia where exposing her body in the pool resulted in ridicule. To fight back she founded Aquaporko! (or Water Pigs), a synchronised swimming group, which she made a documentary about in 2013. "What better way to take that on and reclaim the space? asks the bubbly activist, who sports retro glasses and cascades of black curly hair. "Having 10 fat girls walk out in floral bathing suits!"
Dance is associated with thin, fit, and highly trained bodies. But that is starting to change. "Fat people dancing seems to be having a moment," says Cooper, who performed in her own fat dance duet, SWAGGA, in London last year. Dance and performance have been "one of the ways that early fat activists developed a language for talking about embodiment and politics." Last year the UK documentary Big Ballet featured plus-sized dancers in a 'supersize' Swan Lake. Meanwhile, Big Moves has been operating in the United States since 2000. The dance company is home to the flamboyant jazz troupe emFATic DANCE who have produced shows Jazz Hams, The Next Big Thing, and All That Flab.
Flesh dance
For many, it is about taking pride in the face of perceived collective pity. "[They say] we are going to put on a bikini, we are going to engage in this burlesque, we are going to talk about the hot sex we have. It is going to make you feel uncomfortable," says Pausè.
Nothing to Lose, however, is not about burlesque or sexy lingerie or reality TV. It is about art. "It's not: how do we get big people to do ballet or boot camp or ballroom?" says Champion. Instead, she wants to rewrite the rules and reframe our ideas about dance itself: in the past, she has also put elderly and disabled bodies on stage. This time, as choreographer, she has custom-made "moves that look amazing" on a fat person – moves that no thin person could own.
This has thrown up challenges. In rehearsals Champion has been surprised by the strength and flexibility of her dancers but she has also had to provide extra support to knees and she avoids lifts. Sometimes, because "bits of your body [can] get in the way" she resorts to straps and other equipment to help.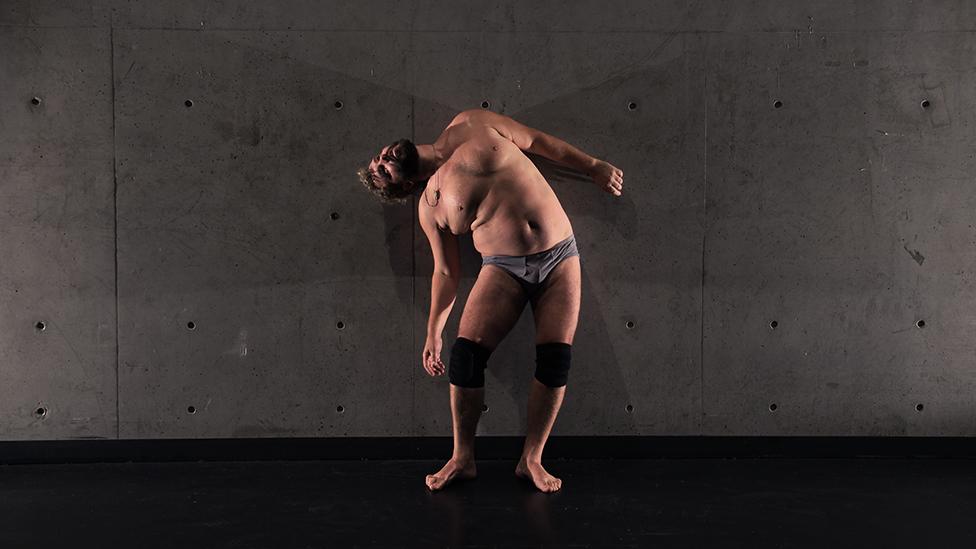 "When you are [fat] it feels like you are supposed to pull the curtains and disappear," says Julian Crotti (pictured) (Kate Blackmore)
Attitudes to fat, it turns out, differ for men and women. For Nothing to Lose applicants were asked to send in videos but only a few men volunteered: two of the production's seven dancers are male. "Men aren't told they're fat, they're told they're bigger, they're bold, they're powerful," says Drinkwater. "Body shame [does sometimes] happen to men. But women are so drilled about how they are supposed to look."
Perceptions of beauty have changed throughout the ages. Marilyn Monroe was lusciously curvaceous, Kim Kardashian has put big booty back in fashion, and in the Baroque era painters such as Peter Paul Rubens idealised full-figured women in their art. In ancient times – when undernourishment and famine were real risks – large was a sign of health and wealth. The Venus of Willendorf, a statuette that dates to around 28,000 BCE, shows a woman with vast, drooping breasts, sausage-like legs, and a wobbly, distended belly.
In Australia, however, obesity rates are climbing faster than anywhere in the world: a recent study showed that 63% of the country's adult population, and almost a quarter of children, are overweight. Many have questioned the ethos of glamourising fatness when obesity can result in serious health issues, including higher risks of type-A diabetes and heart problems. 
Nothing to Lose, inevitably, has had to fend off accusations that it is a gimmick that invites us to ogle at fat people for entertainment. At times this has verged on nasty: Drinkwater, for example, has received hate mail (one correspondent named her the "ISIS of obesity"). "Oh you fat people wanted to dance, so what are you going to do?" Julian Crotti, 36, one of the seven dancers performing in the production, imagines people saying, adding, "It's inherently political."
But ownership – of the negative as well as positive parts of being fat – is crucial to the show. Ally Garrett, 26, a dancer who has been called a "fat whore" in public, wants to prove that you can be "fat and fit". "At the moment we are dancing 40 to 50 hours a week in this really sweaty room and if people have a problem with the show, that's really hypocritical," she says. "Do you want me to be active?"
"Isn't it fabulous to see large bodies, fat bodies doing what is perceived as a healthy thing?" agrees Champion. "They're not meant to be seen. 'Lose weight but don't show me the process!' Don't be seen in a gym, don't be seen running in the park. This idea that [this show] is exploitative or voyeuristic takes a lot of the power away from the performers."  
Back in rehearsals, Crotti, the male dancer, is getting ready to head back on stage. Beautiful or not, Nothing to Lose, he believes, will increase the visibility of larger bodies. He sighs: "When you are [fat] it feels like you are supposed to pull the curtains and disappear." For now, at least, the opposite is true.