Born in the '80s, the Hermès Birkin bag has since risen to become the quintessential fashion accessory. Katya Foreman tracks its history.
W
When it comes to handbag hierarchy, the Hermès Birkin – the ultimate status symbol in the arm-candy stakes, with a starting price around £5,600 ($8,500), rising every year – continues to rule the roost, as the prized possession of the deep-pocketed few. Victoria Beckham is rumoured to own around 100, costing around a cool £1.5m ($2.3m).
Among other celebrities with Birkins to burn, Kim Kardashian has been chastised for using one as a gym bag, ditto Kate Moss – as a nappy bag. In 2012, a $100,000 (£63,675) crocodile-skin Birkin was reportedly set on fire (then bisected by chainsaw) by Francesca Eastwood, daughter of Clint, in a so-called art project conceived by her photographer boyfriend, Tyler Shields – an act that reportedly led to death threats. (When the smoke had cleared, it was claimed the bag was, in fact, imitation. Even more heinous.)
Created in 1984, the iconic bag boasts as its namesake muse Paris-based British actress Jane Birkin. Its existence was a happy accident, borne out of an exchange between Birkin and former Hermès chief executive Jean-Louis Dumas on an Air France flight from Paris to London in the early '80s. Birkin, who had been upgraded, ended up sitting next to the executive; when the contents spilled out of her bag, Dumas suggested she needed one with pockets, and this sparked a conversation about her ideal accessory. As she recounted to The Telegraph in 2012, the actress ended up doodling her specifications for "a handbag that is bigger than the Kelly but smaller than Serge [Gainsbourg]'s suitcase" on a sick bag. The rest is handbag history.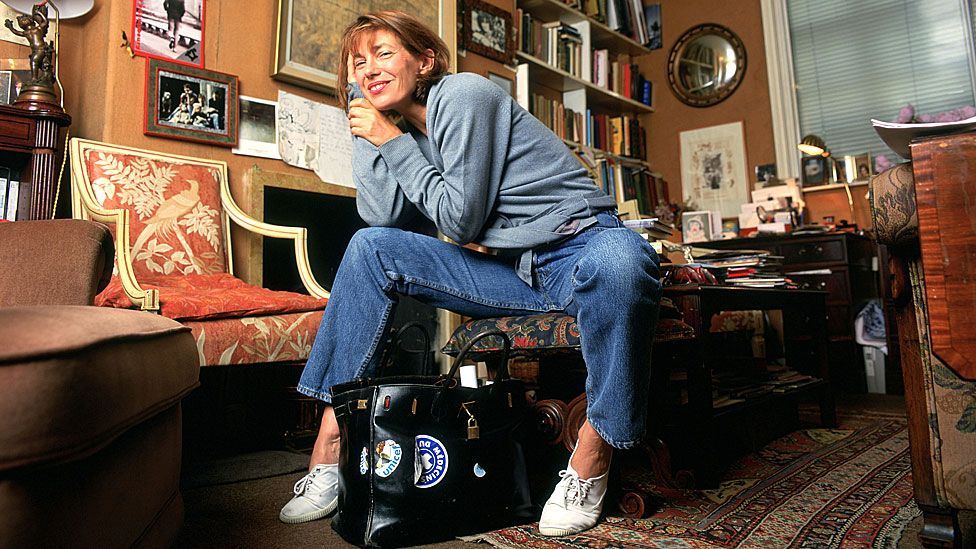 Created in 1984, the bag bears the name of French-based British actress, Jane Birkin - shown here with a bag in 1996 (Rex/Mike Daines)
A roomy, elegant-yet-sporty bag with handles designed to be carried in the hand or on the wrist, with four studs on the base, the Birkin represented a new, modern statement from a fashion house known for its traditional, classical stance. Up until that point, the Kelly bag – ladylike, stiff and boxy by comparison – epitomised Hermès' world. The only other Hermès bag to carry a celebrity moniker, their Sac à Dépêches, was renamed in 1956 after Grace Kelly was snapped using it to shield her pregnant belly, having first been introduced to the item on the set of Hitchcock's To Catch a Thief.
The Birkin arguably played a major role in making Hermès the fashionable house it is today. "It opened Hermès up to new markets and customers, but it also changed the typical Hermès client," says Jérôme Lalande, an antique dealer specialising in 20th-Century leather goods. "Hundreds and hundreds" of Kellys and Birkins have passed through his hands during his career, as both a long-time collaborator of Hermès, sourcing items for the house's museums, and the bag-and-luggage expert at second-hand luxury goods specialists Collector Square, an e-boutique with a showroom on Rue Bonaparte in Paris.
In the bag
According to Lalande, the Birkin wasn't an immediate hit: it only really took off in the late '90s, at the dawn of the It-bag era. Thirty years on from its launch, demand is such that there is no longer a waiting list for the bag, in the classic sense of the term. "It's a wish list, not an order list. They don't take orders any more; you just have to hope," says Lalande, who estimates that there are some 200,000 Birkins in circulation. And the Birkin's limited availability has undoubtedly helped its success at auction. The most expensive bag ever to go under the hammer, according to WWD, was a red Porosus crocodile Birkin with 18-carat white-gold and diamond 'hardware', sold for $203,150 (£129,355) at auction in Dallas in 2011.
In the past seven years 348 have been auctioned versus 1,074 Kelly bags, according to a report by Collector Square. The rarest styles are generally the most expensive, it says, with bright colours the least common on the second-hand market. Topping the rank are pink or purple Birkins, which on average sell in leather for between 12,000 and 16,000 euros (£9,000 - £12,500).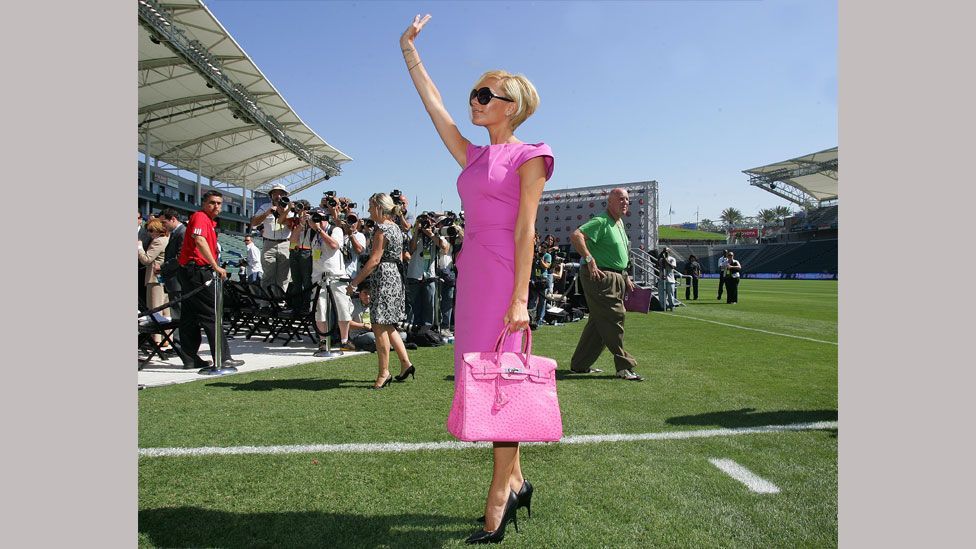 Birkin bags are beloved of celebrities: Victoria Beckham is rumoured to own 100 (Getty Images)
The Birkin's rarity and value have inevitably made it prime fodder for counterfeiters, and there have been several arrests in recent years. The idea that the bag, which takes around 20 hours to produce, can generate up to 35,000 euros (£27,774), proved too tempting for some. An international crime ring producing Hermès copies was dismantled by French police in 2012 with, according to The Telegraph, "several Hermès staff in on the act". "The rule is to never say why a bag is clearly fake, as counterfeiters will use it to improve production; sometimes it's very hard to tell the difference," admits Lalande, who verifies the authenticity of goods sold via Collector Square. "There are some very good copies from Italy, and even from France."
Bag ladies
Despite the array of animal skins and rainbow range of colours now available – over 20 shades of blue have been used over the years, ranging from blue-green to indigo – the Birkin's original design has hardly changed (save for a few minor adjustments e.g. on the lanyard that houses the lock key, says Lalande). The size has evolved, however, from its original 35cm, with variations including mini and travel sizes added over the years. The price scale goes from basic leather to crocodile versions; a Porosus crocodile bag goes for five times that of a lizard-skin bag.
Precious metals and diamonds on the hardware entered the picture around seven years ago, according to Lalande, following a rise in clients from emerging markets. In terms of customising, apart from choosing the colour of seams and lining it pretty much stops there. Once they're out of the shop, customising (or even defacing) the Birkin has become a trend among celebrities in recent years. For Christmas 2013, Kanye West bought fiancée Kim Kardashian a $40,000 (£25,470) Birkin custom-painted by George Condo, the artist who illustrated his My Beautiful Dark Twisted Fantasy album cover; widely derided as ugly, the astronomical value of the bag is now hard to estimate.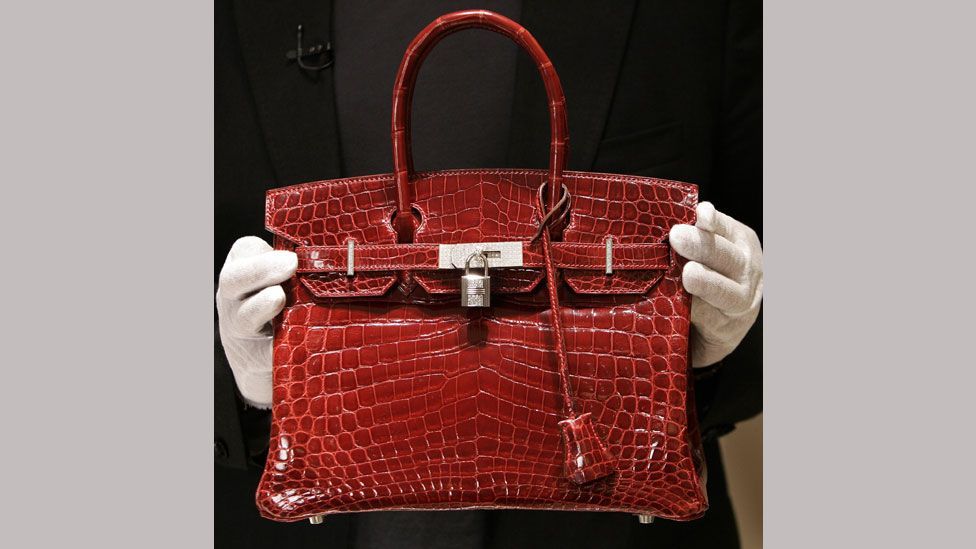 Birkin bags are now available in an array of colours and animal skins - from crocodile to lizard (Getty Images)
Ironically perhaps, Ms Birkin was herself the first to de-chic the bag, roughing it up, plastering it with badges, stickers and worry beads, and bemoaning its tendonitis-inducing properties. "There's no fun in a bag if it's not kicked around, so that it looks as if the cat's been sitting on it – and it usually has. The cat may even be in it!" Birkin told Vogue.com. "I keep saying to Hermès to make it out of plastic or cardboard, then it wouldn't be so heavy. But if people want to go for the real thing, fine. If they go for copies, that's fine too. I really don't think it matters..."
Being associated with such an extravagant item doesn't sit comfortably with the down-to-earth actress, though she uses it to her advantage. Not only has Birkin owned four in her lifetime, eventually offloaded in the name of good causes, she also "got Hermès to fork out for my charities once I saw the fortune they were making. A certain amount of money every year goes straight to my charity and it will continue to after my death."
"I was able to [use some of that money] to go to Japan for a benefit concert after the earthquake," Birkin told WWD in 2011. "We use some of the money to feed the poor people who can't afford to eat in France, and I sold one of my Birkin bags for $163,000 to help the Japanese Red Cross. So that rather trivial piece of heavy luggage has done a lot of good in the world."
If you would like to comment on this story or anything else you have seen on BBC Culture, head over to our Facebook page or message us on Twitter.