Winston Churchill credited Mrs Miniver with increasing American support for the war effort. A new programme finds out how the domestic drama changed history.
"We will come. We will bomb your cities." So bristles a character in the film Mrs Miniver. A German pilot who had been shot down in the chocolate box English village of Belham, he momentarily brings the horrors of World War II to what is largely a domestic drama.
The movie – released in June 1942, going on to win the best picture Oscar the following year – is credited with consolidating American support for the Allies, at a time when the public backed isolationism. A new programme explores the moment Hollywood finally took a stance against the Nazis, after years of underplaying opposition to the regime.
"The Hollywood business behaved shabbily and in a cowardly way," film critic David Thomson tells presenter Paul Gambaccini. "Hollywood was caught in a very nasty situation – it did not want war for the simple reason that war would interfere with its European sales. And they played a very two-faced game, until it was clear that war was inevitable."
According to Ben Urwand, author of The Collaboration, "Screenwriters – many of whom were Jewish – would plead with the studio heads to make anti-Nazi films, and to make films about what Hitler was doing to Jews in Germany, but the problem was that in the 1930s, the studios were essentially controlled by six or seven individuals who decided what made it onto the screen, and the screenwriters had very little power."
Instead, even in the early years of WWII, studios put out films that attempted to show support for the Allies without being too offensive to the Nazis. As Gambaccini says in his programme – the first in a series looking behind the scenes of three movies that have won the best picture award – "when producer Sidney Franklin asked William Wyler to direct a film adaptation of Mrs Miniver, America had not yet taken sides. It was by no means certain that it would."
With lines like "if war comes, it's goodbye roses", Mrs Miniver appeared to fit the bill. Based on a series of popular newspaper columns in The Times written by a stockbroker's wife, it was a domestic drama set on the Home Front. Yet in the hands of director William Wyler, it became a different beast altogether.
Born in Alsace-Lorraine, Wyler knew of the threat posed by Hitler years before his Hollywood peers. He was not about to take a softly-softly approach. "I was a war monger. I was concerned about Americans being isolationists," he said years later. "Mrs Miniver obviously was a propaganda film." The plot followed a family living a comfortable life in Kent as they learn to cope with war: Mrs Miniver's son goes to the front; her husband takes part in the Dunkirk evacuation; and she has to confront a German paratrooper who lands in her village.
Adapting the original treatment, Wyler changed the character of the German pilot from that of a sympathetic victim of war to someone much more aggressive. Thomson tells Gambaccini: "Wyler took it upon himself to toughen that character up in the scripting and the shooting – and in fact he really turns into a Nazi. The story goes that Louis B Mayer… was alarmed when he saw this footage… Wyler is reputed to have said 'Mr Mayer, do you know what's going on – this man is a shadow of the nastiness that's going on there'."
As it turned out, timing meant that Mayer was no longer able to avoid confronting the regime. After films like Charlie Chaplin's The Great Dictator, anti-Nazi movies were on the rise – and Mrs Miniver was released six months after the US entered the war. It was seized on by the Allies. "We know what Roosevelt's response was, almost straightaway – he urged MGM to get it out to cinemas all over America," says the Imperial War Museum's Terry Charmin. "Churchill … is credited as saying that this is worth either five battleships or 50 destroyers."
Raising the roof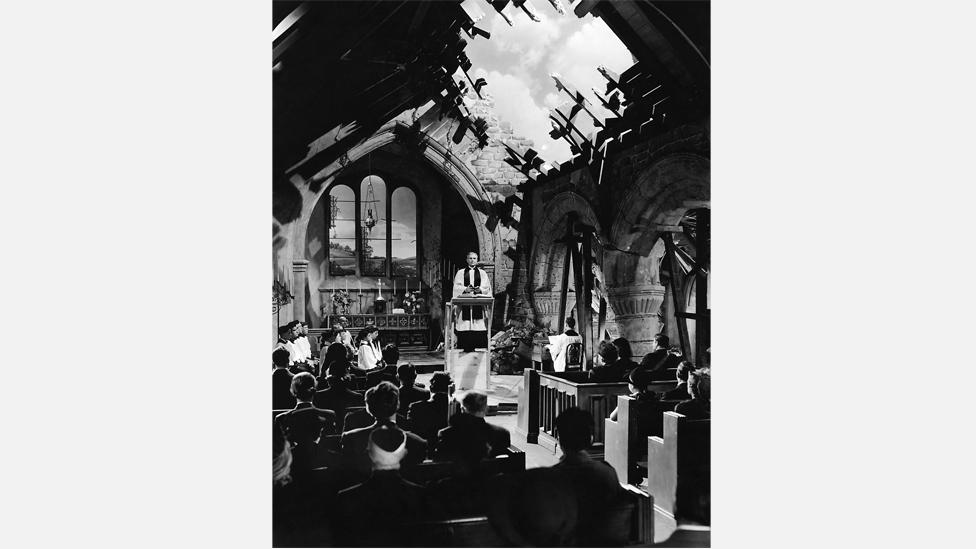 Henry Wilcoxon delivers the rousing vicar's sermon in Mrs Miniver (Photos 12 / Alamy)
A scene near the end – in which a vicar delivers a sermon in a bombed-out church – was rewritten by Wyler and Henry Wilcoxon, the actor playing the vicar, the night before it was filmed. President Roosevelt requested that it be translated into several languages and air-dropped over German-occupied territory; it was also reprinted in Time and Look magazines.
The ultimate endorsement came from an unlikely source. Nazi Propaganda Minister Joseph Goebbels wrote that Mrs Miniver "shows the destiny of a family during the current war, and its refined powerful propagandistic tendency has up to now only been dreamed of. There is not a single angry word spoken against Germany; nevertheless the anti-German tendency is perfectly accomplished."
Although Wyler later dismissed the film as naïve, he was proud of its impact. When Mrs Miniver was released, he told columnist Hedda Hopper: "We're in an all-out war – a people's war – it's the time to face it. Let's make propaganda pictures, but make them good… Mrs Miniver has had the success I wanted for it, but, more important, it will make producers realise that a propaganda picture doesn't have to be filled with blood and brutality."
If you would like to comment on this story or anything else you have seen on BBC Culture, head over to our Facebook page or message us on Twitter.
And The Academy Award Goes To… Mrs Miniver is on BBC iPlayer now.