A master of reinvention, Madonna challenges conventions with her changing look. Katya Foreman looks at the many styles of the queen of pop.
S
Scrapes with capes aside, Madonna – the long-reigning queen of reinvention and image-driven pop – has a well-documented history of stealing the limelight, as somebody who's always had an innate understanding of the marketing power of character dressing. No-one who grew up in the '80s can have failed to observe the atomic impact each new incarnation had on youth culture, as the singer's attire (and attitude) fearlessly challenged long-held conventions regarding sexuality, gender, religion and, of late, age-appropriateness.
As a child, Madonna wanted to be either a film star or a nun when she grew up. She's extensively explored both roles through clothes ever since, with both Marilyn Monroe and Catholic iconography being key inspirations behind her expansive back catalogue of looks, from 1950s glamour girl (Material Girl) to penitent sinner (Like a Prayer) and spiritual entity (Ray of Light).  The most defining image of her career arguably remains the wedding dress worn on the cover of second album Like a Virgin, with its white bustier, long lace gloves, crucifix jewellery and Boy Toy belt. Madonna's long-time personal stylist, Arianne Phillips, described the bright-white bridal juxtaposition as "one of the most shocking, liberating and influential moments in pop culture/fashion history", adding that "fashion has never been the same".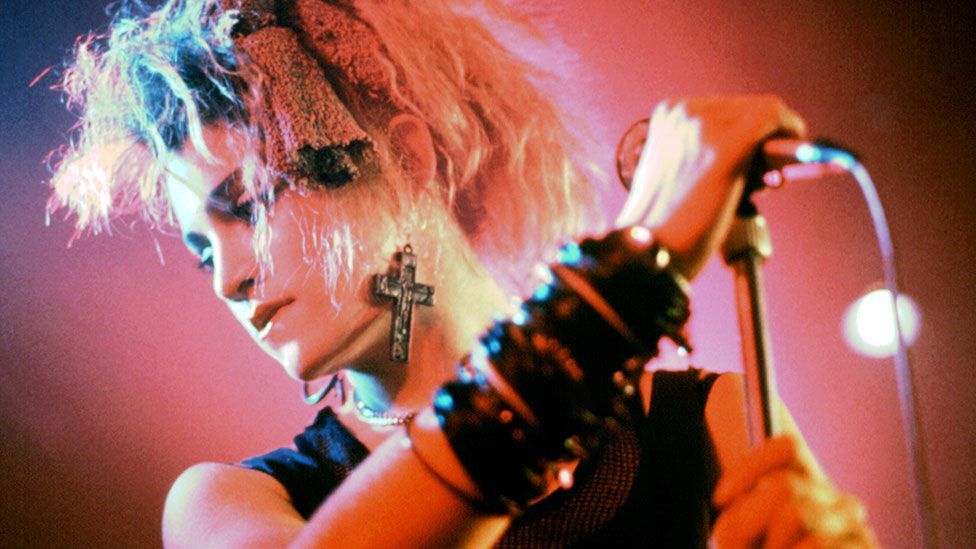 No-one who grew up in the '80s can have failed to observe the atomic impact each new Madonna incarnation had on youth culture (Rex Features)
Madonna Louise Ciccone saw clothes as a tool of rebellion from early on. The impact of losing her mother to breast cancer when she was only five years old is well-known; in an interview with Vanity Fair she once described her younger self as a "lonely girl who was searching for something". In Madonna: A Biography, author Mary Cross describes how the eldest daughter in a brood of eight refused to wear the identical outfits in which housekeeper-turned-stepmother Joan Gustafson liked to dress the Ciccone girls, so she "deliberately wore mismatched socks and clothes". Of her teenage phase, she insists "I wasn't rebellious in a certain way. I cared about being good at something. I didn't shave my underarms and I didn't wear make-up like normal girls do. But I studied and I got good grades... I wanted to be somebody." As a dance major at the University of Michigan School of Music, Theatre & Dance in the 1970s, the Bay City native showed up for class wearing torn tights held together with safety pins and "cultivated that deliberate déshabillé look", according to Cross.
Combining crop-tops, mini-skirts over Capri pants, punk-rock studded cuffs and belts with fishnets, the young Madonna formulated a street-meets-flea market vibe with now iconic, then edgy accessories like lace gloves, tangles of pearls and rosary beads, stacked rubber bracelets and crucifix jewellery by cult NYC-based French designer, stylist and artist Maripol. (In an interview with The New York Times, the singer's publicist Liz Rosenberg recalled Madonna first walking into her office in 1983, an unknown singer and 'dance artist' from the Lower East Side club scene who'd been signed by Warner Brothers for two singles, in "a black outfit with a hundred rubber bracelets on each wrist".) Crowning the deceptively complex look were ribbons tied in roughly bleached blonde hair and strong make-up: bushy eyebrows, heavily defined eyes, a Marilyn-style beauty mark and a bold lip shade.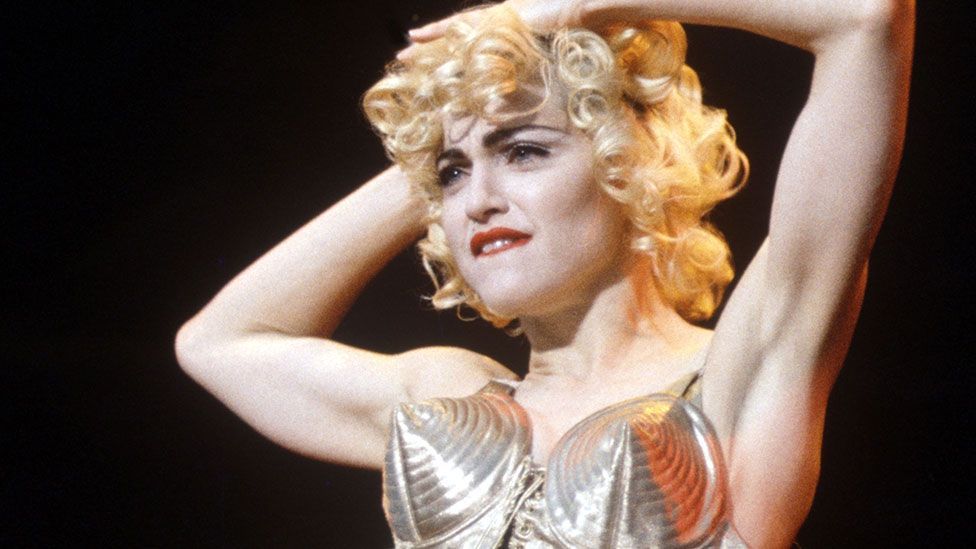 Madonna in her cone bra is one of the most unforgateeable images of the 1990s (Rex Features)
Agent provocateur
When it comes to her image, Madonna has always been well supported, with fellow provocateur Jean Paul Gaultier the brains behind the bras on her 1990 Blond Ambition world tour. "The quintessential rock star-fashion designer relationship is Madonna and Jean Paul Gaultier... a mutually beneficial connection, I think they understood each other brilliantly," said Tim Blanks, Editor at Large of Style.com, in a video about the singer's turn on Gaultier's Spring 1995 catwalk, pushing a puppy in a pram. "He gave her a look which people will always associate with her and she gave him a profile which he's never ever lost. When you think about the '90s, Madonna in her Gaultier cone bra is one of the most unforgettable images of the entire decade." Gaultier was also behind the Memoirs of a Geisha-inspired kimono costumes featured in the Nothing Really Matters video and Drowned World tour, and worn by the singer at the 1999 Grammys, where Ray of Light won four awards.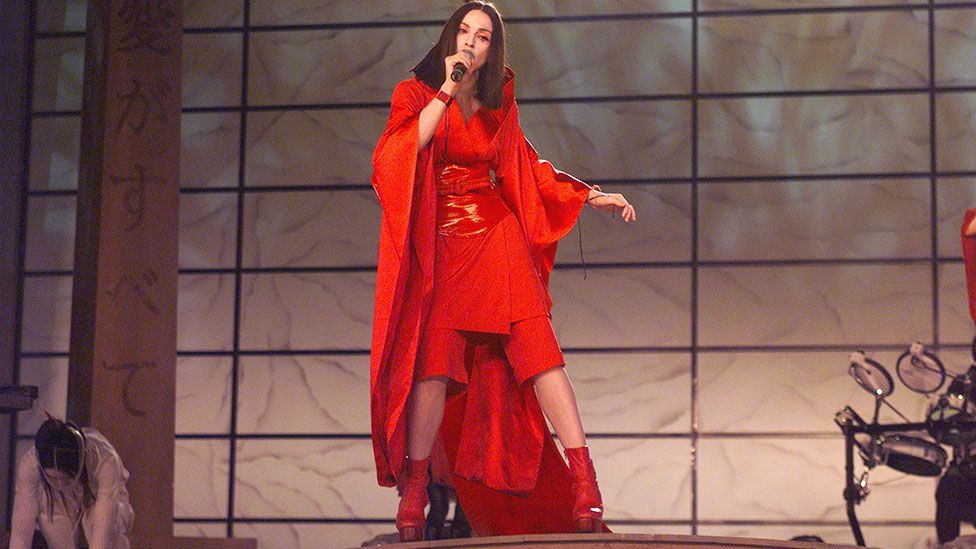 Jean Paul Gaultier was behind the Memoirs of a Geisha-inspired kimono costumes in the '90s (Getty)
Red-carpet theatrics are a popular sport for Madonna, who likes to part the sea of ubiquitous mermaid gowns with attention-grabbing ensembles. She wore a sari with bare feet to collect the first ever Versace Award at the VH1 Fashion Awards in 1998. "She's outrageous, she's provocative, she's inscrutable and over the years we've all been witness to her evolution from street-smart kid sister to virgin bride, from a sex goddess to yogini," said Sting, who co-presented the award with Donatella Versace. "Her mind is as celebrated as her body, she's as feared as she is desired. She leads while others follow." The most recent Grammy Awards saw her sporting thigh boots and a matador-inspired Givenchy Couture bodysuit, cheekily flipping its jet-encrusted skirt to bare her fishnetted derriere to the paps. "Be perfectly content to be who you are, someone unique and rare and fearless," she announced before her performance of new single Living For Love.
Rebel heart
Despite now being in her sixth decade, the provocateur queen of pop – whose latest album, Rebel Heart, is released this month, its cover showing Madonna's face lashed with S&M-style black cords – hasn't kicked her habit of exposing body parts. She first posed nude as an unknown, then in her all-star Sex book and on Gaultier's catwalk in 1992. The button-pushing performer showed a nipple during a concert in Istanbul on her 2012 MDNA world tour, days later flashing her bottom at a concert in Rome. Commentators have thus become more concerned with the age-appropriateness of her actions and garb than any political correctness. "She looks like she's done 10th grade 48 times," quipped the late Joan Rivers apropos her cheerleader-style Super Bowl half-time show outfit on a 2012 episode of Fashion Police. "(Her ever-youthful style has always been fodder for comics, with Jennifer Saunders notably spoofing the singer's Hung Up combination of retro leotard and Farrah Fawcett hair flicks.)
"Is there a rule? Are people just supposed to die when they're 40?" she asked in a 1992 interview with Jonathan Ross at the tender age of 34. In a recent Q&A with Rolling Stone, for whose cover she struck a Marilyn pin-up pose, she takes on ageism in pop culture and beyond. "It's still the one area where you can totally discriminate against somebody," she notes. "[Regarding] my age – anybody and everybody would say something degrading to me. And I always think to myself, why is that accepted? What's the difference between that and racism, or any discrimination? They're judging me by my age. I don't understand. I'm trying to get my head around it. Because women, generally, when they reach a certain age, have accepted that they're not allowed to behave a certain way. But I don't follow the rules. I never did, and I'm not going to start."
"When I did my Sex book, it wasn't the average," she adds. "When I performed Like a Virgin on the MTV Awards and my dress went up and my ass was showing, it was considered a total scandal. It was never the average, and now it's the average. When I did Truth or Dare [aka In Bed with Madonna] and the cameras followed me around, it was not the average. So if I have to be the person who opens the door for women to believe and understand and embrace the idea that they can be sexual and look good and be as relevant in their fifties or their sixties or whatever as they were in their twenties, then so be it."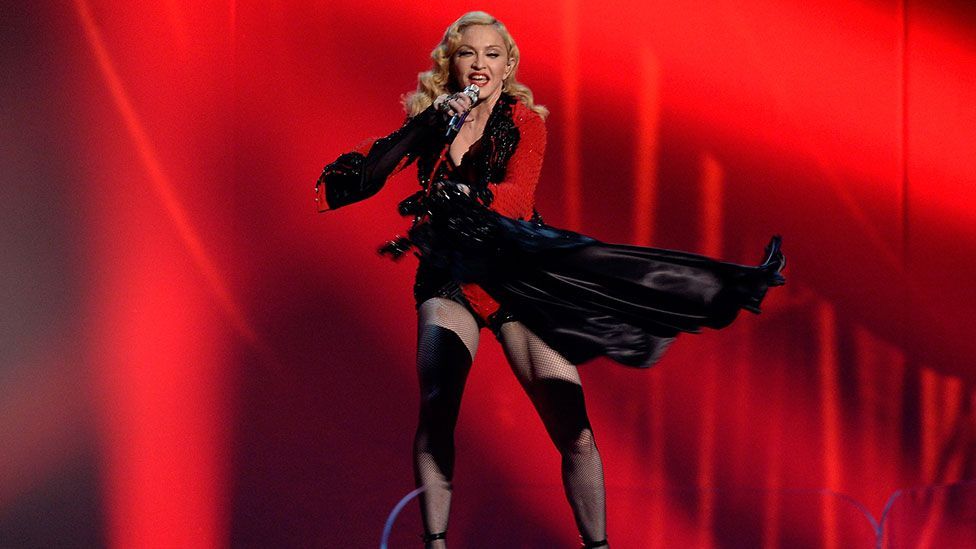 The most recent Grammy Awards saw her sporting thigh boots and a matador-inspired Givenchy Couture bodysuit (Getty)
Yet for all her own rule-flouting, she's surprisingly conservative when it comes to her elder daughter's outfits. "I always have two reactions when Lola comes into my room with an outfit on. One is, 'Oh my god, she looks amazing, what incredible style' and then my second reaction is, 'She's dressed completely inappropriately for school'," she said during a presentation of her Material Girl line for Macy's. "I have to think with two brains. I usually tell her to take off her three-inch or six-inch platforms and pull her skirt down just a little bit, and take off some of the black eye make-up from around her eyes... I am the typical mother where I say, 'Oh my god, you can't go to school dressed like that'."
But Lola (born Lourdes in 1996) gives as good as she gets. During a Rebel Heart special, Madonna tells Jonathan Ross that "If no-one's around she will definitely give me the once over and say, 'Oh, mum, you are not leaving the house like that!'" And as for the Grammy flash? "She did take a picture of my butt sticking out and sent it back to me and said, 'Mom, really?' and I said 'It was a wardrobe malfunction. I swear'." It wasn't her first and it's hard to believe it'll be her last.
If you would like to comment on this story or anything else you have seen on BBC Culture, head over to our Facebook page or message us on Twitter.