'The girlfriend look' is all the rage on the catwalk and a new exhibition of work by the gender-bending designer Jean Paul Gaultier is opening in Paris. Is androgyny poised to go mainstream? Lindsay Baker investigates.
F
Famous for its swaggering macho men, Italy was a surprising location for such a moment. At a recent Gucci show in Milan, louche, long-haired male models sauntered down the runway in chiffon and lace, pussy-bow blouses and high-waisted flares. It was gender blurring as never seen before at the venerable Italian fashion house, courtesy of the label's new creative director Alessandro Michele. And that wasn't the only surprise. The Gucci girls, meanwhile, walked the runway in boyish, geeky styles.
Gucci is not alone. JW Anderson and Meadham Kirchoff have also shown an interest in gender-fluid fashion, and Saint Laurent, Prada and Givenchy are just some of the names whose recent menswear collections have proffered skirts, high-heeled boots, chiffon blouses and a general prevalence of pink. Boundaries are coming down in other ways too, with transgender models becoming more and more popular on the catwalk.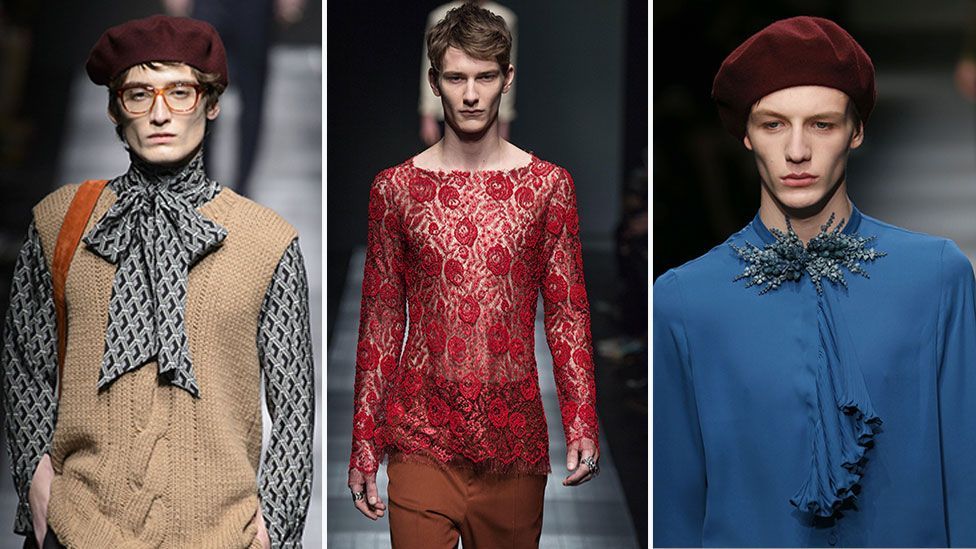 Alessandro Michele's first menswear collection at Gucci featured a number of distinctly feminine looks (Credit: Rex Features)
We've seen 'boyfriend dressing' before – outsized, mannish jeans, sweaters, jackets and coats worn by women that are seemingly purloined from their male partner's wardrobes. But now the moment of 'girlfriend dressing' has arrived too – at least in the rarefied circles of the fashion world. For the devotedly fashion-conscious man it is currently all about feminisation.
Meanwhile, womenswear is looking distinctly blokey, with fashion-industry insiders on the front row sporting flat shoes and low-key tailoring. For several years Phoebe Philo at Céline has specialised in understated, mannish tailoring for women, and now the rest of fashion is catching up. Recent advertising has echoed the mood with Cara Delevingne posing among a group of boys in a DKNY campaign and Julia Roberts posing in sharp, masculine tailoring for Givenchy. And if any more evidence was needed that gender-neutral fashion is enjoying a moment, just look inside famously directional London department store Selfridges, which has recently opened a whole new department, named Agender, with all merchandise by 15 different designers presented as unisex.
Gender bender
It seems an appropriate moment then for one of modern androgyny's pioneers to see his world-touring exhibition come to a triumphant finale. The Fashion World of Jean Paul Gaultier: From the Sidewalk to the Catwalk is arriving at the Grand Palais in Paris, the designer's hometown, this month. Gaultier, who recently retired from ready-to-wear design, has been a creative force in fashion for nearly four decades.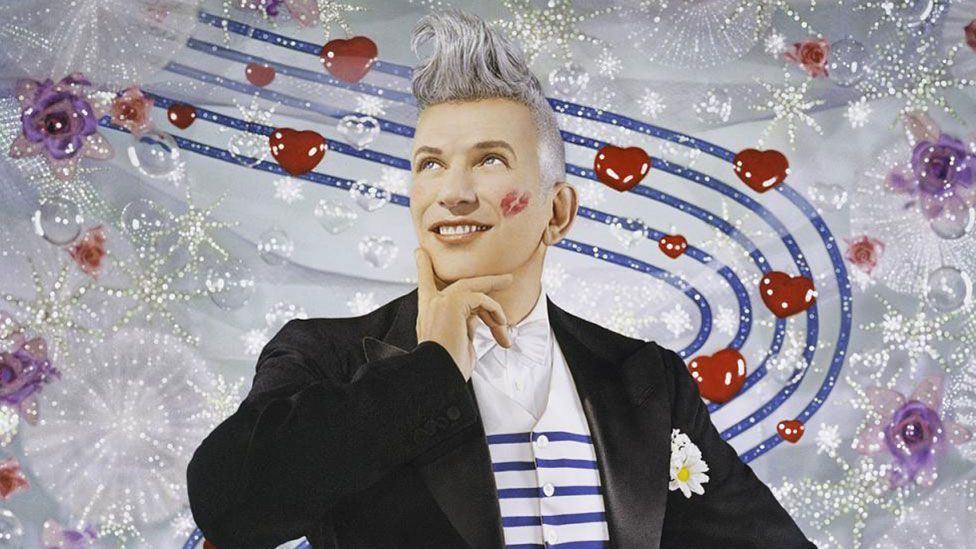 Jean Paul Gaultier – photographed here by French duo Pierre et Gilles – is honoured at a new exhibition at Paris' Grand Palais (Credit: Pierre et Gilles)
The designer's fascination with transformation and transgression has seen his work cross – and erase – boundaries between cultures, sub-cultures and the sexes. His skirts for men created a huge stir when they first appeared in 1985. Gaultier, along with Ann Demeulemeester, Martin Margiela, Comme des Garçons and Helmut Lang, made androgyny one of fashion's defining characteristics in the 1980s and '90s.
So ground-breaking was Gaultier's early work that many examples of it are housed in the permanent collection of London's Victoria & Albert Museum. Curator of fashion at the V&A Oriole Cullen tells BBC Culture there was "an inclusivity about Gaultier's work, he always encouraged different body shapes on the catwalk, and there was a joy and positivity about it. He was very inspired by punk and the New Romantics, and what was called at the time 'gender-bending'. He did it with a great sense of humour."
Fun, yes, though there was also a sense that the designer had a point to make about gender and stereotypes. Gaultier loved subversion, and his tailoring for women was mannish with a twist. One of his muses was Edwige Belmore, the so-called 'queen of Paris punk' who was the inspiration for Gaultier's iconic outerwear bra and man-jacket combination. The designer told Dazed in 2014: "I was surrounded by women [growing up], especially my grandmother. . . .You know there is an expression in France that I find awful which is sois belle et tais-toi ('be beautiful and shut up')…. I realised there was an injustice there. Women can have a brain and also be beautiful, you know? And boys, with all the attributes of masculinity like money and manpower, I found it so stupid."
Dress codes
Of course, cross-dressing is nothing remotely new. The V&A's Oriole Cullen gives as one of the best known historical examples the 18th Century French diplomat, soldier and transvestite the Chevalier d'Eon who lived much of his life as a woman. Later, she points out, Claude Cahun, a French Surrealist photographer who was born a woman identified herself as 'agender' in the early part of the 20th Century.
But when and why has androgyny seeped into the mainstream?
Looking back, it seems that social upheaval and a rise in androgynous styles often went hand in hand. The 1920s was a particularly defining moment, according to Cullen. "The look for women was very gender neutral with underwear designed to flatten breasts and a tubular silhouette, with hair bobbed short." The timing was no accident, she says. "It was the birth of modernity, there were lots of young women entering the workforce and becoming independent." The formidable Marlene Dietrich and Lauren Bacall were among the early female movie icons who played with androgyny. And during World War Two, functional trousers, brogues and boyish knitwear, meanwhile, became popular garb for the British Land Girls.
The 1960s saw another upsurge in androgynous dressing for both women and men, as the counter culture took hold, women's liberation gained ground and social mores changed. When the Rolling Stones played London's Hyde Park, Mick Jagger wore a 'man's dress' designed by British designer Mr Fish. Meanwhile Yves Saint Laurent's tuxedo for women, Le Smoking, created in 1966, was a landmark in mannish chic. Saint Laurent told Women's Wear Daily: "I thought the Smoking was more modern than an evening gown. It played with a certain ambiguity…. I created something that looked equally chic on men and women."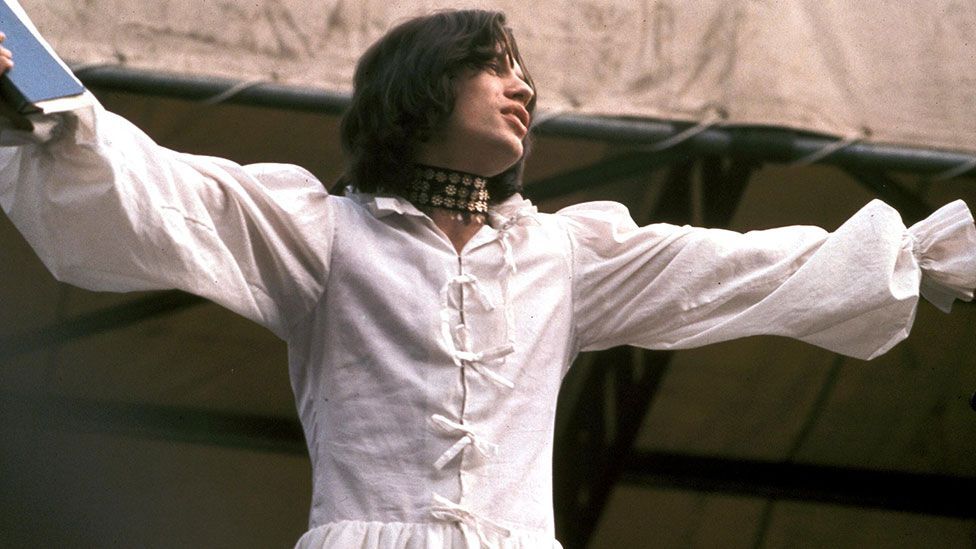 Mr Fish's white 'man dress' worn by Mick Jagger at a concert in Hyde Park in 1969 cast him as a romantic hero in the style of Shelley or Byron (Credit: Alamy)
Still, it was a daring look. Smart restaurant Le Côte Basque in Manhattan famously turned away New York socialite Nan Kempner at the door because she was wearing YSL's iconic tuxedo. She stripped off the trousers and was allowed to walk into the restaurant in only the jacket, re-fashioned as a mini dress. Into the 1970s the likes of Diane Keaton as Annie Hall and Patti Smith helped popularise the androgynous look for women, while Marc Bolan and David Bowie toyed with girlish looks – Bowie even appeared on the cover of The Man Who Sold the World, like Jagger before him, in a Mr Fish dress.
So why are we now experiencing another surge in gender-fluid styles? "It's about the younger generation pushing against boundaries," says Oriole Cullen.  "But also it's a reflection of where we are. There's a new interest in feminism, you can't ignore that, it feeds into fashion. Women are lucky that we've been able to adopt androgynous looks easily. And in society there's a focus now on the trans community. And sexuality is no longer the big issue it was."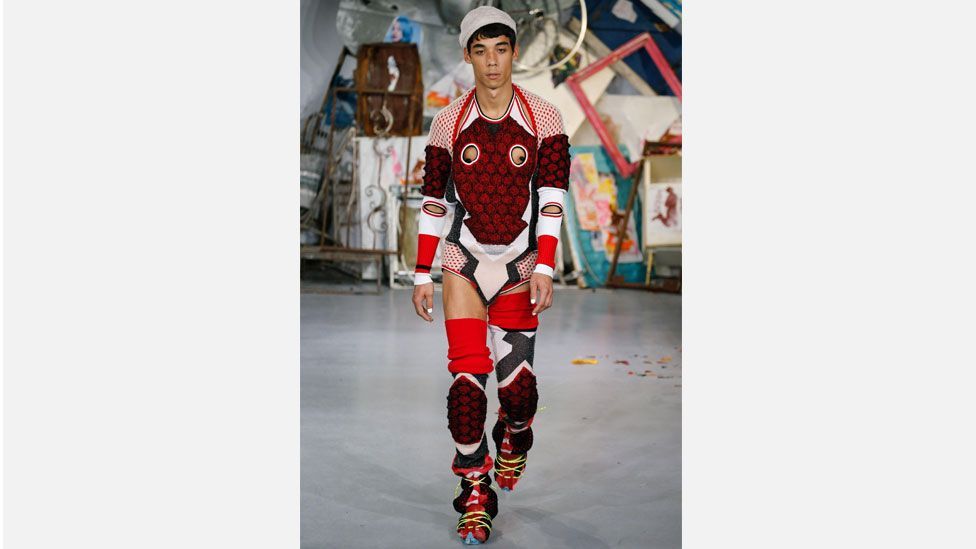 Meadham Kirchhoff's 2015 spring/summer collection at London Fashion Week featured gender-bending elements and drew comparisons with Gaultier's work (Rex Features)
Early purveyors of feminised menswear, Meadham Kirchoff – who count among their heroes the inimitable gay icon Quentin Crisp – reflect this sense of idealism. "We hope to inspire people to express themselves," they tell BBC Culture. "To speak up, to rebel, to create, to make their own alternative worlds and ways of expressing themselves, their interests, their opinions and frustrations."
Let's face it, 'girlfriend dressing' is not an easy look for the average guy to pull off. It's all about the attitude – just as it was for previous generations. In the words of Nicola Formichetti, creator of new unisex brand Nicopanda, a quirky line that includes ruffled boxing shorts, hoodies with tutu capes and pastel fishnet dresses: "It's for people who are free-spirited and want to have fun."
If you would like to comment on this story or anything else you have seen on BBC Culture, head over to our Facebook page or message us on Twitter.