Walking on water has never been so easy. BBC designed picks some of the 21st Century's most eye-catching designs – including a structure that curls into a ball.
T
The humble footbridge has come a long way from a simple arch across a waterway. Designs now feature complex moving parts, winding forms and interlocking ramps: there's even one that has been submerged in a moat. Early in 2015, a design competition to create a structure spanning the Thames in London received 74 entries from firms around the world. The anonymous proposals included spiralling ramps, irregular latticework and a waterfall. It's the second pedestrian bridge proposed for London – a 'Garden Bridge' covered in trees and plants, designed by Thomas Heatherwick, was approved in December 2014. Here are eight of the most eye-catching structures from the 21st Century.
Rolling Bridge, London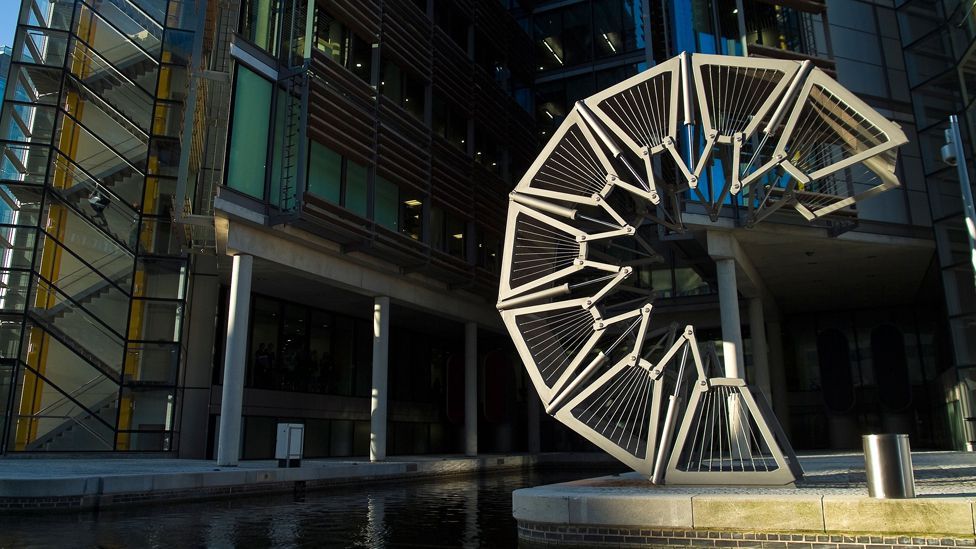 (Credit: Steve Speller/Alamy)
The Rolling Bridge in Paddington Basin was a 2004 work by Heatherwick, who has also redesigned London's iconic double-decker bus. A series of hydraulic rams allow the structure to curl up, giving access to boats moored in the inlet. According to Heatherwick Studio: "The aim was to make the movement the extraordinary aspect of the bridge. A common approach to designing opening bridges is to have a single rigid element that fractures and lifts out of the way. Rolling Bridge opens by slowly and smoothly curling until it transforms from a conventional, straight bridge into a circular sculpture that sits on the bank of the canal."
Henderson Waves, Singapore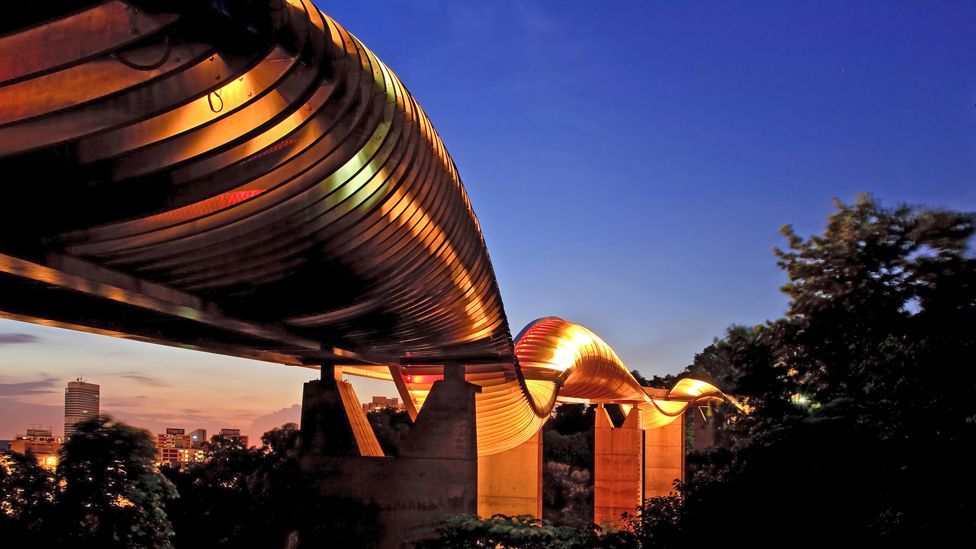 (Credit: Zoonar GmbH/Alamy)
The highest pedestrian bridge in Singapore was built to connect two parks on the south of the island. Unveiled in 2008, it was designed by London-based IJP Corporation and RSP Architects Planners and Engineers in Singapore. Seven curved steel ribs create an undulating shape along the 274m (899ft) length, offering hidden alcoves with seats.  
High Trestle Trail Bridge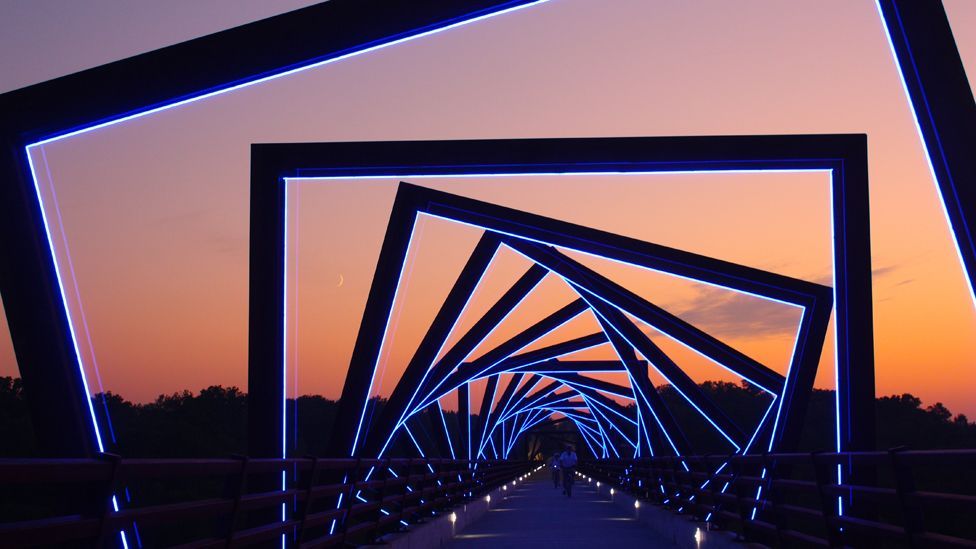 Once a Union Pacific Railroad crossing of the Des Moines River in Iowa, the High Trestle Trail Bridge was reopened in 2011 as part of a 40km (25 mile)-long trail. Eight-hundred metres (half a mile) long and 40m (130ft) high, it rests on a series of concrete piers: they were known as 'Iowa's Stonehenge' after the original bridge deck was removed. David Dahlquist Studios created 41 steel frames that are positioned along the bridge to simulate the view through a mine shaft, a reference to the area's history of mining. (Image from Carole Gieseke)
Lingzidi Bridge, Shangzhou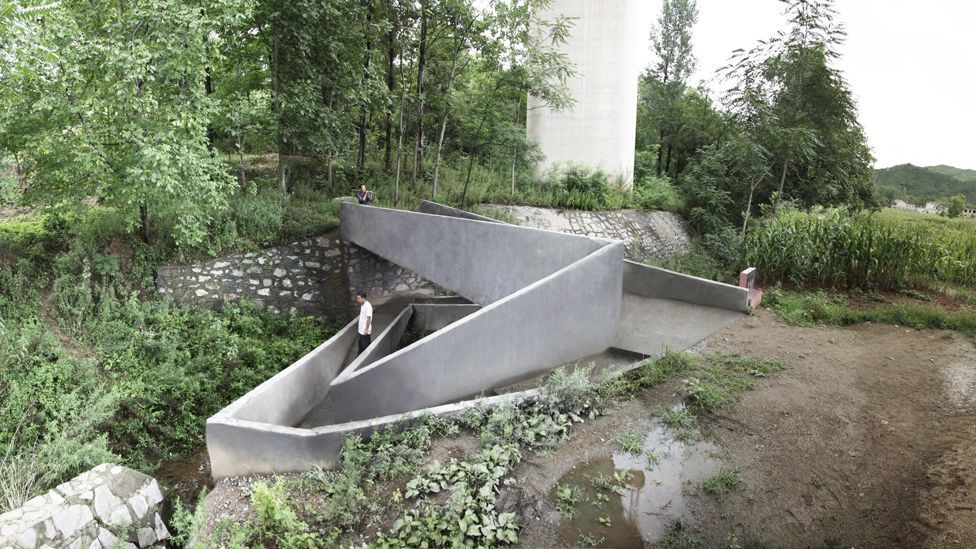 (Credit: Rural Urban Framework/Joshua Bolchover and John Lin)
Architects Joshua Bolchover and John Lin set up the not-for-profit Rural Urban Framework in part to tackle social problems caused by China's large infrastructure projects. In the southern Shaanxi province, the construction of a new motorway meant that hundreds of local bridges had to be destroyed. The Lingzidi Bridge was completed in 2012 and is designed to ease movement across the river next to Lingzidi village. One loop links two levels of the riverbank, offering access for fishing, bathing and laundry, and an extra branch spans the river, allowing villagers to reach a farm. "Despite its small scale, this bridge is a critical link for the local village economy," say the architects. "It encourages villagers to maintain and improve their local economy rather than rely on sources sent back from younger generations working in factory towns."
Moses Bridge, Netherlands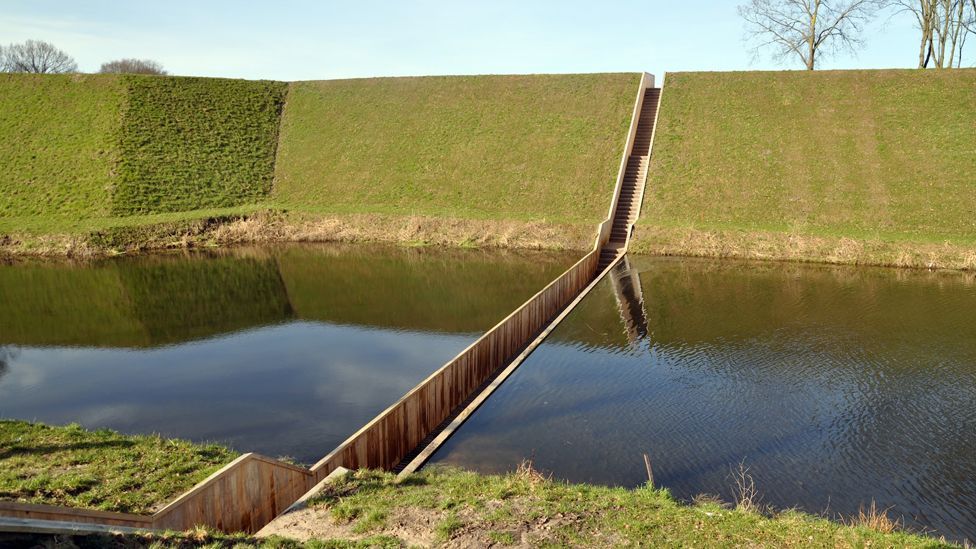 Dutch architects RO&AD are masters of the moat. They created a floating bridge next to an 18th-Century fortress – resting on air-filled pipes under the surface – and submerged a crossing with their aptly-named Moses Bridge in the southern Netherlands. Made of waterproofed wood with an edge almost flush with the surface of the moat, it parts the waters for pedestrians. Invisible from a distance, a trench when seen from above, it's a bridge as optical illusion. Even when the water level rises, visitors can stay dry: a pump system removes excess water in case of flooding.
Fan Bridge, London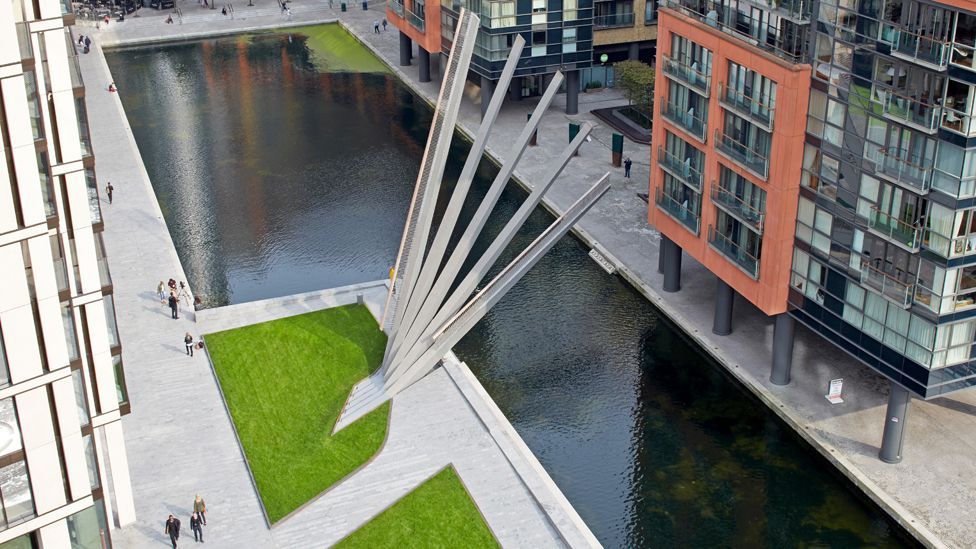 (Credit: VIEW Pictures Ltd/Alamy)
The residents of London's Paddington Basin have a choice in movable footbridges. A new structure was unveiled in September 2014, ten years after Heatherwick's Rolling Bridge. The cantilevered design opens across the canal like a fan with the help of hydraulic jacks, as much a kinetic sculpture as it is a bridge. British firm Knight Architects won the competition to design a new crossing, working with structural engineers AKT II: they claim that "Beautiful, efficient bridge design should satisfy both artistic and scientific analysis".
Melkwegbridge, Netherlands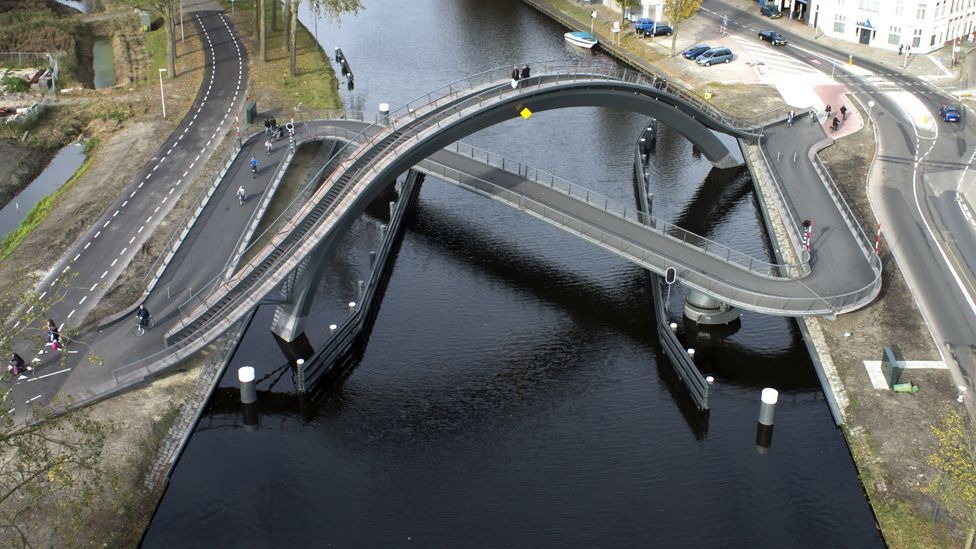 (Credit: NEXT Architects)
Completed in 2012, the canal crossing at Purmerend in the Netherlands is actually two bridges. One, an arch reaching a height of 12m above water level, offers pedestrians a view of both the historic and new areas of the city as well as allowing boats to pass beneath; the lower deck is at a slope accessible by wheelchairs and bicycles, and splits into two parts that revolve open when boats approach. According to its designers, NEXT architects (who have also come up with the Dragon King Kong Bridge in China): "The bridge becomes more than just the fastest possible crossing, it becomes an end and an attraction in itself."
Simone de Beauvoir Bridge, Paris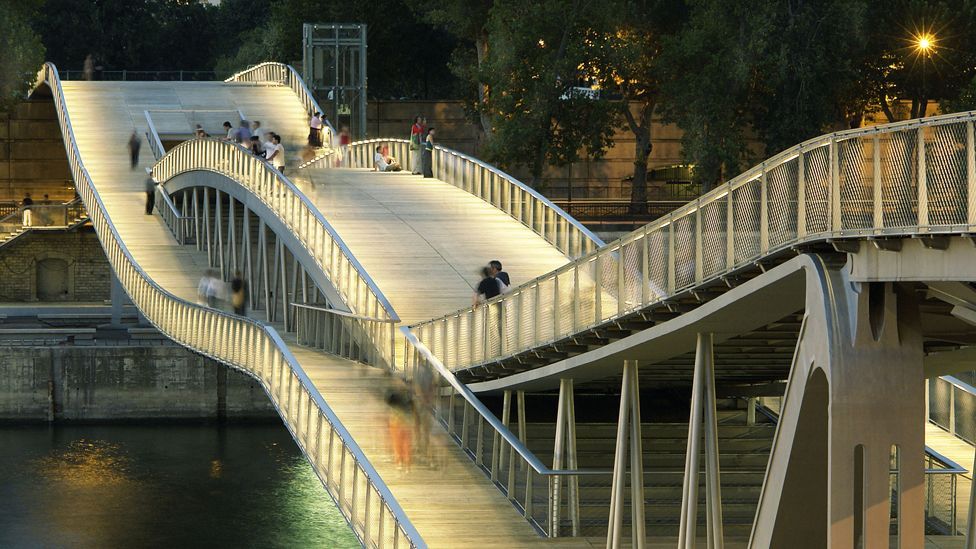 Austrian architects Dietmar Feichtinger have some experience with bridges: as well as designing one spanning the Rhone river in Lyon and a jetty leading to Mont Saint-Michel, they created the Butterfly Bridge in Copenhagen, which opens in three ways. The Simone de Beauvoir bridge in Paris was completed in 2006, its criss-crossing pathways allowing access across the river and over the busy roads parallel to the Seine. Five paths link banks of differing heights as well as a park, and a protected area in the middle offers shelter from rain.
If you would like to comment on this story or anything else you have seen on BBC Culture, head over to our Facebook page or message us on Twitter.