Beyoncé is the most powerful pop star in the music business – and her following among young people is almost cult-like, writes university student Henry Knight.
"The woman that every woman aspires to be." That's how one of my university peers describes Beyoncé. And she speaks for many. Few musicians today have inspired a genuine cult of personality. But Beyoncé, the undisputed wearer of pop music's crown, has done just that. "All hail Queen Bey!" cry her horde of devoted fans, who call themselves the BeyHive, an apt name for the followers of a star who generates such deafening buzz. When she dropped her self-titled album out of the blue in December 2013, I witnessed the spectacle of 'Beyoncé syndrome' first hand. On a tense night during final exams, I watched in awe as my fellow students set aside term papers and study guides to get drunk – 'drunk in love', that is. Students swarmed to every computer in the library to watch Beyoncé gyrate across a beach and profess her love for her megastar husband Jay-Z. As an outside observer, I marveled at the new video album's infectious effect and wondered about its cause. What makes Beyoncé so gripping? Why is her voice – in song, speech, and even silence – so resonant for so many, especially millennials?
Beyoncé is a true Renaissance woman: a musician, a business mogul, a feminist, a mother, and a brand whose cultural gravity seems to emanate not from any one of these talents but from all of them in concert.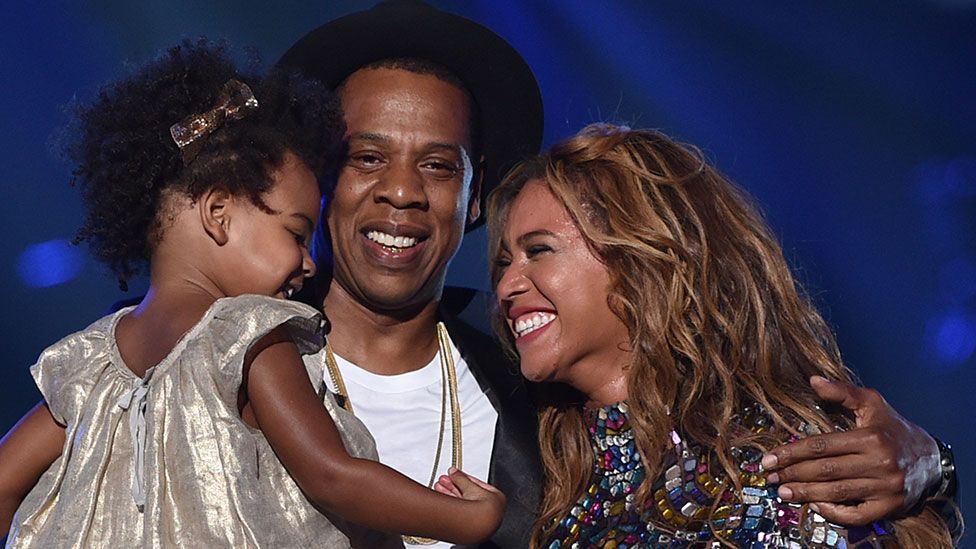 Beyoncé frequently mentions the importance of her roles as wife (to Jay-Z) and mother (Credit: Getty Images for MTV)
The music comes first
Since her early days with girl-group Destiny's Child, Beyoncé's music has been the object of near universal acclaim. It's a testament to her artistry that fellow pop giant Kanye West has been willing to sacrifice his public image on Queen Bey's altar twice: first by upstaging Taylor Swift at the 2009 MTV Video Music Awards to protest about Beyoncé's Single Ladies video failing to win an award and then again this February at the Grammy Awards to rant when she lost album of the year to Beck. It's hard to disagree with him, especially on the latter count: Beyoncé's self-titled album not only proved innovative musically, it rewrote the business model of the industry. Released directly to iTunes in the dead of night without any warning, yet alone promotion, it broke all the rules. Pitchfork has since declared it to be among the top 15 greatest albums of the decade thus far.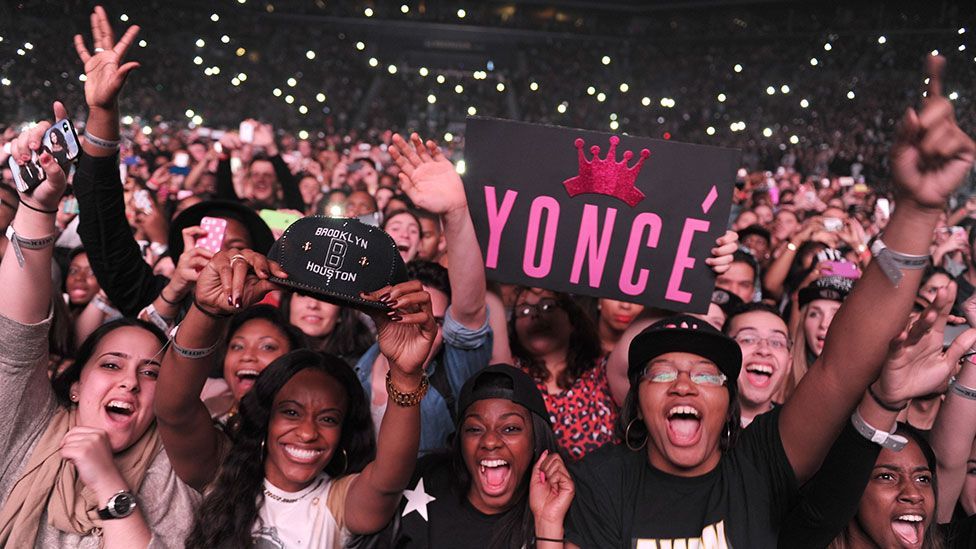 Beyoncé's legions of fans are known as the Beyhive (Credit: Kevin Mazur/WireImage for Parkwood Entertainment)
But Beyoncé's musical gifts extend far beyond the recording studio – she has recently embarked on her fifth world tour, adding to a performance resumé that already boasted two US presidential inaugurations and the halftime show at the Super Bowl. The music may be the foundation of the Beyoncé phenomenon, but it's also merely the starting point.
The business behind the art

In an American corporate world disproportionately governed by men, Beyoncé distinguishes herself as the founder and CEO of her own record label and production company, Parkwood Entertainment. According to Forbes, her personal earnings more than double those of her husband. He is a shrewd entrepreneur in his own right who famously declared himself "not a businessman but a business, man." Beyoncé's self-titled album sold a staggering 617,000 copies in three days following its release, doing Kanye West the poetic justice of swiping an iTunes Store sales week record from Taylor Swift. That number is an almost unfathomable feat for a $16 (£10) record dropped at a time when the digital single is supposed to have supplanted the album in importance.
Beyoncé and Jay-Z have been dubbed the Barack and Michelle Obama of pop culture – but unlike the US president and his wife, they have no limit on their term. The scope of their power and influence was on display in December at the Barclays Center, where Prince William and Kate Middleton came to see the Brooklyn Nets, of which Jay-Z is a partial owner. To the tune of God Save the Queen, the royal couples met courtside.
A new feminist icon
In 2014 Forbes declared Beyoncé to be the world's most powerful celebrity, and she has leveraged her global brand in support of gender equality through her influential charity, the #BeyGood Project. Her hit single Flawless samples from a TEDx Talk called We Should All Be Feminists by Nigerian author Chimamanda Ngozi Adichie. Beyoncé belts the anthem's first verse and then cedes the floor to Adichie, who relays the definition of a 'feminist' as "the person who believes in the social, political, and economic equality of the sexes".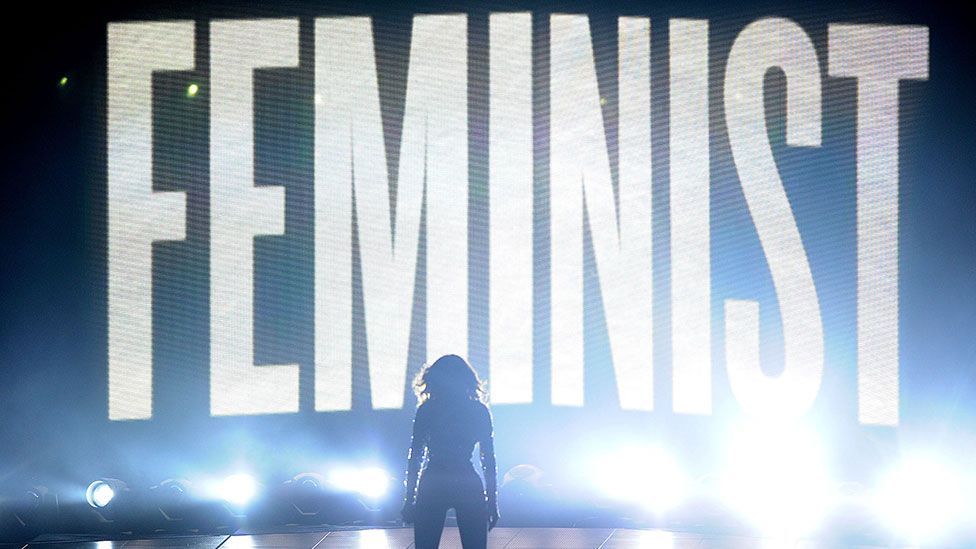 Though she is comfortable embracing traditional domestic roles, Beyoncé also imbues her songs and performances with powerful feminist themes (Credit: Jason LaVeris/FilmMagic)
This has been strong a theme in her recent work. On International Women's Day last month, her #BeyGood charity organisation teamed up with the Clinton Foundation to remind us of a harsh reality: "Despite progress over the last several decades, women and girls remain the majority of the world's unhealthy, unfed and unpaid." Queen B's Instagram features a homage to fellow cultural icon Rosie the Riveter. Her performance at the 2014 MTV Video Music Awards, which framed her silhouette against a backdrop of capital letters spelling 'FEMINIST' provoked celebratory tweets from other prominent feminists, such as Maria Shriver and Jessica Valenti.
Domestic goddess

Part of Queen Bey's allure comes from the public image she projects of her private intimacy with her husband and daughter, Blue Ivy Carter. The fine line she navigates between hyper-sexual pop star and family life has attracted no shortage of attention. She has drawn the ire of some in the US conservative movement who accuse her of being a libertine, TV host Jon Stewart recently rebuked former Republican presidential candidate Mike Huckabee for his finger wagging at her music's exploration of marriage's sexual dimension in songs such as Drunk in Love. But you could also argue she has reimagined the traditional constraints on women in their roles as mothers and wives.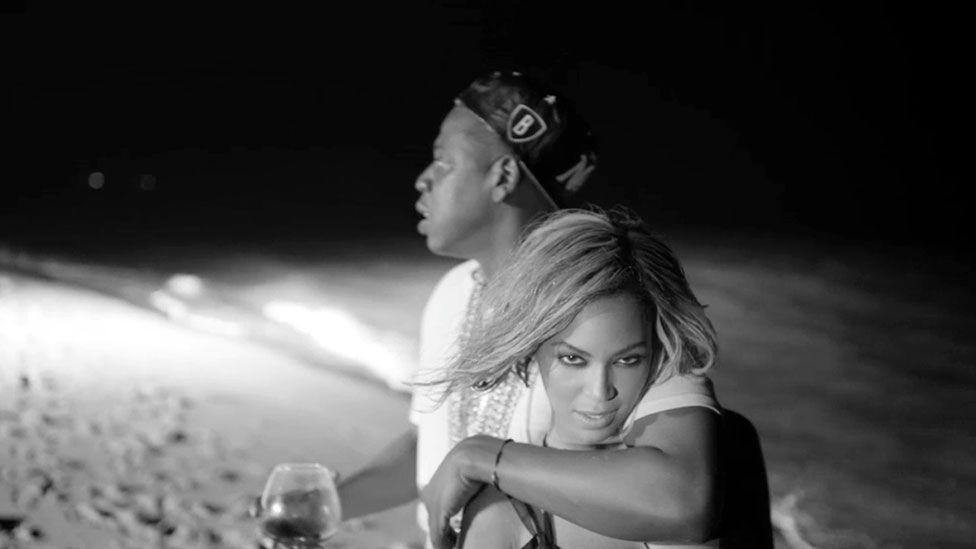 In her song Drunk in Love Beyoncé makes a case that marriage can be sexy – an unusual argument for a pop star (Credit: Columbia)
The Drunk in Love portrait of her marriage to Jay-Z is an example of the fresh thinking that makes Beyoncé so seductive: she has refashioned marital commitment in fun and sexy terms, giving marriage a new face at once enviable and unfamiliar. "She's somehow relatable and untouchable at the same time," as Entertainment Weekly's Melissa Maerz told me.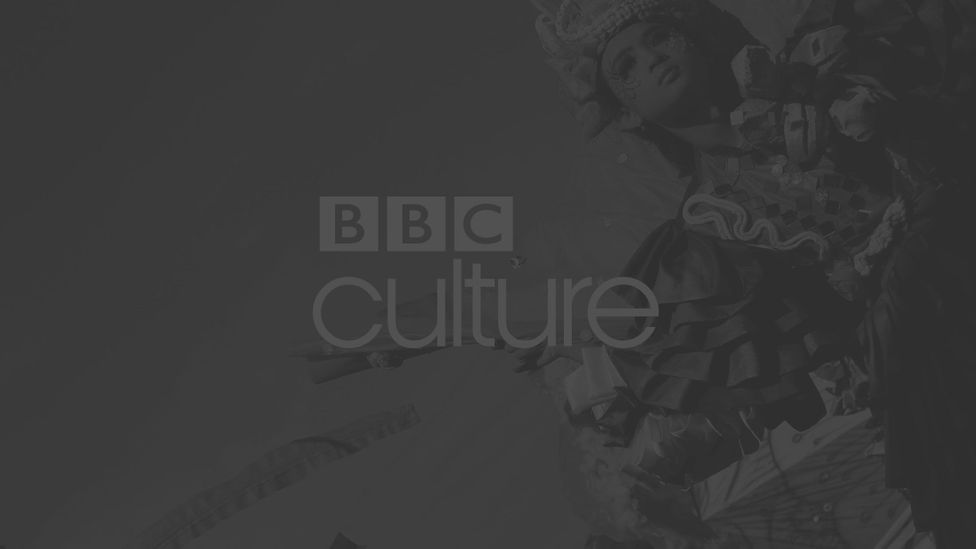 This video is no longer available
Greater than the sum…
"She's the fantasy woman for a generation that's obsessed with having it all," says Maerz. The central value that Beyoncé represents – across her art, entrepreneurship, activism, and family devotion – is boundless potential, a message particularly appealing to millennials. What can't she do? Maybe there have been better albums released in recent years, people who have made more money, feminists more ardent and consistent and mothers whose sacrifice was greater. But can anyone else approach Beyoncé's breadth across all of these realms? She's the total package, a Renaissance woman with a cult so vast and devout it's inescapable – but hardly unjustified.
If you would like to comment on this story or anything else you have seen on BBC Culture, head over to our Facebook page or message us on Twitter.