Andy Warhol's Campbell's Soup Cans was mocked when first exhibited – but the work went on to have a lasting impact not only on the history of art, but on the way we dress, writes Sara McCorquodale.
I
It was unique, groundbreaking and set to change design radically. And yet when Andy Warhol first exhibited his Campbell's Soup Cans in 1962, the work was met with mockery and indifference. A rival parody exhibition of actual soup cans opened in response; the general public was apathetic. It seemed a flop, the epitome of unfashionable.
However, this unpopularity didn't last. Irving Blum, owner of the Ferus Gallery in Los Angeles where the work was first shown, realised the 32 paintings of the piece had to be kept together rather than sold off individually as intended. This made it different; it made it a statement. The work seemed to speak of the spirit of a new America, one that thoroughly embraced the consumer culture of the new decade. Before the end of the year Campbell's Soup Cans was so on-trend that Manhattan socialites were wearing soup can-printed dresses to high-society events.
These days the piece influences collections by fashion houses in Paris, London, Milan and New York every season: from the Pop art palette of Chanel's spring/summer 2014 show to Prada's graphic prints the same year, to everything Jeremy Scott has sent down the catwalk since becoming creative director of Moschino in 2013. As far as the fashion industry is concerned, referencing this particular Warhol is a sartorial statement worth making.
Now, the Museum of Modern Art (MoMA) in New York is exhibiting the Campbell's Soup Cans in a manner that confirms its ongoing relevance. It is being displayed exactly as it was for its debut show: in a continuous line across five walls, as opposed to the grid-like structure in which it has often been shown. This has only happened four times previously – and never before at MoMA. In addition, the frames and Perspex surrounding each piece have been removed to allow visitors even closer scrutiny.
"It's kind of amazing to see it like this – you realise how major it is," says the curator of the exhibition, Starr Figura. "The paintings are all exactly the same except for the name of the soup. You realise how methodical Warhol must have been to work in such a mechanical, repetitive way." 
Campbell's Soup Cans was the breakout piece that gained Warhol widespread fame after spending most of the 1950s working as a graphic artist in advertising.
"It was about produce being plentiful and industrial fabrication; great prosperity and convenience," says Figura. "He figured out what American culture in the 1960s was before anyone else."
Supermarket sweep
In 1962 Warhol became one of the first Pop artists to turn his work into fashion items when he began printing this design onto dresses. "These weren't sold commercially," says Alistair O'Neill, a Senior Research Fellow at London art school Central St Martin's, "but were made as one-offs for New York society women who wore them to gallery openings." Wearing one of Warhol's very first Campbell's can dresses, which were printed on paper, was a sign you were part of a very exclusive club – an ironic inversion of the mass-produced consumer item.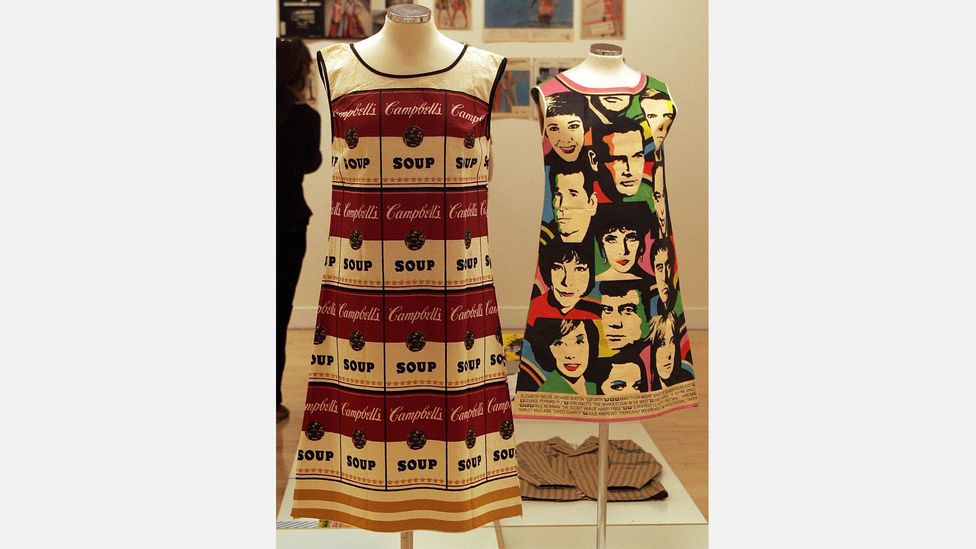 Campbell's Soup Company took advantage of the popularity of Warhol's work and created the Souper Dress, a paper garment featuring the iconic print (Credit: Andy Warhol Foundation)
This exclusivity was short-lived: in 1965 Campbell's took advantage of its new cult fashion status and produced the Souper Dress. It was made from paper and could be bought by anyone who sent $1 and two Campbell's soup can labels to the company. These days, a 'Souper dress' fetches approximately £5,000 ($7,500). 
The impact of doing fashion the Warhol - and later the Campbell's - way had a ripple effect on the rest of the industry. Dr Hazel Clark, head of fashion and design at Parsons Design School in New York, says: "The Souper Dress certainly led the way in mainstream fashion for cheap Pop art printed dresses." After wartime austerity, when clothes were sturdy luxuries created to endure, the dress also changed how women thought about shopping.
"It tapped into progressive design ideas about the disposability of consumer products," says O'Neill. "That you could literally wear the dress and then throw it away."
Warhol's influence seeped into the mass-market fashion and not just in the US. British boutiques Biba and Mr Freedom began commissioning Pop art-printed dresses and t-shirts in the 1970s to sell to the style-conscious public and outfit icons such as Twiggy, Mick Jagger and Jean Shrimpton. 
Then, the artist's prints were made catwalk-worthy in the 1980s by his friend, designer Stephen Sprouse, while Jean Charles de Castelbajac included his own Campbell's Soup Can dress for his 1984 Spring/Summer collection.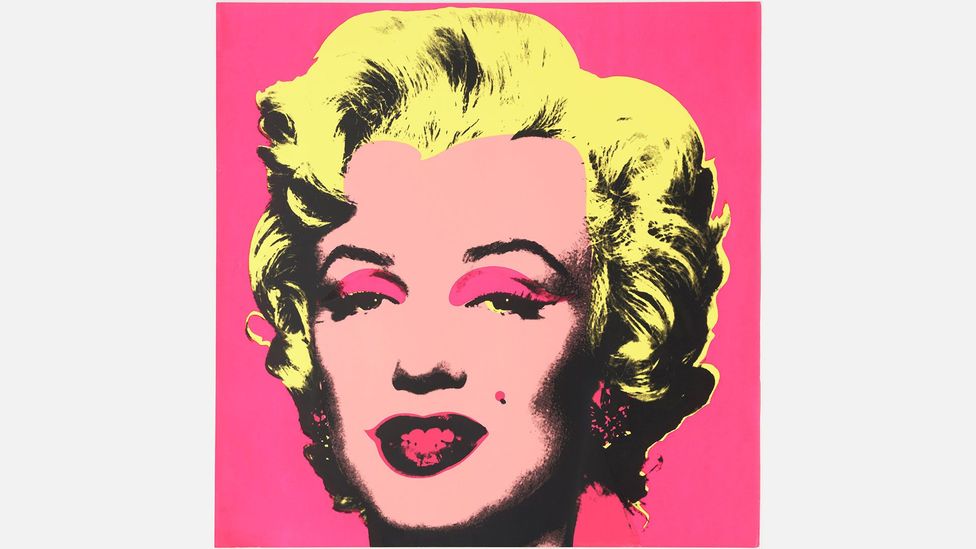 Warhol's series Marilyn Monroe has also inspired fashion designers such as Gianni Versace, who riffed on it in his 1991 Pop art collection (Credit: Andy Warhol Foundation/ARS)
However, it was Gianni Versace's 1991 Pop art collection featuring a jewel-encrusted version of Warhol's Marilyn Monroe prints that truly made the artist synonymous with high fashion. Modeled by Linda Evangelista, it encapsulated the sexy, daring aesthetic that defined '90s fashion and is seen as so important that it is now owned by the Metropolitan Museum of Art in New York.
More recently, Prada's Spring/Summer 2014 collection was dominated by graphic faces in primary colours, and Céline abandoned its signature colour-blocking for a line of loud prints in the same season.
Pop goes the catwalk
So what is it about Campbell's Soup Cans that continually inspires fashion? Designer Philip Colbert has a few ideas. Founder of label The Rodnik Band, he was anointed the "godson of Andy Warhol" by André Leon Talley – a high-profile editor for US Vogue – for his bold collections which heavily reference the artist's work. "Fashion loves to dip into art and big fashion houses look for a new artistic theme every season," he says. "However, referencing Warhol is about more than just the art itself – the art is symbolic of an incredibly glamorous era. Studio 54, New York, excess, style. It is a very powerful message."
O'Neill believes we still want Warhol-influenced designs because Pop art communicates something we recognise and understand. It takes something traditionally consumerist and reassuringly familiar, but presents it compellingly in a high fashion context. Take Moschino's Autumn/Winter 2014 show. Inspired by fast food restaurants, it was knowingly witty – no one wants to wear an actual McDonald's uniform or logo but you'd consider Jeremy Scott's better cut, distinctly similar versions.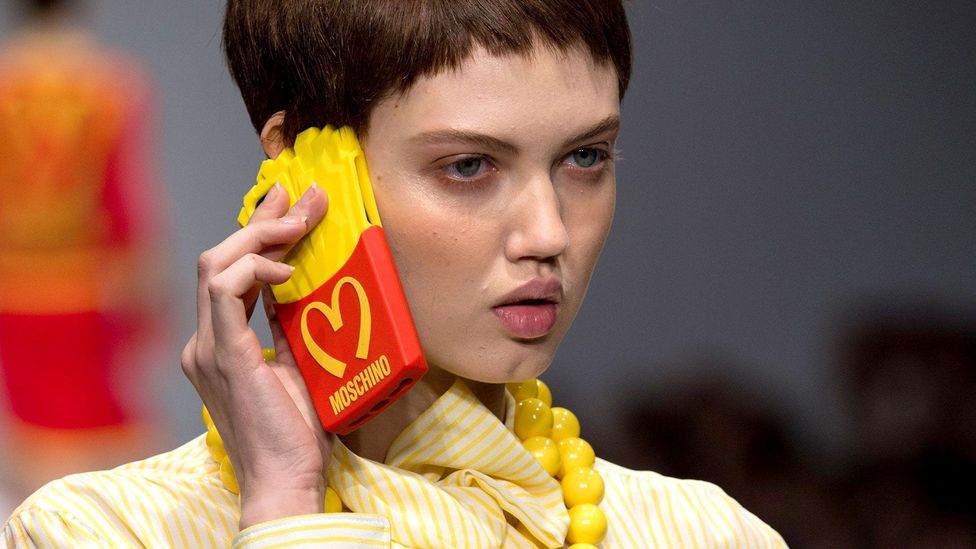 Like Warhol, Jeremy Scott has celebrated symbols of consumer culture. His Autumn/Winter 2014 womenswear collection for Moschino took cues from fast food (Credit: Rex)
"One of the reasons the work of Jeremy Scott for Moschino is so popular in our age of digital fashion is because of the motifs it draws upon," says O'Neill. "Barbie dolls, McDonalds and M&Ms are visual icons of popular culture with a high visual impact." He adds that the use of these logos and motifs is readily informed by Warhol's experiments made over 40 years ago."
Figura thinks that Warhol's soup cans are still representative of something essential about Western culture and therefore resonate with us decades after they were created. "Consumer goods are our culture and the idea of reproduction and repetition is even more prescient in this digital age – it's like something a designer would do on Photoshop now," she says.
So, if you have graphic prints in primary colours or fast fashion in your wardrobe, their inspiration is rooted in an artwork created 54 years ago. Does this make Warhol the most far-seeing, most referenced artist of consumerist culture ever? Not necessarily. 
Figura believes Warhol's background in advertising informed 'Campbell's Soup Cans'. The piece was a canny move, not just a eureka moment. "He knew how to find the next thing that would grab people," she says. "He had instinct and incredible talent, but he was also trained."
Regardless of where his inspiration came from or what propelled him to paint the piece, one thing is certain – it's influence remains strong and there is still an appetite for Pop art-style clothing. The latest evidence? Rita Ora's selfie of her modeling Warhol-esque printed pieces by Au Jour Le Jour earlier this month. It was liked by 101,000 people.
"Campbell's Soup Cans still speaks to us because it still says something about the world now," says Figura. "Warhol had an eye for this – you can't help but be compelled by it."
If you would like to comment on this story or anything else you have seen on BBC Culture, head over to our Facebook page or message us on Twitter.