No other musical genre divides people so greatly – but why? For International Jazz Day, BBC Culture asked a fan and a hater to lay out the cases for and against.
W
Why I love jazz
Mike Hobart is the jazz critic of the Financial Times
The first music to really hit me in the stomach was rock 'n' roll. Little Richard, Elvis Presley, that sort of thing. But the music soon got diluted, and the energy sapped away. And then a friend played me an album: Ray Charles at Newport, recorded live at the US jazz festival, and I felt the punch again.
It was the early 1960s and I was a teenager growing up in North London. When I heard Ray Charles and Margie Hendricks toasting on Night Time is the Right Time and saxophonist 'Fathead' Newman preaching the blues, that was it for me. I was 'into' jazz: for the feeling of life and soul it gave me, pumping the brain as well as the body.
I can still remember the first live jazz gig I went to: bandleader Humphrey Lyttelton at the Marquee Club in London. The whole vibe of the thing just blew me away. I'd been taught that music was read from a score or learned by heart. But here, the musicians were in charge, making it up as they went along. Later, I understood that this was improvisation: the great collective aesthetic of jazz that creates order on the move.
So that's the next great thing about the music. It poses questions about order and chaos and structure and chance – it still does. Yet the way that jazz musicians improvise remains a mystery to many people, even though improvisation is the basis of human conversation. No one sits down for a pint in the pub with a friend and reads from a script.
So why is jazz uplifting? Because the music itself – at its best – is defiant, rich and ceaselessly inventive. I cannot imagine never being able to listen again to Miles Davis' panoramic elegy Sketches of Spain or experience the passionate interplay of bass and sax on Mingus Presents Mingus, both recorded in 1960. And I know that in a decade I will still be listening to The Epic, a triple-album set to be released on 5 May and awash with fire and energy by sax player Kamasi Washington. His credits list jazz pianist McCoy Tyner and hip-hop artist Mos Def, but a month ago I had never heard of him.
I'm always surprised when people assume that jazz exists in some hived-off box. But check the session musicians on many mainstream acts, and it's jazz names that crop up, as they always have. Yes, they're earning a living like everyone else. But that's the point. They're engaging with what else is out there, replenishing their jazz ideas – just as their ideas replenish pop or hip-hop and R&B.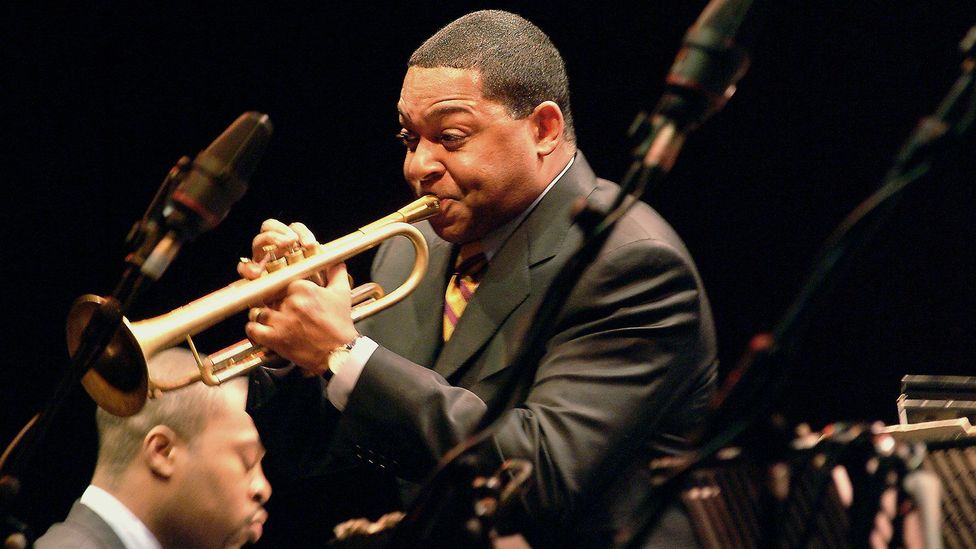 Wynton Marsalis has distinguished himself as an educator, administrator and artistic director as well as a performer (Credit: Lebrecht Music and Arts Photo Library/Alamy)
For much of its life jazz had no formal education structures of its own. Yet jazz is now acknowledged as the first truly American art form. I heard drummer Art Blakey tell this to an audience one night in the early 1980s; a young Wynton Marsalis was Blakey's trumpeter that evening. Marsalis is now the artistic director of New York's Jazz at Lincoln Center Orchestra, the US's only full-time resident jazz orchestra.
Marsalis – still the butt of jibes about looking to the past – composes and tours relentlessly and collaborates with musicians from other genres. And his commitment to education is immense. Through him and others like him jazz learning is now formalised on a global scale, and each year hundreds of highly skilled jazz musicians graduate. Some people see this as negative, leading to technically adept but inward-looking music. Once again, as in any field, if you look at the best – and why would you not? – jazz, from cross-cultural fusion to spiky avant garde, is bursting with energy and invention.
Why I hate jazz
Justin Moyer is a columnist at the Washington Post
I loved John Coltrane until I hated him.
When I was a kid, no one I knew listened to jazz. Jazz, like the dinosaur, existed long ago – an obscure genre occasionally namechecked in Rolling Stone when rock guitarists pretentiously expressed a desire to play more like saxophonists such as Charlie Parker or Ornette Coleman. Jazz hasn't been popular for a long time– and certainly, no-one buys it: Miles Davis's Kind of Blue, the best-selling jazz album of all time, sold about 4 million copies in the US, while Alanis Morissette's Jagged Little Pill sold more than 15 million.
For an adolescent growing up outside Philadelphia with limited pocket money and no car, understanding Coltrane before the internet was tough. This guy died in 1967, ten years before I was born. I caught a ride to a record store; I picked one of his cassettes at random from a shelf; I scrutinised the reissue's almost nonexistent liner notes; I listened to his music again and again while playing Nintendo, slowly developing an appreciation for difficult compositions like Giant Steps. This was a marathon I ran willingly. And, at the finish line, I loved John Coltrane.
But I also wondered: is it really all that good?
There's no doubt Coltrane was a technical wizard, rumoured to practice more than 12 hours a day. But as he moved from his relatively reserved early work with Miles Davis to the much wilder My Favorite Things and, shortly before his death, to the challenging free jazz of Interstellar Space, his music shed traditional Western harmony, structure and rhythm. That didn't bother me – I loved Coltrane in all flavours. Yet, his later music's seeming randomness made me question what I'd been hearing all along.
Does Naima (1959) – a beautiful, plaintive Coltrane ballad named for his first wife – really convey meaning in the way that, say, the prose of Ernest Hemingway, the poetry of Gwendolyn Brooks, or the lyrics of PJ Harvey do? Or, as beautiful as the song is, is it all shimmer and no substance? Is Coltrane just sort of noodling around – creating a sound and fury signifying nothing?
Such doubts didn't prevent me from studying jazz at university and playing quite a bit of it – poorly – myself. But by my mid-20s, jazz was beginning to bring me low-level panic attacks. Listening to, say, A Love Supreme (1964), once my favourite Coltrane record, I found the music sounded more like one damned note after another.
I could understand what Coltrane was doing aesthetically – I had a music degree – but his effort seemed pointless. A Love Supreme and its half-baked spirituality was only incidentally, accidentally beautiful, like the Rocky Mountains or DNA. Sure, the classic quartet – Coltrane plus pianist McCoy Tyner, bassist Jimmy Garrison and drummer Elvin Jones – sounded like a force of nature, but nature is indifferent to humanity. Meanwhile, other artists I'd admired – Thelonious Monk, Sun Ra, even Ella Fitzgerald – just seemed to be making songs up as they went along.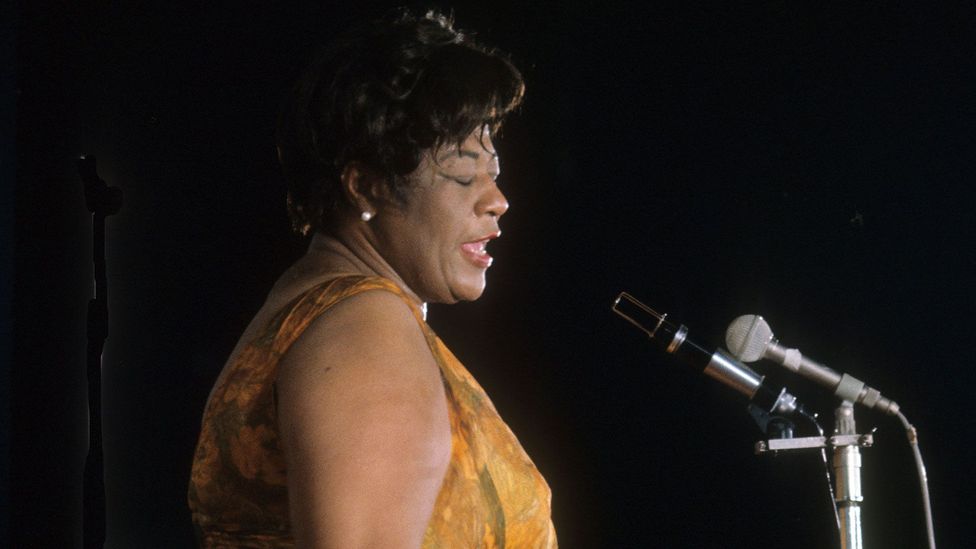 Ella Fitzgerald has been described as "the greatest singer of them all" by fans – though her jazz stylings can leave the unconverted cold (Credit: Pictorial Press Ltd/Alamy)
Well of course they were! This was jazz, improvised wizardry called 'uniquely American', and its status as holy writ irked me. The music enshrined in museums, on postage stamps and in Ken Burns documentaries sounded smug. It was lazy, overconfident, resting on its laurels, re-hashing glory days I'd missed by decades. At least Bach bothered to write everything down. What was the point of listening to Take the A Train or Giant Steps or the squawking Meditations (1966) when the medium seemed to have no message?
So I went on a jazz fast. Billions lead satisfying lives without John Coltrane – so could I. I ditched jazz for artists I thought said more with less: John Lee Hooker, the Shangri-Las, Kool Keith, Black Flag, Le Tigre, Big Freedia. When I attempted to explain my jazz problem in conversation or in print, I was met with derision. Last year, an editorial I wrote for the Washington Post  on the subject earned hundreds of hate emails and comments, including a brutal response from one colleague. Some I suspected (or knew) were less familiar with the music than I am insisted I was ignorant – that I, somehow, hadn't listened to the right jazz. Their argument was nonsensical; the equivalent of saying: "I know you don't like pickles, but have you tried my favourite pickle?"
Others merely thought my argument overwrought: "So you don't like jazz. What's the big deal?" 
It's a good question. Perhaps because I once loved jazz so much, I'm compelled to ask hard questions about it in attempt to figure out why I don't love it anymore. Or maybe I – misguidedly – think that the musings of one cultural critic will push jazz forward into brighter territory. Perhaps one day I'll say: "I loved John Coltrane until I hated him – until I loved him again."
I hope so. Being a hater is no fun.
What about you? Do you love jazz or hate it? Head over to our Facebook page or message us onTwitter to let us know.