The art world's biggest events require countless works to be moved. Art transport is a huge industry, writes Kimberly Bradley.
S
Spring is the season for supersized art events: the Venice Biennale and Frieze's New York edition are soon upon us, and Art Basel launches in late June. Pavilions, tents, halls, and booths brim with artworks modern and contemporary, gargantuan and miniscule, material and immaterial. Fairgoers and biennialists alike come for love, money, or both, but few think about how all this cultural production actually got there.
The art-transport industry remains an unglamorous logistics service, still nearly invisible to art connoisseurs even as the art world expands. The number of art museums in the United States alone has grown to 3,500 and the number of art fairs went from 68 in 2005 to 269 in 2015. Considering that museum exhibitions are increasingly complex and spectacle-driven, that the world's 100-odd biennials often feature 50 or more artists, and the big art fairs see nearly 300 exhibiting galleries, each with piles of work for sale, the sheer masses of art coming from storage depots, collector's homes, galleries or studios in a given year is mindboggling. But how exactly does artwork get from its many points of origin to its designated destinations?
Handle with care
On the high end are the professionals. Hundreds of logistics companies worldwide specialise in art shipping – some of the largest and oldest among them are Crown Fine Arts and Momart in the UK, Hasenkamp in Germany, Baltrans in Hong Kong and Dietl in the United States. These companies make sure that art travels securely – which, because works can be fragile and opportunities for error many, is no easy feat. Stories abound of broken sculptures, a crate containing a Douglas Gordon sculpture made of gold that was empty on arrival, or even an auction-house driver who left his truck for five minutes at a highway rest area and lost a truckload of art when the vehicle was stolen. Valuable works are shipped in custom-carpentered, climate-controlled crates equipped with tilt and impact sensors. A painting with a fragile surface (like those of artist Günther Umberg, who uses layers of pigment) will be tucked into carefully constructed trapezoidal stacks of hard foam so its surface 'floats'.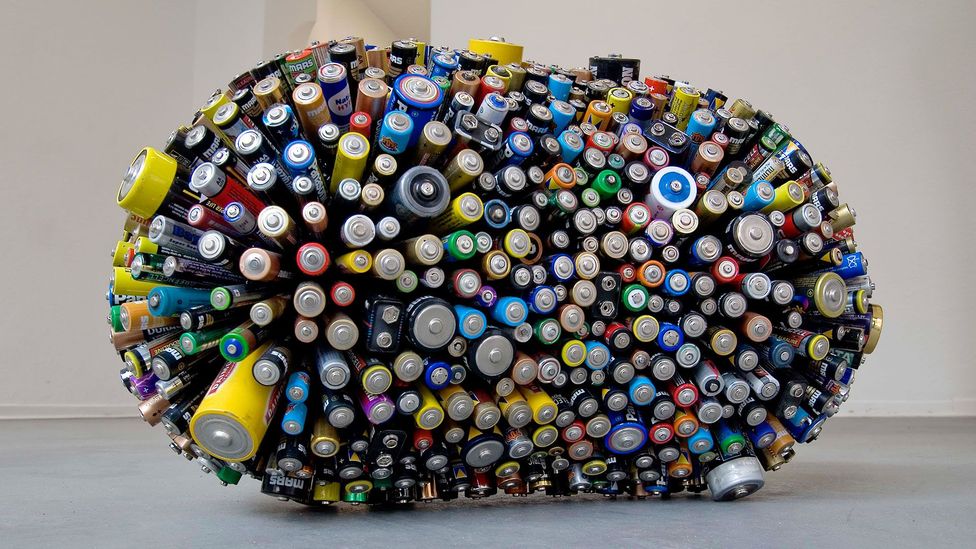 Michel de Broin's 2008 work Dead Star confounded airport security in Athens with its assemblage of batteries (Credit: Dead Star, 2008/Michel de Broi/Eyebeam/Flickr/CC BY 2.0)
Three-dimensional work is best immobilized or set into soft-foam forms handmade by artisans. "A piece shouldn't move once it's in its crate," says Hermann Kaufmann, CEO and owner of Otrans, an Austrian shipper that operates a fleet of air-suspended, climatised lorries making regular passes throughout western Europe. Moving larger installations can easily turn into monumental logistics operations – Richard Serra's multi-ton sculptures famously need flatbed trucks, cranes and teams of construction experts to install them in public spaces and museums, but even smaller galleries sometimes require brute force. A 2013 shipment of a conceptual Santiago Sierra sculpture consisting of 40 cubic metres of Spanish soil to the Berlin gallery KOW required multiple trucks and lots of manpower. Gallerist Alexander Koch remembers the "sweaty guys carrying the sacks of dirt to the gallery's lower floor," the ceiling of which had to be reinforced to accommodate the exhibition.
So much professionalism comes at a high price. Shipping a flat photo or painting from Zurich to London costs about 500 euros one way. Ocean freight takes six weeks and is relatively inexpensive, but air freight is predictably more costly – moving a large sculpture between Europe and Asia can run 30,000 euros roundtrip – and this doesn't include insurance, which is usually carried by the museum or gallery. Valuable works coming from institutions like the Centre Pompidou or MoMA might even be sent with a courier – someone who travels 'nail to nail' with the works in his or her charge, observing the loads entering and exiting plane's cargo bin, and even supervising white-gloved art handlers as they install. "This is very expensive," says Kaufmann, "and is something mostly museums do."
Do it yourself

Not everyone can afford transport teams and personal supervision. "If you're not one of the art stars, the shipping might cost more than the value of the artwork, so there have to be alternatives," says American artist John von Bergen, who lives in Berlin and often exhibits in North and South America. Clever DIY solutions are thus widely employed by emerging gallerists, dealers, collectors and artists – who carry works in their luggage, drive their own cars to art fairs, and even send art by way of the postal system or standard international couriers – it's not unheard of for a painter to remove a work from its frame, roll it and send with FedEx, stretching it back into shape at its destination. A few artists like German Karin Sander and Eugenio Dittborn from Chile use such mainstream services as part of their artworks in different ways.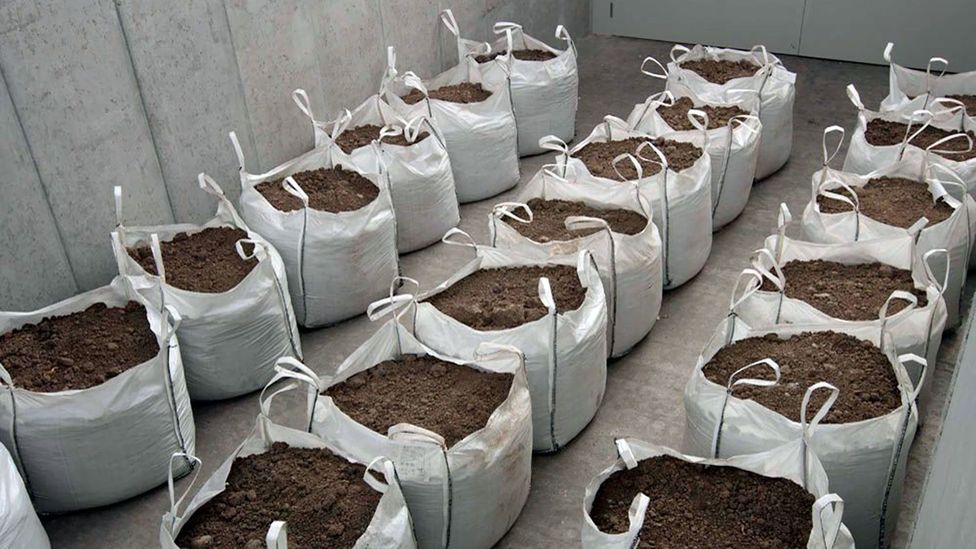 Santiago Sierra's 40 m3 of Earth from the Iberian Peninsula really is just 40cubic metres of soil (Credit: Santiago Sierra/photo: Alexander Koch/KOW, Berlin)
"We drove to Art Cologne in my old car, which was packed to the last centimetre with thousands of euros of art and close to breaking under the weight. And on our way to an art fair in Turin, the Swiss wouldn't let us in without declaring everything inside, so we tried a second and then a third entry on small roads; we were just driving through," says Koch of transporting art in the gallery's early years (KOW, founded in 2009, has graduated to professional shippers as its program has become increasingly high-profile). "And yes, we've smuggled works. You take collages in your bag; you put a sculpture in your suitcase between your underwear," he jokes. A gallerist friend carried the sculpture Dead Star by Canadian artist Michel de Broin through airport security on her way to the Athens art fair a few years ago – officials were wary of the work's bomb-like appearance, but were then impressed at its colourful cleverness, as it was made entirely of used batteries. And to avoid shipping costs, customs issues and possible contraband problems, von Bergen dismantled a sculpture he made in the United States – a pistol consisting of real and toy gun parts – packed the pieces in his luggage, and declared them as "art material." The officers at Berlin's Tegel airport approved; von Bergen reassembled the work once in Europe.
No shipping needed

Von Bergen's example points to yet another phenomenon – that sometimes it's not that art that's shipped, but rather the artist. He has been flown to places like Brazil to produce work onsite, which is more cost-effective and bypasses import taxes. One of the 'selling points' of the 2012 Marrakech biennial is that most participating artists had their work made in collaboration with local craftspeople.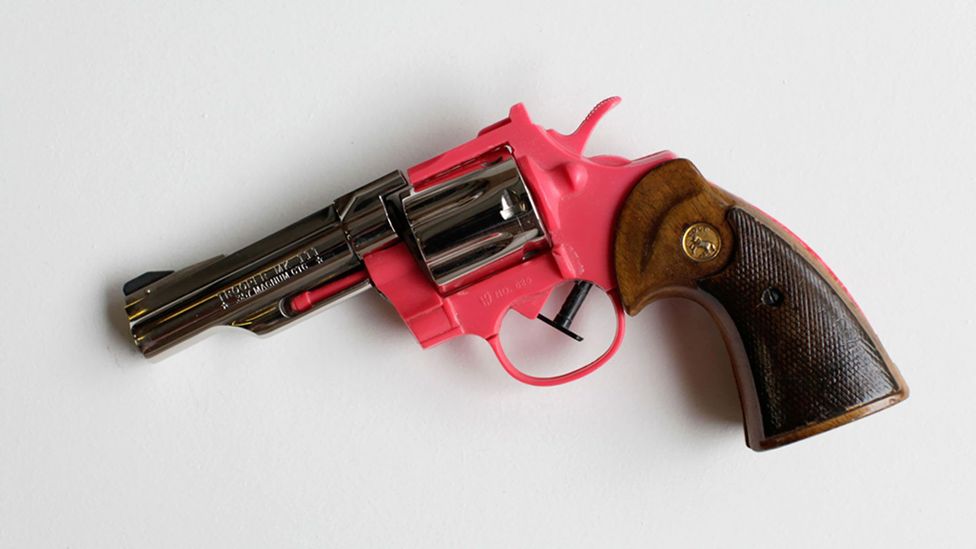 von Bergen's Miami Gun combines components from both real and toy guns (Credit: Miami Gun, 2011/John von Bergen/photo: Denis Darzacq)
Some artistic mediums, too, negate the need for physical shipping: performance artists generally need nothing more than a plane ticket and a hotel (or sofa). Conceptual artist Lawrence Weiner's word pieces are simply painted onsite in his signature typography. Net art requires an internet connection; video art can be sent on DVDs or transferred electronically. This year KOW is focusing on film works, so "a lot of our art transport right now is via WeTransfer," says Koch.
But in recent years some art shippers have reported annual business gains of 20 percent or more – proof that as art lovers travel to more mega-events, the works they look at may be even better-travelled. This year in Venice, Basel, New York or London, it might be an interesting exercise to consider the oft-epic journeys the most-lauded artworks underwent before settling safely into their pristine white cubes. They can be long, winding and sometimes bumpy roads.
If you would like to comment on this story or anything else you have seen on BBC Culture, head over to our Facebook page or message us on Twitter.