His influence on today's writers may be as great as Shakespeare's. A century and a half after his birth, he still shapes the English language, writes Jane Ciabattari.
I
It's hard to overstate just how pivotal a figure in English literature William Butler Yeats was – and remains.
"Yeats matters today in the way that Shakespeare or Jonson or Dickinson matter," says the critic and poet James Longenbach. "He's inseparable from what we understand the medium of the English language is capable of producing on the page." Authors from Chinua Achebe to Joan Didion have found conceptually perfect titles – Things Fall Apart and Slouching Toward Bethlehem – in his memorable lines. TS Eliot called Yeats "one of those few whose history is the history of their own time, who are a part of the consciousness of an age which cannot be understood without them".
Born on 13 June 1865 in Ireland and raised in London in his painter father's bohemian circle, Yeats was a traditionalist who wrote sonnets for half a century. His knowledge of English form, Irish literature and Celtic mythology – inspired in part by summers at his mother's home in County Sligo in the west of Ireland – resulted in an inspired body of work. If he had stopped at the end of the 19th Century he would have an impressive collection of nostalgic, pastoral poetry – but thankfully he didn't, for his work in the 20th Century helped usher in modernism – and create a new language to understand modernity's terror and beauty. It is this contribution that continues to resonate with poets today.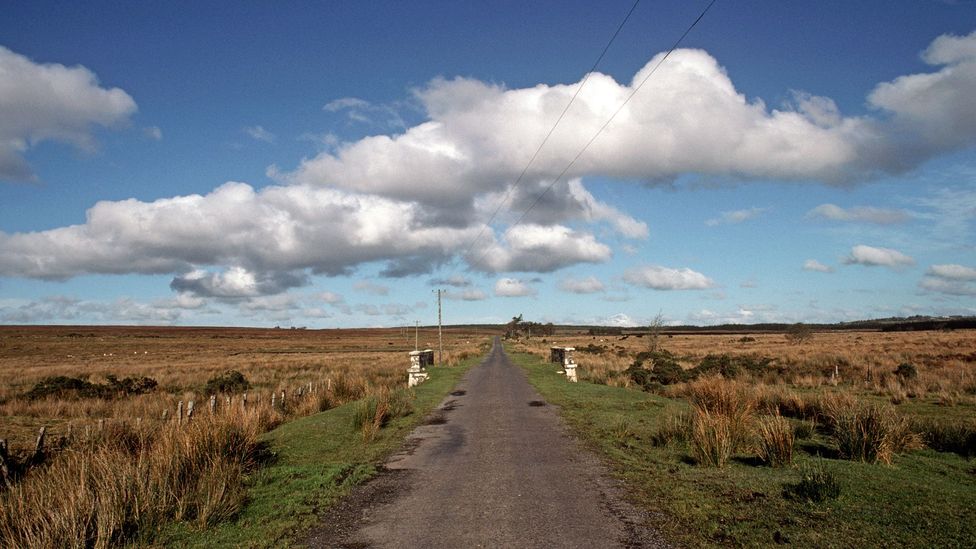 The early, romantic phase of Yeats' poetry drew its nostalgic sensibility from his memories of County Sligo – this road inspired one of his poems (Credit: Getty Images)
A century ago, Yeats' poetry was disrupted forever by what he called "the growing murderousness of the world". In the poem Easter 1916 he wrote of the Easter Rising in Ireland in which people he knew were executed by firing squad. He names the martyrs and concludes with the iconic line: "A terrible beauty is born." 
He continued with The Second Coming, written in 1919 and published in 1921, which responded to World War I, the Russian Revolution and the civil war in Ireland. "Mad Ireland hurt you into poetry," WH Auden wrote in his 1939 elegy to Yeats.
'Reality and justice'

Like all great art, Yeats' work refreshes itself with each generation – and it is with poets troubled by war and civic dissent that Yeats continues to resonate most strongly. "He was political, concerned about his country and the cost of its freedoms, the ones who had paid the price of it becoming a country," says the poet Tess Gallagher, who first read Yeats during the Vietnam War.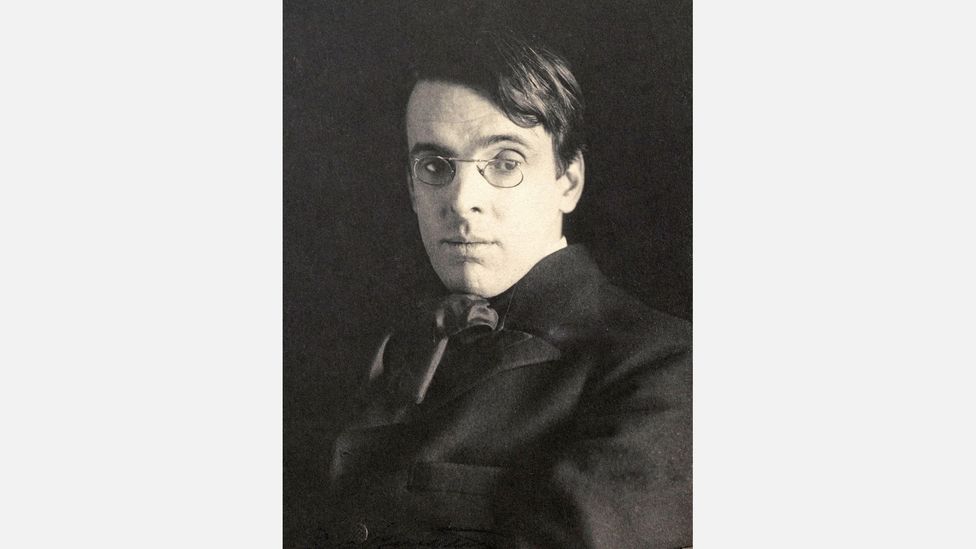 Profoundly unsettled by the Easter Rising and World War One, Yeats confronted the horrors of the modern world head-on in his later poetry (Credit: Alamy)
The poet Honor Moore points to The Second Coming as a poem read with new comprehension in the chaotic year 1968. "He was writing in the wake of World War I (without knowing there would be a second one)," she notes via email. "I and many others who were in their early 20s then were chilled to the bone by the accuracy of these lines: 'the best lack all conviction/while the worst are full of passionate intensity'. An indescribable and terrifying beast, its 'gaze blank and pitiless as the sun'."
Yeats once said that the purpose of art is "to hold in a single thought reality and justice," says the poet Tom Sleigh, whose new collection, Station Zed, draws upon his experiences as a journalist in Lebanon, Somalia, Iraq and Libya. "You read something like that, and apply it to the hard facts of a country like Iraq, and it inoculates you against all kinds of emotional fol-de-rol."
Order from chaos
Yeats confronted human tragedy head-on but it's not just his subjects that have proven eternal but his form.
"[He] has always been my favourite poet," says Dublin-born poet Eavan Boland, who directs Stanford University's creative writing programme. "Yeats has had an enormous influence on the 20th Century lyric poem. He re-energised the [possibilities of the] stanza, especially in his later work. Above all, he made the lyric persona available in new ways – a persona that had grown soft-focus and sentimental in the last years of the 19th Century."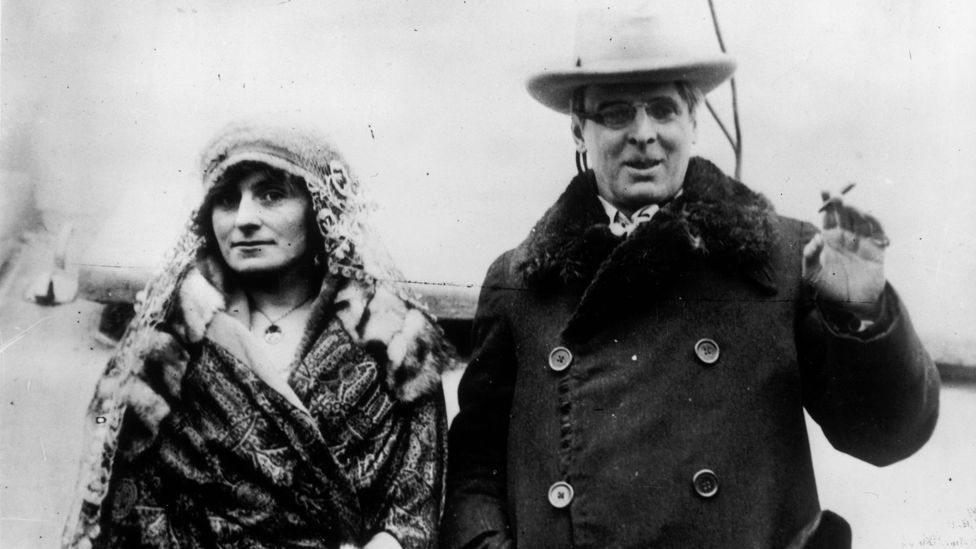 By his last years Yeats had become a beloved celebrity in Ireland, in part due to his radio broadcasts of his poems – his death inspired national mourning (Credit: Getty Images)
"Yeats' chief legacy and example to anyone who reads or writes poetry," Boland says, "is the obsessively human testament of his later work" – a product of living in two centuries and, quite simply, growing older. "As a poet who celebrated heroism and strength in some of his early poems this shift turns into a fascinating arc of growth in his later ones. He was less and less the poet and more and more the ageing man. This combination of the invincible poet and the vulnerable human being made a radical, subversive break with Romanticism. And in the process it made a new lyric: tough and compelling and believable. I think we still live as writers and readers of poetry with the weather of that achievement."
Stephen Burt, the poet, critic and Harvard professor, describes Yeats as a good model for poets even now, "in many apparently contradictory ways – a channel to myth and a model of painstaking, conscious craft; an obviously political poet who also cherished the private life; a throwback in some ways and ultramodern in others."
Casting a long shadow
Yeats has influenced every poet writing in English today, whether they know it or not, says poet and critic James Longenbach. "Yeats pretty much reinvented the lyric poem as we have expected it to behave over the last century. He took what had for centuries been the smaller, more demure notion of the occasional poem – a poem on someone's marriage or birth or coronation or death – and transformed it into the most serious and most central kind of poem in our language." This influence, Longenbach notes, touches "poets as superficially different from one another as Frank O'Hara, Seamus Heaney, Elizabeth Bishop, Susan Howe."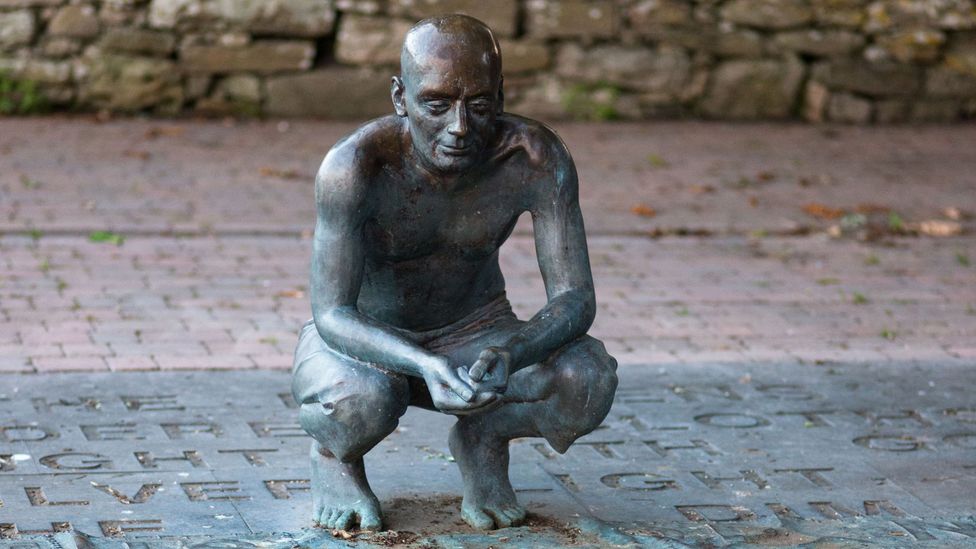 Yeats died in France in 1939, where he was buried – but nine years later his body was moved and re-interred in County Sligo, also the site of a memorial (Credit: Alamy)
Tom Sleigh turned to Yeats for inspiration while working on Station Zed. "[He gives] practical advice about writing, like 'I only revise now in the interest of a more passionate syntax'. All you have to do is look at what he was writing in the 1890s – the languour of Red Rose, proud Rose, sad Rose of all my days – and compare those to the Crazy Jane poems. You can see how the 'music' has changed from the music of rhetoric to the music of speech, and how the music results from the compression of the thinking, rather than atmospheric enticements." His concentration shifted from environments to people – and even when concerned with external events looked inside for complex motivations. That feeling that he's inside your head, mingling with your very own thoughts, may be why many contemporary poets have developed a powerful, intimate connection to him, and explain why he continues to inspire today. "Few poets reward re-reading, re-hearing, so well," says Stephen Burt. "I think it is really a marvel at how well his poems read today," says Tess Gallagher. "So lyrical and mysterious, drinking from secret power that only the meditations of such a poet may discover."
If you would like to comment on this story or anything else you have seen on BBC Culture, head over to our Facebook page or message us on Twitter.