He took the 1980s art world by storm – and then at just 27, he was gone. Alastair Sooke looks back at the short life and stunning work of Jean-Michel Basquiat.
E
Everybody loves the story of a prodigy. As a teenager, Van Dyck exhibited tremendous facility with a paintbrush in Rubens's studio. In 1901, the 19-year-old Picasso announced himself with preternatural self-confidence in a blazing self-portrait inscribed "Yo – Picasso". These rank among the most exciting moments in the history of art.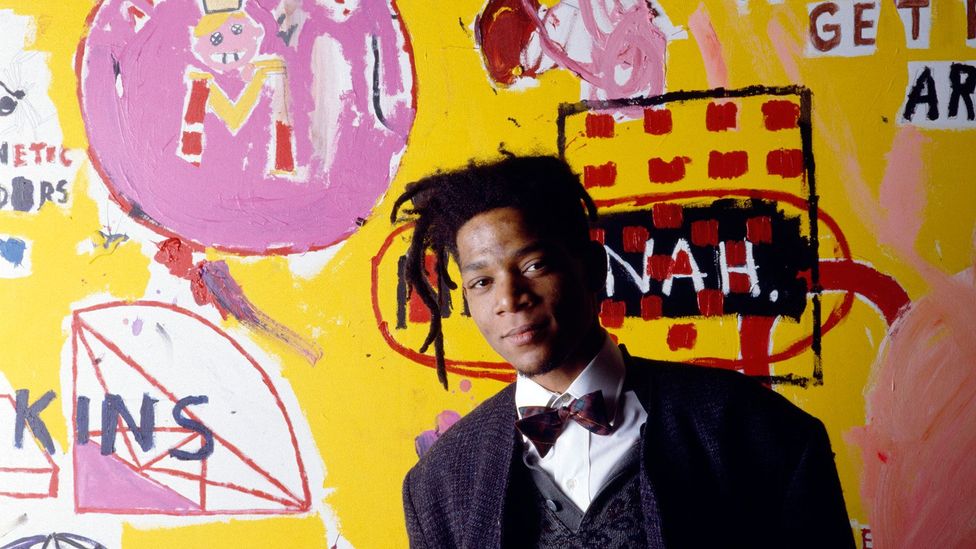 Jean-Michel Basquiat was just 27 in 1988 when this portrait was taken. He died of a heroin overdose later that year (Credit: Julio Donoso/Sygma/Corbis)
So does the meteoric rise of the ultimately ill-starred American artist Jean-Michel Basquiat, who mesmerised New York's hard-boiled art world during the '80s, and is now the subject of a new retrospective containing around 100 artworks at the Guggenheim Museum Bilbao.
He wore paint-spattered Armani suits with his pockets stuffed full of hundred-dollar bills
Since his death, aged just 27, from a heroin overdose in the summer of 1988, Basquiat has become a kind of mythical figure. He is often thought of as a rebellious African-American Wunderkind with an almost supernatural talent, who went from scrawling graffiti in New York's streets to exhibiting in some of the city's most sought-after galleries. According to the Australian art critic Robert Hughes, writing in 1988, shortly after Basquiat's death, "Collectors were ready for a Wild Child, a curiosity, an urban noble savage… [And] Basquiat played the role to the hilt."
Overnight he became feted and wealthy: a charismatic princeling of the clubs of downtown Manhattan, wearing paint-spattered Armani suits with his pockets stuffed full of hundred-dollar bills, hanging out with David Bowie and Andy Warhol – and even briefly dating Madonna. In 1985, he posed barefoot on the cover of the New York Times Magazine.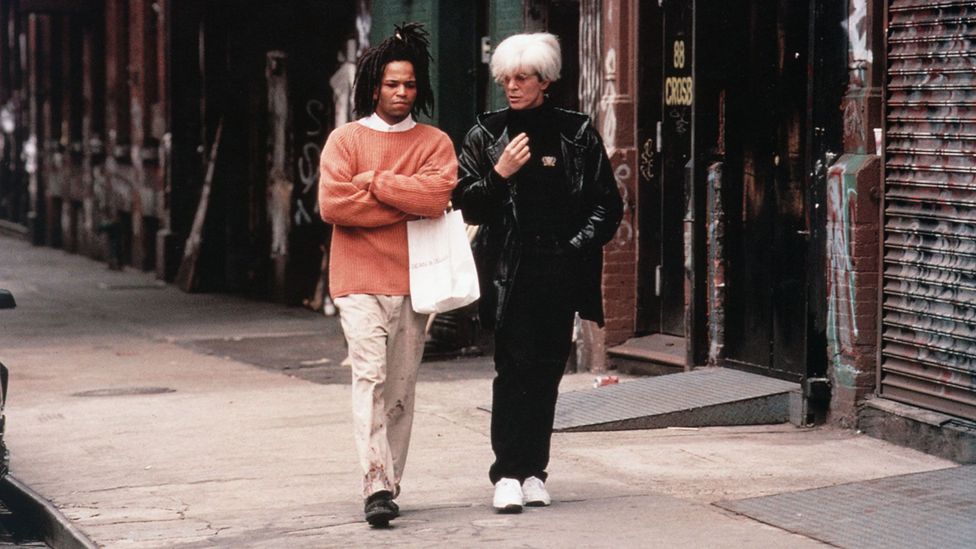 Julian Schnabel's 1996 biopic cemented Basquiat as a figure in popular culture and solidified the legend of his life (Credit: Photos 12/Alamy)
Indeed, according to the legend of his life, which has exerted a far-reaching impact upon popular culture (thanks, in part, to Julian Schnabel's 1996 biopic), Basquiat blazed so brightly that, in retrospect, his early death seems almost inevitable – just as other precocious superstars, including Kurt Cobain, James Dean and Jimi Hendrix, also died before reaching 30.
Yet the Guggenheim exhibition, while not ignoring Basquiat's biography, sets out to redirect attention back towards his art. And it turns out that, despite being self-taught, Basquiat was a more sophisticated painter than at first his raw, frenzied, seemingly "primitive" compositions might lead us to believe.
American graffiti
It is true that he emerged from New York's graffiti scene: initially he won attention in the late '70s, while collaborating with his high-school friend Al Diaz in the street-art collective SAMO©. Together they spray-painted cryptic aphorisms on to subway carriages and buildings in lower Manhattan.
We should not forget that Basquiat's background was middle-class
Yet we should not forget that Basquiat's background was middle-class: his Haitian father was a successful accountant, while his Puerto Rican mother encouraged his boyhood interest in art by frequently accompanying him to museums.
The Ring (1981) shows a bare-chested and triumphant black boxer. Pugilism and issues of race occur in many of the painter's works (Credit: JM Basquiat. Licensed by Artestar, NYC)
In 1968, Basquiat was hit by a car while playing in a Brooklyn street and forced to spend a month in hospital. To help him pass the time while he was recovering, his mother gave him a copy of the 19th-Century anatomical textbook Gray's Anatomy. Along with the anatomical drawings of Leonardo Da Vinci, this would later become an important source for his art. He also named his experimental band, Gray, which he co-founded in 1979, after it.
Even the output of Basquiat's street-art collective, which consisted of enigmatic phrases such as "SAMO© saves idiots", was partly designed to catch the eyes of contemporary art dealers clustered in the district where they appeared. In other words, from an early age Basquiat had ambitions to become a successful painter.
'Radiant child'
His launch pad was the group exhibition New York/New Wave in which he featured at the non-profit PS1/Institute for Art and Urban Resources Inc in 1981. Although the show contained more than 20 artists, it was Basquiat who stood out – and, later that year, an important article about him appeared under the headline "The Radiant Child" in the influential magazine Artforum.
Television, hip-hop and video game graphics all inspired him
With his reputation already rocketing, his first solo exhibition in America, at New York's Annina Nosei Gallery the following spring, sold out on its opening night – earning Basquiat $250,000. During that same pivotal year of 1982, Basquiat executed Dustheads, which sold at auction in 2013 for a record $48.8 million.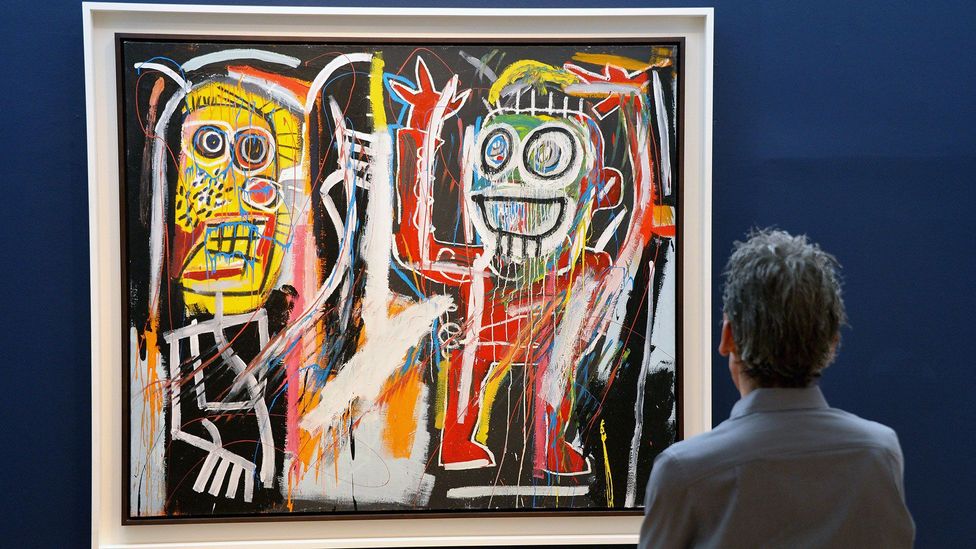 Basquiat's Dustheads set a record when it sold at auction in 2013 for $48.8 million (Credit: EPA/Alamy)
In the months and years following his American debut, Basquiat proved extraordinarily prolific, building up an oeuvre of around 1,000 paintings as well as more than 2,000 drawings – all rendered in his inimitably energetic, fierce yet childlike style. References to popular culture and the street abound in his work. Television, hip hop and the rudimentary graphics of early arcade video games all inspired him, and his paintings contain stickmen as well as various symbols such as an omnipresent crown, which functions like a graffiti writer's tag.
What was unique about him was the way he combined sources from popular culture with sources from the history of art and literature
At the same time, Basquiat frequently alluded to 'high art', including the work of his modernist heroes Picasso, Pollock, and Cy Twombly, as well as Leonardo. Moreover, his imagery – which championed black 'heroes' including successful athletes and boxers – was highly charged and political. Basquiat lamented the fact that as a black man, despite his success, he was unable to flag a cab in Manhattan – and he was never shy of commenting explicitly and aggressively upon racial injustice in America.
"He was a very complex artist," says Alvaro Rodriguez Fominaya of the Guggenheim Bilbao. "What was unique about him at that particular time in the '80s was the way he combined sources from popular culture with sources from the history of art and literature, fusing everything together and also bringing in his own experience and racial identity. Sometimes you feel that his mind was going faster than his hand."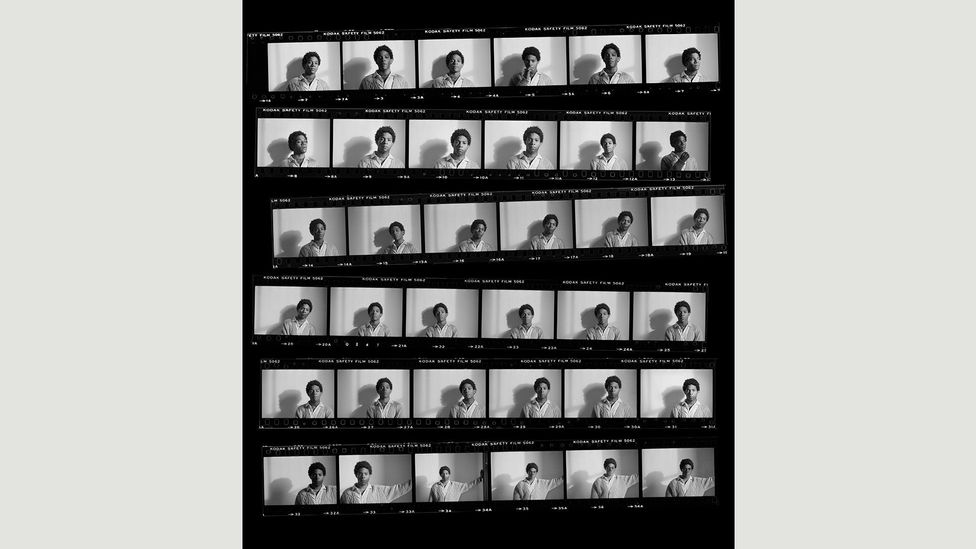 Lee Jaffe took many posed photographs of the artist and recorded him at work. These contact sheets are for a 1984 portrait (Credit: Photo by Lee Jaffe/Courtesy of LW Archives)
The curious thing is that while Basquiat the man has become an icon of popular culture – his legacy remains important within the worlds of fashion and music as well as fine art – his painterly 'voice' has not directly inspired many younger artists. Perhaps this is because it was so singular that it would be hard to borrow from it without being accused of imitation.
"I don't think we see his influence directly," says Fominaya. "But I think he is very respected by the younger generation of artists and emerging artists. He represents an ideal of what can be achieved. Regardless of your background or how you started, you can become established and independent as an artist and have your own strong voice. Ultimately, his paintings move us – and that's his main achievement."
Alastair Sooke is art critic of the Daily Telegraph
If you would like to comment on this story or anything else you have seen on BBC Culture, head over to our Facebook page or message us on Twitter.