Caitlyn Jenner and Laverne Cox are the latest in a long line of people on the small screen who have increased our awareness and acceptance of trans issues, writes Jennifer Keishin Armstrong.
C
Caitlyn Jenner is awake at four in the morning, looking exhausted and confessing her worries about being a spokesperson for transgender people. "I feel bad that these young people are going through such a difficult time in their life," she tells the camera. "We don't want people dying over this, murdered. What a responsibility I have toward this community. My mind's just spinning with thoughts."
We don't want people dying over this. What a responsibility I have toward this community – Caitlyn Jenner
The moment comes in the first episode of E!'s reality series I Am Cait, which went out on US TV on 26 July and which documents Caitlyn's transition after 65 years of living as Bruce Jenner, an Olympic champion-turned-reality-star on Keeping Up with the Kardashians. In the episode, Jenner meets the mother of a transgender teenager who committed suicide. That meeting brings home the weight of Jenner's own impact as the most famous transgender figure, with the most public transition, that pop culture has ever seen.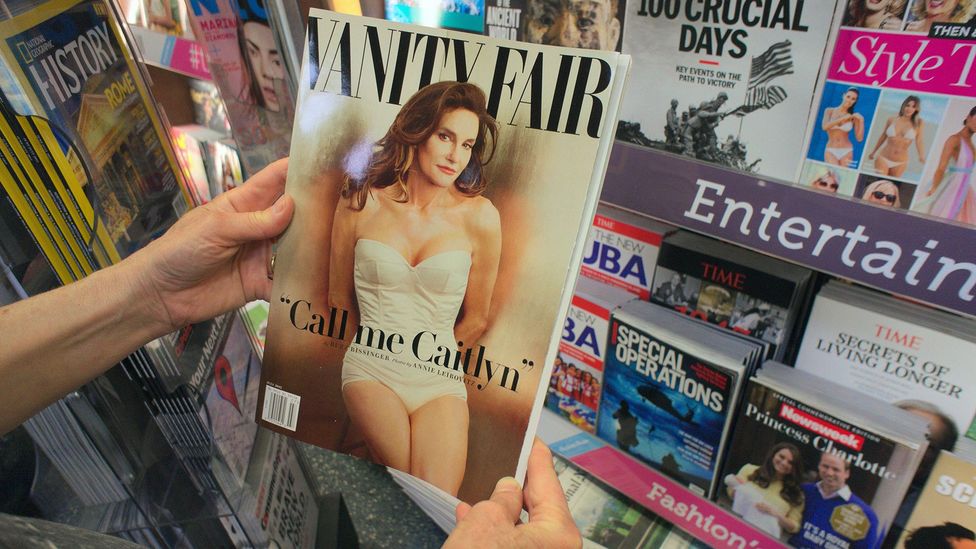 Caitlyn Jenner's appearance on the cover of Vanity Fair in June 2015 prompted a social media sensation and promoted a discussion of trans issues (Credit: Alamy)
In the last five years, we've seen more out transgender people than ever before in prominent roles in TV, music, and film. Chaz Bono competed on the US edition of Dancing with the Stars in 2011 and also starred in a television documentary, Becoming Chaz. Laura Jane Grace transitioned publicly in 2012 from Thomas James Gabel as the lead singer of the punk-pop band Against Me!. The last year has seen a flood of projects with main trans characters: BBC television has commissioned Britain's first transgender sitcom, Boy Meets Girl – an otherwise traditional romantic comedy co-starring trans actress Rebecca Root – after finding the script through a nationwide talent search. Channel 4's three related series Cucumber, Banana, and Tofu – which follow several LGBT characters, including a trans woman played by trans actor Bethany Black – have received rapturous reviews in the UK and abroad. Also in 2014, Laverne Cox became a breakthrough figure for the movement, playing a popular character on the Netflix series Orange is the New Black.
A Kardashians spinoff has become an unlikely watershed social moment of our times
Like many civil rights movements before it, the transgender movement has broken through into mainstream consciousness via pop culture in general and television in particular. Nothing works faster to change the minds of mainstream America than to invade their living rooms on a weekly basis. The Mary Tyler Moore Show and Maude advanced feminism in the 1970s with female characters who took the contraceptive pill, and had premarital sex and abortions. Good Times and The Jeffersonsdid the same for racial equality; their central families the first black people many white Midwestern Americans ever 'met'. More recently, series such as Will & Grace and Modern Family have been credited with the nation's swift move toward the acceptance of same-sex marriage. US Vice President Joe Biden said as much in a 2012 interview: "I think Will & Grace probably did more to educate the American public than almost anything anybody's ever done so far." Now I Am Cait is poised to do the same for transgender understanding, making a Kardashians spinoff into an unlikely watershed social moment of our times.
Culture in transition
The transgender movement gained recognition worldwide with the story of Christine Jorgensen, the first trans woman widely known for her sex reassignment surgery. After she underwent sex reassignment surgery and hormone therapy in Denmark, the New York Daily News, her hometown paper, included her story on its front page in 1952 with a sensational headline: "Ex-GI Becomes Blonde Bombshell." Jorgensen later became the subject of a 1970 biopic and brought on Hollywood's first spate of trans exploration. The same year, a campy comedy film about a trans woman, Myra Breckinridge, starred Raquel Welch in the title role. (Alas, it was a notorious flop.) Dog Day Afternoon, The World According to Garp, and The Kiss of the Spider Woman all included transgender characters. In the '80s, even the milquetoast TV series The Love Boat featured a prominent transgender storyline, with McKenzie Phillips playing a trans woman who's an old friend who Fred Grandy's character, Gopher, struggles to accept.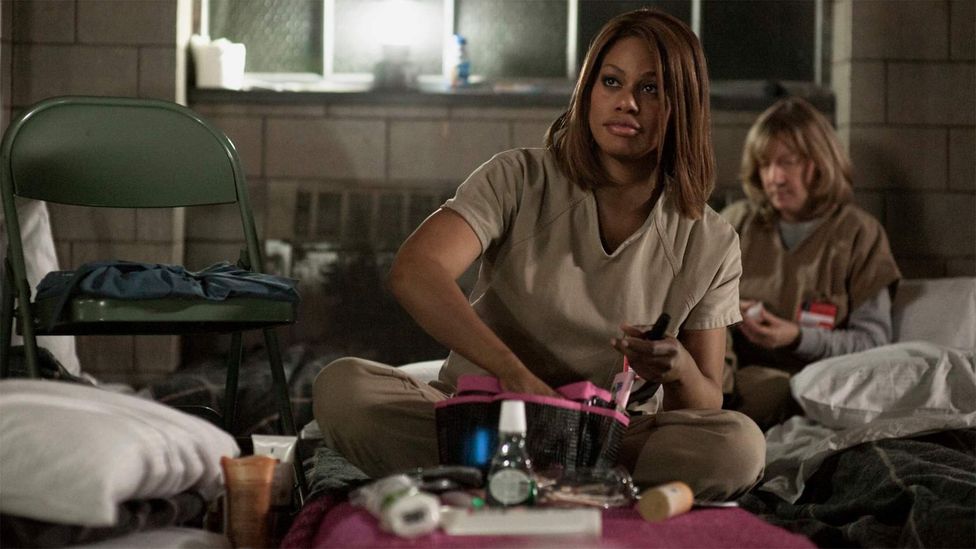 Laverne Cox from Orange is the New Black is one of the show's breakout stars. She has gone on to become a spokesperson for transgender issues (Credit: Netflix)
The '90s brought a resurgence of interest in transgender issues among cult TV shows and indie films. Twin Peaks featured David Duchovny in the role of a trans woman DEA agent in 1991, and 1992's The Crying Game pivoted on a sensational transgender twist. Transgender roles soon became classic Oscar bait for cisgender actors looking for a challenge: Hilary Swank in the 1999 film Boys Don't Cry, Felicity Huffman in 2005's Transamerica, and Jared Leto in 2013's Dallas Buyers' Club.
TV began slowly exploring trans issues with more central characters in the past few years. In 2007, ABC's glitzy soap Dirty Sexy Money featured Candis Cayne – making her the first trans actress to play a trans woman in a recurring primetime role. Glee's gym teacher character played by Dot Marie Jones transitioned in an episode earlier this year – broadcast's first trans series regular.
Beyond role models
But Orange is the New Black's Laverne Cox marked a true breakthrough moment for transgender prominence in culture. When the Netflix series became an instant sensation in 2013, Cox was among the first breakout stars. She was stunning, able to balance the show's comedic and dramatic elements, and a trans actress playing a trans role that wasn't played for shock value. Cox has since gone on to become a spokesperson for transgender issues, appearing on the cover of Time in 2014 and schooling the journalist and TV personality Katie Couric in why questions about a trans person's genitalia are invasive and miss the point: "The preoccupation with transition and surgery objectifies trans people," she explained. And with this summer's season of Orange is the New Black, which sees Cox's character negotiating parenting difficulties with her wife while in prison, Cox continues to normalise trans people for millions of viewers. She may play an even more prominent role as a transgender lawyer on a possible drama in the works called Doubt.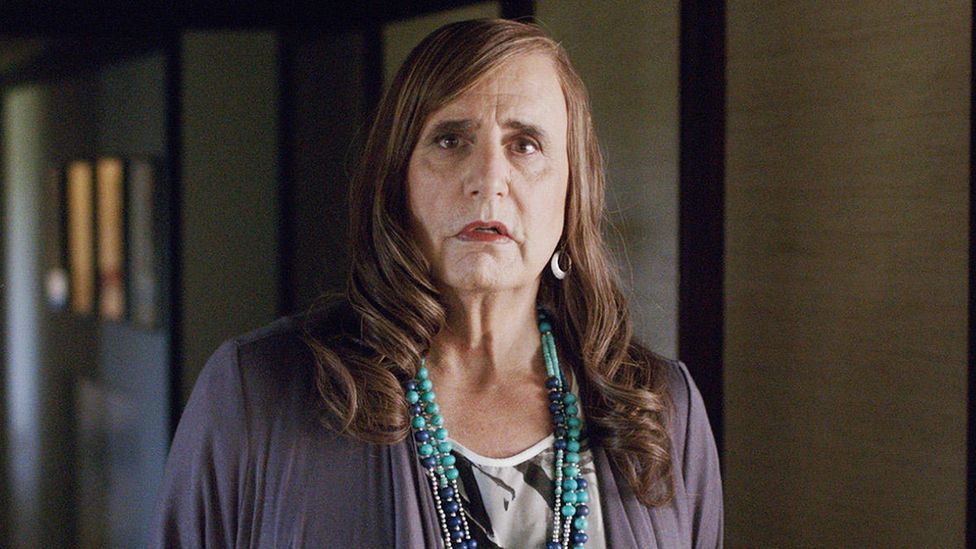 Writing in the New Yorker, TV critic Emily Nussbaum praised the character of Maura in Transparent for being "nobody's role model but her own" (Credit: Amazon)
Real progress comes when we see them as just another character, just another individual
Last year, Amazon scored its first TV streaming hit with Transparent, created by Jill Soloway and featuring Jeffrey Tambor as Maura, a retired professor transitioning to a woman in middle age. The show was well-received, winning Golden Globe awards for best television series (musical or comedy) and for Tambor's performance. It's up for 11 awards at the Emmys in September. As the New Yorker's television critic Emily Nussbaum wrote, "Although it is a major breakthrough to have a TV protagonist who is trans, there are risks in this kind of project, too – preachiness, mainly – and Soloway's wise solution is to treat Maura's story not as symbolic but as something as distinct as a fingerprint, making her nobody's role model but her own." 
That's why it's so significant to have not just one great transgender character – or real-life person, in the case of Jenner on I Am Cait – on television: so that all of these actors, and people don't have to be role models. Real progress comes when we see them as just another character, just another individual. Cox says she prefers being seen as a "possibility model," a transgender person who gets to live her dreams in the public eye and show those who are struggling what their lives could look like. The pressure is sure to weigh on Caitlyn Jenner as our highest-profile, most mainstream transgender figure yet. Here's to hoping she – and the millions who will continue to watch her in her new life – will grasp the possibilities.
If you would like to comment on this story or anything else you have seen on BBC Culture, head over to our Facebook page or message us on Twitter.