Audiences today can be so sensitive to edgy jokes they publicly shame the comedians who make them. Have we lost our sense of humour? Nicholas Barber reports.
W
Warning: this article may offend some readers.
To be honest, it probably won't, but it does include several remarks made by comedians, and there is a growing feeling that comedians can no longer say anything without offending somebody. All it takes is one joke to be taken out of context and quoted on Twitter or Facebook, and a comic can expect a storm of invective from people who are either outraged or pretending to be. 
Trevor Noah is one such comic. In March, he was appointed as the new host of The Daily Show, and the following day he was pilloried on social media because six out of the 9,000 Tweets he had posted were deemed sexist or anti-Semitic. Other comedians saw this response as part of a worryingly hysterical trend. Patton Oswalt argued that the kind of instantaneous liberal outrage heaped on Noah "is going to hurt the progressive movement in this country more than anything". Jim Norton wrote a feature for Time, stating that Americans were addicted to the buzz of being offended. "Western culture as a whole," he continued, "has become an increasingly reactionary mob of self-centered narcissists who all have their own personal lines drawn in the sand. A comedian is fine unless he crosses their particular line, which, of course, in the mind of a self-centered narcissist, is the only line that matters."
Audiences have become too quick to condemn a joke as racist or sexist
What appears to be happening is that audiences are more sensitive than ever to perceived insults, and that they now have the technology to share that sensitivity with the world. In May, Louis CK talked about paedophilia in an opening monologue on Saturday Night Live, and he didn't have to wait long for the inevitable Twitter backlash. Jerry Seinfeld and Chris Rock, meanwhile, have said that college audiences have become too quick to condemn a joke as racist or sexist. Rock has gone further, telling New York Magazine that he has started to censor himself at gigs in case someone is recording him on their phone. Once upon a time, comedians could try out an edgy joke in front of a small crowd, and if it was greeted by gasps instead of laughs, they would know not to tell it again. Now, though, the edgy joke can be broadcast to an almost limitless number of people via social media, so comedians are forced to be more careful. "If you think you don't have room to make mistakes," said Rock, "it's going to lead to safer, gooier stand-up."
Jon Ronson's So You've Been Publicly Shamed explores how Twitter and Facebook enable people to direct their outrage against individuals (Credit: River Head Books)
It's a proposition that Jon Ronson examines in his new book, So You've Been Publicly Shamed. Over the course of three years, Ronson spoke to people who had been demonised for posting a single tasteless joke on Twitter or Facebook. The more he investigated, he says, the more he came around to the Patton Oswalt/Jim Norton point of view. "There's a despicable ruthlessness coming from the 'outrage' camp which is destroying people's lives," says Ronson. "For every little bit of good it does for social justice, it does a terrible amount of harm. Twitter is like the Stasi: a surveillance network which declares war on behaviour that is considered un-Stasi-like."
PC or not PC?
Even in the real, non-Twitter world, it's not just Seinfeld and Rock who have noticed how tetchy audiences are becoming. "There's a tendency now for sections of crowds to boo in the middle of a joke," says Glenn Wool, a Canadian regular on Marc Maron's WTF podcast. "They hear a word that they don't like and they boo. It's wrong. You can disagree with a joke, you can walk out on a joke, but you shouldn't boo in the middle of it, because then you're deciding if anyone else in the audience gets to hear it – and no one elected you the leader."
Tiff Stephenson, a comic and actor who appeared on BBC2's The Office, blames this development on smartphones. "What you get now is people in comedy clubs who keep checking their phone," she says. "They're not really paying attention, but when they hear a certain trigger word, like 'abortion' or 'suicide', they pop up and get offended, even though they haven't actually been listening to the routine." 
As irritated as comedians are by these kneejerk reactions, Nish Kumar of Comedy Central's The Alternative Comedy Experience believes that an audience's outrage is sometimes justified. "People are conflating two separate trends," he says. "I find the practice of tweeting things out of context to be very scary, but political correctness is something different. I don't think it's a bad thing for comics to consider the impact of the words they're choosing, and I don't think it's killing comedy. Jerry Seinfeld is a hero of mine, so I take what he says very seriously, but I'm not sure why he would want to undo the good work that's already been done to make comedy more responsible. I'm certain he wouldn't like it if someone did a routine that was anti-Semitic or racist."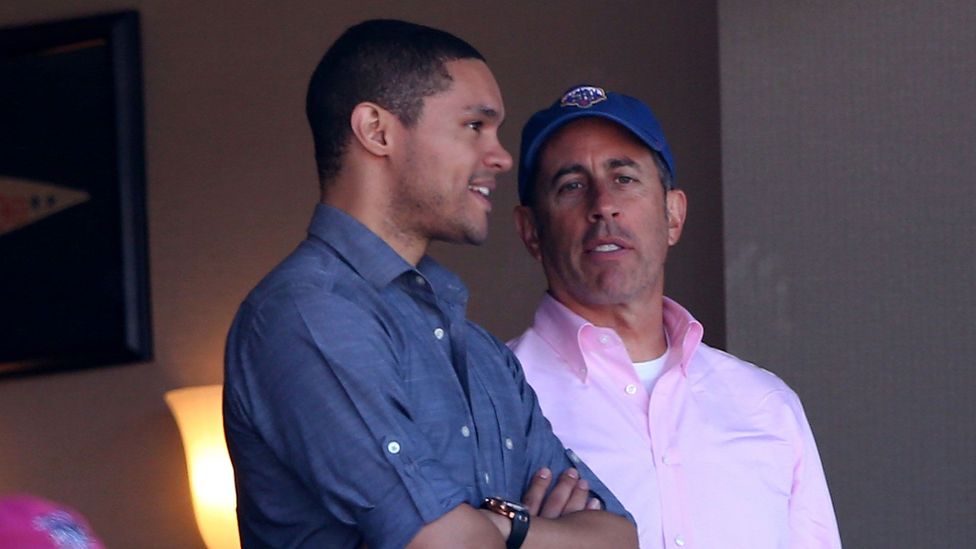 Jerry Seinfeld has said that political correctness has made it impossible to test outrageous jokes and that over-sensitivity is hurting comedy (Credit: Getty Images)
For Kumar, Seinfeld's grumblings about political correctness echo those of the bluff, bigoted comics who held sway on British television in the 1970s, "the era of white men in bow ties telling jokes about their Pakistani neighbours". When alternative comedy came along in the 1980s, Bernard Manning and his peers suddenly found that they were out of touch and out of fashion. Could it be that Seinfeld and Rock, likewise, have simply failed to keep up with social progress? As Wool puts it, "They're just coming to terms with the fact that they're not very cool any more." 
Shock and awe
Ronson isn't convinced. "It's a really interesting analogy, but Bernard Manning and that 1970s crowd were imperialistic misogynists who were all about maintaining the sexist, racist status quo. Their kind of comedy needed to be overthrown. But things are different now. These days, there's no discernment. Nobody seems to be able to tell the difference between a racist joke and a liberal joke that comments on racism. The condemnation is harder and colder now, too. Someone whose joke lands badly is being treated with the same ferocity as a racist cop in Texas. They're treated as if their secret evil has been uncovered, but some misjudged gag at a comedy club is not the clue to someone's secret evil. Young people have decided it is, but it's not. "
Someone whose joke lands badly is being treated with the same ferocity as a racist cop in Texas - Jon Ronson
The Twittersphere's self-righteous fury isn't the whole story, though. The irony is that, at the same time as people are getting hot under the collar about a 'misjudged gag' here and there, there are signs that outrageous comedy is on the rise. After all, Louis CK's Saturday Night Live monologue may have appalled viewers, but it was, nonetheless, broadcast across the US by a major television network.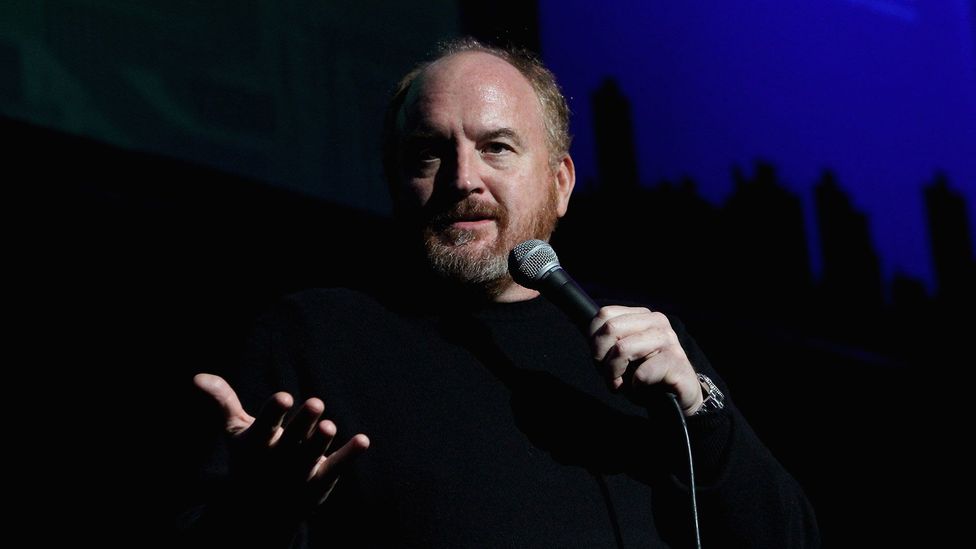 Louis CK found himself the subject of social media scorn after he made jokes about racism and paedophilia on Saturday Night Live (Credit: Getty Images)
Two of this year's most profitable film comedies, Ted 2 and Trainwreck, are stuffed with jokes so rude that they would have given censors a heart attack a decade ago. And that's even before we get to podcasts and YouTube videos. There may be new platforms from which to complain about offensive comedy, but there are also new platforms where that offensive comedy can be seen. 
People will always look for something that might shock them - Hal Cruttenden
"You may get a bit of abuse on Twitter, but I don't think comedians are being silenced," says Hal Cruttenden, a veteran of ITV's Sunday Night at the Palladium and BBC1's Live at the Apollo, "because people will always look for something that might shock them. They have an appetite for hearing something edgy, something that hasn't been controlled. If you look at some of the things that Frankie Boyle got away with on Mock the Week [on BBC2], it's amazing."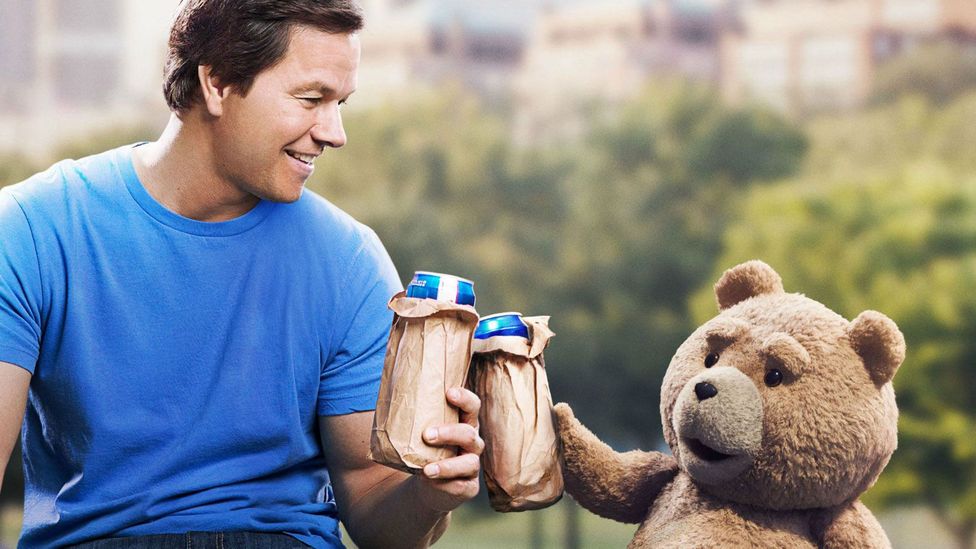 Seth Macfarlane drew ire after many thought he made sexist jokes while hosting the Oscars – and his films released since, including Ted 2, have underperformed (Credit: Universal)
Boyle embodies our current contradictory attitudes towards risk-taking comedy. The Scottish stand-up is notorious for his dark material, but if his jokes had been "safer and gooier", he would never have become such a big star. In July, campaigners asked for his show at Belfast's Féile an Phobail festival to be cancelled because one of his jokes, five years ago, had involved Down's Syndrome. It's a sign of the times that people are protesting loudly about a comedian – but it's also a sign of the times that the show is going ahead. 
"It wasn't the festival's intention to upset anyone," a Féile an Phobail spokesman told the Independent newspaper. "But it's been the fastest selling comedy gig that that they have ever put on, and that's the simple fact of the matter."
If you would like to comment on this story or anything else you have seen on BBC Culture, head over to our Facebook page or message us on Twitter.