The US TV host always claimed he was a "fake newsman" but his global influence has been greater than many real ones, writes Jennifer Armstrong.
J
Jon Stewart fidgets more prominently with his pen than usual. The studio audience in front of him is dead quiet. He stammers a little. There is an audible catch in his throat. "I'm sorry to do this to you," he says. "It's another entertainment show beginning with an overwrought speech of a shaken host… It's unfortunately something we do for ourselves so that we can drain whatever abscess is in our hearts and manage to move on to making people laugh, which we haven't been able to do very effectively lately."
It is the host's first day back at his desk at The Daily Show after 11 September 2001. He is humble and sincere at just the right moment, apologising to us for being inadequate while giving us exactly what we need. He feels what we feel, and he expresses it better than we could. We want to crawl through our TV screens and hug him, maybe cry a little on the lapel of his grey suit jacket. We are sure he wouldn't mind – and that is what makes him such an indispensable figure through the tumultuous decade and a half to follow.
He made us laugh about things that also make us want to cry
When Stewart announced in February that he'd be leaving The Daily Show after 17 years as its host, it was the kind of pop culture shock that brings home the impermanence of life. It hadn't occurred to most of us that we might ever have to live without Stewart weighing in every night on the issues of the day, deconstructing the absurdity of media coverage and calling politicians on their hypocrisy – all while making us laugh about things that also make us want to cry. Of course he has a staff of writers and producers who expertly edit damning video montages of politicians and pundits to skewer; they also craft many of his lines. But it is his perfect combination of wit, scepticism, passion and outrage that has soothed much of the US, and even the rest of the world, through endless wars, terrorist threats and financial crises.
With his final sign-off on 6 August, the gaping hole Stewart will leave in the cultural landscape is apparent. New host Trevor Noah, whose version of The Daily Show will debut on 28 September, will face the daunting task of trying to fill Stewart's shoes. It just might be that no one can.
Comedian as critic
Stewart had it much easier when he stepped into The Daily Show's lead role in 1999, taking over when Craig Kilborn departed to host The Late Late Show on CBS. Before that, Stewart had been known best for his appearances on Late Night with David Letterman and his own cult MTV chat programme, The Jon Stewart Show. Under Stewart's leadership, The Daily Show evolved from an obviously tongue-in-cheek parody of TV news presenters to a show that seriously critiqued the underlying messages of news progammes themselves and truly skewered those in power, often confronting politicians in person with questions pure news shows were too polite to ask. Stewart has always liked to harp on his status as a "fake newsman", a clever ruse that has allowed him to seem harmless and then strike when necessary.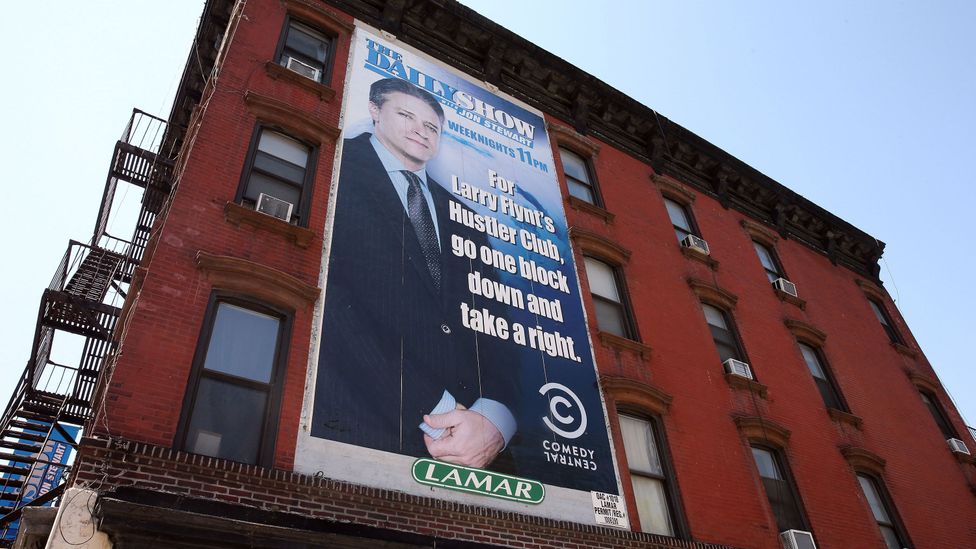 The Daily Show is likely remain a major cultural force, even after Stewart's departure – though what Stewart himself plans next is unknown (Credit: Getty Images)
Under Stewart, The Daily Show first rose to prominence with its coverage of the 2000 US presidential election, which pitted George W Bush against Al Gore. The show's correspondents took to the floors of the Republican and Democratic National Conventions, confronting delegates and candidates about their views and relaying reports back to Stewart at the anchor desk – a first in real reporting by a comedy programme. When the results were so close that the entire election hinged on the count – and then the recount – of votes in Florida, The Daily Show's jokey name for its election coverage, Indecision 2000, suddenly seemed prescient.
Stewart was a voice of sanity as 24-hour cable news networks turned up the volume on partisan bickering
In the weeks of litigation that followed, during which the US still wasn't sure who would be its next president and partisan talking heads screamed at each other even more than usual on cable news networks, Stewart emerged as the one figure who seemed to rise above the fray. And when Bush was finally named president by the Supreme Court, liberal young Americans turned to Stewart for solace. "What happened in that period of time was there was no way the quote-unquote 'legitimate media' could cover it because it was so absurd," Daily Show co-creator Madeleine Smithberg told me in an interview earlier this year. "Suddenly we were the only ones who made any sense. The news was running clips of our show. All of a sudden, the pets were running the pet store."
Stewart continued to be a voice of sanity as 24-hour cable news networks, such as CNN, Fox News and MSNBC, battled more fiercely than ever for ratings, turning up the volume on partisan bickering throughout the 2000s. Stewart's Daily Show was uniquely situated to punctuate the empty rhetoric of those networks and their guests, splicing together its signature montages of anchors and politicians contradicting themselves over time. And Stewart was morphing more and more from comedian to media critic: the perfect guide through the insanity, setting up the clips by stating exactly how a reasonable world should work, then disproving all reason by rolling the footage.
Beyond satire
Naturally, this approach made Stewart plenty of enemies. But he also earned grudging respect from some of the subjects of his barbs, notably frequent sparring partner Bill O'Reilly and Fox News' Media Buzz host Howard Kurtz. "One dirty little secret is that pundits – and politicians – love to be mocked by Stewart," Kurtz wrote when Stewart announced his resignation. "Merely being on the Daily Show… was a sign of having made it, like having someone play you on SNL. And then you could fire back and whip up a little exaggerated feud."
By 2009, Stewart had landed on top of Time's 'most trusted newscaster in America"' poll. And in the years since then, he's seemed emboldened politically, aware of his power and not calling himself a mere "fake newsman" quite as often. "Okay, yeah, he outweighed one cop by 150 pounds," he said, after showing a clip of media pundits making excuses for the police officers who killed Eric Garner in New York City and ignited protests about police brutality against African-Americans. "What about the other five cops? Or maybe that's just how much racial progress America has made. You know, it used to be that black people were [regarded by the US Constitution as] only three-fifths of a white person. Now they're like six."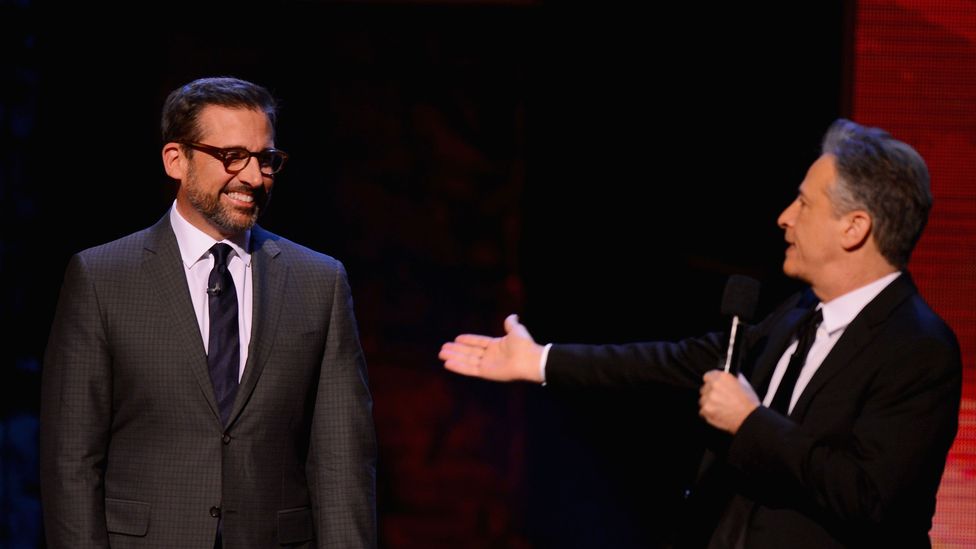 The Daily Show has featured correspondents who went on to become stars – such as Steve Carell, Stephen Colbert, John Oliver and Ed Helms (Credit: Getty Images for Comedy Central)
In his final weeks on the air, Stewart met 'secretly' with President Obama twice at the White House
Stewart's eye for talent and ability to play the straight man, meanwhile, helped launch some of the biggest stars of the past decade. Correspondent Steve Carell went on to star in The Office before becoming a movie star. In 2005, Steven Colbert left to host spinoff The Colbert Report – an O'Reilly sendup that eventually spawned two "presidential campaigns" for Colbert's character, two National Mall rallies co-hosted with Stewart, a real-life Super PAC, and a tour de force White House Correspondents' Dinner performance. Now Colbert is set to take over for the retired David Letterman on The Late Show later this year. Former Daily Show "senior black correspondent" Larry Wilmore now has his own show running in Colbert's old spot, The Nightly Show with Larry Wilmore. And Daily Show alumnus John Oliver hosts a successful commentary show, Last Week Tonight, which features Oliver doing his own twist on one of Stewart's signature moves: the sarcastic, outraged rant so scathing it's destined to go viral online.
The world laughed with him
Stewart's Daily Show has built a strong following outside the US as well, with large groups of fans in Egypt, Iraq, Tunisia and India. Satirical news programmes inspired by the show have popped up around the globe: the Persian-language Parazit, which takes on Iranian politics; Germany's heute-Show; and Egypt's Al Bernameg, whose host, Bassem Youssef, modelled his performance on Stewart. Youssef and Stewart even appeared on each other's programmes, and Stewart defended Al Bernameg when it was pulled from the air for what seemed to be political reasons. Stewart's 2014 feature film directorial debut, Rosewater, was based on events The Daily Show helped to cause: Iranian-Canadian journalist Maziar Bahari was imprisoned in Iran after giving an interview to the show, which led local forces to accuse him of spying.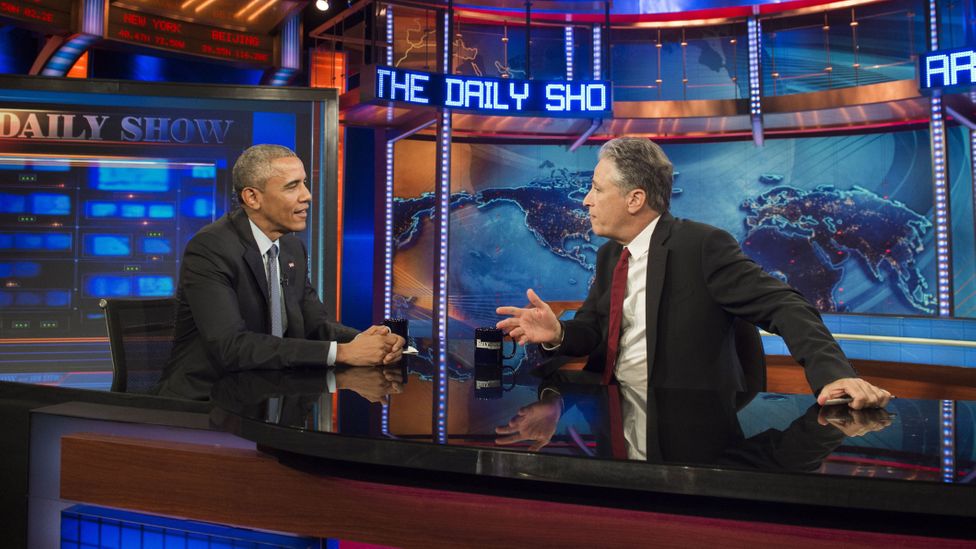 Stewart attracted many high-profile guests to his show, including US President Obama, whom Fox News has accused of using Stewart as a political mouthpiece (Credit: AFP/Getty)
Stewart hasn't hinted what he'll do next. But in his final weeks on the air, he had cable news channels freaking out over reports that he'd met 'secretly' with President Obama twice at the White House. Stewart, of course, played down the importance of the meetings – while also revealing he'd been summoned to many similar meetings from the likes of Fox News' Roger Ailes and, for some reason, pop star Billy Joel. Certainly the meetings as well, as the hubbub over them, speak to his significance. 'Fake' has never seemed so real.
If you would like to comment on this story or anything else you have seen on BBC Culture, head over to our Facebook page or message us on Twitter.