With space at a premium and affordable housing scarce, some architects are thinking small when designing domestic space. Clarissa Sebag-Montefiore sizes them up.
I
Imagine a house in which – at the flick of a button – your bed descends from the ceiling, your dining table pops out from the floor panels, and your projector screen unfurls from the roof.
That is the design of the YO! Home. The studio of 420 sq ft (39 sq m), replete with Juliette balcony, can transform into four different room configurations using hidden spaces and shifting perspectives.
We're looking at quantum leaps in different ways of life - Simon Woodroffe
Simon Woodroffe, the brains behind YO! Sushi and the capsule hotel brand YOTEL, describes how inspiration came from the theatre, where mechanical moving parts can create whole worlds in seconds. "We're looking at quantum leaps in different ways of life," insists Woodroffe excitedly, pouring over plans at his houseboat home on the River Thames. By 2050, 66% = of the world's population will be urban, adding another 2.5 billion people to cities worldwide. With sky-high property prices in major global hubs such as London, New York and Hong Kong, affordable housing is already under strain and space increasingly at a premium. As such, architects, designers and developers are pushing forward a new frontier: the micro-home.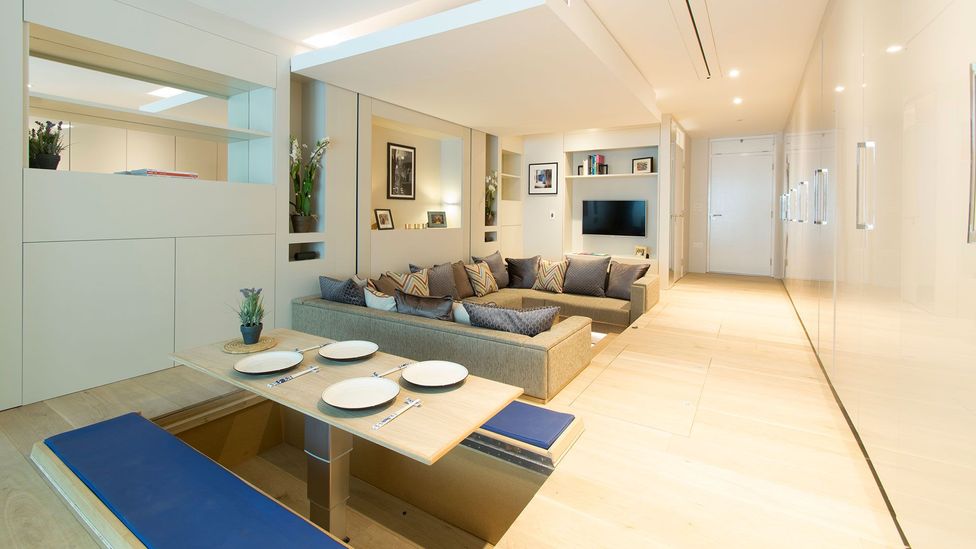 The new Yo!Home studio can transform into four different room configurations (Credit: Yo! Home)
They want to change the way we think about space, challenging the assumption that less square footage necessarily equates to a sacrifice in quality of living. With shoebox-size homes now a reality for many, they are asking how to make the minuscule beautiful and the tiny practical.
"The trend seems to be smaller places more thoughtfully engineered," says Sydney-based Karen McCartney, author of Superhouse. "Size is not always the goal. Architects are able to [do] things that the ordinary person can't imagine, changing the way that space can be used."
East meets West
In a ryokan, or traditional Japanese inn, a housemaid rolls down the tatami mat for guests to sleep on at night and rolls it up again in the morning before serving breakfast and dinner in the same room. The YO! Home, likewise, takes its ethos from the East with furniture viewed as moving parts rather than solid fixtures.
"Is pressing a button and waiting 10 seconds [for the bed to lower] more annoying than walking into a different room or up a flight of stairs? It's just adjusting to a different way of living," shrugs Jack Spurrier, managing director of YO! Home.
By contrast, the Western-style studio, with everything crammed, fixed together, in a single room, is awkward, insists Spurrier:"do you sit on the bed or the sofa?"
One solution is the Murphy bed, a clunky spring-loaded fold-out that is stored vertically against the wall. But Woodroffe wanted something more luxurious, replacing the Japanese housemaid and tatami mat with slick technology (the YO! Home will arrive with an operation manual, much like a car, and each block will have a dedicated management team on site) and appealing to what he calls the tech-savvy 'Austin Powers type' who gets a natural high from groovy décor.
Design for life
Yet micro-homes are far more than the latest design fad. They are being pegged as part of a broader set of tools and trends being adapted in Western cities to breathe life into downtown areas.
Micro-homes are far more than the latest design fad
"There's lots of evidence to show that today's first-time buyer in London is less interested in 'stuff' and more interested in experiences," states Paul Harbard, founder and finance director of London-based "compact" home private developer Pocket. Technology is increasingly replacing material objects, making it possible to "do away with lots of belongings that were traditionally more important like books [or] CDs."
Harbard sees micro-homes as a weapon to battle ghettoisation with its damaging divisions between rich and poor. Pocket will not sell to those earning above a certain income bracket and provides checks on their resale to ensure they stay affordable. They build their high-density residential developments on leftover or brownfield sites.
It is a solution "demonstrably better than contributing to urban sprawl or developing on green-field areas," says Harbard. Crucially it helps keep local workers – the teachers, nurses and policemen who are key to making the city tick – in the centre.  
Small is beautiful
Local governments and academics are taking note. Last year Los Angeles's Mayor Eric Garcetti called for 100,000 new residential units to be created by 2021, prompting the CityLAB think tank at the University of California, Los Angeles, to look into their own backyards. They have designed a prototype for the Backyard BI(h)OME, a 500-sq-ft micro dwelling made from plastic and steel. It can be erected in the yard and rented out or used by relatives, thereby reducing the housing crisis.
New York has gone one step further. In 2012, then mayor Michael Bloomberg launched a competition asking architects to design the city's first ever block of micro units in Manhattan for which he waived zoning regulations (new builds must currently be a minimum of 37 sq m or 398 sq ft). My Micro NY, by nARCHITECTS, won. There is already a waiting list for the 55 prefab micro-units.
"We did want to express the beauty of small dimensions," says nARCHITECT co-founder Eric Bunge. One way to do this was creating high lofty ceilings and tall windows to add a sense of volume and light to the 23 to 34 sq m (247 to 365 sq ft) homes. Another was to build an elegant building consisting of four slender towers that would easily merge into a city of high-rise flats.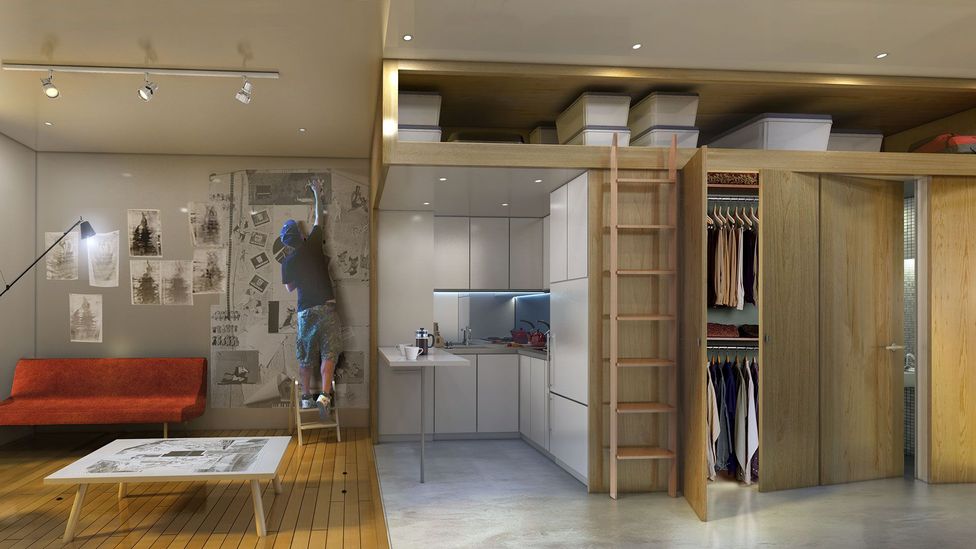 My Micro NY, by nARCHITECTS, won the bid to design New York's first ever block of micro units in Manhattan (Credit: Image courtesy of Ledaean)
There were also practical considerations. To maximise functionality, emphasis was put on shared spaces and residents are encouraged to rethink the way they use them. My Micro NY dubs itself a "community" and includes a gym, an outdoor terrace with views of the Empire State Building and a television den. Storage is provided for each tenant for free in the basement.
Like My Micro NY, most micro-homes are produced in factories as blocks, which are transported on lorries and slotted together on site like Lego. More sustainable than traditional bricks and mortar, prefab design reduces transport and assemblage costs, while micro-homes can be easily cooled or heated due to their size.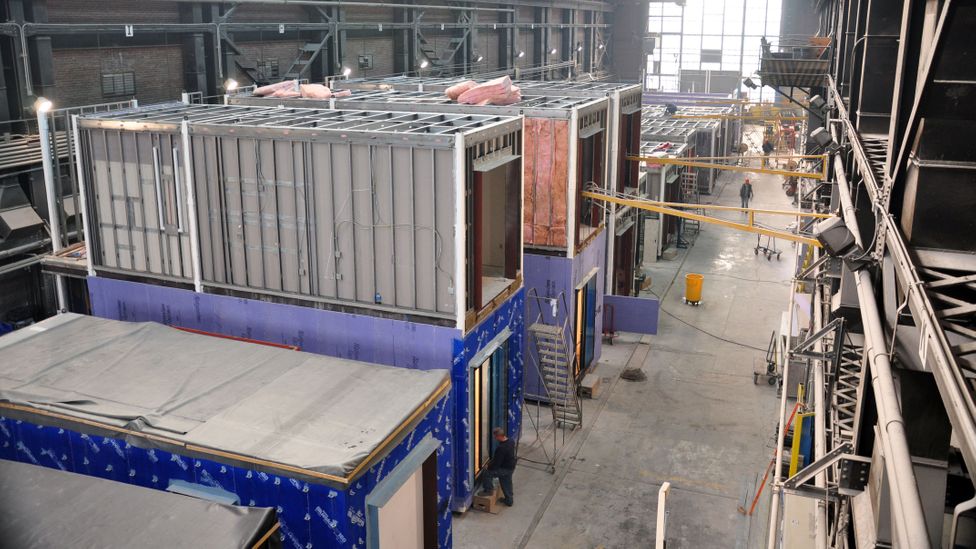 Like My Micro NY, most micro-homes are produced in factories as blocks, which are transported on lorries and slotted together on site like Lego (Credit: Courtesy nARCHITECTS)
Challenges persist. There are utilitarian issues like ventilation; how to prevent smells, for example, from lingering after cooking or, in the case of YO! Home, creating a space underneath the bed to make sure anyone trapped can crawl out.  Planning also remains an obstacle, with strict laws regulating what size constitutes a studio flat. Bunge had to work within exact measurements built with perfect precision in a factory because "if we were to lose half an inch [the flats] would suddenly be non compliant."
Woodroffe is the first to admit that micro-homes aren't for everyone. "If you did collect old copies of Country Life or Cosmopolitan and you wanted them in big piles you might be better off looking at another house," he says wryly.
Hopefully we'll be the Coca-Cola of small homes - Simon Woodroffe
Still, YO! Home is already generating interest everywhere from San Francisco to Helsinki. The next step will be making them customisable; Woodroffe envisions buyers ordering their own interiors online, with everything from the wall colour to floor materials designed at will.
"Hopefully," he grins, "we'll be the Coca-Cola of small home[s]. Those 25 apartments in that little block are going to sell like hotcakes."
If you would like to comment on this story or anything else you have seen on BBC Culture, head over to our Facebook page or message us on Twitter.