Charles Dickens's beloved pet raven not only inspired the author but other great artists. Lucinda Hawksley tells the story of a charismatic bird.
I
In 2012, the Tower of London welcomed two new inhabitants: a pair of ravens named Jubilee and Grip. Their arrival celebrated the Queen's Diamond Jubilee and the bicentenary of Charles Dickens's birth. This Grip was the third of the Tower ravens to be named after the novelist's own pet bird. One of his predecessors was resident during World War Two; he and his mate Mabel were the only ravens to survive a bombing attack on the Tower.
I have been studying my bird, and think I could make a very queer character of him
Dickens's Grip, who had an impressive vocabulary, appears as a character in the author's fifth novel, Barnaby Rudge. On 28 January 1841, Dickens wrote to his friend George Cattermole: "my notion is to have [Barnaby] always in company with a pet raven, who is immeasurably more knowing than himself. To this end I have been studying my bird, and think I could make a very queer character of him."
Unfortunately, just a few weeks after Dickens wrote that letter, Grip died, probably as a result of having stolen and eaten paint some months earlier. The bird had developed a strange habit – tearing sections off painted surfaces (including the family's carriage) and even drinking a quantity of white paint out of a tin. Dickens mourned his loss and wrote a wryly humorous letter to his friend, the illustrator Daniel Maclise, about the raven's death.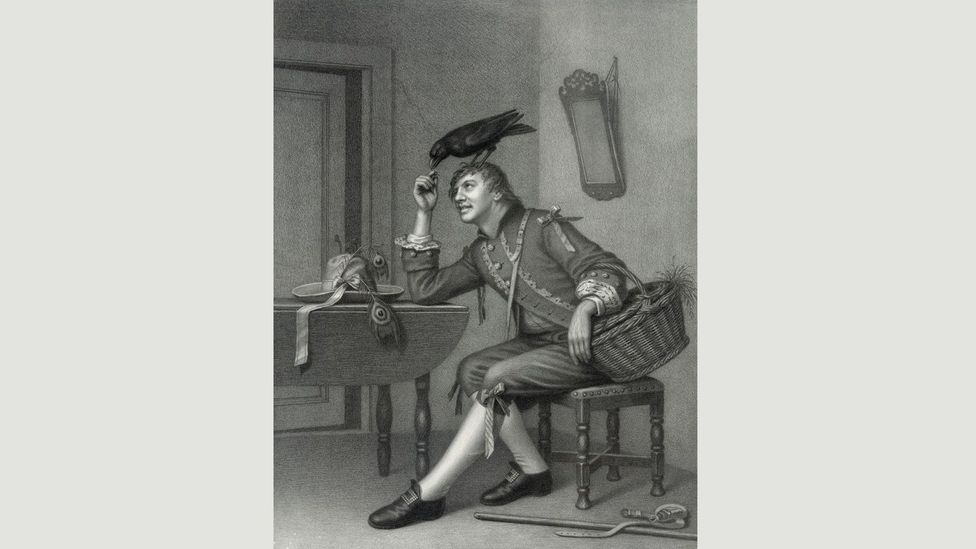 Dickens's Grip appears as a character in the author's fifth novel, Barnaby Rudge (Credit: Chronicle/Alamy)
He related how, when Grip began to show signs of ailing, the vet was called and "administered a powerful dose of castor oil". Initially this seemed to have a positive effect and the author was thrilled to see Grip restored to his usual personality when he bit the coachman (who was used to the raven and took it in good humour). The following morning, Grip was able to eat "some warm gruel", but his recovery was short lived.
As Dickens wrote to Maclise, "On the clock striking twelve he appeared slightly agitated, but soon recovered, walking twice or thrice along the coach-house, stopped to bark, staggered, exclaimed 'Halloa old girl' (his favourite expression) and died. He behaved throughout with a decent fortitude, equanimity, and self-possession, which cannot be too much admired... The children seem rather glad of it. He bit their ankles. But that was play."
'Intensely amusing'
Following Grip's death, Dickens replaced him with two new birds: a second raven, also called Grip, and an eagle. The second Grip, was, Dickens's eldest daughter Mamie wrote in her memoirs, "mischievous and impudent", and was succeeded by a third Grip, who Henry Dickens (son of the novelist) recorded as being so able to "dominate" the family's large mastiff, Turk, so that the dog would stand back from his bowl and allow the raven to steal all the tastiest morsels of meat from his dinner.
It was during Charles and Catherine Dickens's six-month trip to the United States in 1842 – on which voyage Maclise's portrait of the Dickens children and Grip also travelled – that Charles Dickens met Edgar Allan Poe. In recent years, Poe had published several favourable reviews of Dickens's work, so when Poe requested a meeting in Philadelphia, Dickens was happy to agree. Few of their letters have survived, but it seems that Dickens offered to help Poe find a British publisher (he was unsuccessful). Poe had enjoyed Dickens's descriptions of the raven in Barnaby Rudge and was enchanted to discover he was based on Dickens's own bird. Poe had described Grip in his review of the novel as "intensely amusing."
'Nevermore'
Although there is no concrete proof, most Poe scholars are in agreement that the poet's fascination with Grip was the inspiration for his 1845 poem The Raven. Poe's lines "In there stepped a stately Raven of the saintly days of yore; / Not the least obeisance made he; not a minute stopped or stayed he; / But, with mien of lord or lady, perched above my chamber door" are suggestive of the description of Barnaby's raven in Chapter 6 of Barnaby Rudge who "After a short survey of the ground, and a few sidelong looks at the ceiling and at everybody present in turn… fluttered to the floor, and went to Barnaby – not in a hop, or walk, or run, but in a pace like that of a very particular gentleman with exceedingly tight boots on, trying to walk fast over loose pebbles."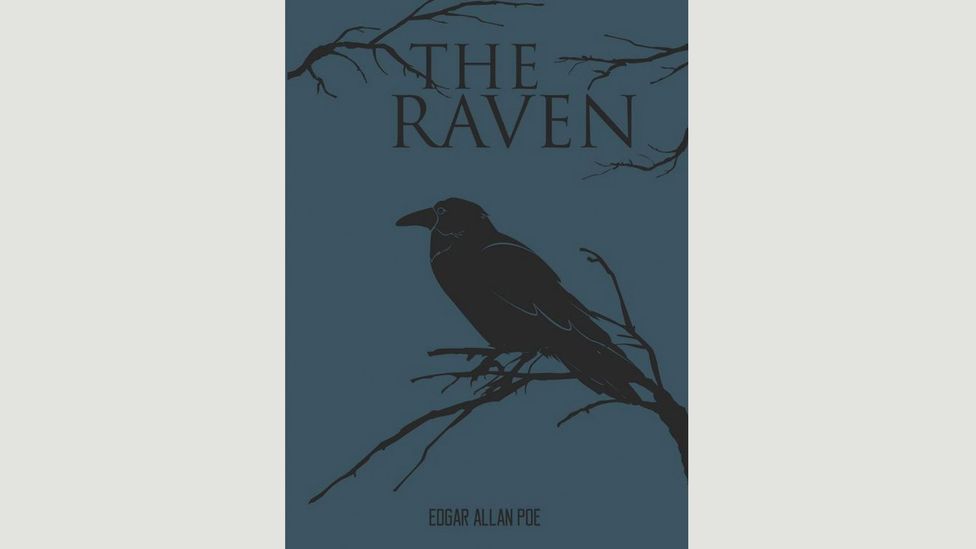 Most Poe scholars agree that Grip was the inspiration for his 1845 poem The Raven (Credit: CreateSpace)
Poe's The Raven was published just four years before the poet's mysterious death at the age of 40. It was an instant success and has become one of his best-known works. Even though his brief friendship with Dickens had soured, the two men were to remain forever connected through their ravens. In 1848, the poet James Russell Lowell wrote, "There comes Poe with his raven, like Barnaby Rudge, / Three-fifths of him genius and two-fifths sheer fudge." Dickens honoured the memory of his troubled and unhappy friend in 1868, when he visited America for a second time. He paid a call on Poe's poverty stricken mother-in-law and gave her what Poe scholar Herb Moskowitz describes as "a substantial amount of money".
The word 'dickens' has been in use as a synonym for 'devil' since at least the 16th Century
Poe's poem and Dickens's pet raven would go on to inspire one of the most famous paintings of the late 19th Century. In 1891, the disillusioned Paul Gauguin was preparing to leave France – and his wife and children – for the island of Tahiti. On the eve of his departure, his friends gave him a farewell dinner at the Café Voltaire, at which Poe's The Raven was read aloud. Although Gauguin denied he had been inspired by the poem, he called one of his 1897 paintings Nevermore – the word repeated by the bird throughout the poem. The picture features a perched bird that watches over the figures below and in the top left-hand corner of the canvas, the word NEVERMORE is painted. In a letter to his friend Daniel de Monfreid, written in 1897, Gauguin commented, "The title is Nevermore; it is not Edgar Poe's raven keeping watch, but the Devil's bird." He also wrote that he saw the painting as suggestive of "a certain savage luxuriousness of a bygone age." Gauguin's comment on the raven had an undercurrent that he, as a non-English speaker, would not have known: the word 'dickens' has been in use as a synonym for 'devil' since at least the 16th Century; Shakespeare used it in The Merry Wives of Windsor.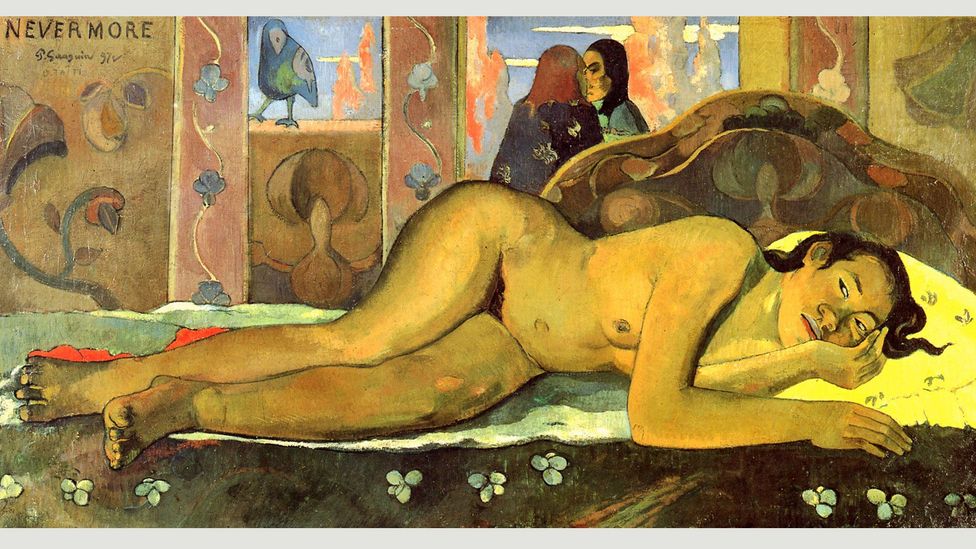 Although Gauguin denied he had been inspired by The Raven, he called one of his 1897 paintings Nevermore – the word repeated by the bird throughout the poem (Credit: Paul Gaughin)
Gauguin's Nevermore can be seen at the Courtauld Institute of Art in London, but sadly the whereabouts of the original manuscript of The Raven is as much of a mystery as the circumstances of Edgar Allan Poe's death.
Following the raven's demise, Charles Dickens hired a taxidermist to stuff Grip and mount him in an impressive case of wood and glass. This he hung above his desk, so Grip could look down on him as he wrote. After Dickens's death in 1870, a sale was held of his effects and Grip was bought by the American Poe collector Colonel Richard Gimbel. The original Grip, who has inspired a novelist, a poet, a painter and generations of Yeoman Warders, can still be seen today at the Free Library in Philadelphia.  
Today Grip, Jubilee and the other royal ravens wander around the Tower of London all day, unfazed by the thousands of tourists who flock to photograph them. At night, the ravens sleep in cages, in their pairs, to protect them from the hopeful Tower foxes (who have killed some of the ravens in the past, including one of Grip's predecessors). Inside the cages are branches to perch on and mirrors – because it is believed that ravens are one of the few animals able to recognise themselves. The birds are the responsibility of Yeoman Warder Chris Skaife, who enjoys the magnificent job title of 'the Ravenmaster'. The ravens can be seen plucking at his frock coat with their beaks in play, eating food out of his hand and striding alongside him as he walks around.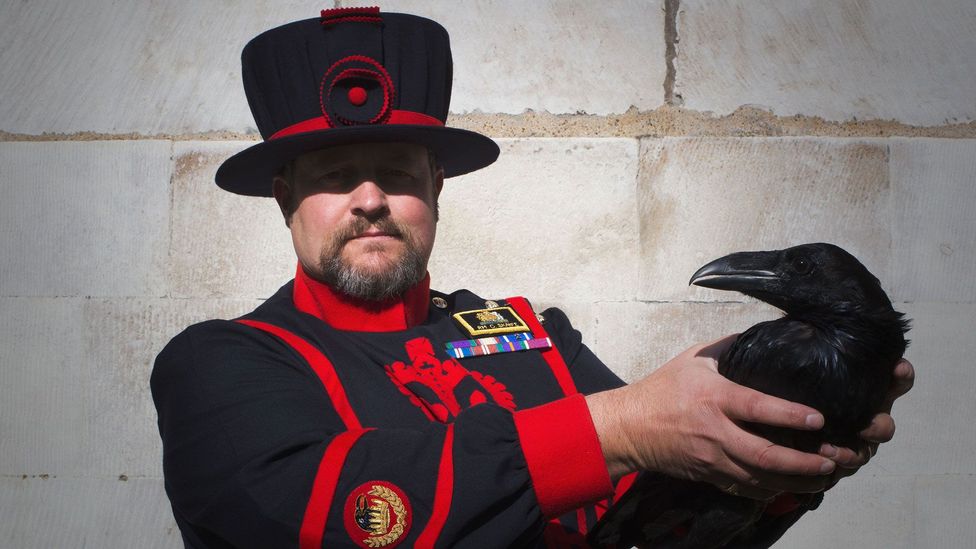 The current Grip is the third of the Tower ravens to be named after the novelist's own pet bird (Credit: Olivia Howitt)

There are two popular myths associated with the Tower ravens: the first is of an ancient prophecy decreeing that, if the ravens leave, the Tower will fall; the second is that, as a result, the birds have their wings clipped to stop them flying away. We know for sure that the second myth is untrue: they don't have their wings clipped and are all able to fly. On occasion, individual ravens have flown off on adventures for several days, but have always come back. The 'ancient' myth is reputed to date back centuries, but actually, can only be traced back as far as World War Two – to the time when Grip and Mabel miraculously survived the Luftwaffe, against the odds. 

This story is a part of BBC Britain – a new series focused on exploring this extraordinary island, one story at a time. Readers outside of the UK can see every BBC Britain story by heading to the Britain homepage; you also can see our latest stories by following us on Facebook and Twitter.

;