It is usually thought of as a quintessentially American art form – but the way to Pop was paved in Britain, writes Alastair Sooke.
P
Pop Art, the subject of Tate Modern's forthcoming blockbuster exhibition The World Goes Pop, which opens next month, is often thought of as a quintessentially American phenomenon – and with good reason.
After all, the imagery we most readily associate with it evokes American celebrities and products: Elvis Presley, Marilyn Monroe and prominent members of the Kennedy political dynasty; hamburgers and hot dogs, cans of Campbell's soup, Ford automobiles.
So for many people it will come as a surprise to learn that Pop Art was invented not in America but in Britain – that drizzle-drenched kingdom of politeness and understatement from the Old World, not the New.
Hamilton's collage had a sexy, effervescent atmosphere
This came about as a result of the pioneering efforts of a small band of likeminded thinkers and forward-looking artists and architects, who were all excited by the novelties of modern culture, and began calling themselves the Independent Group (IG) in the early 1950s.
Their ringleader was the cerebral artist Richard Hamilton, now known as the progenitor of British Pop, who made collages and paintings inspired by glossy printed ads. In 1956, Hamilton created his famous collage Just What Is It That Makes Today's Homes So Different, So Appealing?, which is considered a landmark in 20th Century British art because of its startling prophetic qualities.
Cut and paste
This tiny work of art was originally produced as a poster for the important This Is Tomorrow exhibition at the Whitechapel Art Gallery in London's East End. The exhibition, which showcased multimedia collaborations between painters, sculptors and architects, is now principally remembered for the proto-Pop installation with which Hamilton was involved.
His section was designed so that entering it would feel like stepping into a funhouse. It contained several elements from popular culture, including a working jukebox playing hit records and a large inflatable model of a Guinness beer bottle.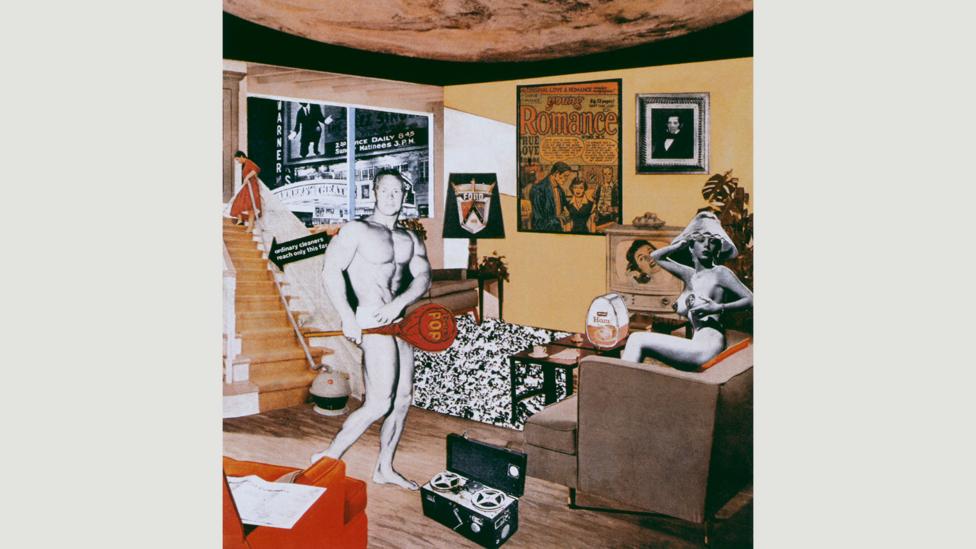 Richard Hamilton's collage from 1956 prefigures Pop Art's concerns (Credit: Richard, Hamilton, Tate, London)
Hamilton's collage, which was also reproduced in black and white in the catalogue, had a similarly sexy, effervescent atmosphere. To make it, he used material from illustrated magazines and other American ephemera, mostly supplied by one of his IG colleagues, the collagist John McHale, who had spent time at the Yale School of Fine Art in New Haven, Connecticut.
Hamilton designed the collage as a parody of American advertising in the exploding, post-war consumer culture of the '50s. Indeed, the title was supplied by the first line of copy in an ad that appeared on the inside cover of an American magazine called the Ladies' Home Journal in 1955.
Hamilton's collage is often described as the first work of Pop Art, perhaps even its manifesto
The actual image of the ad, showcasing a new linoleum product for a company called Armstrong Floors, provided the main source for the setting of Hamilton's collage: a modern living room to die for, with swish designer furniture.
Into this space Hamilton inserted various figures and objects, including a covetable large-screen television set. To the left, a woman (a maid?) wearing a red dress cleans a staircase using a vacuum cleaner with a surprisingly long hose – something which is drawn to our attention by a black arrow containing the words "ordinary cleaners reach only this far", as it did in the print ad that formed the basis for this part of the collage.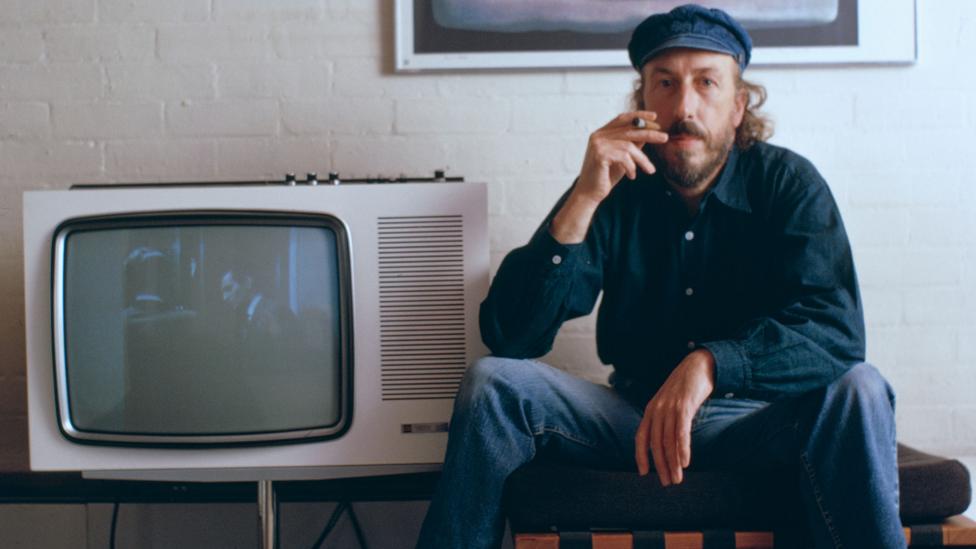 Richard Hamilton drew on the iconography of popular culture to set the mould for British Pop Art (Credit: Getty Images)
In the main area of the room, an attractive, semi-naked couple anticipates a pleasurable evening together. The most prominent figure is the man – nude apart from a pair of tight white trunks.
In his right hand, in place of a dumbbell, he holds an enormous lollipop wrapped in red cellophane with the brand name picked out in yellow: "Tootsie POP". Because the lollipop, like a kind of magic wand, seems to bestow a name upon the entire movement, Hamilton's collage is often described as the first work of Pop Art, perhaps even its manifesto.
Satirical bite
The bodybuilder holds his lollipop so that it appears to emerge from his crotch like an oversized red phallus pointing in the direction of his desire: his naked, big-bosomed squeeze sitting on the sofa to the right, wearing nipple tassels, glitzy earrings and a lampshade on her head. With her left hand she softly caresses the underside of one breast.
The collage articulates a fascination with the fantasy of the perfect American lifestyle
In addition to the mod cons of television and vacuum cleaner, various items representing the modern consumer economy surround them: a large tin of ham (a playful reference to Hamilton's own surname, like a sort of abbreviated signature), the impressive crest of the Ford Motor Company like a medieval coat of arms, a wind-up tape recorder, a black-and-white rug.
On the wall an old-fashioned Victorian portrait hangs next to a larger picture of the front cover of a comic book called Young Romance: a detail that anticipates by several years Roy Lichtenstein's earliest use of comic-book imagery in his Pop paintings.
In a surreal coup, what at first appears to be the room's ceiling turns out on closer inspection to be an upside-down photograph of the Earth's curving surface, swirling with clouds, seemingly shot from outer space – a nod to the Cold War Space Race between the Soviet Union and the United States, but also a reminder of just how vain and pointless the concerns of human specks on Planet Earth can seem when viewed from afar.
Inevitably, there is satire here: all this materialistic, transatlantic clutter bemused Hamilton, and he offered up his preening paramours like modern-day incarnations of the protagonists in the 18th Century artist William Hogarth's satirical series Marriage à‐la‐Mode.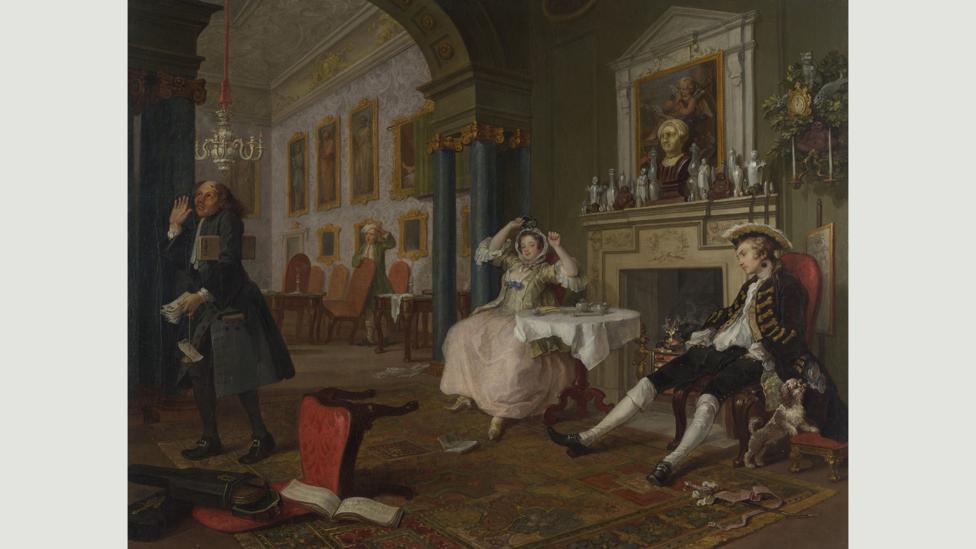 Hamilton's work has some of the satirical bite of earlier artworks like Hogarth's Marriage à-la-Mode (Credit: William Hogarth)
But there is also a certain level of infatuation, since the collage articulates a wider cultural fascination with the fantasy of the perfect American lifestyle. In this sense, it represents the 'have-nots' (the Brits) gazing with a curious mixture of adoration as well as scepticism at the 'haves' (the Americans).
Just What Is It That Makes Today's Homes So Different, So Appealing?, then, is remarkable because, despite its early date, it looks like a sort of index or compendium of Pop Art's chief characteristics and motifs – featuring pin-up girls, advertisements, comic books and so on. At the time, though, in 1956, it would be several years before the phenomenon of Pop Art was recognised as a new, cohesive international movement.
Somehow, Hamilton sensed the direction in which contemporary art was moving – and his brilliant collage is full of images that function like signs to point the way.
Alastair Sooke is art critic of The Daily Telegraph
If you would like to comment on this story or anything else you have seen on BBC Culture, head over to our Facebook page or message us on Twitter.