The US TV series based on Thomas Harris's novels about the cannibalistic psychiatrist was among the most acclaimed by critics in years. So why didn't you watch it, asks Keith Uhlich.
T
The last course is being served. The dinner party is almost over. And as we raise the digestif to our lips, we might pause, before sipping, and ponder the feast that was Hannibal, the series finale of which airs on US TV on Saturday, 29 August. (Canada and other territories have already had a taste of the closing installment.) Despite being adapted from a well-established franchise of novels and running for three seasons, the show never found much of an audience. Yet those who did watch frequently praised Hannibal as one of the most inventive and distinctive series ever made. Its impact on critics and many others who care passionately about TV says much about our current television landscape, though: you don't necessarily need to be a hit to make a mark.
When it first screened over two years ago, there was reason to doubt Hannibal's longevity. Both the films and the books featuring Dr Hannibal Lecter had devolved since author Thomas Harris first introduced the cannibalistic psychiatrist in his 1981 procedural thriller Red Dragon. In this book and its follow up, The Silence of the Lambs, Lecter was a colourful supporting player, a behind-bars foil who provided information for criminal profiler Will Graham and FBI agent Clarice Starling at the price of worming his way into their psyches.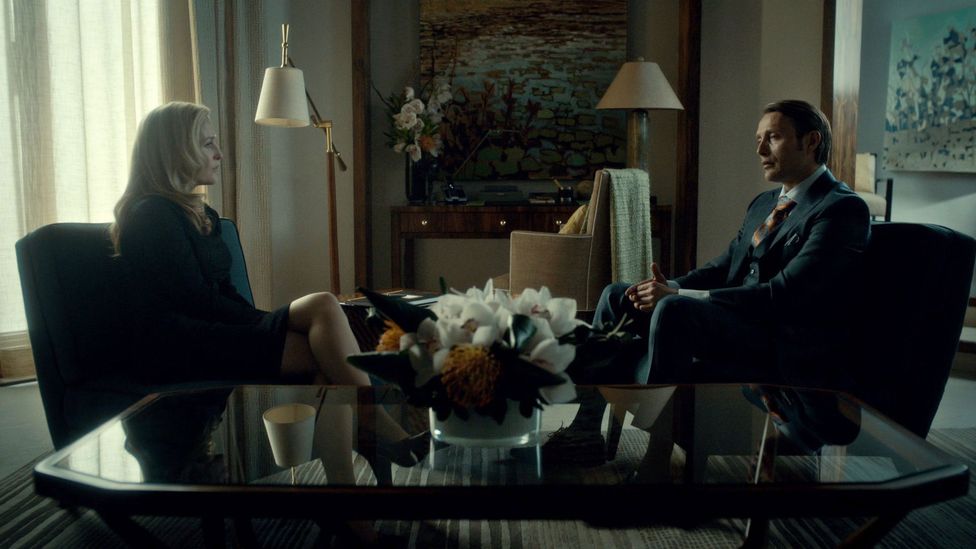 Hannibal elicited praise – and shock – for its gruesome displays of violence, but it also relied heavily on quiet, introspective dialogue scenes (Credit: NBC)
He did the same with readers, and the character asserted himself beyond the page as well, becoming a fixture of the pop culture landscape after two terrific film adaptations. In Michael Mann's Manhunter (1986), he was played with soft-spoken malevolence by Brian Cox, while in Jonathan Demme's The Silence of the Lambs (1991), Anthony Hopkins enshrined Lecter as a lip-smacking bogeyman par excellence and took home an Oscar for his efforts. After that, well… the discussion still rages over Harris's Hannibal (1999), which brought the doctor front and centre, and inspired a movie version by Ridley Scott (with Hopkins reprising his role) that went for a bloodily baroque mood it never quite sold. And the less said about Brett Ratner's 2002 Red Dragon, which entirely wasted its starry cast, or the cynical cash-grabs that were the prequel novel and film Hannibal Rising, the better.
Nothing in Thomas Harris' books was necessarily sacred
Enter Bryan Fuller, the US TV auteur behind the quirky series Wonderfalls and Pushing Daisies. What would he do differently? First and foremost, he approached the Lecter universe with a fan's idiosyncratic passion. While Harris's books, and the best of the films, may have been holy texts to Fuller, nothing in them was necessarily sacred. So viewers were treated to a Will Graham (Hugh Dancy) much more conspicuously raw and transparently emotive than his prior incarnations. Races and genders of other characters were juggled – FBI Agent-in-Charge Jack Crawford (Laurence Fishburne) became African-American; Will's confidant Dr Alan Bloom became the female Alana (Caroline Dhavernas) – upending Harris's primarily white male-dominated world, and also making up for the fact that Fuller could never secure the rights to Silence or Clarice Starling since they were owned by MGM.
Strange feast
Then there was Hannibal himself, played by the Danish actor Mads Mikkelsen with a devilish insouciance that differentiated him from the approaches of Cox and Hopkins. This doctor seemed to spring straight from the inferno, all cloven-footed charisma and killer attire. (He certainly ties a mean Balthus knot.) Recalling his youth in a third season episode, Hannibal notes, "I was rooting for Mephistopheles and contemptuous of Faust." From Mikkelsen's contemptuously pursed lips, purple dialogue like that became poetry, and further emphasised Lecter's essential distance from the prey he would both metaphorically and literally devour.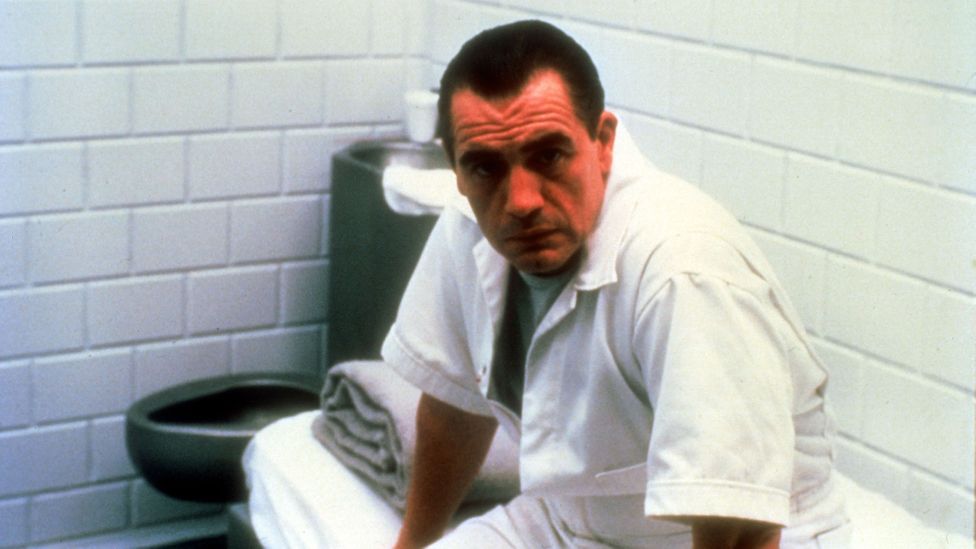 The first film adaptation of Thomas Harris' novels to feature Hannibal Lecter was Michael Mann's Manhunter in 1986, with Brian Cox as the suave cannibal (Credit: Alamy)
Over the course of the series, Graham was Lecter's ultimate symbolic meal. Fuller's choice to begin Hannibal at the start of the duo's twisted friendship, with a pre-incarceration Lecter providing subtly poisonous advice to Graham while he investigated a number of twisted serial-killers-of-the-week, allowed for a bruising intimacy between them that built over time. The Lecter novels and films often had an unsettling relationship to characters outside the heterosexual norm. (See Silence of the Lambs's transgender serial killer Jame 'Buffalo Bill' Gumb for a much-debated example.) Fuller, who is gay, took the peripheral otherness of Harris's depiction of LGBT characters and made it the heart of the series. Even though Graham and Lecter have relationships with women throughout the show's run, it is clear – at least from the early first season episode in which Hannibal intimately sniffs Will from behind – where their true yearnings lie.
"Is Hannibal in love with me?" Will asks the sociopathic psychiatrist Bedelia Du Maurier (a mesmerising Gillian Anderson) in the series' penultimate episode, finally expressing the ache that he's denied for so long. We might then turn that around and ask why so few viewers, beyond a bunch of effusive television critics and an impassioned cult of 'Fannibals', were in love with Hannibal? The series was a consistent underperformer in the ratings, yet the television network NBC withheld the axe until this year due to the praise it garnered, as well as the relatively cheap licensing fee they paid to air it. (The French studio Gaumont primarily financed the show.)
Not by ratings alone
We can only speculate as to the reasons the series didn't connect beyond a cliquish few. Might it have been cinematographer James Hawkinson's dreamily perverse visual style, which lingered with elation on the most horrifying tableaux? (A totem pole fashioned from bent and broken bodies could be given the same aesthetic weight as one of Hannibal's innumerably savoury, and human-sourced, meals.) Was it the ever-evolving approach to storytelling that saw the show morph from a straight procedural in its first year to a psychological character study by its third? Fans of the early episodes were starkly divided by the most recent season's slow-build European jaunt in which Will, even more emotionally damaged and psychically scattered than usual, hunted Hannibal on the continent. Had Fuller taken his self-described mandate, stated in several interviews, that he and his collaborators were knowingly making 'a pretentious art film' too far?
It wasn't just gore for gore's sake, either
Or perhaps it was a matter of a television auteur extending his ambition well beyond what most audiences were conditioned to expect? One of the constants in many Hannibal recaps published on entertainment websites was a disbelief that the often bizarre and bloody visions we were seeing aired on a broadcast network and not a pay-cable channel. It wasn't just gore for gore's sake, either, but a kind of fleshly outward expression of the characters' inner turmoil. There was an emotional density beneath all the horror that even many of our best recent fright-films can't approach. "We are all making our way through the inferno," says Anderson's Du Maurier to Will in a recent episode – a distillation of all the weighty subtexts undergirding Hannibal's sensuously sanguine surface. It's doubtful even Walking Dead fans, very accustomed to gore, could relate.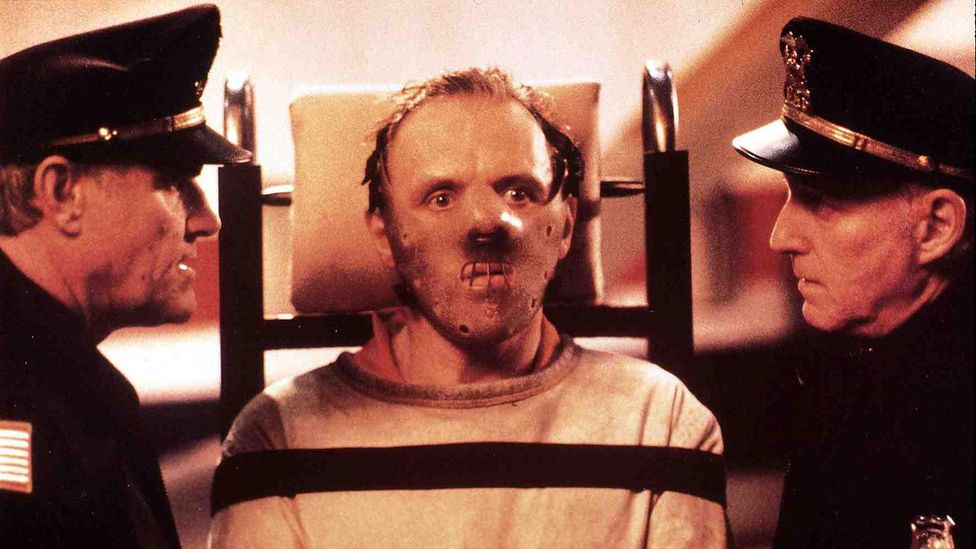 The most famous portrayal of Lecter was by Anthony Hopkins in The Silence of the Lambs, for which he won best actor at the Oscars while the film took best picture (Credit: Alamy)
Whatever the case may be, this last run of episodes has been exceptional, adapting Harris's Red Dragon novel with Fuller's distinctive visual flair, and making even the most familiar elements of the Lecter universe feel inspired again. There's a degree, perhaps, to which Hannibal's perpetual cult status allowed Fuller freer reign. You can better indulge your imaginative flights of fancy, and more often go for the jugular – as in a memorable moment when Richard Armitage's Francis 'The Tooth Fairy' Dolarhyde gorges himself on a William Blake drawing with pornographic fervour – when fewer people are looking.
This causes its own anxieties of course, and each year, Fuller – despite an ambitious six-to-seven year vision for Hannibal – treated his season finales as potential series finales, pre-emptively attempting to thwart the writing on the wall. Now the expected outcome has finally come to pass. And it looks increasingly unlikely that the show will be revived in any way. Streaming sites like Amazon and Netflix have passed on extending the series' run and Fuller has redirected his attentions to a cable network adaptation of Neil Gaiman's American Gods, though there are whispers of a potential movie adaptation, subject to cast and crew availability.
"Fate has a habit of not letting us choose our own endings," says a rueful Hannibal in a recent episode. It's as self-aware a line of dialogue as has ever been spoken in this strange, beautiful beast of a television show. Yet even if this particular banquet has been cut short, the flavours it conjured and the senses it stoked are sure to linger.
If you would like to comment on this story or anything else you have seen on BBC Culture, head over to our Facebook page or message us on Twitter.