Is the Johnny Depp gangland thriller really an accurate depiction? Legendary crime reporter George Anastasia, once targeted for death by the mob, weighs in.
I
It's sure to be compared to The Godfather and Goodfellas, but Black Mass is in a category all its own. It's a dark character study – grim, sinister and brooding. And while there's lots of talk about loyalty and honour, as there was in The Godfather and Goodfellas it isn't about those things – Black Mass is really a story of seduction and betrayal. That doesn't make the film better than the two underworld classics to which it will be compared but it does make it more realistic.
Director Scott Cooper has kept the story as close as possible to the book on which it is based. And that book, Black Mass: Whitey Bulger, the FBI, and a Devil's Deal, by Boston Globe reporters Dick Lehr and Gerard O'Neill, is by far the best of nearly a dozen written about James 'Whitey' Bulger, the Boston wiseguy who used his role as an FBI informant to literally get away with murder. And drug dealing, gun running, loansharking and extortion.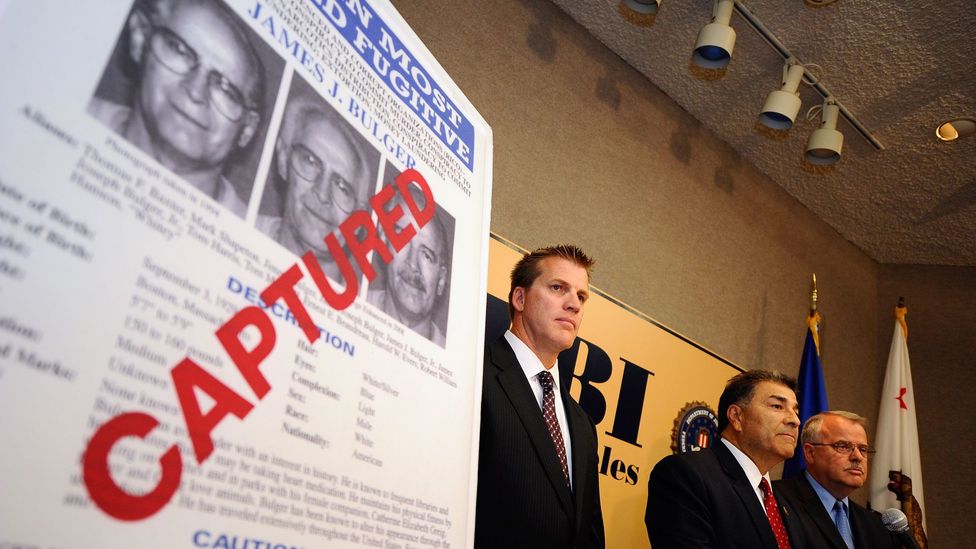 After being a fugitive for 16 years – and appearing on the FBI's 10 Most Wanted list – Bulger was captured in Santa Monica, California in 2011 (Credit: Getty Images)
As someone who covered organised crime in Philadelphia, New York and New Jersey for more than three decades I watched the Bulger story unfold from afar. What I learned over the years – and what the movie conveys in spades – is that there is no honour or loyalty in the underworld. Instead, it's greed and treachery. Bulger was a master manipulator – a charismatic psychopath perfectly captured by Johnny Depp in the movie – who epitomised the mob at the end of the 20th Century. And the FBI was his willing accomplice.
This film does not hold the FBI accountable
The FBI protected Bulger from other agencies that were investigating him because the law enforcement organisation took information supplied by Bulger and his top associate, Steve 'the Rifleman' Flemmi, to build cases and win prosecutions that dismantled the New England Mafia. Bulger's own criminal network, the Winter Hill Gang, was ready and eager to fill the vacuum those prosecutions created.
Crossing to the dark side
The movie is dead-on accurate in its portrayal of the relationship between Bulger and ambitious FBI agent John Connolly (played by actor Joel Edgerton). Connolly, who came from the same South Boston working-class Irish-American neighbourhood as Bulger, was in awe of the man he was supposed to be controlling. He quickly fell under Bulger's spell, drinking with him, sharing dinners and exchanging gifts – niceties that were all part of Bulger's seduction.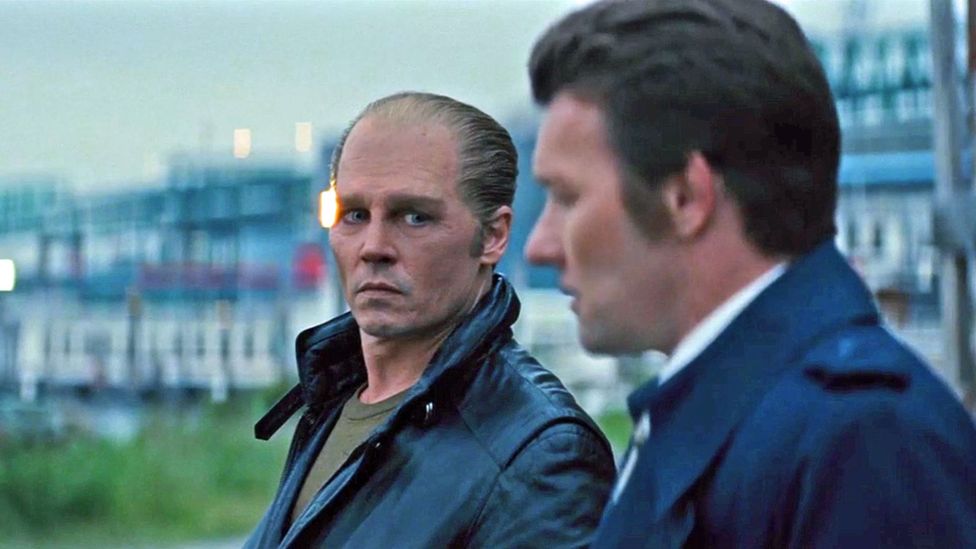 In June 2015, Bulger wrote a letter to three US teenagers who had created a school project about him expressing mild regret for his criminal actions (Credit: Warner Bros)
While the film accurately portrays Connolly as the rogue agent he was, it does not hold the FBI accountable for its approach to law enforcement in which the ends justifies the means that it allowed to flourish whenever the American Mafia was the target.
Take for example how in the late 1990s the FBI cut a deal with then mob boss Ralph Natale. His stint as a prosecution witness was a fiasco. But the FBI had fallen in love with the idea of flipping a mob boss and made little effort to check his information. Black Mass doesn't let the FBI off the hook completely, but it only hints at the overarching problem that Lehr and O'Neill hammered home in their book: the  Bulger debacle was part of a systemic problem within an FBI that cut corners and ignored protocols if it meant winning cases against the dreaded American Mafia.
In 1999, Mark L Wolf, a federal judge in Boston, eviscerated the FBI for its handling of the Bulger case, criticising the decision to make a deal with him and his associate Flemmi in the first place, and then blasting the bureau for its attempts to hide the misconduct of its agents. In his judgement, Wolf cited the British historian Lord Acton, who in 1861 wrote that "everything secret degenerates, even the administration of justice." "This case demonstrates that he was right," the judge declared. 
Dealing with the devil
That scathing indictment of the FBI as a whole is not part of the film, although the egregious actions of agents Connolly and Morris clearly drive the story. But what the FBI got in return  for dealing with Bulger is very much addressed in the movie, as it was in the original book.
"We put the Mafia out of business," Connolly tells Morris when his fellow agent begins to question their dealings with Bulger. "If that ain't good, I don't know what is."
A case could be made that the American Mafia was already on the way out, though. And the information provided by Bulger was of little use. Connolly, to bolster the value of his "asset", attributed information provided by other informants to Bulger in reports he filed while serving as Bulger's handler.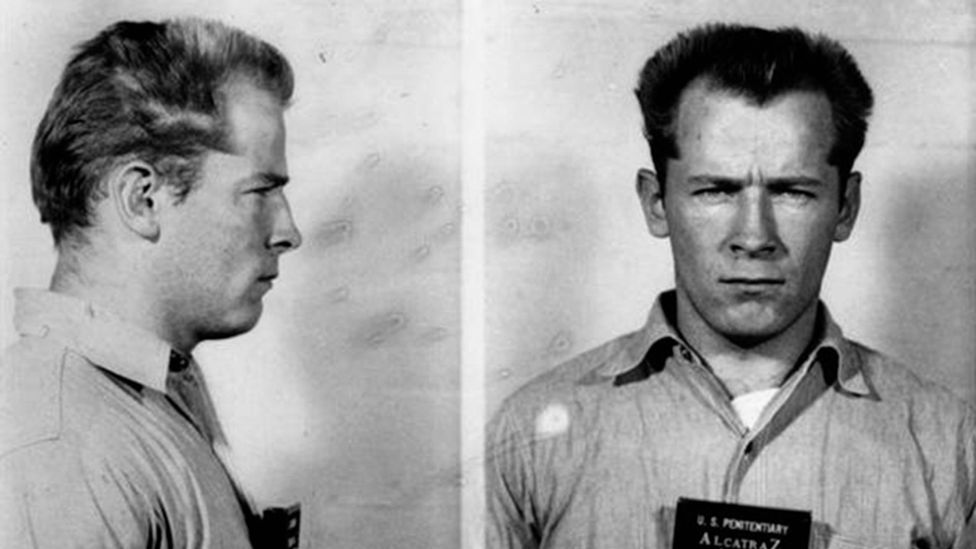 Before becoming an FBI informant Bulger had many run-ins with law enforcement and even served time at Alcatraz (Credit: Getty Images)
That portrayal in the movie rings true to the storyline laid out so masterfully in the book. But there are moments that don't. There is also a scene where Bulger first discloses to Flemmi that he has established a working relationship with the FBI. Flemmi appears shocked – but in reality, Flemmi was an informant even before Bulger.
No agent would ever approach a secret, high level informant in broad daylight under those circumstances
Finally, there is a scene where Connolly rushes to warn Bulger about an informant who is giving up information about him. That happened often – Connolly is currently serving a 40-year prison sentence  after being convicted of providing Bulger with information that led to at least one murder. But in the movie, Connolly approaches Bulger on the street in the middle of a St Patrick's Day Parade in front of hundreds of onlookers and two of Bulger's top associates. No agent would ever approach a secret, high level informant in broad daylight under those circumstances. Ron Previte, a Philadelphia wiseguy who wore a body wire for nearly two years while working with the FBI, always traveled to out-of-the-way locales to meet with his handlers and turn over tapes. "It was a game of cat and mouse," Previte once told me of his life wearing a wire. "I loved every minute of it."
The film's missteps are minor points, cinematic devices to consolidate and streamline a story that ran for over 300 pages and that would have resulted in a film of four or five hours in duration had it stayed true to every incident.
What the movie does, however, is make clear a simple fact that emerged again and again as I covered organised crime. Very often, there are no good guys. For FBI agents and federal prosecutors it's a game, and sometimes winning is more important than justice. 
If you would like to comment on this story or anything else you have seen on BBC Culture, head over to our Facebook page or message us on Twitter.