Paisley's journey from its origins in Persia to hippy chic and contemporary fashion, via a Scottish textiles town. Lindsay Baker reports.
"One should either be a work of art or wear a work of art," said the famously flamboyant Oscar Wilde, who loved nothing more than to lounge foppishly in a silk paisley smoking jacket and cravat. That Wilde and his demi-monde friends loved paisley – the painterly textile pattern that resembles a teardrop or seed-shaped vegetable – is no surprise. More surprising is how paisley has endured, and how the apparently immortal print has been enjoying yet another peak of fashionability – the catwalks of London, New York, Milan and Paris have all seen a flutter or flash of it in recent seasons.
"Paisley has been a popular motif in fashion for centuries," Jeremy Langmead, brand-and-content director of luxury menswear e-tailer Mr Porter , tells BBC Culture. "And especially in the West following the hippie-inspired styles of the 1960s and 1970s, which have been having a resurgence of late with brands such as Saint Laurent, Burberry and Gucci adopting paisley. Etro, the Italian brand, has also long-used the design in its menswear, especially in suit and jacket linings." In womenswear, too, designers from Dolce & Gabbana and JW Anderson to Raf Simons at Jil Sander have incorporated paisley in recent years.
The iconic motif has had quite a journey
From its ancient Persian and Indian origins with its hidden messages and mysterious symbolism, the iconic motif has had quite a journey. The paisley pattern has travelled the silk routes from East to West, adorned the bandanas of cowboys and bikers, been adopted by the 19th Century boho set, been popularised by The Beatles, ushered in the hippy era and become an emblem of rock 'n' roll swagger and swank. And the Scottish city of Paisley, whose textiles history is intertwined with the famous print, is now bidding  to be  UK City of Culture for 2021.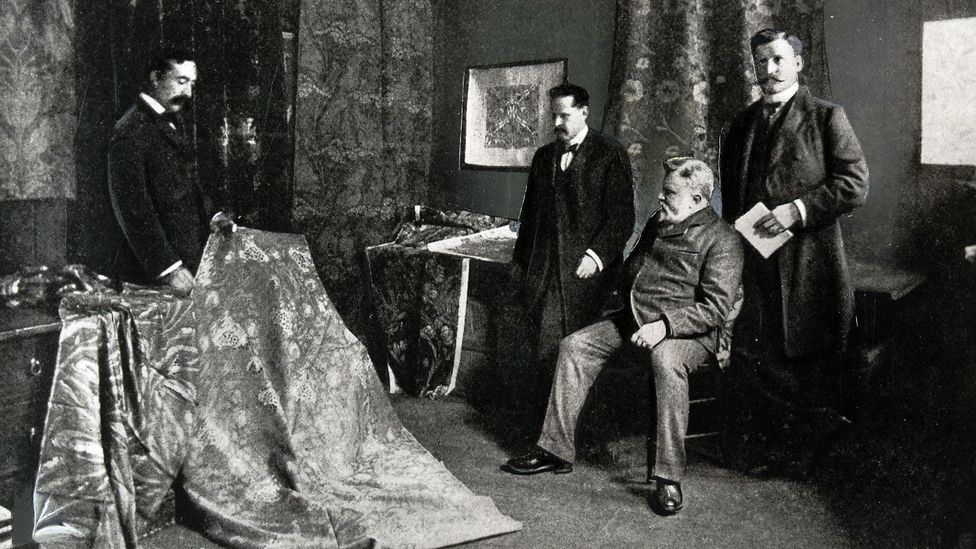 Arthur Lasenby Liberty was an early enthusiast of paisley in the UK (Credit: From the book Liberty of London Treasures: Colour, Design, Print by Carlton)
Various paisley designs were among the many beautiful prints and garments showcased at Liberty of London, an exhibition at the Fashion and Textile Museum that showcased the textiles of the influential design company and store. Liberty's archivist Anna Buruma explains: "Liberty has been associated with paisley style from the beginning when they sold fabrics, porcelain, rugs and shawls from the East. Paisley-style shawls are shown in the early catalogues and when they started printing their own fabrics in the 1880s, paisley designs are very much in evidence."
From East to West
So what is behind paisley's incredible longevity? Its symbolic power has probably played a part. The original Persian droplet-like motif – the boteh or buta – is thought to have been a representation of a floral spray combined with a cypress tree, a Zoroastrian symbol of life and eternity. The seed-like shape is also thought to represent fertility, has connections with Hinduism, and also bears an intriguing resemblance to the famous yin-yang symbol. It is still a hugely popular motif in Iran and South and Central Asian countries and is woven using silver and gold threads on to silks and fine wools for weddings and other celebrations.
It became… shorthand for sophisticated, arty bohemianism
Imports from the East India Company via the 'silk routes' brought the textile pattern to Europe in the 18th and 19th Centuries, and following the arrival of luxurious Kashmir shawls (some of which cost the price of a small house), the pattern took the continent by storm. The shawls were soon imitated throughout Europe, notably in Wales and the town of Paisley in Renfrewshire, Scotland. From that point onwards the English term for the motif was 'paisley', though it is also known in the United States among quilt-makers as 'Persian pickles' or in the Welsh textile industry as 'Welsh pears'.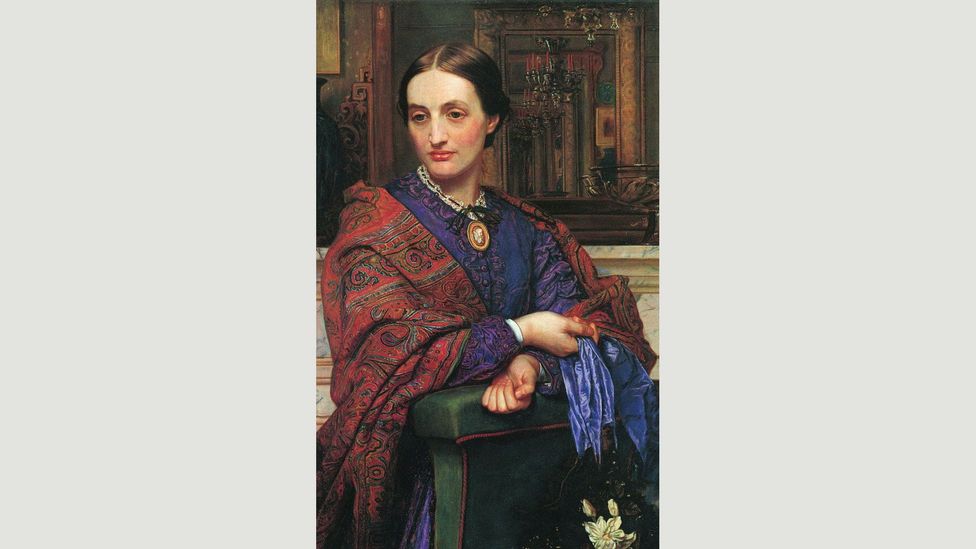 British artists of the late 19th Century were great admirers of the pattern, including William Holman Hunt, who painted his paisley-adorned wife Fanny (Credit: William Holman Hunt)
It was in the 19th Century that the paisley pattern first attracted a rebellious, progressive following. Its story was part of a wider "dialogue" between eastern and western cultures at the time, says Dennis Nothdruft, the curator of the Liberty in Fashion exhibition. "It was a cultural exchange, and also an industry." In the Victorian era, trade between Britain and India was buoyant, and Liberty's forward-thinking founder Arthur Lasenby Liberty, a friend of Oscar Wilde "who had real flair and exquisite taste", as Nothdruft tells BBC Culture, quickly expanded thanks largely to a paisley-orientated collection. William Morris and the Arts-and-Crafts movement adapted the print, with William Holman Hunt and other Pre-Raphaelites depicting sumptuous paisley textiles in their paintings. It became an integral part of the Aesthetic Movement and the Art Nouveau Movement – and shorthand for sophisticated, arty bohemianism.
Far-out fashion
The next surge in paisley's fashionability came in the 1960s, helped along by The Beatles – in their Eastern-influenced phase the band were paisley mad, and John Lennon even painted his Rolls-Royce with the pattern. It became emblematic of the 'summer of love' and the often eye-watering aesthetic of the psychedelic era, its vertiginous acid-trip patterns and mind-melting colours chiming with the hippy zeitgeist.
"It had a certain mystery and eastern promise about it that suited the times," says textile designer and artist Sarah Campbell, who during the 1960s and '70s created some of Liberty's best-known interpretations of the print with her design partner Susan Collier, including the swirling, intricate Splendide. "Because of paisley's origins, there has always been a sense of exoticism and luxury about it. It's an organic motif that is also stylised and has a complexity and depth to it – we called the designs 'paisloid' because they were adaptations of traditional paisley." Liberty 'paisloids' were used extensively by some of the top designers of the era including Jean Muir, Bill Gibb, Yves Saint Laurent, Biba and Bill Blass.
It has that flamboyant connotation, it's a look that says 'notice me' – Dennis Nothdruft
Ever since then paisley has been a firm rock 'n' roll favourite, resonating with its early Eastern symbolism, its progressive, 19th Century boho aura and its unruly 1960s free-love connotations. It has been sported – with the requisite strut and swagger – by David Bowie, Prince (who named his record label and studio Paisley Park), Paul Weller, Bobby Gillespie, Liam Gallagher and Florence Welch, among many, many others. Gallagher even founded a clothing brand, Pretty Green, that specialises in the print. "It has a certain richness to it, an over-the-top quality," says curator Nothdruft. "It has that flamboyant connotation, it's a look that says 'notice me'. Paisley pushes the envelope."
Fertility symbol
Mr Porter's Jeremy Langmead agrees about the print's subtext: "Throughout the decades, paisley has always been a popular print for men's ties. I've always found it intriguing that a design that is purported to derive from Indian fertility symbols has always been prevalent on an item of clothing that, by its very nature, acts as an arrow pointing down the torso of its wearer to his groin."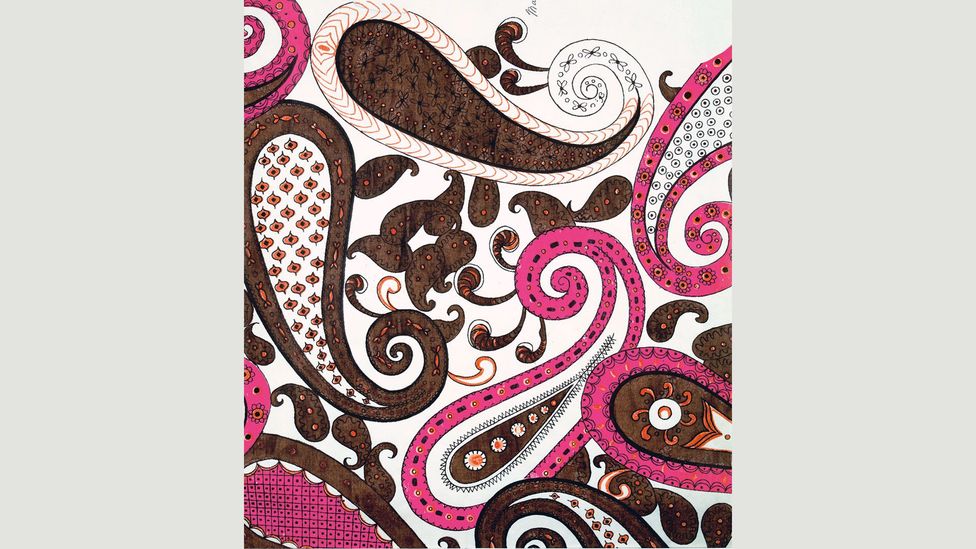 It's been suggested that the seed-like paisley pattern, like this 1960 design by Ceraggio, was originally a Persian fertility symbol (Credit: Copyright of Liberty Fabric Limited)
There is certainly an arty sensuality about the glamorous Etro brand, the Italian label where paisley's heritage and currency come together as a signature. Designer Veronica Etro tells BBC Culture that the paisley print is "central to Etro's past, present and future." Her father started the company creating luxury textiles in 1968, and paisley soon became the "symbol" of the brand, she says. "He travelled a lot around the world, and these exotic travels greatly influenced the original designs, bold colour and rich embellishments of the Etro fabrics.
It symbolises the tree of life, the seed palm, thus fertility. – Veronica Etro
"My father's grandmother used to wear a rich paisley morning coat and the pattern truly caught his eye and attention. Paisley's journey, over the course of thousands of years, is very inspirational to me. I love symbols that are rich in history... What I love about it is also that it has a deep meaning: it symbolises the tree of life, the seed palm, thus fertility… it always remains appealing, exotic and cool at the same time: think about Janis Joplin, David Bowie, Mick Jagger, wearing this decorative pattern – it has this rock vibe in it."
The rich symbolism and rebellious aura that surround paisley have kept it alive, it seems. But perhaps the real secret to the print's immortality is how it combines conformity with unruliness, how it blends its rich historicism with a powerful adaptability, and how it is open to endless and unexpected re-invigoration and re-interpretation. Veronica Etro is keen to break new ground with the pattern, she says. "To develop further its boundaries without really breaking with the past – but looking to the future." Classics scholar, forward thinker and snappy dresser Oscar Wilde would no doubt have approved.
The city of Paisley is bidding to be UK City of Culture 2021.
If you would like to comment on this story or anything else you have seen on BBC Culture, head over to our Facebook page or message us on Twitter.