Concerned by the effect that James Bond films could have on the youth of East Germany, the state-owned film studio created its own secret agent to counter 007. Thomas Rogers looks back on a pop culture cold warrior on the other side of the Iron Curtain.
T
There's a scene in one of the later episodes of Das Unsichtbare Visier, the hit East German TV show from the 1970s, that could easily fit into any one of the era's Bond films. Alexander – a handsome spy with a fondness for brown button-up shirts – is on the hunt for an organisation that plans to test a psychotropic nerve agent on a German city. Nobody suspects that Alexander is a secret agent: during the day, he works as an ad man, snapping photos of sexy women wearing sexy high-heeled shoes, but, when called upon, he uses his wits, fighting skills and unassuming good looks to protect the German public from harm.
In this episode, called the King Kong Flu, Alexander and his team have traced one of the conspirators – a man whose helpful trademark is a checkered felt hat – to an apartment building in Frankfurt. Under the cover of night, Alexander breaks into the apartment looking for the nerve agent, and discovers a suspicious suitcase hidden in the freezer. Just as he begins examining its contents, the door opens and the enemy agent enters. The two men tussle, a gun flies through the room, but Alexander prevails, knocking out his enemy.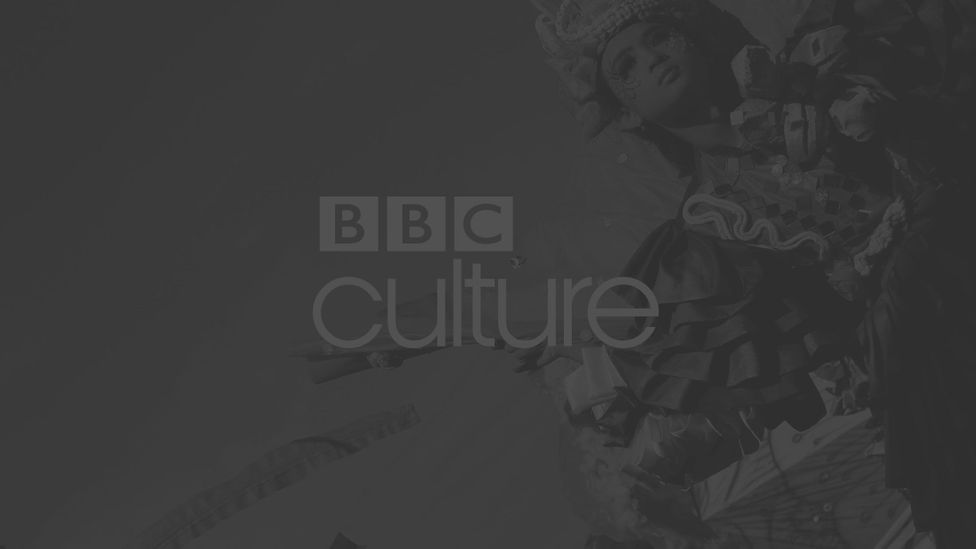 This video is no longer available
The unconscious man, however, isn't part of a nameless terror group – he's an American working for the CIA. And Alexander isn't a Western secret agent, he's a member of the Ministerium für Staatsicherheit, the East German secret police better known as the Stasi.
The series offers a political funhouse mirror of Western spy films
Today the Stasi is best known for its cruel and draconian surveillance techniques – using wire taps, blackmail and an enormous network of informants to quell East German dissent. Its practices were most memorably portrayed in The Lives of Others, the Oscar-winning 2006 film about a Berlin couple who are monitored by an obsessive Stasi agent. But in the world of Das Unsichtbare Visier, which means 'the invisible gun sight' and which aired on East German TV between 1973 and 1979, the Stasi's agents are the true heroes of the Cold War – the only thing keeping the GDR safe from a nefarious coalition of Americans, West Germans and unrepentant Nazis.
Culture wars
Before reunification, the show was only known to East Germans, but since then it has amassed a number of West German admirers, not only for its skillful craft, but the way it offers a political funhouse mirror of Western spy films. In one episode, Stasi agents battle Nato plans to purposely provoke a military escalation with the GDR, and in another, they uncover a secret Apartheid-era South African weapons programme created in collaboration with the US. In the series' final episode, the Stasi combats CIA plans to foment "national-fascist" revolutions in Greece, Turkey and Italy.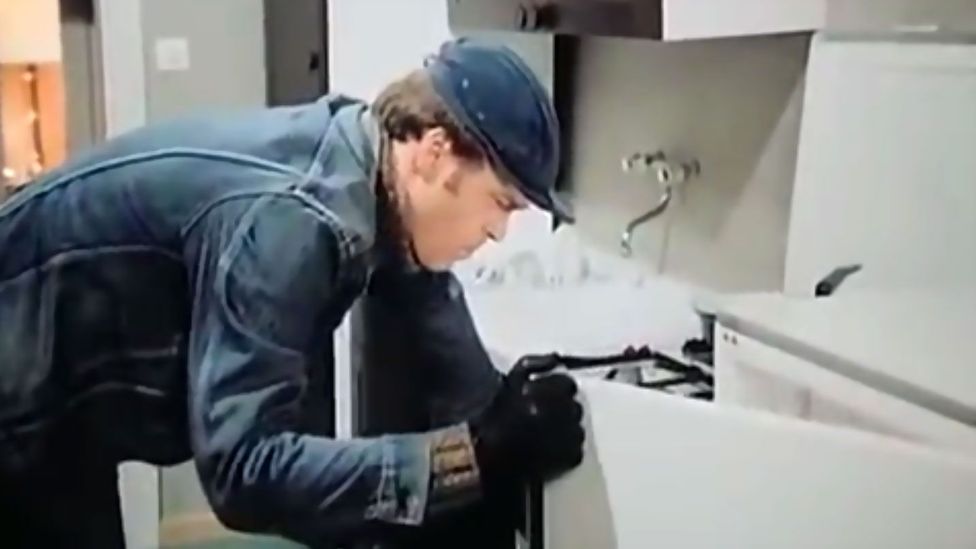 In the episode The King Kong Flu, the spy Alexander breaks into an apartment where he discovers a suspicious suitcase hidden in the freezer (Credit: DFF)
If these missions sound like generic, if politically inverted, Bond fodder, it's no coincidence. Das Unsichtbare Visier was created by the Defa, East Germany's state-owned film studio, partly to counteract Bond's underground popularity in East Germany during the 1960s and to defend against his potentially dangerous message for East German youth.
Although the Bond movies toned down the anti-communism of Ian Fleming's books – turning the Soviet Smersh organisation, for example, into the more generically evil Spectre – they were still a potent weapon in the culture war between the East and West. Bond portrayed a British secret service that was omnipotent, crafty and, for the most part, firmly in control of world events, and as the historian Dominic Sandbrook has argued, the movies' focus on gadgets, like exploding pens, were thinly veiled celebrations of British post-war capitalism.
The CIA is shown to be a scheming, evil organisation and West Germany is portrayed as materialistic and superficial
In response, in 1963 Defa created a new East German spy genre, known as Kundschafter or 'reconnaissance' films, two years after the construction of the Berlin Wall. The first Kundschafter film, For Eyes Only, directed by János Veiczi, followed an East German spy who infiltrates the West German intelligence service to prevent a Western invasion of the GDR. The film's hero, Hansen, is an exemplary East German: he doesn't drink any alcohol, is a loyal family man and steadfastly refuses to do any depraved Western dancing, such as the twist. The film was a hit, especially among young East Germans, and spurred the organisation to create an anti-Bond for German television.
Das Unsichtbare Visier didn't try very hard to hide its inspiration: like Bond, its opening credits showed a man walking down a rounded corridor, and today its theme song would be clear grounds for a copyright infringement lawsuit. But unlike Bond, the show's super-agents are friends of the working class (Alexander, for example, goes for drinks at the pub with his postman) and abhor anything flashy. Although words like 'Communism' are rarely mentioned, the CIA is shown to be a scheming, evil organisation and West Germany is portrayed as materialistic and superficial.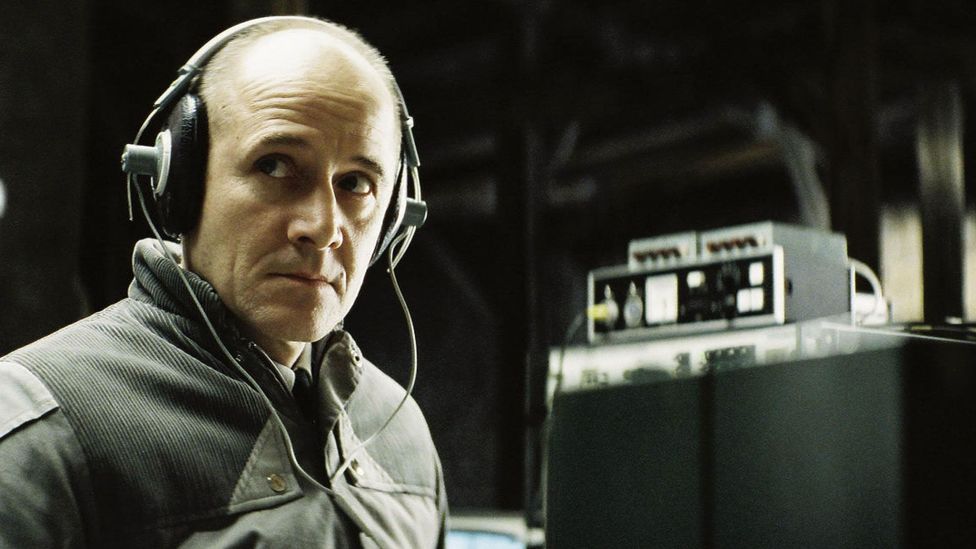 The 2006 film The Lives of Others casts the activities of the Stasi in a more negative light than the benign vision presented in Das Unsichtbare Visier (Credit: Sony Pictures)
In one sequence of King Kong Flu, one member of a West German entrepreneur family casually asks another, "How many millions will you be making today?"; a birthday party is portrayed as a baffling and hedonistic orgy of excess. At one point during the party, a group of women in tiny gold bikinis dance down a flight of stairs before unveiling a diamond ring – a sequence that, one assumes, is fulfilled the dual function of titillating and horrifying East German audiences.
Das Unsichtbare Visier was based on a series of books by Herbert Schauer and Otto Bonhoff, two East German writers, and the show was, by East German standards, hugely popular. One quarter of its 16 episodes were watched by at least half of all television viewers in the GDR and one, The Water Castle, drew in  almost 60%.
Propaganda techniques
One of the most surprising things about the show, given that it was crafted largely as propaganda, is that it's actually quite good. For the first 10 episodes, the main character, a secret agent and World War Two defector named Bredebusch, is excellently played by Armin Mueller-Stahl, a prominently chinned East German actor who later became famous for Hollywood roles in Shine and The Peacemaker. The show is often elegantly shot, with beautiful tracking shots accompanying Bredebusch's train as it returns from the Soviet Union, and a surprisingly stark portrayal of a traumatised post-war Germany.
In one episode, a CIA agent clambers around a German castle in a full ninja-style bodysuit
But as one would expect from any show in which Stasi agents save the world, Das Unsichtbare Visier is, of course, frequently ridiculous. In the premiere episode, Bredebusch is tasked with infiltrating a secret network of Nazis planning a coup from Argentina, and along the way, he orchestrates an impossibly complex plan involving swapped identities and the seduction of a former Nazi intelligence officer. He also discovers an Italian monastery secretly smuggling Nazi war criminals to South America (an unsubtle attempt by East German propagandists to conflate Catholicism and Nazism). When he arrives in Argentina, he energetically dances with a local woman in a club. Jarringly, she is portrayed by a German actress in unevenly applied blackface. In another episode, a CIA agent clambers around a German castle in a full ninja-style bodysuit.
In its 40 years of existence, Defa created much more than spy films and TV shows. It is responsible for a number of well-regarded films, including The Murderers are Among Us, the first German film to be made after the end of World War II and an early attempt to grapple with German wartime guilt, and, in 1974, Jakob the Liar, the only East German film to be nominated for an Academy Award. But it is hard entirely to separate their art from the brutal regime it was meant to support.
But the contrast between the reality of the GDR and the illusion of Das Unsichtbare Visier becomes especially clear when you consider the show's casting changes.  When Armin Mueller-Stahl objected to some of the show's political content, he was removed from the cast and later blacklisted. He finally fled to the West in 1980. One of his replacements, Gunter Schoss, was similarly forced out of the cast. One reason: he had argued that some of the show's plots, especially that of the King Kong Flu episode, were simply too over the top to believe.
If you would like to comment on this story or anything else you have seen on BBC Culture, head over to our Facebook page or message us on Twitter.