Textiles and design have long played a part in defining India's culture and national identity. But what does that mean in a rapidly modernising environment? Phyllida Jay reports.
C
Contemporary Indian designers create an extraordinary spectrum of fashion, from ornate bridal ensembles to minimalist daywear. Today, they are faced with the challenges as well as the opportunities of carving out a space in a market that also produces a large amount for international brands – many of which, such as Zara and H&M, are planning expansion across the country.
Amid India's rapid globalisation and economic development, fashion provides a lens onto culture and the transforming fabric of society, according to Parmesh Shahani, director of Mumbai's Godrej India Culture Lab. "Fashion's enormous aesthetic diversity is a reflection of the polyphonous nature of our society, which now, as always, is in the midst of an exciting churn,"  he says. "It also has roots, which is why we see tradition holding its ground: whether in women wearing, and re-imagining saris, or men wearing the mundu, and in a lot of bridal fashion.
Fashion has roots, which is why we see tradition holding its ground – Parmesh Shahani
In a society defined by sharp contrasts between ancient tradition and uber modernity, Indian style is displayed in a mixing of ethnic and Western fashions. Kurtas are worn with jeans or redefined as linear, minimal dresses, lehengas are given peplums and kick flares, and saris are reinvented as 'sari-gowns' or styled with sharp blazers and classic white shirts. Endless permutations of garments, colour and excess or absence of decoration allow individuals to explore their Indian identity. In this way Indian fashion produces tradition as much as modernity, one of the unique characteristics of the national style.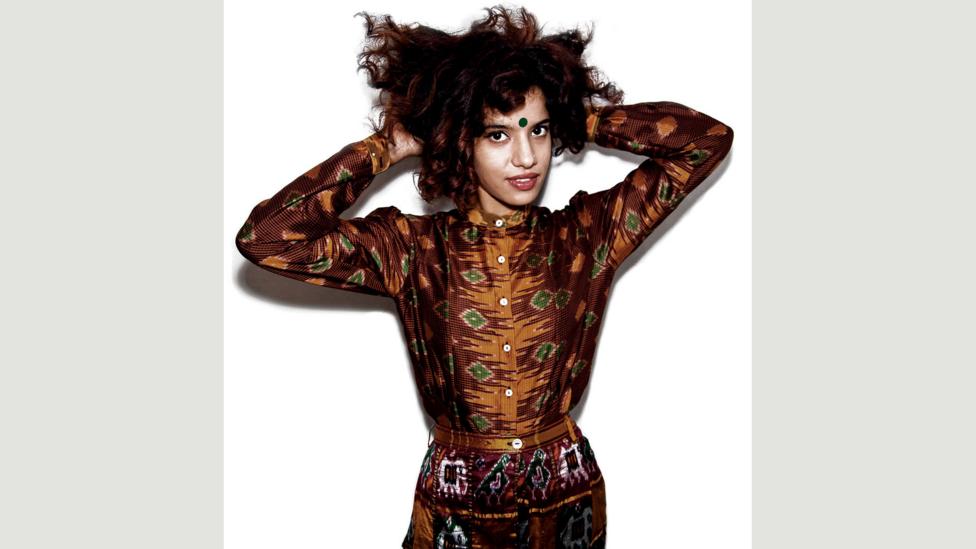 The CellDGSN 11.11 collection is made from reclaimed and up-cycled saris (Credit: Fashion India/Thames and Hudson)
Here comes the bride
At the forefront of the traditional market are the bridal designers, catering as they are to weddings and key celebrations that cement social and cultural bonds. According to The Business of Fashion's Imran Amed, Condé Nast estimates the worth of the Indian bridal market at $38 billion per year. Anthropologist Professor Christiane Brosius attributes the bridal industry's exponential growth to post-1994 liberalisation, which created a burgeoning middle class and a new mood of pride in being Indian, expressed though luxury and conspicuous consumption.
Indians at heart are maximalists and so, will always remain connected with elegant excess – JJ Valaya
JJ Valaya, one of the most successful Indian designers today, uses opulent embroidery in occasion-wear influenced by the grandeur of royal Indian history.  He says of his design ethos: "As an Indian designer, I have always felt that our prime responsibility should be to keep the India that was alive within the India that is (or the one that will be)… No easy task, given the present fetish for minimalism and yet, I've always believed that Indians at heart are maximalists and so, will always remain connected with elegant excess."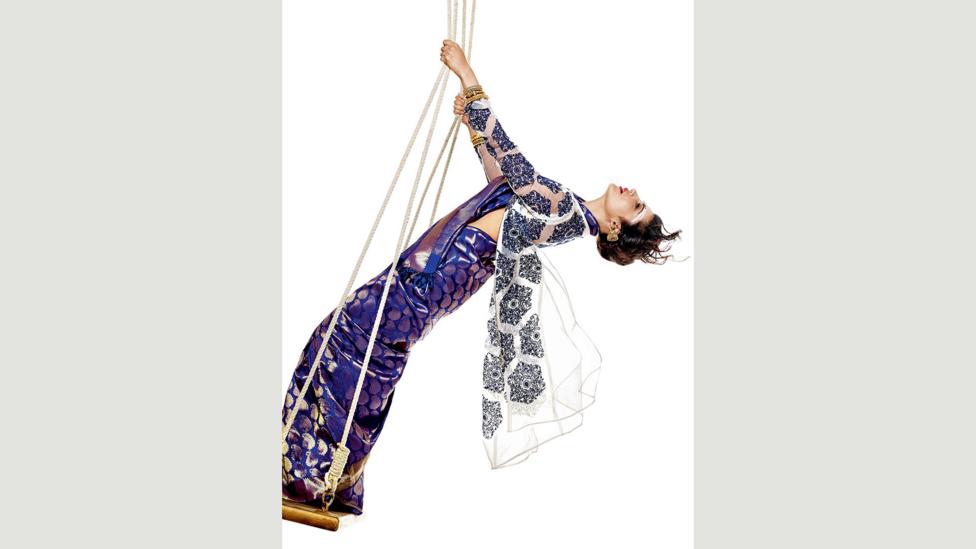 Actress Shruti wears an ivory organza hand-embroidered jacket by Rahul Mishra, whose designs express themes of sustainability (Credit: Fashion India/Thames and Hudson)
Whilst bridal wear dominates the business of Indian fashion, new generations of designers are producing innovative designs. Many grapple with the question of maximalism versus minimalism as an essential part of Indian culture. Some are reinventing traditional embroidery and appliqué skills in garments free from Bollywood bling, yet retaining the quintessentially Indian high embellishment aesthetic, using traditional craft skills.
Fabric of society
Rahul Mishra won the prestigious International Woolmark prize in 2014, and has showed at Paris fashion week for the past three seasons. His sophisticated designs express themes of sustainability and livelihoods through intricate tessellated embroideries by artisans in rural Bengal. Of his most recent Paris collection Mishra says: "The idea was to focus on the age old artistry and techniques and to create a completely modern look, a look with a touch of surprise and newness."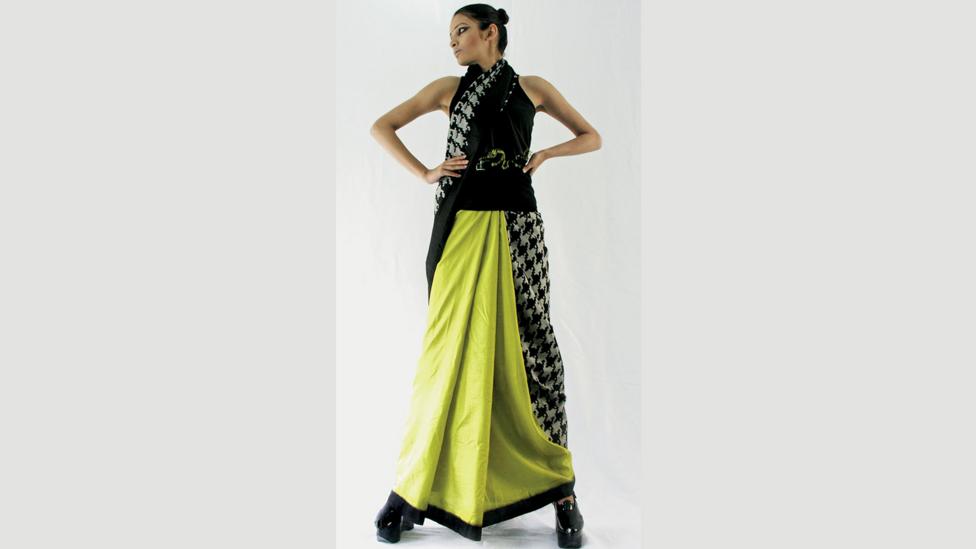 Abraham Thakore are part of a group of designers who apply traditional craft techniques as an alternative to 'bling' (Credit: Fashion India/Thames and Hudson)
Mishra is an alumnus of The National Institute of Design, renowned for a curriculum that places Gandhian ideals of social good at the heart of design. Although fashion is often perceived as a frivolous indulgence, especially in a country where poverty levels are still high, many designers see themselves as part of the solution through design-led textile development.
Fashion is often perceived as a frivolous indulgence in a country where poverty levels are still high
Textiles have long played a part in defining cultural and national identity. Mahatma Gandhi believed hand spinning and weaving of khadi was essential to India's economic development and freedom from colonial domination, developing this belief into the political movement of Swadeshi. A notable group of designers work within the legacy of Gandhian philosophy, placing emphasis on Indian textiles and craft traditions.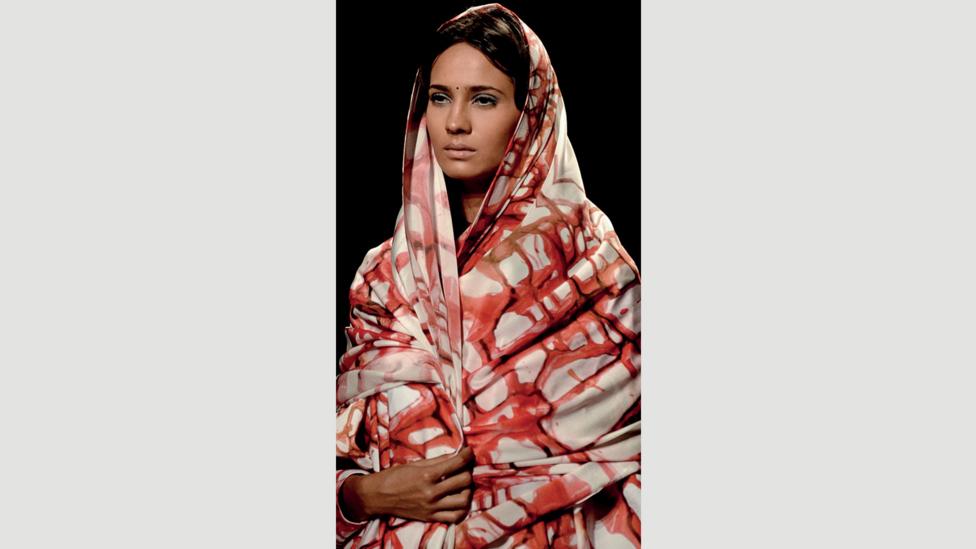 Designers such as Kallol Datta and Arjun Saluja recreate the sari with Japanese design concepts or tailor it in Western traditions (Credit: Fashion India/Thames and Hudson)
Abraham and Thakore are at the forefront of this 'New Swadeshi Movement'. Like many designers working with handloom, their creative vision forms an alternative to Bollywood bling. Their AW/13 collection Shaadi Redux (Wedding Revived) used the rich sheen of handwoven Benares silk to create classic Indian shapes like kurtas and Nehru jackets with traditional motifs replaced by graphic patterns. David Abraham explains: "We wanted to see how we could use the complex hand jacquard techniques of Benares ancient weaving traditions to create a modern linear design language that stayed away from the Orientalist clichés of paisleys, peacocks and lotuses."
"People are re-imagining their Indianness to include our textile heritage" says Parmesh Shanahi. "Moreover whether you're wearing a handwoven kurta with jeans, or a high end couture piece – both are considered cool. Our crafts are lived crafts, and as we begin to re-appreciate this and include them in our daily lives, it will be good for all – for the craftspeople who can have better livelihoods, and also for us, we will be able to fashion our future aesthetics from a place of rootedness."
As part of its India season, London's V&A museum is showcasing Indian textiles in The Fabric of India exhibition. It includes contemporary examples of how traditional textiles are defining the aesthetics of high fashion. In turn, as a repository of exemplary antique Indian textiles, the V&A archives inspire contemporary designers. Rajesh Pratap Singh, known for his well-cut day wear made from khadi, handloom and indigo-dyed denim points to a fine khadi shirt in his studio. "On my visit to the V&A textile archives from the 18th and 19th Century I saw a khadi muslin, flawless and beautiful in its execution," he says. "This gave me the impetus to further innovate on the in-house khadi developments we have been undertaking at our weaving unit in Rajasthan."
A design language of the 'now' requires responsiveness to broader social issues. Some designers are commenting on environmental pollution by turning to Jugaad, a traditional approach to repair and reuse of materials, aligning it with global concepts of up-cycling. Amit Aggarwal's avant garde, sculptural, intricately constructed clothing, incorporates recycled materials elevating them to conceptual high fashion. For AIFW SS/16 waste polythene bags were interwoven with 'gamcha', coarse, handwoven towels commonly used across India. "I've enjoyed working with materials that are a byproduct of industrialisation and mixing these with traditional crafts," Aggarwal explains. "I am fusing contrasting identities to create a special language of clothing."
This is evident in the reinvention of the sari, that most traditional of Indian garments. Designers like Kallol Datta and Arjun Saluja recreate the sari with Japanese design concepts of deconstruction, or tailor it in Western traditions of cut and construction. "They express their Indianness in non-obvious ways," Parmesh Shahani says. "Kallol often references his very strong Bengal connection, it might appear in the bright red of a sari border for example."
Informed by a rich craft heritage and a culturally diverse population, Indian fashion today is more than a sum of its parts. Its designers blend a vast array of influences, in the process forging a design language as surprising and intriguing as India itself.
Phyllida Jay is the author of Fashion India, published by Thames & Hudson.
If you would like to comment on this story or anything else you have seen on BBC Culture, head over to our Facebook page or message us on Twitter.