At one time the animation mogul's films veered toward radical, experimental art. These works still appealed to children even if they also went over their heads, writes Leonard Maltin.
F
Futurist, surrealist, abstract artist: those are not customary descriptions of Walt Disney, yet they all fit. People who insist on pigeonholing him as a purveyor of bland family entertainment haven't bothered to watch his movies closely, especially his work in the 1940s. Fantasia alone should silence nay-sayers who only see Disney as a commercial populist; 75 years after its debut on 13 November 1940, it remains one of the most astonishing films ever to come from Hollywood.
Young viewers insisted that the men who made it must have been stoned
When it was reissued in 1969, with a psychedelic poster, Fantasia was embraced as a 'head movie' by the counter-culture. Young viewers who discovered it in that theatrical release insisted that the men who made it must have been stoned. Animator Art Babbitt, who brought the dancing mushrooms to life in the Nutcracker Suite segment, remarked, "I myself was addicted to Ex-Lax and Feenamint" – an over-the-counter constipation relief and a brand of chewing gum. Hard work, not hallucinogens, produced this mind-bending film.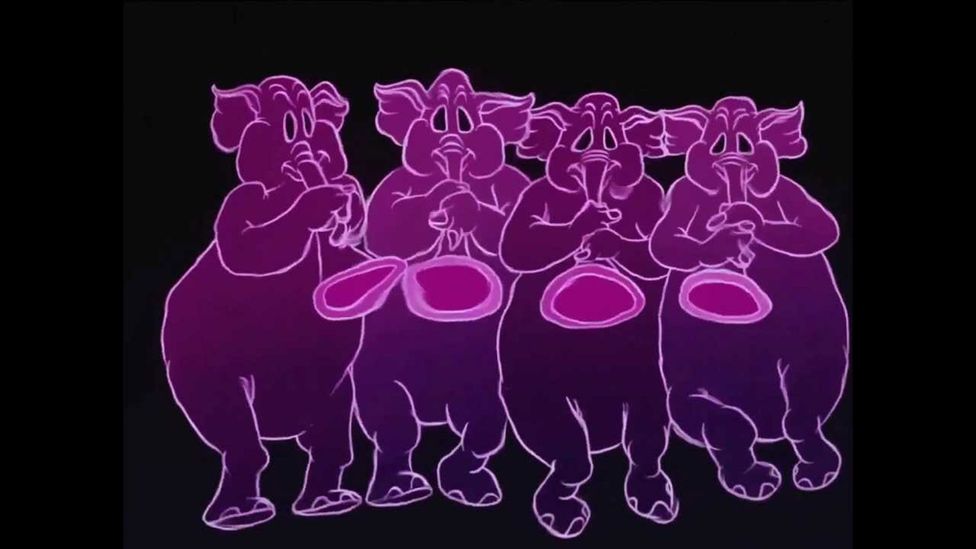 Dumbo's pink elephants sequence shows how surreal and abstract touches made it into even Disney's more family-friendly films in the '40s (Credit: Walt Disney Productions)
For the opening sequence, which visualised the sounds of the orchestra in abstract form, Disney hired one of the greatest graphic artists of his time, Oskar Fischinger, who had been labelled 'degenerate' by the Nazis and had made a series of wildly experimental animated shorts. Ultimately, Fischinger was too much of an individualist to fit into the Disney environment, but many of his ideas were used in the Toccata and Fugue sequence, which paired completely abstract visuals with Bach's music. Mainstream American audiences had never seen anything like it before.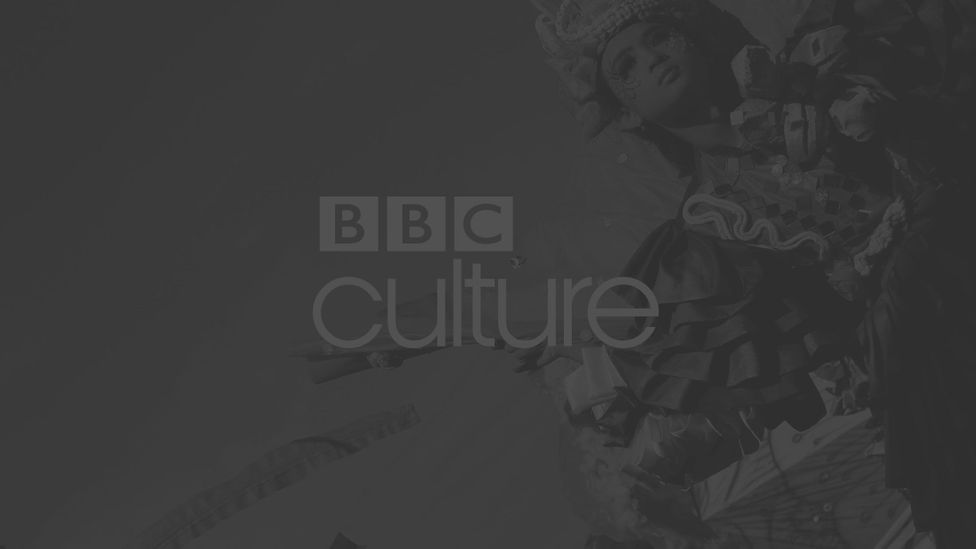 This video is no longer available
Classical music purists weren't happy with some of Disney's ideas in 1940, upset that great compositions like Beethoven's Pastoral Symphony and Mussorgsky's Night on Bald Mountain were given narrative illustrations. But the sheer burst of imagination and remarkable execution that can be seen in sequences like those set to Stravinsky's Rite of Spring, which shows the beginning of life on Earth and culminates with an astounding depiction of dinosaurs, and Ponchielli's Dance of the Hours, in which hippos, alligators and ostriches perform a ballet, is staggering.
Not content just to gamble that middlebrow audiences would come to see a movie filled with highbrow music, Walt insisted that Fantasia be presented in stereophonic sound – another first. As it happened, his Fantasound audio system was only installed in a handful of cinemas, but it was yet another case of Disney being in the vanguard of cinematic technology. 
Bold colours
Fantasia wasn't Walt Disney's first foray into the realm of the avant-garde. When he enjoyed his first great success in the 1930s he was cheered by everyone from Sergei Eisenstein – who considered Disney a close personal friend and said, "The epos of Chaplin is the Paradise Lost of cinema; the epos of Disney is the Paradise Regained" – to Salvador Dalí. Critics sang his praises and audiences responded in kind. Mickey Mouse became an international icon, and merchandise featuring the happy-go-lucky character flooded the marketplace.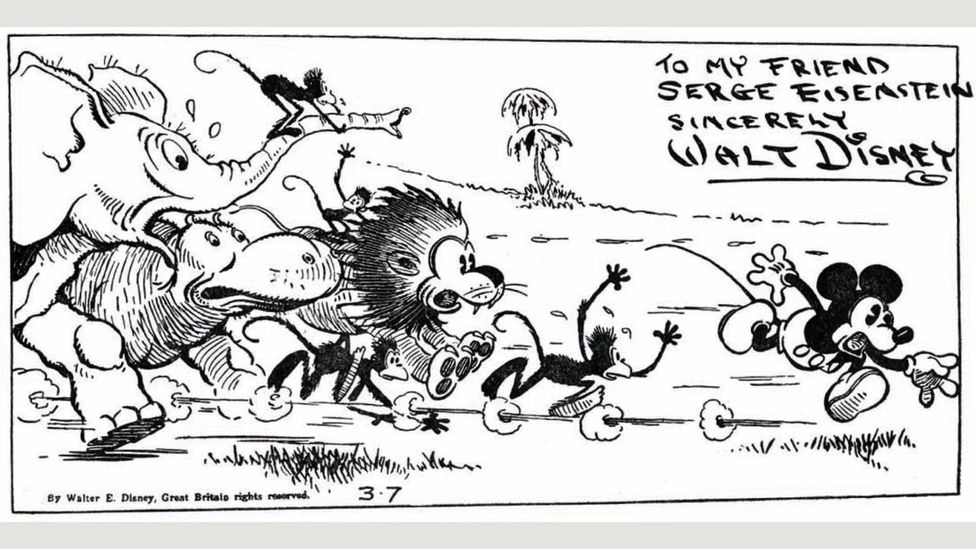 Walt Disney was friends with Soviet director Sergei Eisenstein, who employed a Disney-style colour scheme in his film Ivan the Terrible Part II (Credit: Walt Disney Productions)
Success never changed Walt's outlook; he strove to make each new cartoon better than the one that preceded it. Every producer in Hollywood turned down the opportunity to use the new Technicolor process in 1932, but Walt was willing to take a flyer – despite the fact that it would cost more to produce his shorts and wouldn't earn him an extra dime. The Silly Symphony cartoon Flowers and Trees had already gone into production in black and white, but Walt saw an irresistible opportunity to do something exciting and new. Glowing with rainbow hues, Flowers and Trees made such an impression that the Academy of Motion Picture Arts and Sciences inaugurated an award for best animated short subject just to honour Disney's achievement.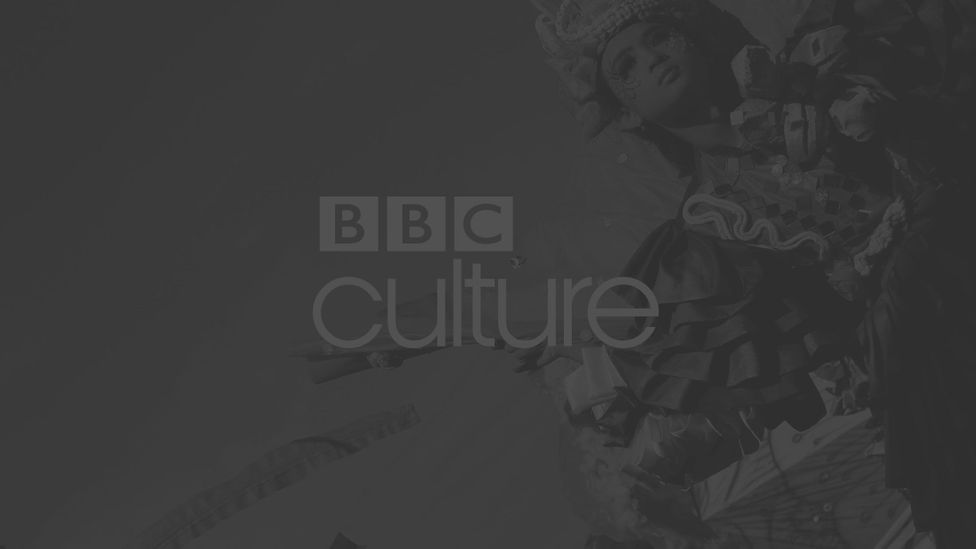 This video is no longer available
What's more, Walt and his artists understood that making literal use of colour wasn't the point: they were making cartoons, not reproducing live action. When the Big Bad Wolf tried to blow down the house made of brick in Three Little Pigs he turned blue in the face. A kiss was the cue for any character to blush bright red. And a story like The Flying Mouse could take place over the course of a single day, beginning in a sun-filled morning and turning subtly darker as the story becomes more intense. At the end, as night falls, the little hero races home to his mother, who is waiting for him in the warm light of their doorway. Simple as it may seem today, psychological use of the colour palette  did a great deal to enhance the emotional impact of these cartoons.
Unlike today's sequel-crazed studios, Walt wasn't interested in repeating himself
Disney kept pushing his artists to sharpen their skills, initiating art classes and seminars as he prepared to make his first full-length picture. Industry pundits predicted that no one would sit still for a cartoon feature. Snow White and the Seven Dwarfs proved otherwise and blazed the trail for the industry. A joyous film filled with indelible songs, it also had heart. When Disney's animators saw moviegoers shed tears at the climax, as a distraught Grumpy breaks down at the sight of Snow White on her funeral bier, they knew they had accomplished something truly extraordinary.
Here again, Walt defied conventional thinking. Audiences clamoured to see more of Dopey, Doc, and the other lovable characters from his hit movie, but unlike today's sequel-crazed studios, Walt wasn't interested in repeating himself. Instead, he embarked on a wildly ambitious project that was almost destined to lose money.
Dumbo and Dalí
Fantasia came about because of a dinner Disney had with the great conductor Leopold Stokowski. The maestro suggested a collaboration in which Mickey Mouse would bring to life a piece of classical music, to be recorded by Stokowski and the Philadelphia Orchestra: Dukas' The Sorcerer's Apprentice. The idea gradually mushroomed into an even more elaborate project initially called The Concert Feature.

Even though Fantasia met with a mixed reaction and failed to earn its money back in 1940, the idea of marrying music and imagery lingered with Walt through the rest of that decade. Most of the pieces in his omnibus features Make Mine Music (1946) and Melody Time (1948) were popular tunes, but the artists' approach to many segments was as innovative as anything in Fantasia. The Benny Goodman Quartet's lively rendition of After You've Gone in Make Mine Music is illustrated by a playful series of interactions among an anthropomorphised clarinet, bass fiddle, piano and drum kit. Bumble Boogie from Melody Time is even more abstract and inventive, as a bee is pursued through a surreal musical landscape, chased by piano hammers and such, to the strains of a jazzy riff on Rimsky-Korsakov's of Flight of the Bumblebee.
A surreal sensibility also found its way into the sweetest of all Disney features, Dumbo (1941), in the eye-popping Pink Elephants on Parade. I have shown this sequence to young audiences on many occasions and enjoyed watching their open-mouthed reaction. Nothing in Disney's canon could prepare anyone for this phantasmagoria of crazy visuals, inspired by the innocent Dumbo's accidental drunkenness.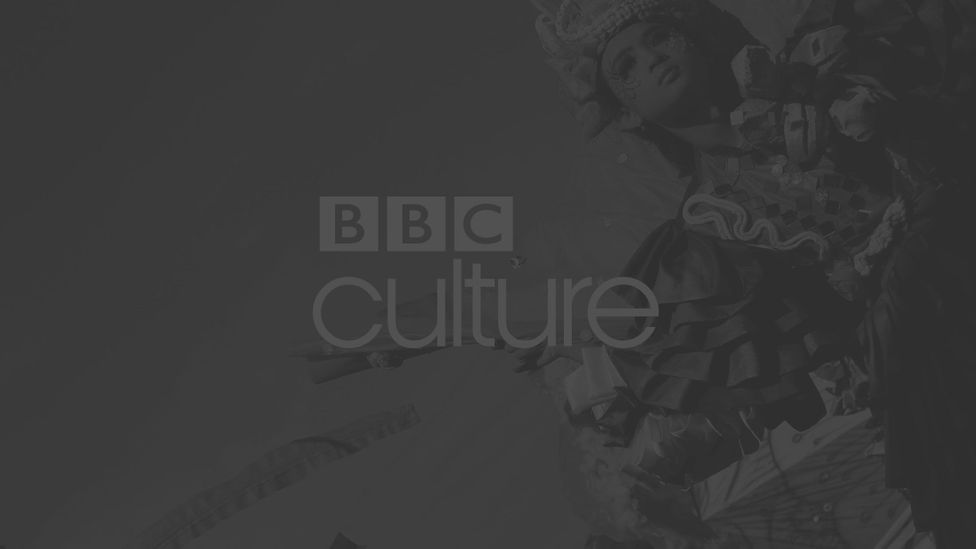 This video is no longer available
There is a similar anything-goes spirit in The Three Caballeros (1945), a tribute to Central and South America generated by the United States' Good Neighbor Policy during World War Two. Animator Ward Kimball, a mainstay of the studio for decades, said he was proudest of the work he did in the title number featuring Donald Duck, José Carioca, and Panchito the rooster. It's a fast-paced piece of vaudeville sparked by wild, non-sequitur gags and ideas that – once again – one wouldn't associate with Disney.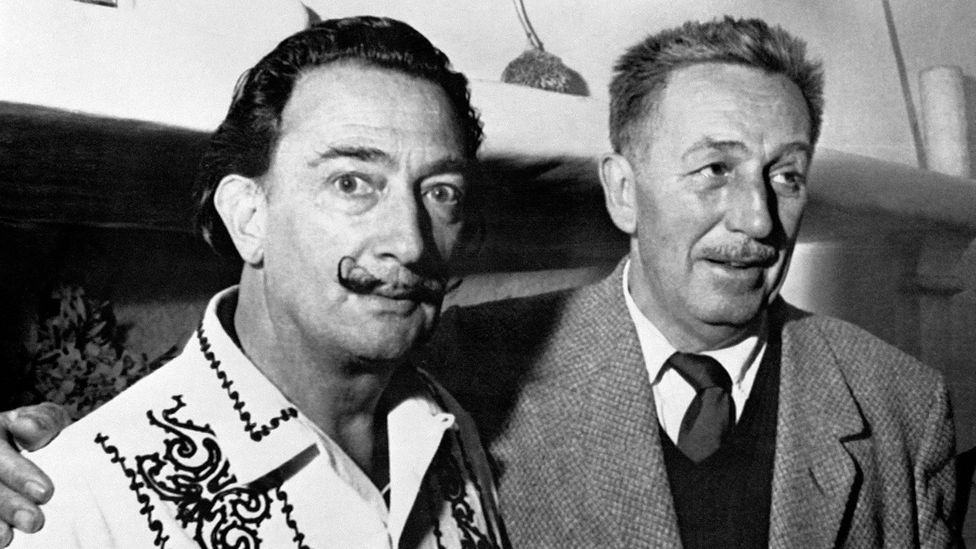 Salvador Dalí worked with Disney on a short film called Destino in 1945 – they remained friends for years even though the film wasn't released until 2003 (Credit: AFP/GettyImages)
What might have been the ultimate Disney experiment didn't come to fruition for half a century. In the mid-1940s, Salvador Dalí came to the studio to work on a short-subject called Destino and produced a fair amount of conceptual artwork for it. He left before its completion, although he and Walt remained friendly. Almost 50 years later, Walt's nephew Roy E Disney resuscitated the project, with the help of nonagenarian artist John Hench, who had worked alongside Dalí, and created a striking short that was nominated for an Academy Award.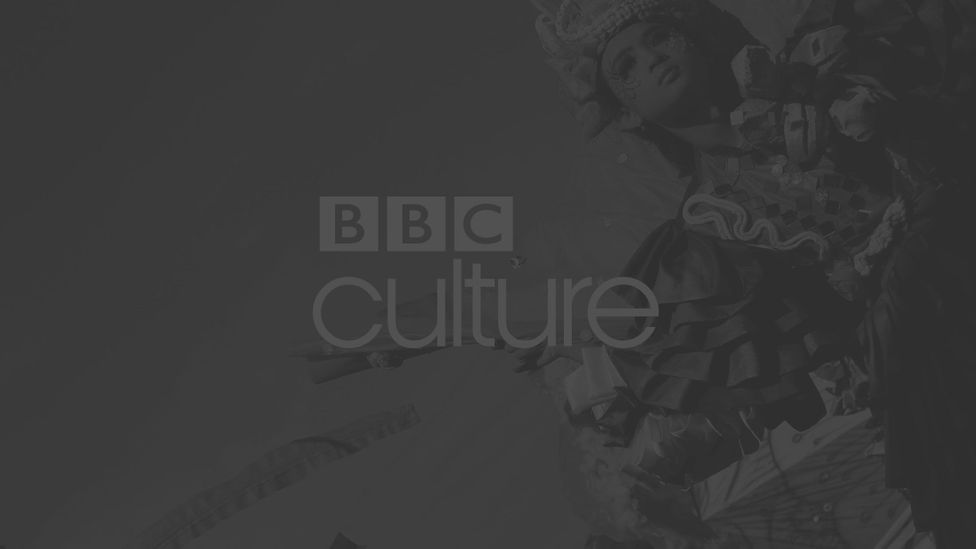 This video is no longer available
With the great success of Cinderella in 1950, Disney recognised what audiences truly expected of him – family-friendly fun over mad flights of innovation. He embarked on a series of live-action films and devoted himself to the creation of Disneyland and the tie-in TV series that was designed to promote it. Creativity remained a hallmark of the animated features and shorts that came from his studio, but the bold era of experimentation was over.
The failure of Fantasia would remain a sore spot with Disney for the rest of his life. "Fantasia merely makes our other pictures look immature and suggests for the first time what the future of this medium may well turn out to be," he said in a speech in 1940. "What I see way off there is too nebulous to describe. But it looks big and glittering. That's what I like about this business, the certainty that there is something bigger and more exciting just around the bend; and the uncertainty of everything else."
Leonard Maltin is a film critic and historian whose books include The Disney Films and Of Mice and Magic: A History of American Animated Cartoons. He hosts the Maltin on Movies podcast, and holds court at leonardmaltin.com.
If you would like to comment on this story or anything else you have seen on BBC Culture, head over to our Facebook page or message us on Twitter.