Critics thought the Western was Hollywood's biggest disaster ever when released in 1980. But some today think it's a masterpiece – and incredibly relevant – writes Nicholas Barber.
T
Two-and-a-half hours into Michael Cimino's epic Western, Heaven's Gate, a band of townsfolk bustles into a hotel room to wake up a dead-drunk federal marshal (Kris Kristofferson). The marshal is so shocked that he kicks one of his visitors away, and then drives the others back with the crack of a bull-whip. It's a short, simple sequence – and Cimino filmed it 52 times. "That's all we shot that day," groans Sandra Jordan, the key costumer, in a documentary about the production. "And it went on and on and on and on."
Heaven's Gate has been a synonym for Hollywood folly
It is thanks to Cimino's perfectionism that Heaven's Gate is now feted as a masterpiece. There are five-star reviews all over the DVD box, and the film was ranked at number 98 in BBC Culture's poll of the 100 greatest American films. But the director's painstaking methods also explain why the film went four times over budget and a year behind schedule. When it finally premiered, 35 years ago, its soundtrack could barely be heard over gossip about Cimino's self-indulgence and the studio's impatience. The critics pronounced it an "unqualified disaster", and the viewing public agreed. Ever since, Heaven's Gate has been a synonym for Hollywood folly.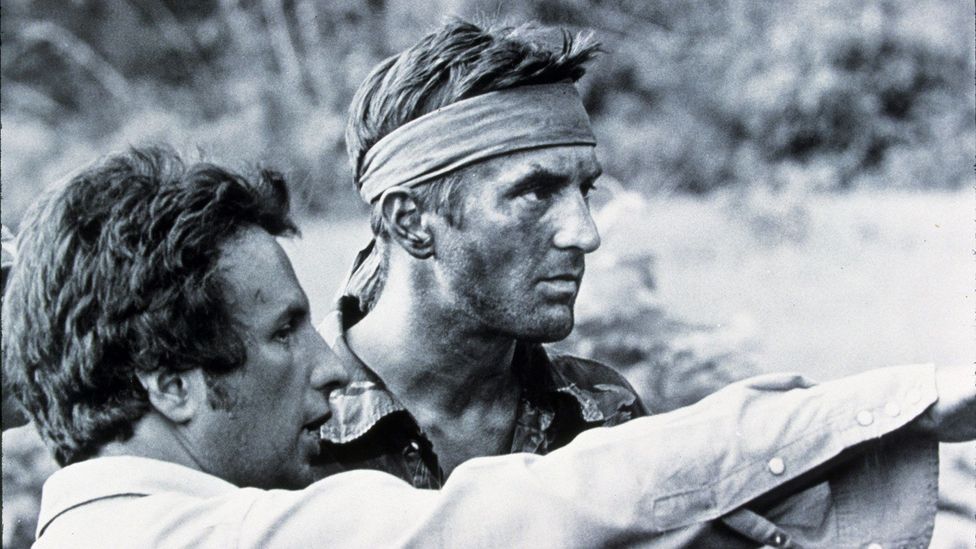 Michael Cimino's previous film, The Deer Hunter, won best picture at the Academy Awards in 1979 and he was thought to be a major rising star (Credit: Rex Features)
It had all started so promisingly. Cimino had been an advertising whizz-kid who moved into film with the Clint Eastwood/Jeff Bridges crime caper, Thunderbolt & Lightfoot, in 1974. His follow-up was an elegiac Vietnam drama, The Deer Hunter, a critical smash that went on to win five Oscars, including best picture, in 1979.
Any studio would have been keen to finance his third film, but none was keener than United Artists: its top executives had just walked out over a disagreement with UA's parent company, Transamerica, so their replacements were desperate to be associated with a prestigious hit. One of those replacements was Stephen Bach. "Heaven's Gate was to be the proud centerpiece of the new administration's slate of pictures," he wrote in his book about the debacle, Final Cut. "Our Lawrence of Arabia, our Doctor Zhivago, set in the American West."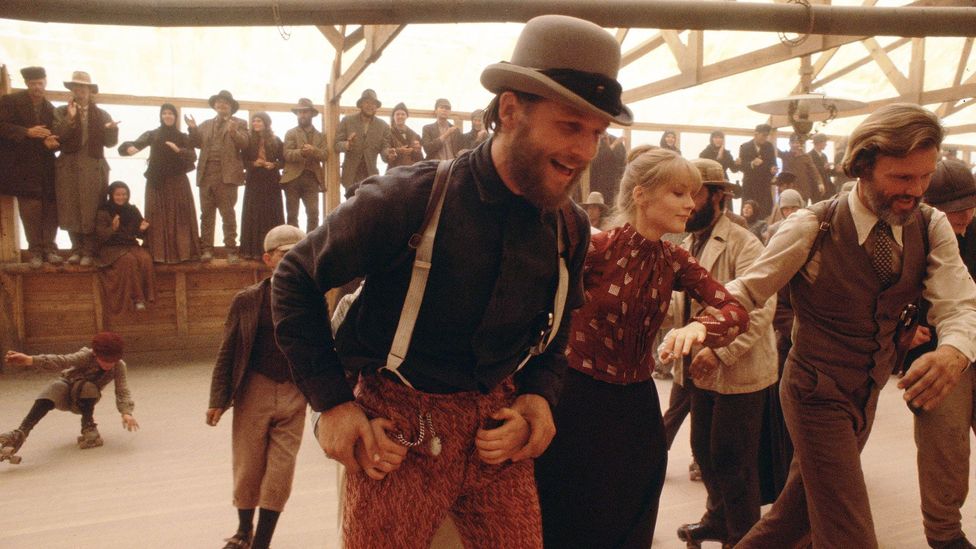 Heaven's Gate is remarkably timely for 2015, with its depiction of refugees seeking a new life and the anti-immigrant sentiment that they face (Credit: United Artists)
The film's subject was the Johnson County War of 1889-1893, a conflict between Wyoming's biggest cattle ranchers and the immigrant homesteaders who challenged their monopoly. In Cimino's version of events, the cigar-puffing patricians of the Stockgrowers' Association compile "a death list" of 125 Central and Eastern Europeans they have classed as cattle rustlers, and they recruit a small army of mercenaries to wipe them out.
But Cimino wasn't just planning a series of shoot-outs. Heaven's Gate was to be a work of art: a monumental American saga encompassing roller-skating and baseball, a graduation waltz at Harvard, and a steamboat puffing through Newport. At its heart would be a tragic love triangle between Kristofferson's noble marshal, the Association's ruthless sharp-shooter (Christopher Walken), and the bordello madam they both adore. 
The men are so much more attractive that the audience will wonder why they're having sex with her instead of each other – Stephen Bach
But who could play the madam? When the role was turned down by the era's leading female stars, Jane Fonda and Diane Keaton, Cimino chose Isabelle Huppert, never mind that few people in America had heard of the French starlet. Bach and his fellow UA executive, David Field, were dismayed, but they struck a deal with their director. They would fly to Paris and meet Huppert, and if she impressed them, she could have the role. She didn't.
In Final Cut, Bach says that Huppert was "too young... too French... too contemporary... too uncertain in her reading. She was simply wrong." When Cimino dug in his heels, Bach raised one last ungentlemanly objection: "For Christ's sake, Michael. Kristofferson and Walken are so much more attractive than she is that the audience will spend the entire film wondering why they're [having sex with] her instead of each other!" But Cimino stuck to his guns and Bach and Field surrendered theirs. Production hadn't even started, but everyone knew where they stood. Bach and Field had learnt that they couldn't trust Cimino, and Cimino had learnt that he could get his own way.
Into the wild
Worse still, as far as the studio was concerned, was that the film was to be shot far from Hollywood, on location in Wyoming, and the only producer there to keep an eye on Cimino was his close friend, Joann Carelli. She wasn't about to ask him to cut any corners. And so, Cimino set about making what is still the most gloriously scenic and meticulously detailed Western ever seen. Every ingredient had to be impeccable, even if that meant building a Wild West town, piling the roads with thousands of tonnes of earth, transporting a vintage steam train from a museum in Montana at a cost of $150,000, and signing up 1200 extras, all of whom were dressed in authentic period costumes, and many of whom were sent to a daily "Cimino Camp" where they were taught everything from horse-riding and shooting to rollerskating and cock-fighting. One day, a crowd of those extras sat around for hours while Cimino waited for the light to change, and when an Assistant Director suggested, mid-afternoon, that it might be time for a lunchbreak, Cimino snapped, "Lunch? This is bigger than lunch!" The cast and crew nicknamed him "Ayatollah Cimino".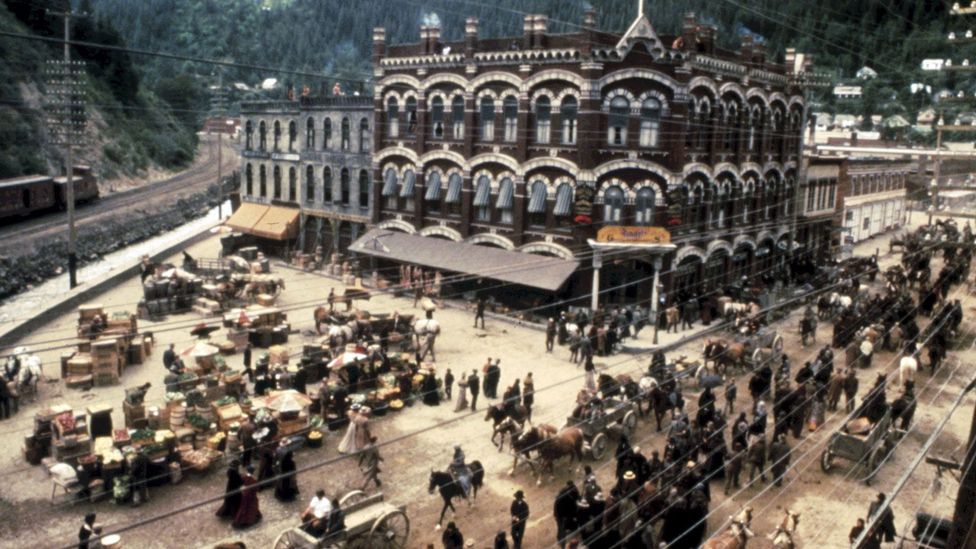 The movie's final production costs were nearly six times what had been originally budgeted (Credit: Rex Features)
Six days into filming, he was five days behind schedule, and had spent $900,000 on a minute-and-a-half of usable footage. Two weeks into filming, the studio calculated that, at the rate he was going, Heaven's Gate was going to cost them £1m per minute of running time. Something had to be done. But when another UA executive, Derek Kavanagh, was dispatched to Wyoming to rewrite Cimino's schedule, the director responded by dictating and posting a memo: "Derek Kavanagh is not to come to the location set. He is not to enter the editing room. He is not to speak to me at all." The budget grew from a proposed $7.5m to an agreed $11.6m to a total of $44m.
Even in a real battle you don't do it over and over again – Jeff Bridges
Some of the tales of Heaven's Gate are hair-raising. In a making-of documentary, Jeff Bridges, who played a local entrepreneur, recalls that when it was time to film the climactic battle scenes, the actors would be woken at 3:30am, and driven for three hours along dirt roads to the site. Once there, it was mostly actors, rather than stunt-riders, who had to race their horses full-pelt through clouds of dust, guns blazing. Bridges was terrified by the lack of safety precautions. "Even in a real battle," he comments, "you don't do it over and over again."
Most of the on-set folklore, however, isn't about a lunatic taking dangerous risks, but about an artist labouring to make the best film possible. "From someone on the outside it would look like it was almost too much," says Bridges, "but it never appeared that way to me. It was like, oh, this guy really cares." 
Kristofferson says the same thing. "I bet Michelangelo cared. I bet Picasso cared. Anybody who believes in his artistic vision – I bet they care. I probably didn't care that much! But I was glad to be working with somebody who did!"
You might suspect Mr Cimino sold his soul to the Devil to obtain The Deer Hunter, and the Devil has just come around to collect – The New York Times
The critics didn't see it that way. When production eventually wrapped, Cimino set about editing over a million feet of footage down to the two-to-three-hour film which his contract specified. Locking himself into the cutting room, and working for days without sleep, he finished the job just in time for the New York premiere on 18 November 1980. But the film was nearly four hours long – and the premiere felt longer.
Bridges remembers the audience's befuddled silence. "After all that work," he grimaces. "Ugh, it was terrible." And there was worse to come. The reviews in the next morning's newspapers condemned the film as a pretentious, obscure, meandering, extravagant fiasco. Vincent Canby sounded its death knell in The New York Times. "Heaven's Gate fails so completely," he wrote, "that you might suspect Mr Cimino sold his soul to the Devil to obtain the success of The Deer Hunter, and the Devil has just come around to collect."
Compromised position
Wounded and exhausted, Cimino chose precisely the wrong moment to compromise. At his request, UA pulled the film from cinemas so that he could edit it down to a more palatable two-and-a-half hours and re-release it the following spring. It was an honourable plan, but the message it sent was that the New York critics were right to mock Heaven's Gate. The film made a paltry $3.5m at the US box office – and the humiliation continued.
Cimino's reputation plummeted. Transamerica sold off United Artists, effectively killing the studio. And Heaven's Gate was blamed for ending the freewheeling glory days of Hollywood in the 1970s, and for ushering in the corporate blockbusters of the 1980s. A decade later, when reports emerged of Dances With Wolves going over budget, Kevin Costner's Western was nicknamed "Kevin's Gate". Cimino's pride and joy had become a punchline.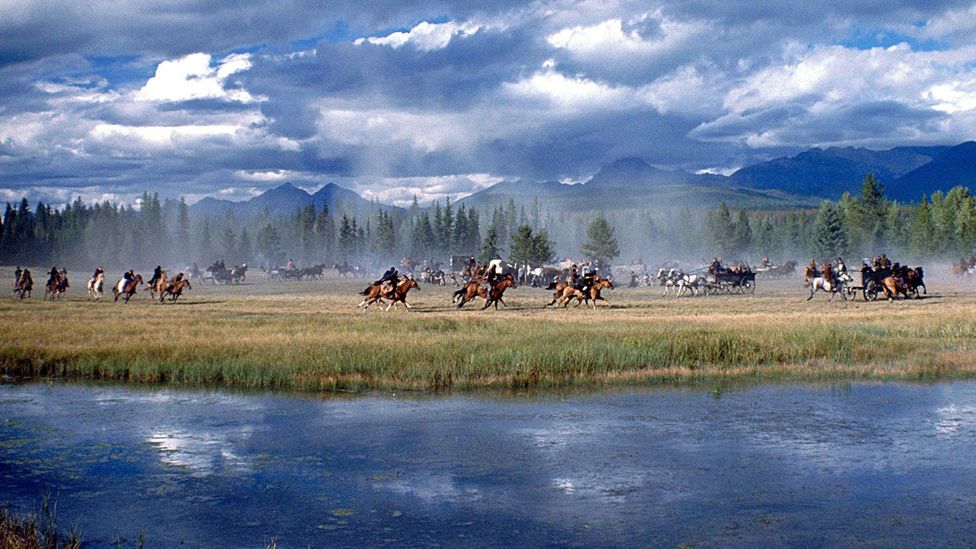 Heaven's Gate was a financial disaster – but Cutthroat Island, The 13th Warrior and John Carter have since lost even more money (Credit: Rex Features)
But he may just have the last laugh. His original cut of Heaven's Gate earnt rapturous reviews when it was shown in Britain in 1982. Thirty years after that, he presented a restored-and-tweaked version at the Venice Film Festival, and its reception was even more euphoric. It was Canby and his fellow critics who looked ridiculous now; Heaven's Gate looked magnificent.
To viewers who binge-watch ten-hour HBO series, Heaven's Gate seems a lot less problematic
It has its flaws, of course. The siege engines in the closing battle smack of Mel Brooks silliness, and the supposed friendship between Kristofferson and Walken's characters isn't established. But so much of Heaven's Gate is patently splendid that it is mind-boggling that anyone could pronounce it an "unqualified disaster". And the scenes which were slammed in 1980 as being symptomatic of waste and excess – the Harvard waltz, the massed rollerskating – are the scenes which take your breath away.
Perhaps Cimino was ahead of his time. To viewers who binge-watch 10-hour HBO series, Heaven's Gate seems a lot less problematic than it must have done to viewers hoping for a rootin' tootin' Western in 1980. The film's political concerns seem uncannily contemporary, too. To see the lines of immigrants, trudging across the plains, their possessions stuffed into suitcases and wagons, is to be reminded of photographs of Syrian refugees. And to hear the Stockgrowers denouncing these immigrants as "thieves and anarchists... an ignorant, degraded gang of paupers" is to imagine a screenwriter parodying some of Donald Trump's more divisive remarks.  
However unwelcome Heaven's Gate may have been in 1980, there hasn't been a more urgently topical film in 2015.
If you would like to comment on this story or anything else you have seen on BBC Culture, head over to our Facebook page or message us on Twitter.