George Eliot's sprawling tale of provincial life has triumphed in BBC Culture's poll of the greatest British novels as voted by the rest of the world. Michael Gorra explains why.
O
O, let me count the reasons! And I'll begin with a character who makes me think this long book isn't nearly long enough: Mrs Cadwallader, the chisel-tongued wife of the Rector of Tipton and Freshitt. Her name, both stately and comic; her oddly unpretentious hauteur; her common sense judgments of the book's other characters, which are yet so often beside the point.
I treasure every word she says, and sometimes can't forgive George Eliot for not having written a hundred pages in her voice. But then there isn't a minor character in this densely-peopled novel whom I don't want more of, whether it's the bitter Tory lawyer Frank Hawley, the orotund auctioneer Borthrup Trumbull, or the utterly loyal lady's-maid Tantripp.
If you really read this novel, you will find out about yourself
Then there is Middlemarch's thick description of communal life – the country town, the surrounding villages – and its many-stranded narrative; the most intricately knotted plot of a century that specialised in them.
George Eliot writes that anyone watching "the stealthy convergence of human lots" will see a "slow preparation of effects," as one person's actions begin to tell upon another's. And that slow preparation is in a way the novel itself, as it binds four seemingly separate stories into one. At first these tales barely touch, but the deeper one goes the more they begin to merge, the harder it is to tell just whose event it is. At the end a stray bit of paper will pull everything together, subject and form indissoluble.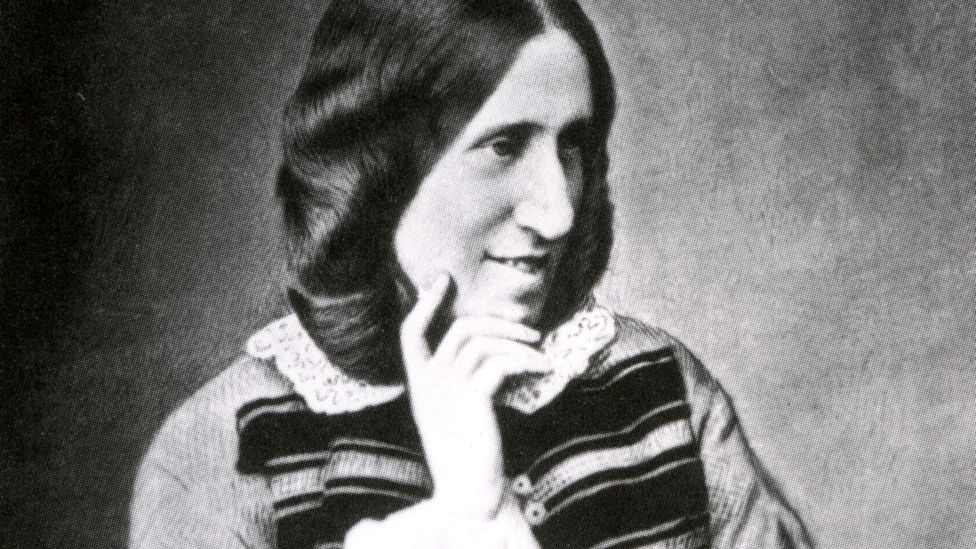 Mary Ann Evans, who wrote under the pen name George Eliot, was born in Nuneaton, Warwickshire in 1819 (Credit: Pictorial Press Ltd/Alamy Stock Photo)
Still, many great novels do that. This one has something more. It has George Eliot, it has a narrator whose voice and presence are as memorable as that of any character in English literature. Her pronouns pull the reader into the narrative, dispensing wisdom, and as often as not suggesting that our first reactions are shallow. If you really read this novel, you will learn about yourself; if you listen to her, if you let her sentences penetrate, you will find out things about yourself that you didn't and maybe don't even want to know. Each page is a lesson in how to be honest with yourself.
Strength of character
Middlemarch has at least three characters whose names have become bywords, starting with its great heroine, Dorothea Brooke; the others are the young doctor, Tertius Lydgate, and Dorothea's first husband, the pedant Edward Casaubon. They are as much a part of any reader's mind as Jane Eyre or Jay Gatsby, and in an age when many novels still found their subject in courtship, George Eliot used them to look at marriage instead. Her protagonists wed early in the page-count – and then she lets us watch as their lives begin to fray. We compare one marriage, one person, to another, and another, and learn this disconcerting truth: bad people, like the banker Nicholas Bulstrode, can make good husbands.
Middlemarch shows us the contours and indeed the very language of the characters' inner lives
The most important of those comparisons is that between Dorothea and Lydgate's beautiful blonde wife, Rosamond. They meet only three times, but the novel revolves around them, and its climax requires an act of extraordinary generosity on Dorothea's part toward the woman who has become her rival.  But it requires her to make an imaginative leap.
Several hundred pages before, George Eliot had started a chapter like this:  "One morning some weeks after her arrival at Lowick, Dorothea—but why always Dorothea?  Was her point of view the only possible one…?" That's easy enough for the novelist to say. For the rest of us it's not so simple, not when we find ourselves embroiled in all the difficult murk of life itself. Dorothea will have to teach herself how to ask the same questions that George Eliot does.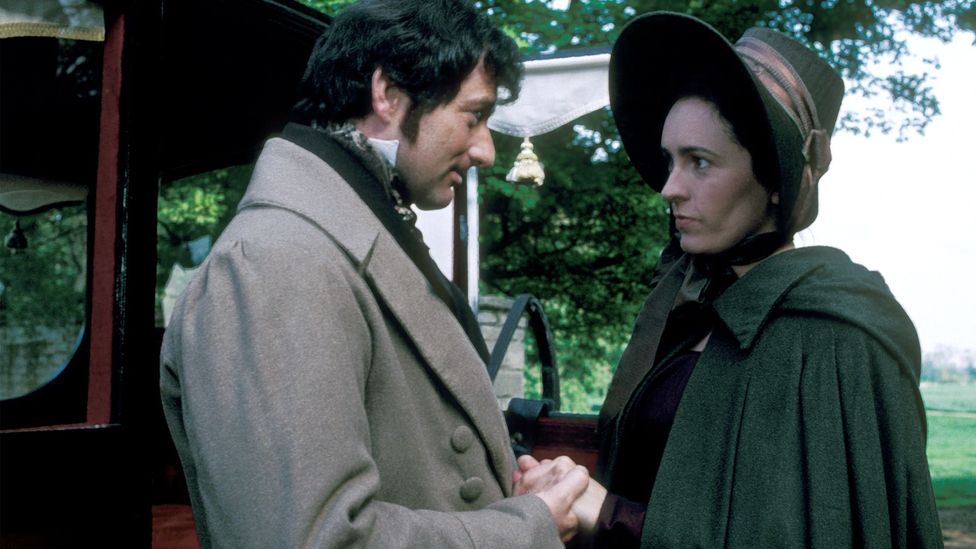 The BBC's seven-part adaptation of Middlemarch from 1994 starred Juliet Aubrey in the role of Dorothea (Credit: BBC)
"Was she alone in that scene? Was it her event only?" She must learn – and we must learn with her – how to take some full account of the sheer otherness of other people, who have all "their equivalent centres of self." That's one of the great lessons Middlemarch offers, and it does so not only through its plot but also by taking us into the minds of its many different characters, by showing us the contours and indeed the very language of their inner lives. Critics call that 'free indirect discourse,' and for most writers it's above all a question of literary technique. Not for George Eliot. For her it's an ethical imperative.
'Flattering illusion'
Some of Middlemarch's best passages offer a kind of user's guide, as if the book itself were telling you how to read it. The greatest is the pier-glass metaphor at the start of Chapter 27. There she suggests that our world is entirely without any kind of intrinsic order. "The flattering illusion" of that order must instead be made; it depends on point of view – a light held to the mirror – and anyone's sense of the world will inevitably leave some things out. So there's no way to capture the sum of things as they are; and the dream of literary realism, the dream on which this novel depends, must remain in the end impossible. George Eliot is every bit as self-conscious as any of her modernist heirs. She is the most sceptical Victorian of them all, forever suspicious of the medium in which she works.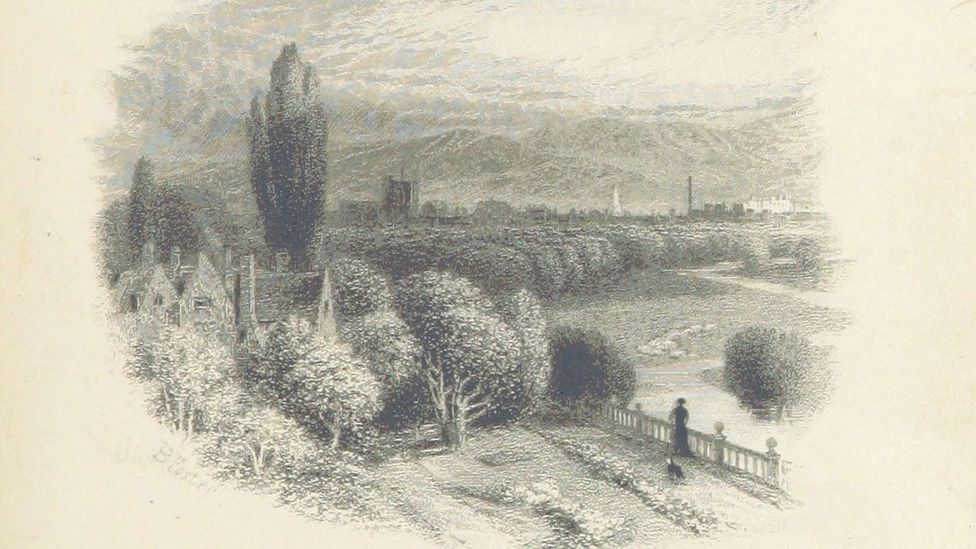 A plate from a first edition of Middlemarch shows an artist's impression of the fictional Midlands town after which the book is named (Credit: WL Taylor/The British Library)
"A serious house on serious earth it is,/ In whose blent air all our compulsions meet,/ Are recognized, and robed as destinies." So Philip Larkin wrote in Church-Going, and it's often been said that our great novels are the cathedrals of the modern world. The novel is the form in which a secular age tries to define and contain all the compulsions of human life; and if I squint I can even see Mrs Cadwallader carved on a capitol about halfway down the nave. No such house looks grander than Middlemarch, and yet its form combines a massive solid structure with the most radical doubts about the very possibility of that structure itself. It is an open-work steeple, its frame so shot through with holes and piercings that it seems but a tissue against the wind. And yet the building stands.
More on BBC Culture's greatest British novels poll:
The 100 greatest British novels – as voted by the rest of the world
Best of the best: The top 25 explained
Why women rule the list
What makes a great British novel?

Michael Gorra is the author of Portrait of a Novel: Henry James and the Making of an American Masterpiece. He is the Mary Augusta Jordan Professor of English at Smith College.