How did Tchaikovsky's ballet become a staple of the festive season? Clemency Burton-Hill goes in search of The Nutcracker's universal appeal.
I
It's as quintessentially Christmassy as mince pies, fir trees and carols. Right now, ballet companies all over the globe are presenting their take on Tchaikovsky's classic ballet The Nutcracker, and families everywhere are planning their annual pilgrimage to see it. And not just balletomanes: for many people, this is the only time in the year they'd even contemplate spending money on going to the ballet, yet a Christmas without The Nutcracker – as one fan told me – "just wouldn't be Christmas!"
The ballet is free of theology, and steers clear of baby Jesus
So how did a work that has nothing to do with the nativity story come to be so synonymous with the season? How, moreover, has a work that was panned at its premiere come to be considered a jewel in the crown of the repertoire of any credible ballet company? And why is it that a German Romantic short story set to music by a Russian composer brought to life on stage by a French choreographer now enjoys such universal appeal?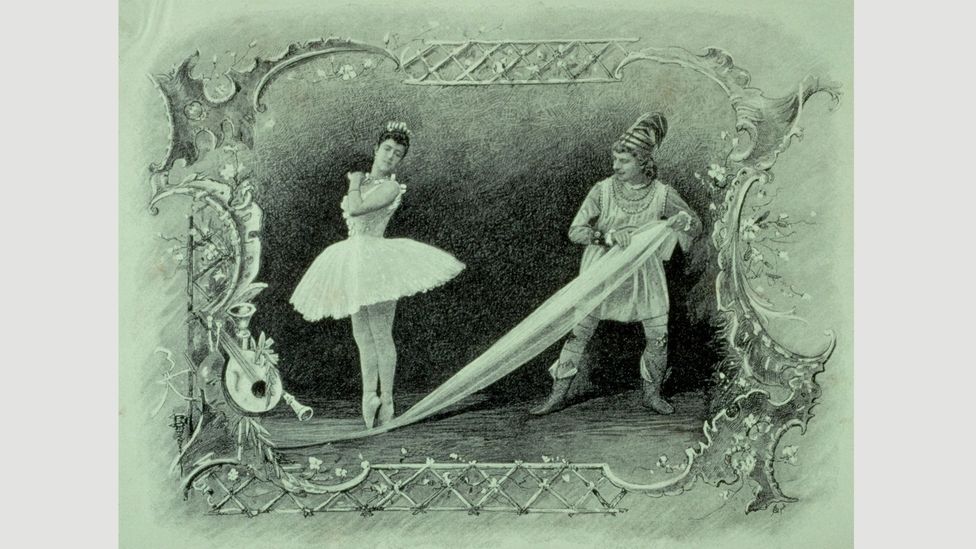 The ballet's original performance at the Mariinsky Theatre in St Petersburg was poorly received by critics (Credit: Corbis/Bojan Brecelj)
ETA. Hoffmann's 1816 tale The Nutcracker and the Mouse King had been adapted by Alexandre Dumas – he of Three Musketeers fame –  in 1844, and it was a ballet based on this version that was commissioned by the director of the Russian Imperial Theatre in 1892, following the huge success of Tchaikovsky's Sleeping Beauty two years previously. Clara, a young girl, creeps downstairs on Christmas Eve to play with her favourite gift, a nutcracker. A mysterious magician, Drosselmeyer, is waiting to whisk her off on a magical adventure. After defeating the villainous Mouse King, Clara and the nutcracker fly on a golden sleigh through the Land of Snow to the Kingdom of Sweets, where the Sugar Plum Fairy serves up a dazzling display of dances, including her own. Back at home in bed, Clara is convinced it must all have been a dream – but doesn't she recognise Drosselmeyer's nephew?
It's the eternal fantasy of Christmas come to life on stage – Isabel McMeekan
The ballet is free of theology, steers clear of baby Jesus and celebrates festivities to which many families, regardless of religious persuasion, can relate at this time of year. Here is a magical world of young children, parents, toys, Christmas trees, snowflakes and candy, all set to Tchaikovsky's "abundant and perfect" score, as the leading ballet critic Alastair Macaulay called it. "It hits such a sweet spot," agrees dancer Isabel McMeekan, founder of Everybody Ballet, which aims to make ballet inclusive and accessible to everyone.  A former first soloist with the Royal Ballet, she has danced in countless Nutcrackers over the years, playing everything from the Sugar Plum Fairy to the Rose Fairy to members of the Arabian and Spanish dance troupes. "It's the eternal fantasy of Christmas come to life on stage. You've got the girl, the guy, the dream, the magic tree that grows to 7 ft, the glittery snowflakes, and some really heavyweight choreography to the most amazing score. What's not to love?"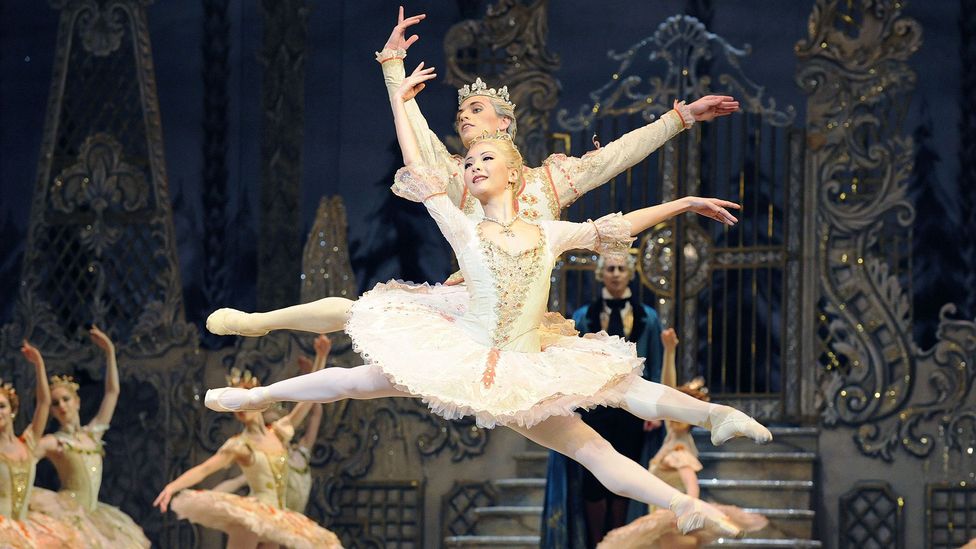 The dance with which The Sugar Plum Fairy welcomes Clara and the Nutcracker to the Land of Sweets is one of Tchaikovsky's most famous pieces (Credit: Rex Features)
Tough nuts to crack
But things weren't always quite so sugary. If you had put this question to the critics at the premiere in St Petersburg, the reply might have been: "everything!" Tchaikovsky, who was famously self-critical and did not have high hopes for its success, must have felt sorely vindicated when the first reviews came out.
"The Nutcracker cannot in any event be called a ballet. It does not satisfy even one of the demands made of a ballet" was one gripe. "For the woman dancer there is very little in it, for art precisely nothing, and for the artistic fate of our ballet  – it is yet one more step downwards" was another. The critics also took umbrage against its plot, or lack of: "nor does it have a story, but rather a series of unconnected scenes, recalling the latest pantomimes which the boulevard theatres flaunt." For one critic this reliance on mere "spectacle" was "an insult". He added: "God grant that similar failed experiments do not happen often."
The Nutcracker is now a ritual in plenty of US cities where snow rarely falls, from Hawaii to Florida
Critics be damned. This year's Royal Ballet Nutcracker, in the iconic production choreographed by Peter Wright was broadcast live on 16 December to around 2,000 cinemas around the world. As its global reach suggests, The Nutcracker speaks to everyone. Particularly Americans. In 1954, the American choreographer George Balanchine made a version for New York City Ballet that remains the ultimate holiday classic Stateside. For all the dancing snowflakes on stage, as Macaulay points out, The Nutcracker is now a ritual in plenty of US cities where snow rarely falls, from Hawaii to Florida. "Over the last 70 years, this ballet – conceived in the Old World – has become an American institution," he wrote while undertaking his 'Nutcracker Marathon' in 2010, "integral to the season of goodwill that runs from Thanksgiving to the New Year."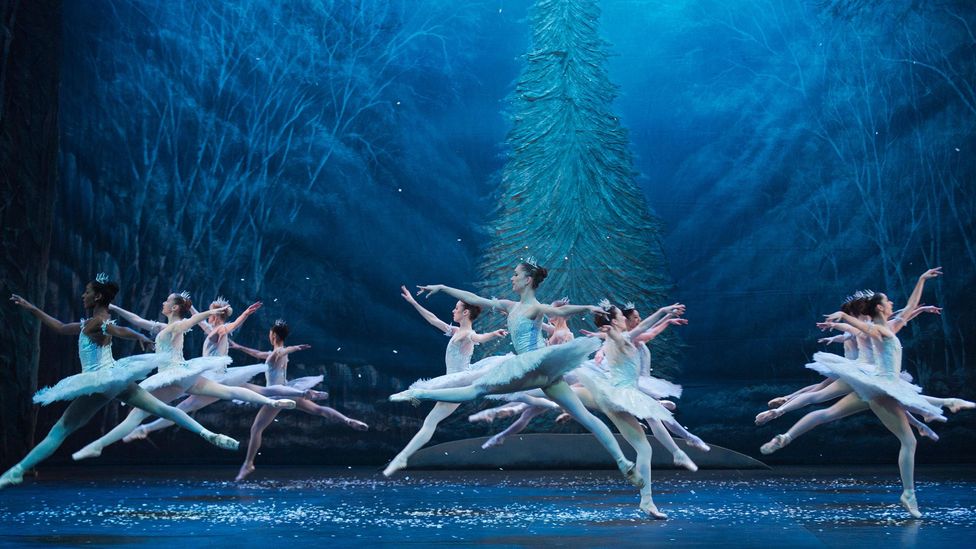 The English National Ballet performs the Waltz of the Snowflakes, one of the most famous scenes from Tchaikovsky's Ballet (Credit: Alamy)
The ticket revenue generated during the season of goodwill is also critical. Dance critic Lauren Gallagher notes that in the case of the San Francisco Ballet, for example, "the show garners about 40% of the company's ticket revenue each year", while Daniel J Wakin points out in the New York Times that "a holiday run of The Nutcracker is generally the financial foundation of an American dance company."
'Something for everyone'
According to German legend, nutcrackers bring good luck and protection to a family and its home
The ballet's enduring appeal provides a further, indirect boost to the economy. One curious by-product of its success is a taste among Americans – who allegedly spend more than $8 billion per year on Christmas decorations – for collecting actual nutcrackers. One of the old German families still making these the traditional way, the Steinbachs, maintain that the ballet "ignited the passion" for these wooden keepsakes which, according to German legend, bring good luck and protection to a family and its home. "The strong following of this classic production," they say, "greatly increased the popularity of collecting nutcrackers in America."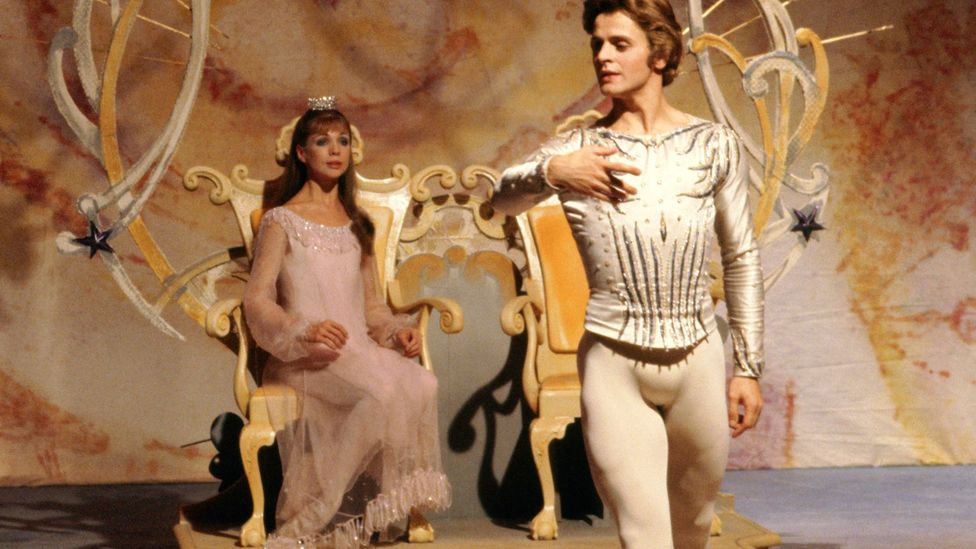 A staging of The Nutcracker from 1977 featuring Mikhail Baryshnikov was a staple of the US broadcaster PBS's Christmas schedule for many years (Credit: Bettmann/Corbis)
"We seem to have a national instinct to collect, particularly when it comes to pop-culture merch", agrees journalist Noreen Malone; that she can imply a classical ballet is "pop-culture" is telling in itself. Commenting on the proliferation of mass-produced nutcrackers, she notes: "The provenance of nutcrackers didn't really matter – if it ever did – for voracious American consumers, who just wanted something that looked vaguely like the guy from the ballet."
"The guy from the ballet", the mystical Nutcracker himself, is of course just one member of a truly magnificent ensemble. The story is populated by visually stunning and balletically enticing characters, and there's something in it for everyone. For this reason, it has a more serious role to play than merely providing frothy, sparkly entertainment at a sentimental time of year. For many young people, going to see The Nutcracker either at a matinée for schools or with family will be their first experience of ballet – perhaps of any live performing art. As Wakin argues, "It is an important introduction to the art form for children, the ticket buyers of the future." The many child dancers who appear in each production are particularly inspirational in this regard: as a child I remember looking longingly at the children dancing the roles of Clara or the mice and wishing I'd practised my pliés a bit more; it instilled in me a love of the form that continues to this day.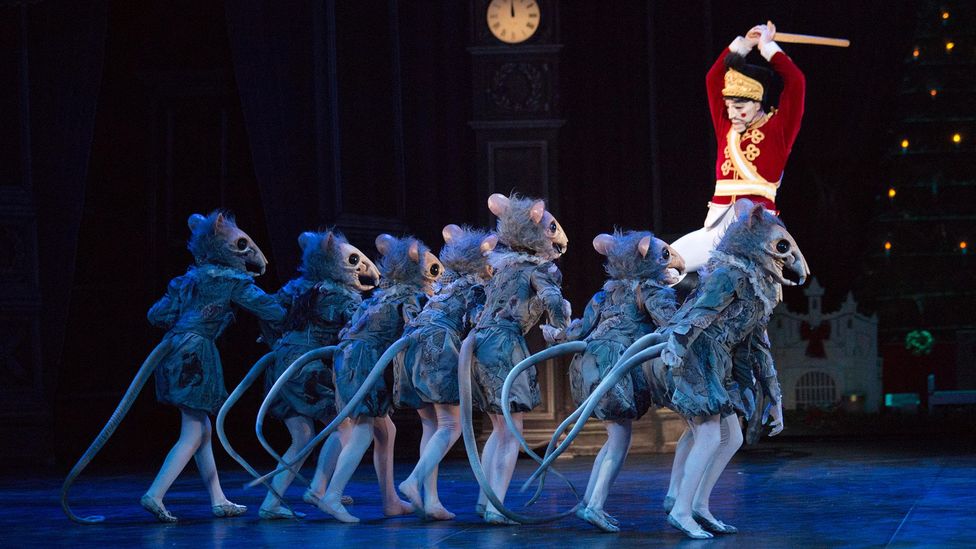 The battle scene from Act One of the ballet sees the Nutcracker take on the Mouse King's army (Credit: Alamy)
McMeekan insists that it's not just little girls that become enchanted. "Yes, you've got the Sugar Plum Fairy who is the epitome of the classical ballerina, but you've also got the mice, who are really cool, and all the character dancers from around the world who offer something completely different and thrilling to watch." And when she describes The Nutcracker as "a ballet for everyone", she is talking about more than just audiences: the dancers themselves tend to love it too. "It's a really feel-good ballet to perform as well as to watch, and that resonates with a company. It's fun when it comes on each year, there's a role for everyone, it's only two hours, so an early finish. And although there are some challenging moments," she admits, "it's not like a Swan Lake: not scary-scary to dance. It really does stand alone, there's no other ballet like it."
If you would like to comment on this story or anything else you have seen on BBC Culture, head over to our Facebook page or message us on Twitter.