A newfound confidence has transformed Scottish identity – and nothing shows that better than the country's art, music and literary scenes.
T
Twenty years ago this summer, Trainspotting, the film adaptation of Irvine Welsh's novel about heroin users in 1980s Edinburgh, was released. One particular soliloquy by Ewan McGregor's character Mark Renton seemed to take the pulse of that nation.
"It's shite being Scottish," Renton insisted, even as he spoke against the idyllic setting of the Scottish Highlands. "We're the lowest of the low."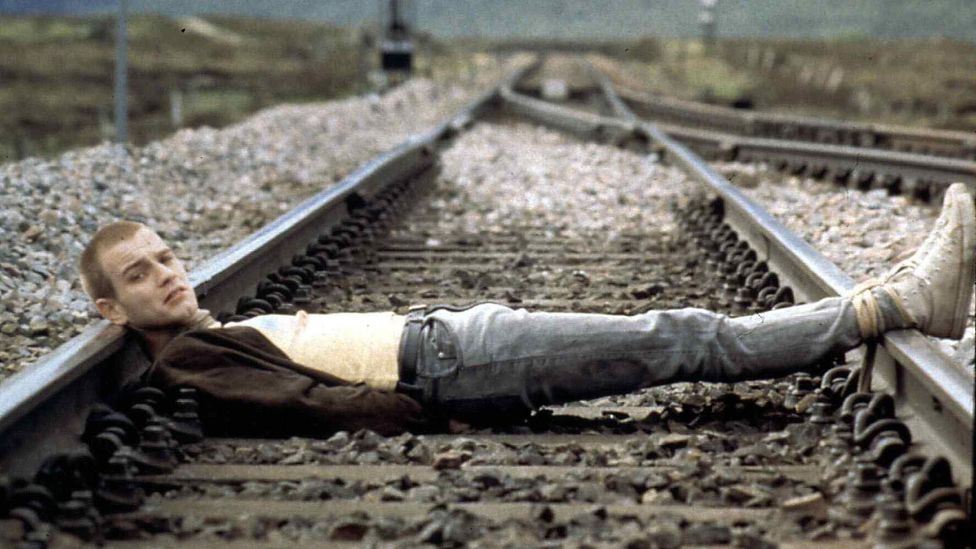 "It's shite being Scottish," Ewan McGregor's character insisted in the 1996 film Trainspotting (Credit: United Archives GmbH/Alamy)
It was a particularly melancholic expression of the so-called 'Scottish Cringe': a persistent sense of inferiority, self-pity – and embarrassment at overt expressions of Scottishness. It spoke to life in a country blighted by de-industrialisation, unemployment and sectarianism.
No longer. Over the past several years, a different kind of Scotland has emerged, one displaying a newfound confidence and a sharper sense of its own identity. And few aspects of Scotland show that more than the country's art, music and literary scenes.
Political is personal
This cultural shift is largely thanks to the political change and two referendums that politicised Scottish culture, intertwining art with government. First came the 1997 Referendum, in which 74% of the Scottish electorate backed the formation of a Scottish Parliament. On a wall of the new Scottish Parliament building, opened in 2004, are engraved the words of Glaswegian novelist Alasdair Gray: "Work as if you live in the early days of a better nation". The position of Makar – National Poet for Scotland – was created the same year.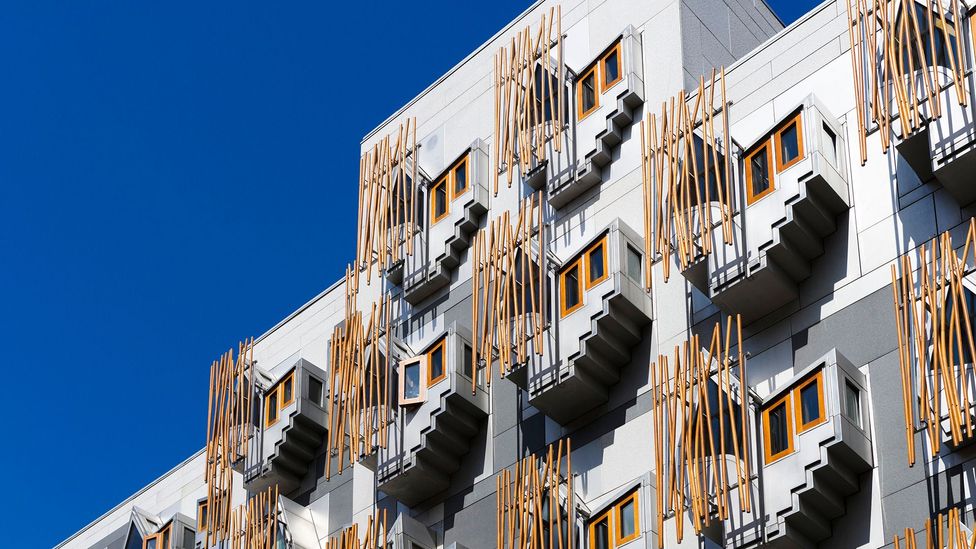 The new Scottish Parliament building opened in 2004 (Credit: Ian Dagnall/Alamy )
As one person told STV News that night, the vote was the culmination of 200 years "of the Scottish people wanting to express and develop their own identity".
In 2013, this new sense of identity reached boiling point when Parliament announced that a referendum would be held the following year on the question: Should Scotland be an independent country?
The Glasgow School of Art alone has produced almost a third of all Turner Prize nominees since 2006
Scotland's creative community was quick to rally around a vibrant 'yes' campaign. Though the campaign was ultimately unsuccessful, many of Scotland's most exciting artists became powerful voices of the independence movement. Organisation National Collective, for example, gathered quotes about why Scotland should be independent from more than 100 artists, including author AL Kennedy, playwright Alan Bissett and Makar Liz Lochhead. The exhibition GENERATION: 25 Years of Contemporary Art in Scotland showed off Scotland's artistic might and explored themes of national identity.
In the same time frame, Scotland's art scene exploded. The Glasgow School of Art alone has produced five Turner Prize winners and almost a third of all the award's nominees since 2006 – a record so remarkable that the 2015 prize was held in Glasgow.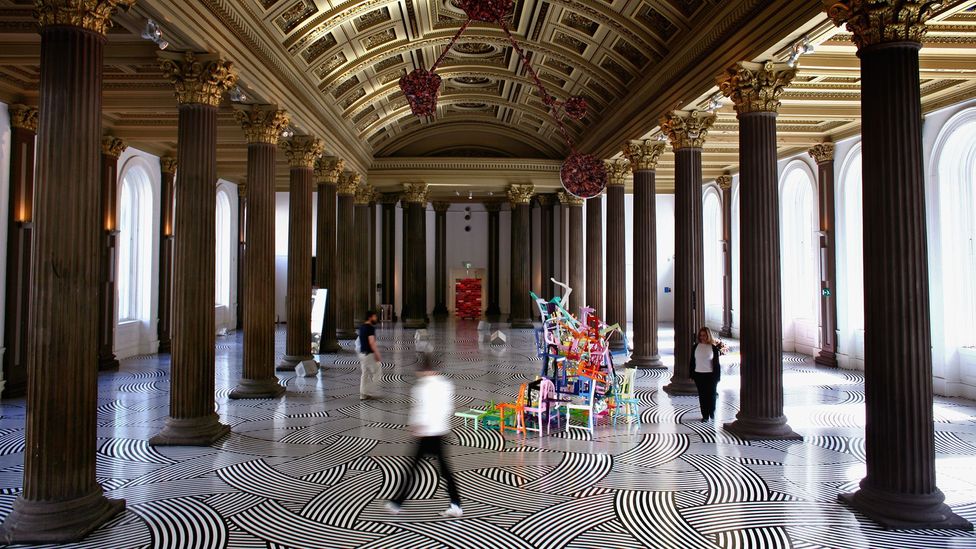 An installation by Turner Prize-nominated Scottish artist Jim Lambie at the Gallery of Modern Art in Glasgow (Credit: Jeff J Mitchell/Getty Images)
Today, Scotland's reputation as a distinguished centre of contemporary art – and the question of what it means to be Scottish – is being celebrated with the current Devils in the Making exhibition at Glasgow's Gallery of Modern Art.
On the gallery's façade, Ross Sinclair's light installation, We Love Real Life Scotland, features neon panels reminiscent of advertising slogans. The slogans nod to various Scottish stereotypes: the Scottish are forever clinging to ancient glories ("We Love Bannockburn 1314"), to a culture of grievance ("We Love Culloden 1746") and self-pity ("We Love Failure"). The slogans are placed on the entrance to the gallery so that visitors have to pass through or 'get over' them to visit the exhibition. The "Real Life" of Sinclair's title underscores the paradox between reality and the sentimental images used to sell the country to tourists. In Sinclair's words, the installation is "a celebration, a commiseration, a joy, a cringe and all at the same time".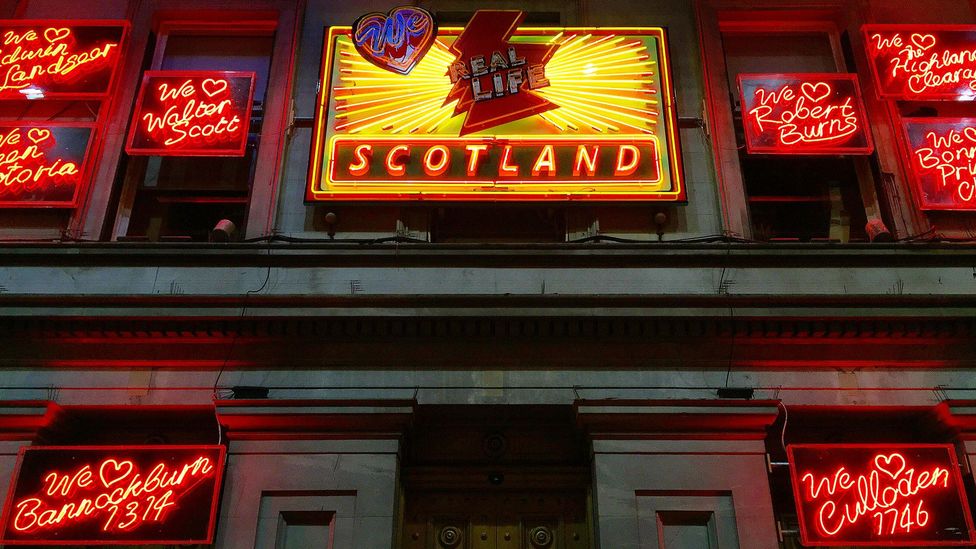 Ross Sinclair's light installation We Love Real Life Scotland is a send-up of Scottish stereotypes (Credit: Karen Gardiner)
As well as art, fashion is another industry re-discovering its Scottish identity. Years after the 1746 defeat at Culloden, the British establishment adopted tartan as its own – it was worn by royalty and the colonial military, and Queen Victoria even decorated Balmoral Castle wall-to-wall with the textile. As well as from their establishment connotations, heritage textiles also suffered from the perception that they were old-fashioned and twee.
Historically, we've had this sense of inferiority and this was an opportunity to smash that – Gordon Millar
Today, young creatives are rehabilitating traditional textiles and designs. Siobhan MacKenzie and 21st Century Kilts, for example, re-interpret the kilt using unlikely fabrics like denim and leather. They are among the designers championed by Scot Street Style, who describe themselves as brand ambassadors for Scotland.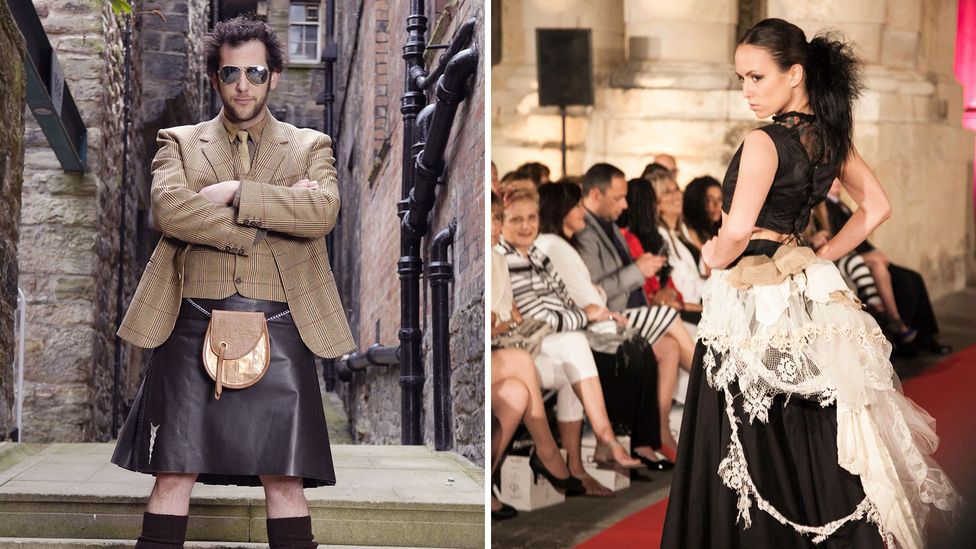 At left, Howie Nicholsby of 21st Century Kilts models his own designs; at right, Judy R Clark's designs incorporate elements like Scottish lace and tartan (Credit: Alamy)
Scot Street Style was born in the year of the Referendum, says founder Gordon Millar. The vote "made people look at themselves and start to think, 'what does it mean to be Scottish in the 21st Century?'", he says.
He wanted to harness this energy into a positive movement. "Historically, we've had this sense of inferiority and this was an opportunity to smash that," he says.
Voice of a nation
Scottish voice is also re-emerging in music and literature – literally. In the late 1980s, Fife duo The Proclaimers were roundly mocked throughout the UK for daring to sing in their unpolished accents – particularly poignantly in Letter From America, their 1987 ballad about Scotland's history of forced emigration. Since then, Scottish bands such as Chvrches and The Twilight Sad have found international fame while unselfconsciously singing in their own accents.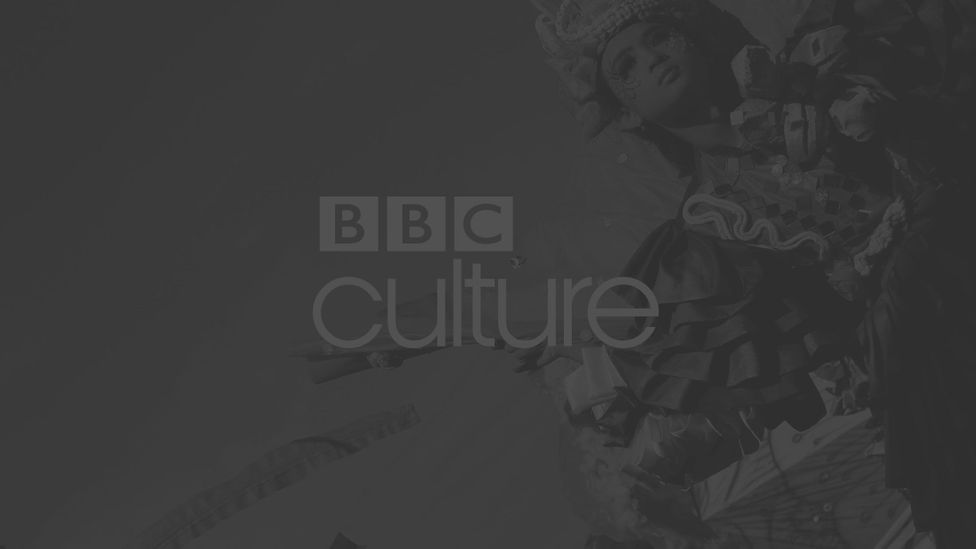 This video is no longer available
Scotland's feisty hip-hop scene, too, is a perfect vehicle for socially charged, lyrically rich rhymes delivered with an accent and thick with colloquialisms. Edinburgh-based Stanley Odd is at the forefront of the scene, with vocalist Solareye rapping about issues like independence and Scottish crises of national identity. "Are we oil rich," Solareye asks in Antiheroics, "or a subsidised pet?"
Meanwhile, the use of Scottish language in literature received international controversy when James Kelman won the Booker Prize for his novel How Late It Was, How Late in 1994. Kelman's liberal use of profanity and Glaswegian dialect earned the ire of many, with one judge calling it "literary vandalism" and another threatening to resign, saying his writing was "inaccessible for a lot of people." Kelman, for his part, took to the winner's podium to say, simply: "My culture and my language have a right to exist."
My culture and my language have a right to exist – James Kelman
Some Scottish writers, notably Welsh, have complained that writing in Scots dialect has hindered their chances of success. However, some of Scotland's most successful literary exports of the last few years, including The Panopticon, Jenni Fagan's 2013 novel about life in a care home, are written in Scottish. Although Fagan said that she had been warned that it would harm her chances of being published, she didn't hesitate.

"I talk in Scottish every day so it's not unusual to also write in it," she says. "I am not sure why people writing in their own language is even an issue any more."

Unlike Renton in Trainspotting, Scots haven't turned away in shame from their troubles. Rather, they have looked deeper into themselves, exploring – through art and in their own voices – what it means to be Scottish. When it comes to national identity, the political landscape is often what receives the most attention. But it has been the country's artists, rather than the politicians, that have best conveyed the aspirations – and identity – of today's Scotland.

This story is a part of BBC Britain – a series focused on exploring this extraordinary island, one story at a time. Readers outside of the UK can see every BBC Britain story by heading to the Britain homepage; you also can see our latest stories by following us on Facebook and Twitter.

;