For our new feature In the Frame, an art history expert takes a photo from the news each week and likens it to a painting. This week, Open University professor Gill Perry looks at mourning in art – as in life.
T
The act of mourning for a celebrity or legendary figure from history has long inspired artists. Painted and photographic images become part of the myth-making that death – especially an unexpected one – can fuel. The recent vigils in front of Bowie landmarks across the world have spawned a host of compelling media images, including many in front of the Brixton shrine that was set up within hours of the breaking news.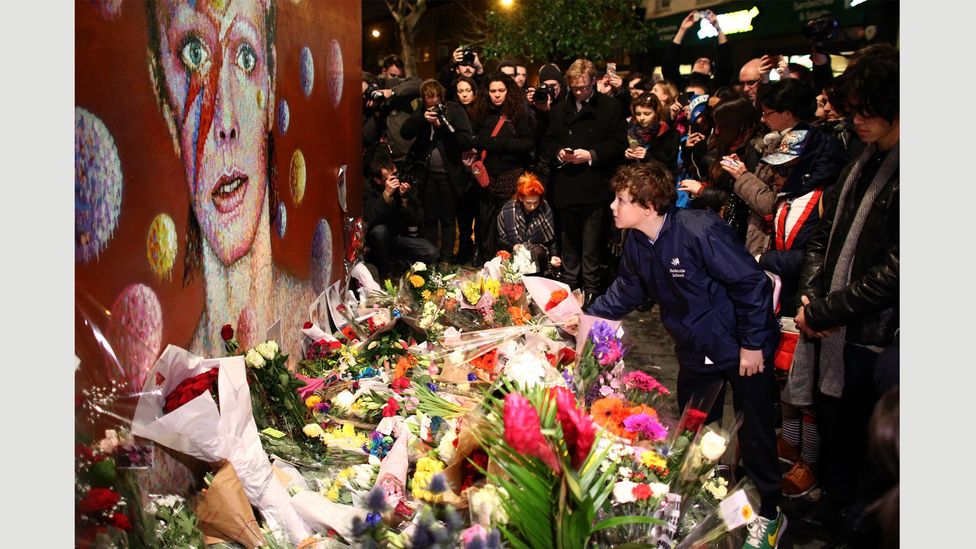 Mourners pay tribute to David Bowie at a mural of Aladdin Sane in Brixton (Credit: Carl Court/Getty Images)
Several of these photos put me in mind of a 19th-Century painting by the Pre-Raphaelite artist Edward Burne-Jones, The Last Sleep of Arthur in Avalon (1881-1898). King Arthur was a figure of historical legend who took on mythical dimensions for the Victorians. Many idealised Arthurian society and clung to the fantasy that Arthur never really died and slept on in Avalon awaiting the moment when the nation needed his return. Bowie fans have similarly fed the popular (and more accessible) myth that the star – and his subversive role-playing – will live on through his music.
The painted face of Aladdin Sane on the Brixton wall has become a vivid visual symbol of the eternal power of that music, repainted across the faces of many of his devoted, grieving fans. King Arthur's recumbent pose also took on a symbolic value; Burne-Jones became obsessed with his own mortality, and was rumoured to have slept in the same pose. He was working on this painting on and off between 1881 and his own death in 1898, when it still remained unfinished.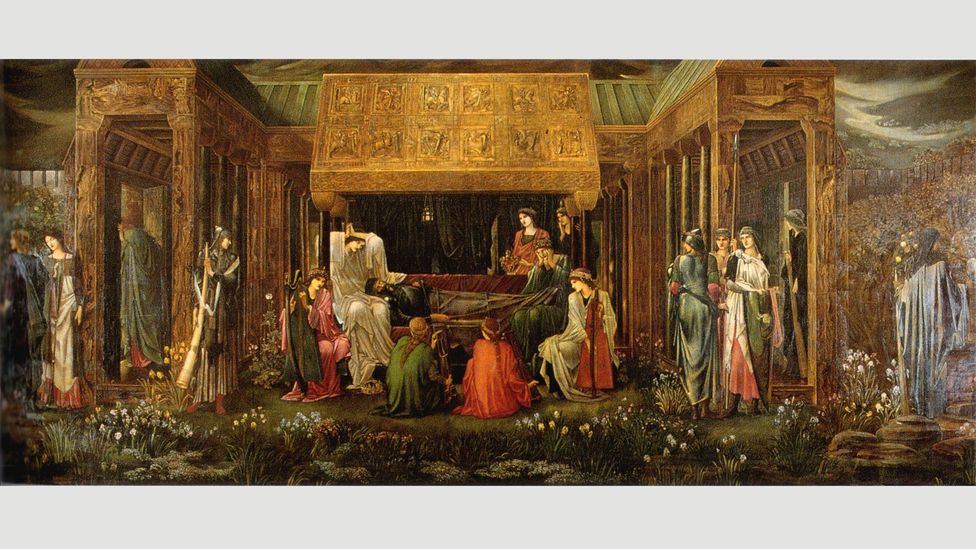 The Last Sleep of Arthur in Avalon (1881-1898) by Edward Burne-Jones (Credit: Wikimedia Commons)
There are unexpected parallels here with Bowie's foretelling of his death in his Black Star album released only three days before he died. Many of the songs, including Lazarus, speak of death, illness and heaven. And both the Brixton photo and the Burne-Jones painting are replete with props and symbols that romanticise the dead subject. Of course, the musical instruments of the 19th-Century work are replaced by the ubiquitous mobile phone of the 21st, the device that endlessly recaptures and enhances the mythmaking.
Both images also show a painted effigy, stooped and slumped figures, flowers – and a strange stillness. While this effect is common in the frozen moment of photography, it was something that attracted admirers of Burne-Jones's painting. The image appears as if suspended in time; yet it is also captured for time – as an emblem for the future.
If you would like to comment on this story or anything else you have seen on BBC Culture, head over to our Facebook page or message us on Twitter.