Both AA Milne and his son Christopher Robin grew to resent the bear – and the books – for the enormous impact they had on their lives
S
Sixty years ago, children – and their parents – lost one of the most beloved geniuses of children's literature: AA Milne, the creator of Winnie the Pooh.
"I suppose that every one of us hopes secretly for immortality," Milne wrote in 1926 before his Pooh books swept the world.
Immortality he received – but not for the reasons he wanted.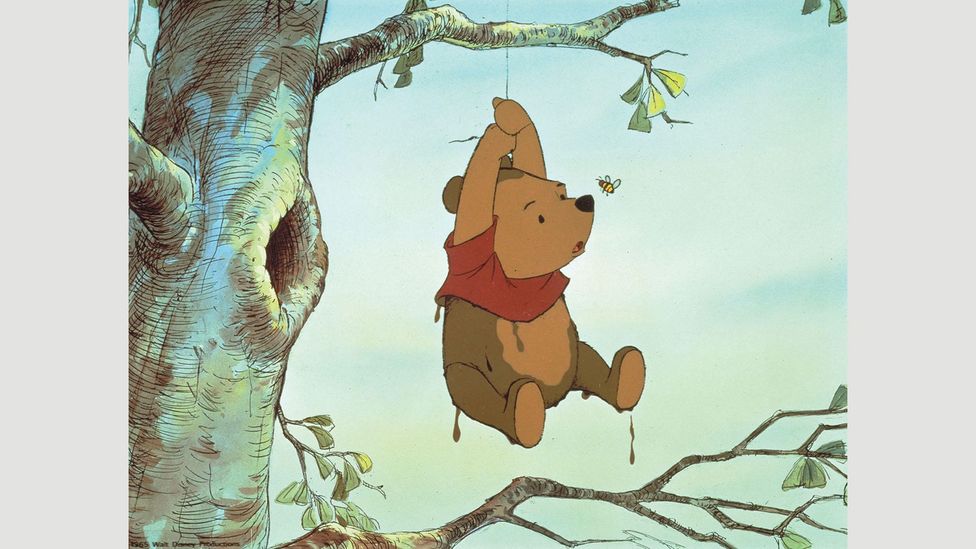 AA Milne wanted to leave more of a legacy than the 'bear of very little brain', shown here in the 1977 Disney film (Credit: ZUMA Press, Inc./Alamy)
Pleased as punch
Over the course of his lifetime, Milne wrote seven novels, five nonfiction books and 34 plays, along with numerous stories and articles. He worked as editor of Granta and assistant editor of Punch. His self-stated aim: to write whatever he wished. As a young writer, when Punch finally accepted one of his pieces, he had been elated. "I had proved that I could earn a living by writing. I would be editor of Punch one day. I was the happiest man in London," he wrote in his 1939 autobiography – tellingly titled It's Too Late Now.
Of course, Milne would also write the four children's books that made up the Winnie the Pooh series as well as two poetry collections, When We Were Very Young and Now We Are Six. The children's books added up to just 70,000 words, the length of an average novel. But their enormous fame erased the memory of all the work he'd already done.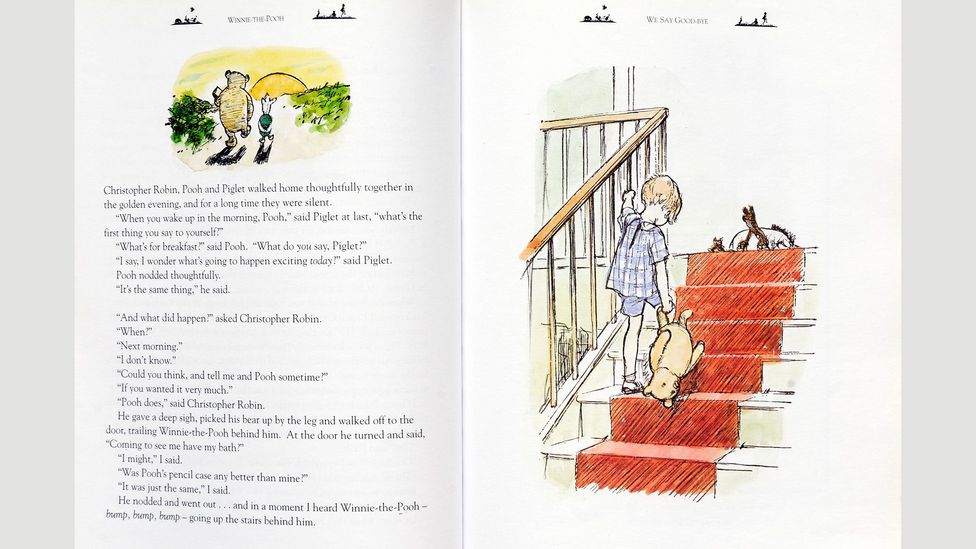 Milne's Winnie the Pooh books added up to just 70,000 words – the length of an average novel (Credit: CBW/Alamy)
If I write anything less straightforward than 'The cat sat on the mat', I am 'indulging in a whimsy' – AA Milne
The success of the Pooh stories also undermined the reception of the non-juvenile work Milne wrote later. "It seems to me now that if I write anything less realistic, less straightforward than 'The cat sat on the mat', I am 'indulging in a whimsy'," Milne wrote in the introduction to his play The Ivory Door in 1928. "Indeed if I did say that the cat sat on the mat (as well it might), I should be accused of being whimsical about cats; not a real cat, but just a little make-believe pussy, such as the author of Winnie-the-Pooh invents so charmingly for our delectation."
His collaborator, the Punch political cartoonist turned Pooh illustrator EH Shepard, felt the same. Before his death, he called Pooh "that silly old bear" and expressed regret that he'd ever taken part.
After the Winnie the Pooh books, Milne tried to write for Punch again. But not even his former readers would take him back. "His skill had not deserted him, but his public had; and eventually the editor, EV Knox, wrote to tell him so," his son Christopher wrote in his 1974 memoir The Enchanted Places. "We each had our sorrows."
The real boy
After all, Milne wasn't the only one who struggled with Winnie the Pooh's fame. As the inspiration for Christopher Robin, in some ways Milne's son was even more famous than his father. As one Town and Country article put it in a photograph caption, Milne was an "English playwright. Children's poet laureate by divine right of whimsy. His plays have been successfully produced in New York. And he is the father of Christopher Robin."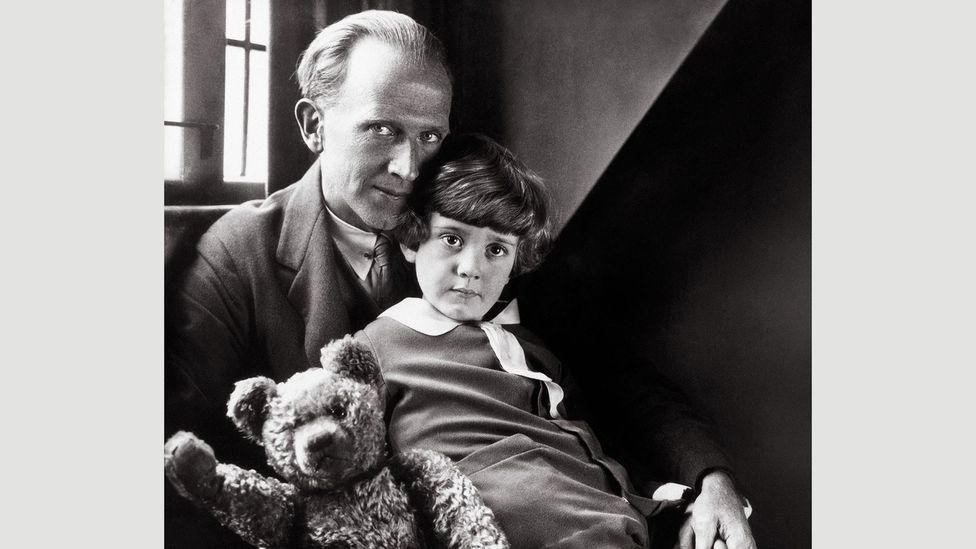 Milne with his son Christopher and the well-loved bear in 1926 (Credit: Pictorial Press Ltd/Alamy)
The family didn't exactly shield Christopher from the publicity. He was given the fan letters that children wrote to him and would laboriously pen responses with his nanny's help. Many photographs were taken of him with his father, and also alone. When he was seven, he participated in audio recordings that were done of the books – exploitation, his cousin later said, that showed "the unacceptable face of Pooh-dom". The next year, Christopher performed before 350 guests at a party, reciting parts of the books and singing the song The Friend. In 1929, he acted in a pageant based on the stories.
"I do not want CR Milne to ever wish that his name were Charles Robert" – Milne
It was around then that Milne decided to stop writing children's books. He felt it was time he "said goodbye to all that" in order to change literary direction once more, something he'd been so adept at in the past. But a large part of the reason, he wrote, was also his "amazement and disgust" at his child's outsized fame.
"I feel that the legal Christopher Robin has already had more publicity than I want for him," Milne wrote. "I do not want CR Milne to ever wish that his name were Charles Robert."
In 1930, Christopher went off to boarding school. It was the beginning, he wrote later, of that "love-hate relationship with my fictional namesake that has continued to this day." (The other boys ribbed him mercilessly. His neighbours played the gramophone record he'd performed on over and over until, finally, they got bored with the joke and gave him the record. Christopher smashed it to pieces.
Perfect strangers believed they knew – and could judge – Christopher. On the 60th anniversary of the first Winnie the Pooh book, critic Chris Powling wrote, "Was there ever a more insufferable child than Christopher Robin?"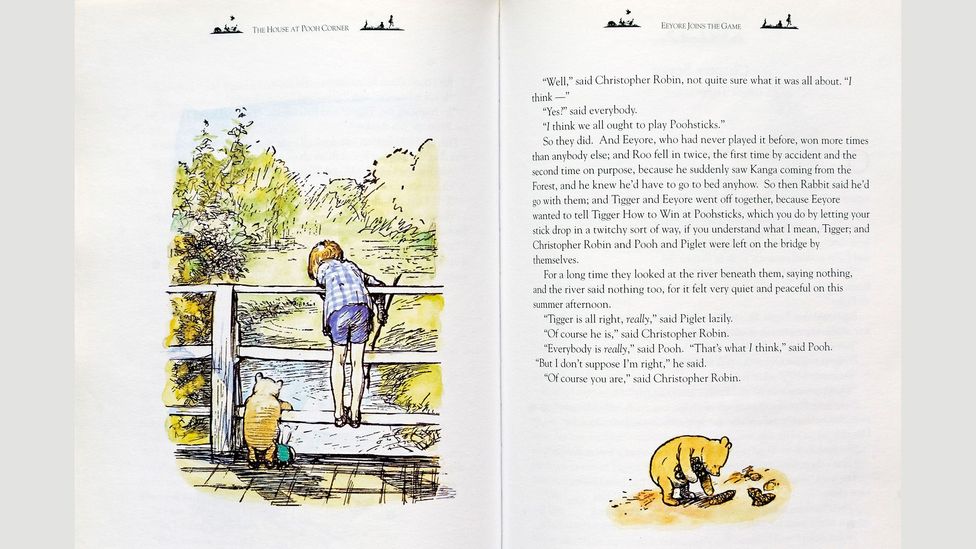 Shepard's illustrations were the exact likenesses of the real-life Christopher Robin, shown here in the 1928 book the House at Pooh Corner (Credit: CBW/Alamy)
Even more galling must have been that, as Christopher insisted in his memoirs, the opinions were based on a character that wasn't really him. His family didn't even call him Christopher Robin, but his nickname Billy. Both father and son emphasised that Christopher was not the literary character. But not everyone saw that distinction – with reason, perhaps, since even the original Shepard illustrations were exact likenesses of the real-life boy.
It seemed to me, almost, that my father had got to where he was by climbing upon my infant shoulders – Christopher Milne
It was only after a frustrated period of fruitless job-searching after university that Christopher came to feel real resentment – toward both the stories and his father. "He had made his own way by his own efforts and he had left behind him no path that could be followed. But were they entirely his own efforts? Hadn't I come into it somewhere?" Christopher wrote. "In pessimistic moments, when I was trudging London in search of an employer wanting to make use of such talents as I could offer, it seemed to me, almost, that my father had got to where he was by climbing upon my infant shoulders, that he had filched from me my good name and had left me with nothing but the empty fame of being his son."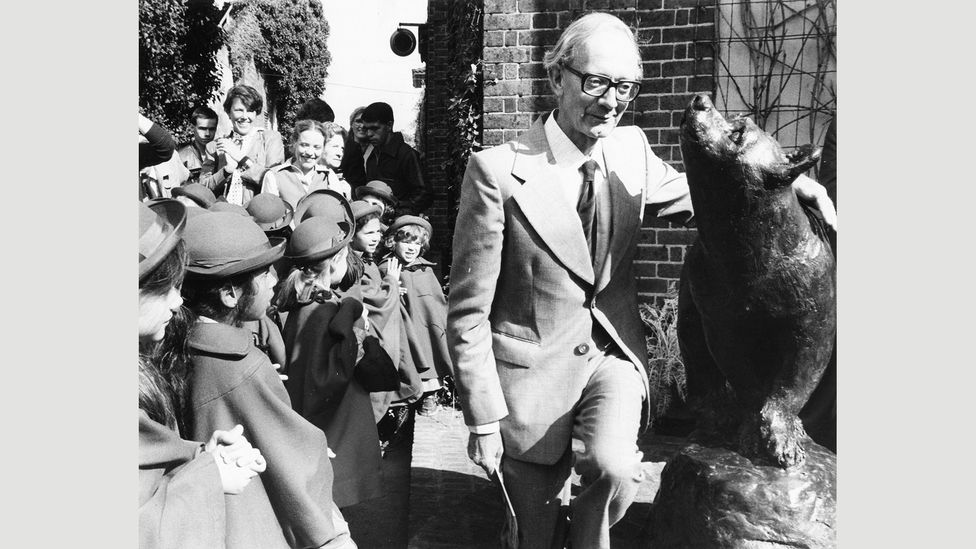 Christopher Robin Milne unveils a statue of a bear at London Zoo in 1981 (Credit: Keystone/Hulton Archive/Getty)

Milne was just as stuck with Pooh and Christopher Robin as his son was. "I gave up writing children's books. I wanted to escape from them as I had once wanted to escape from Punch; as I have always wanted to escape. In vain," Milne wrote. "As a discerning critic pointed out: the hero of my latest play, God help it, was 'just Christopher Robin grown up'.'"

When Milne wrote in The House at Pooh Corner that "in that enchanted place on the top of the Forest, a little boy and his Bear will always be playing", he didn't know how true it was. His legacy may not be quite as literary as he wanted. But even now, 60 years after his death, the boy and his bear are still playing on the pages, and in the imaginations, of thousands of children worldwide.

This story is a part of BBC Britain – a series focused on exploring this extraordinary island, one story at a time. Readers outside of the UK can see every BBC Britain story by heading to the Britain homepage; you also can see our latest stories by following us on Facebook and Twitter.

;