A new exhibition in Berlin explores the grim realities of life for Jews in Nazi camps and ghettoes. Thomas Rogers meets one of its curators.
A
A historic new exhibit, Art from the Holocaust, opened in the rear wing of the German Historical Museum in Berlin last week. For the first time ever, art from the collection of Jerusalem's Yad Vashem Museum is being shown outside in Germany. The exhibit features 100 works, mostly drawings and paintings, by Jewish inmates of labour camps, ghettoes and concentration camps. Many of the works portray the dark realities of day-to-day life in Nazi imprisonment. The fact that the works survived to the present day is, in most cases, a miracle: many were hidden or smuggled out at great risk by friends of the artists.
The show, which is timed to coincide with the 50th anniversary of the establishment of diplomatic relations between Germany and Israel, comes at a moment of growing concern about the rise in anti-Semitism across Europe. As Angela Merkel opened the exhibit on Monday, she told reporters that she hoped the exhibit would send a message to new arrivals to Germany from countries "where hatred of Israel and Jews is widespread". 
But the works are also, regardless of their current political context, deeply moving testaments to human resilience and the power of art, and, as Walter Smerling, the show's co-curator with Eliad Moreh-Rosenberg points out, aesthetically powerful works on their own terms. The curators winnowed down the selection from a shortlist of several hundred. "We selected works according to artistic considerations, and chose works that provoked us and made us wonder what story was behind the image," says Smerling, who is also the head of the Foundation of Art and Culture. We asked him to explain the stories behind some of their selections.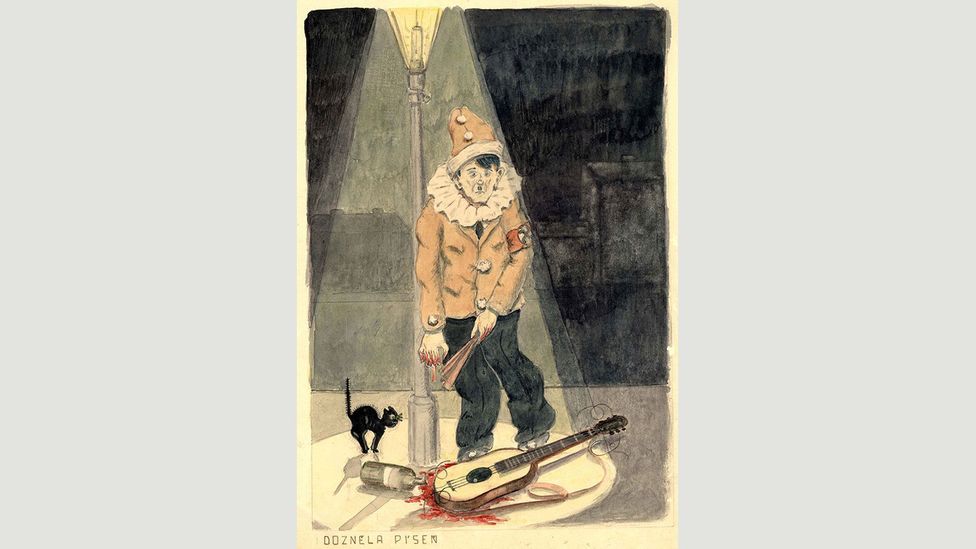 Pavel Fantl, The Song is Over (1941-1944)
This coloured drawing by Pavel Fantl is one of the few works in the exhibit that shows the Nazis themselves. "When I saw this work, it was immediately a must-have," says Smerling. Fantl, a doctor who was born in Prague in 1903, was able to paint secretly in the Theresienstadt ghetto, in occupied Czechoslovakia, thanks to a Czech policeman who gave him the materials he needed. "He portrays Hitler as a clown," Smerling explains, "and the instrument on which he played the melodies with which he deceived an entire people, is on the floor, destroyed, with blood on his hands." He adds: "You have to imagine his fearlessness and resistant sense of humour – to criticise the person responsible for his situation shortly before death." Fantl was deported to Auschwitz, along with his wife and son, and murdered by the Nazis in January 1945. A Czech worker later smuggled his works out of the ghetto and concealed them in a wall. (Credit: Yad Vashem Art Museum, Jerusalem)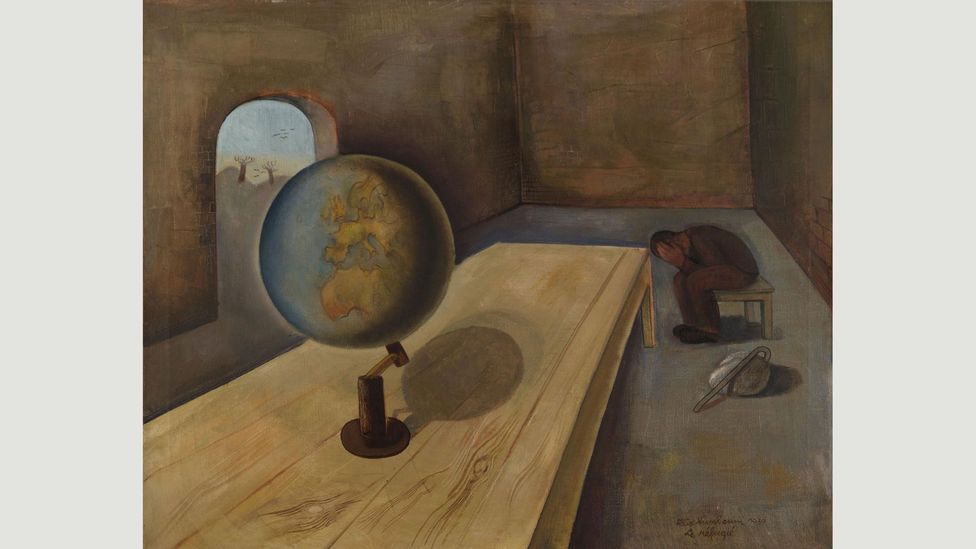 Felix Nussbaum, The Refugee (1939)
Nussbaum, the best-known artist in the exhibit, was arrested in Belgium in 1940 after which he escaped and went into hiding in Brussels with his wife. His painting The Refugee shows the isolation of the wandering German Jew. "In the painting, he asks himself, 'Where can I go in this world, where can I live, where can I work and exist?'" says Smerling. Nussbaum sent the painting to his father in Amsterdam, and after the murder of Nussbaum's father in Auschwitz in 1944, it was transferred to private hands and sold at auction. "The painting hints at our current time, by pointing to the position of the refugee asking himself where he can go," says Smerling, "today we have many people asking the same thing." Nussbaum was ultimately murdered in Auschwitz in 1944 at the age of 39, together with his wife. (Credit: Yad Vashem Art Museum, Jerusalem)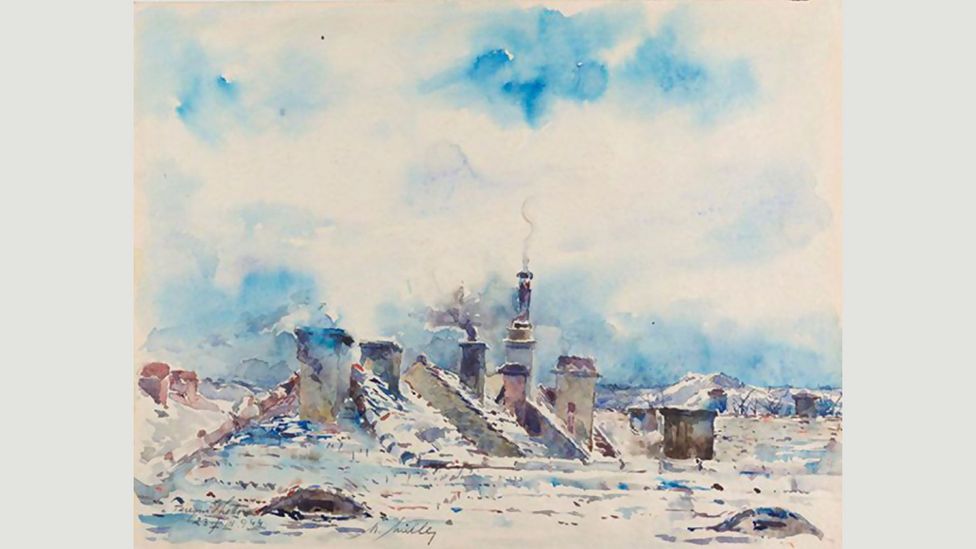 Moritz Müller, Rooftops in the Winter (1944)
Moritz Müller studied painting in Prague, later founding an auction house. It was forcibly closed after the Nazi invasion of Czechoslovakia. He produced over 500 works during his time in the Theresienstadt ghetto and in Rooftops in Winter, he depicts Theresienstadt's snow-covered roofs as a peaceful idyll. "This is one of the most noteworthy pieces, because it shows no people – the ghettos were totally overpopulated," says Smerling. "It has multiple meanings, on the one side it's a beautiful winter landscape, and on the other, there is the horror that exists behind it." The widow of an Austrian officer later purchased some of Müller's paintings, hiding them in her house. Mueller was murdered in Auschwitz in 1944. (Credit: Yad Vashem Art Museum, Jerusalem)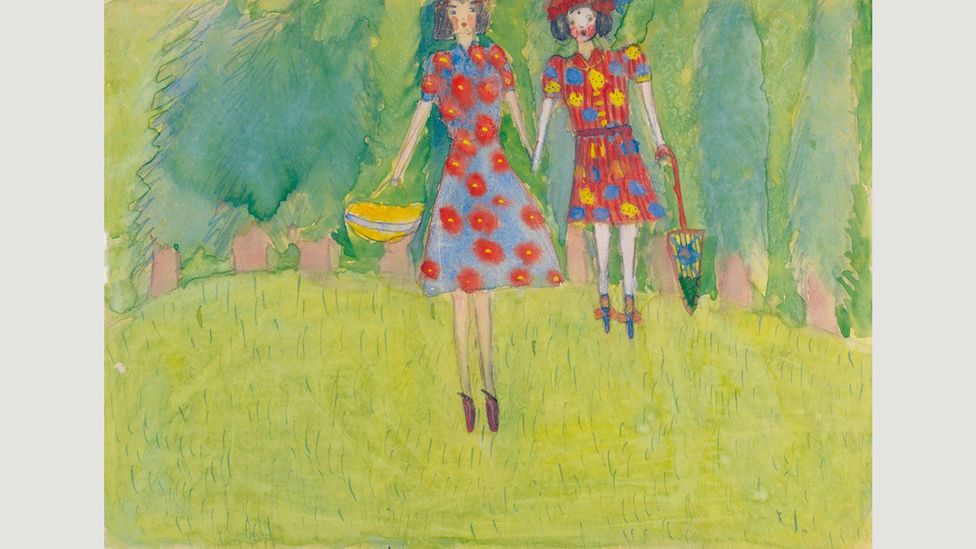 Nelly Toll, Girls in the Field (1943)
Nelly Toll is the only surviving artist from the exhibition. Born in Lviv in what is today Ukraine, she painted this image at the age of eight while being hidden by a Christian family with her mother. The painting depicts the freedom she yearns for. "It was important for me to get to know the artist and talk to her," says Smerling. Toll came to Berlin from her home in New Jersey to attend the opening of the exhibit, and received a warm welcome from Angela Merkel. "It was a very nice symbol," says Smerling, about the encounter. (Credit: Yad Vashem Art Museum, Jerusalem)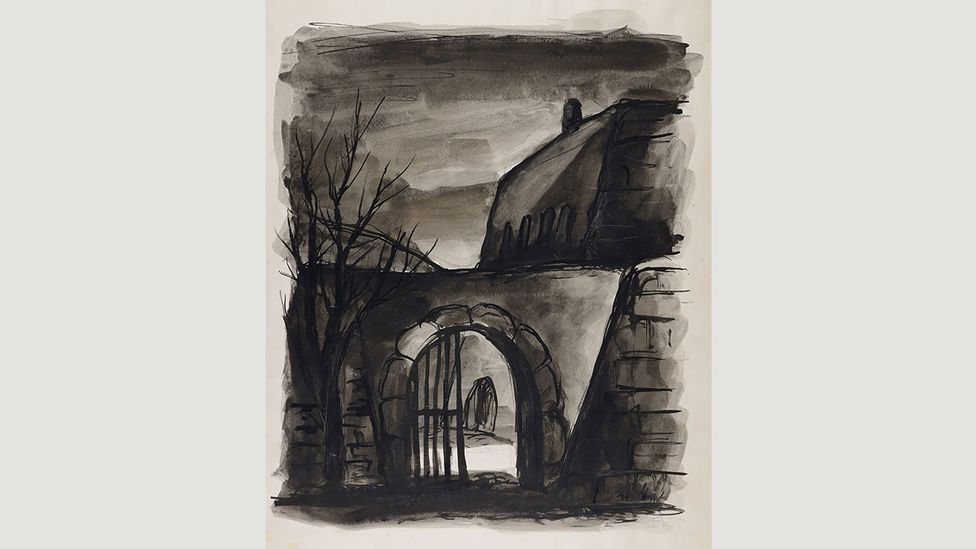 Bedrich Fritta, Rear Entrance (1941-1944)
Of the more than 140,000 people deported to the Theresienstadt Ghetto between November 1941 and May 1945, approximately 120,000 died. Bedrich Fritta was born in Bohemia in 1906 and was sent to Theresienstadt before being murdered in Auschwitz in 1944. He and his group of fellow ghetto artists bricked their works into walls before their arrest. "The half-open gate is a metaphor for death, there is no visible alternative, the only way out is into the darkness," says Smerling. "He shows architecture and empty nature as a stage for an event that is itself invisible." (Credit: Yad Vashem/Gift of the Prague Committee for Documentation)
Karl Bodek and Kurt Conrad Löw, One Spring (1941)
Smerling and his co-curator made One Spring the exhibit's central image despite its tiny size. A collaboration between two artists interned in the Gurs Camp in southern France, the painting shows a butterfly on barbed wire with a distant view of the mountains on the Spanish border. "I found it incredibly impressive that two people made such a small painting. It represents their self-assertion as people and artists, and articulates their will to survive and their hope for the future." Kurt Löw, from Vienna, was ultimately able to flee into Switzerland from France, but Bordek, from Chernivisti, was sent to Auschwitz and murdered. "One of them ended up with the role of the butterfly, the other did not." (Credit: Yad Vashem Art Museum, Jerusalem)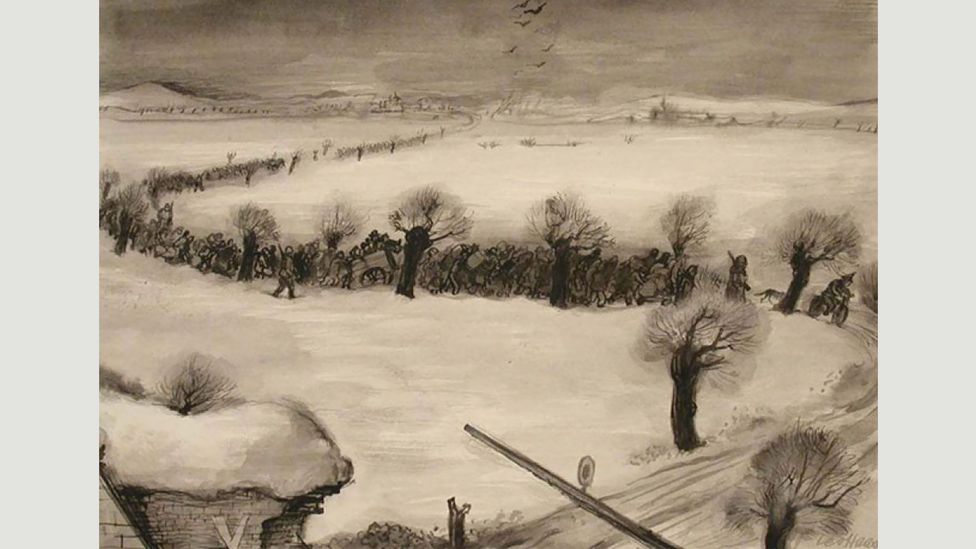 Leo Haas, Transport Arrival, 1942
Haas, who survived the war, was drafted by the Theresienstadt ghetto's self-administration to make architectural drawings for its construction management. "But he also created these ink representations that are very composed and arranged, like this representation of a transport," says Smerling. Like Nussbaum, Haas used the motif of the birds of prey to suggest the ominous presence of death. He also painted the letter 'V' in the bottom left-hand corner of the painting, a symbol of underground resistance. "What an incredible image, you see death and the organisation of death before you, and you still think about victory." (Credit: Yad Vashem/ Gift of the Prague Committee for Documentation)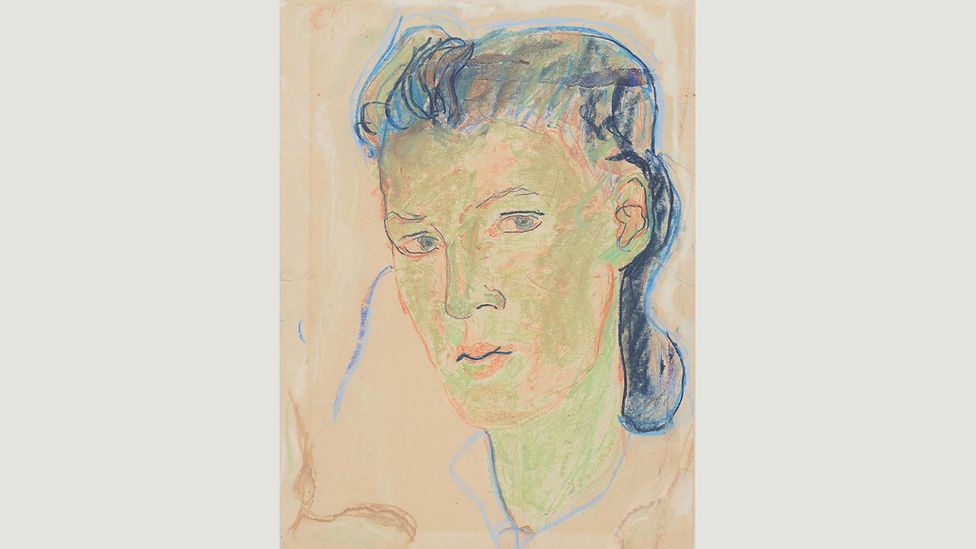 Charlotte Salomon, Self-portrait (1939-1941)
Salomon has three works in the exhibit, including this self-portrait. Salomon was born in Berlin, and after the Kristallnacht joined her grandparents on an estate owned by Ottilie Moore, a US millionaire, in the town of Villefranche, in southern France. She continued painting during her exile, during which she produced this self-portrait. "In the self-portrait everything seems to be in movement, the colour in the face, she seems to have something of the inner turmoil of the artist herself," says Smerling. Salomon was arrested by the Gestapo with her husband in September 1943, and sent to Auschwitz, where she was murdered. She was five months pregnant at the time. (Credit: Yad Vashem Art Museum, Jerusalem)