Robert Mapplethorpe's floral photographs have their own sex appeal – and they are part of a long tradition of art that equates flowers with the erotic, writes Jason Farago.
H
He shot jockstraps and bullwhips, sadomasochistic nights out, gents with certain appendages peeking out of their flies. But Robert Mapplethorpe, one of the preeminent photographers of the United States at the end of the last century, was no pornographer. Mapplethorpe shot his most explicit images with a cool, detached precision, no more or less lasciviously than he photographed the many other subjects of his gaze.
His explicit images, in fact, form only a small part of his output, and are outnumbered by studio portraits, studies of the bodybuilder Lisa Lyon, and especially rigorously composed images of flowers. Calla lilies, tulips, African daisies: these, as much as leather-clad men in flagrante delicto, were the true subjects of Mapplethorpe's art, the means through which form became beauty.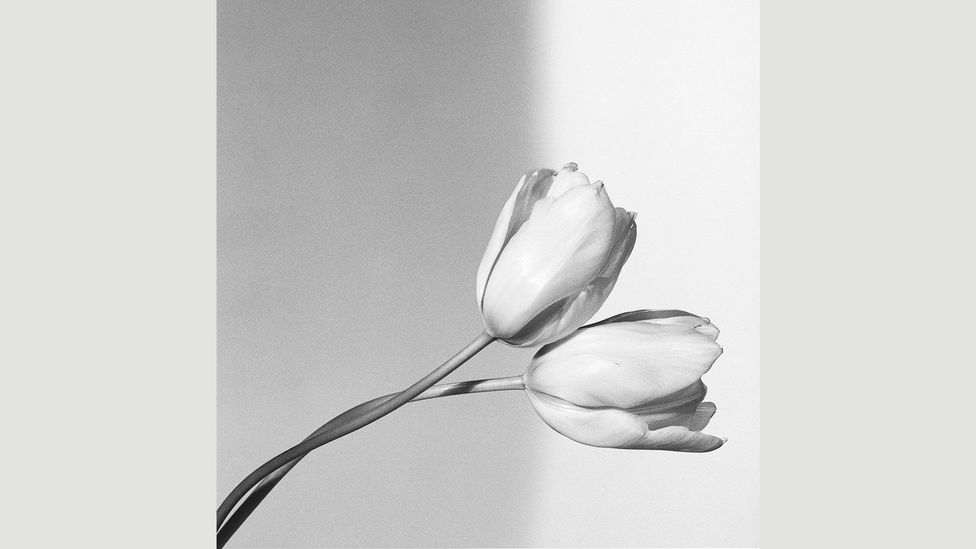 Mapplethorpe's flower pictures are rigorously composed to achieve an aura of cool detachment (Credit: Robert Mapplethorpe Foundation/Phaidon)
This March is the month of Mapplethorpe, with two major exhibitions opening in Los Angeles – at the J Paul Getty Center and the Los Angeles County Museum of Art – that draw on the late photographer's newly acquired archive. (The exhibitions will travel afterwards to Montreal and Sydney.) The shows coincide with a new publication, Mapplethorpe Flora: The Complete Flowers, which gathers all of his stately, serene floral images into a single volume for the first time.
Visitors to the LA exhibitions will have the chance to see the rough sex of his 'X Portfolio' and the elegant floral images of his 'Y Portfolio' side by side. Only one of those was greeted with enormous public outcry and, in one case, a criminal trial. Yet the flowers have their own sex appeal – and are only one example of a long tradition of eroticised bulbs and blooms.
Early blossom
Between flowers and sex there has long been an enduring link. In the classical age, women (especially virgins) were compared to flowers, whether in Virgil's agricultural Georgics or else in Sappho – who, in one fragment, makes an analogy between a woman, perhaps married, and "a hyacinth in the mountains that the shepherds trample with their feet." Shakespeare often resorted to botanical metaphors for females, above all in Hamlet, in which Ophelia strews flowers all over Elsinore. You need only think of the names Rose, Lily, Daisy, Violet… Women's names, all of them.
In the 19th Century, floral metaphors for women's genitals started to blossom
Flowers are complex symbols, and they are certainly not always lubricious; the lily, for one, is associated with the Virgin Mary. They are more austere and reserved symbols in East Asian and Islamic decorative arts, or else in the art of 17th-Century Holland, where tulips cost more than paintings.
When things start getting really sexy is the 18th Century, when the botanist Carl Linneaus classified the world's organisms according, in part, to their means of reproduction. Linneaus's Species Plantarum of 1753 did not just pin down all the known world's vegetation with Latin names. It established that plants reproduced sexually – and offered a scientific, rational basis for the analogy of humans (usually women) to flowers.
The titular prostitute in Manet's Olympia covers her genitals – but the flower in her hair and the bouquet on the left stand in for what she covers (Credit: Édouard Manet)
Flowers could signal sexual availability not only for women but for men
In the 19th Century, both in England and in France, floral metaphors for women's genitals started to, well, blossom. In Manet's Olympia, one of the signal paintings of the nineteenth century, the titular prostitute covers her genitals with her left hand. But she has a pink camellia in her hair – a stand-in for her covered sex – and indeed her servant comes in from the side of the composition bearing a bouquet of flowers.
The bouquet is a gift from a client, in one sense, but not only that: the flowers indicate that this woman is on the market. (The analogy is a wide one: in Japan geishas worked in hanamachi, or 'flower towns', while in China brothels were euphemistically referred to as the 'flower market'.)
And flowers could signal sexual availability not only for women but for men. The British interwar painter Glyn Philpot, in his Après-midi tunisien, depicts an older, bearded man in the Maghreb, lounging with a boy on a recessed bench. You could almost believe the two were equals – until you see that the younger gent has got a carnation behind his ear, and the elder is toying with the same flower in his hands.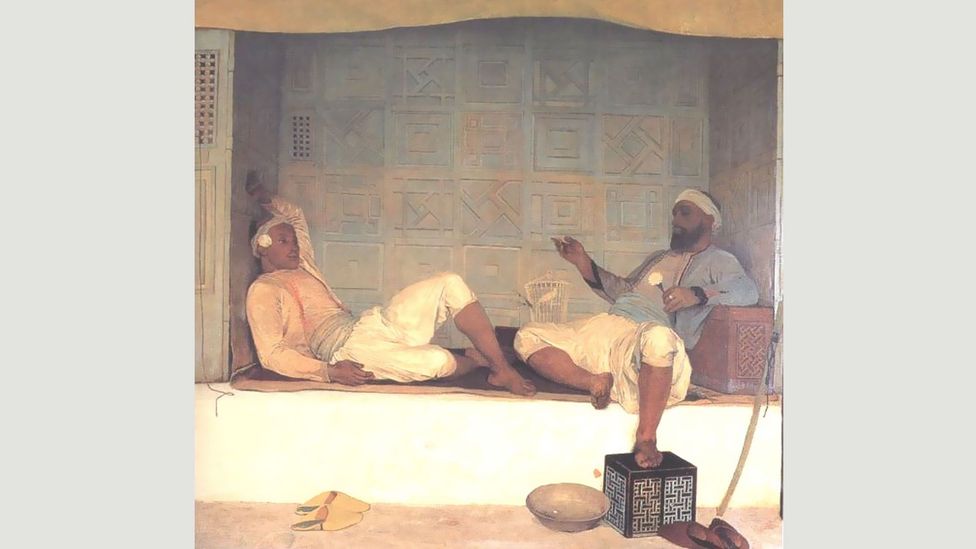 In the woozy Orientalist fantasy of Guy Philpot's Après-midi Tunisien, the flowers signal the sexual availability of the two men to each other (Credit: Glyn Philpot)
Philpot's little Orientalist fantasy is no masterpiece, but it points to something important: when it comes to erotics, flowers need not always be feminine. For gay artists, in fact, the hermaphroditism of flowers – most have both pistils and stamens – had a particular symbolic appeal. Mapplethorpe's stately photographs of calla lilies, with their thick stems and asymmetrical lips, call to mind Oscar Wilde's exultation of the same flower, which became a symbol of the Aesthetic movement in Victorian England. Marcel Proust, in Sodom and Gomorrah, makes an analogy between Baron de Charlus's sexual encounter with a tailor and the fertilisation of an orchid. And John Singer Sargent – whose sexuality is unattested, but who remained a bachelor and who painted numerous gay men and lesbians through his career – also turned frequently to flowers. His Carnation, Lily, Lily, Rose, in which two young girls light lanterns amid a field of flowers, was described at the time as a "self-portrait".
Garden of earthly delights
Perhaps no artist has invested flowers with as much eroticism as Georgia O'Keeffe
By the 20th Century, women artists had begun to depict flowers too – first reservedly, then with abandon. Perhaps no artist has invested flowers with as much eroticism as Georgia O'Keeffe, whose large-scale, almost abstract depictions of blossoms and buds transform petals and leaves into flowing, formalist experiments.
O'Keeffe, subject of a major retrospective this July at Tate Modern in London, resisted the overdetermined reading of her flowers as stand-ins for the female sex organs, and rightly so; her ambitious paintings extend past mere botanical depictions to a modernist engagement with form and colour. Yet feminist artists of the 1970s noted the undeniable eroticism of her flower paintings. Judy Chicago, whose installation The Dinner Party (1974–79) is an explicit tribute to O'Keeffe, proffers more than three dozen place settings for great women in world history, each of whose plates has the vulvar form of an O'Keeffe flower.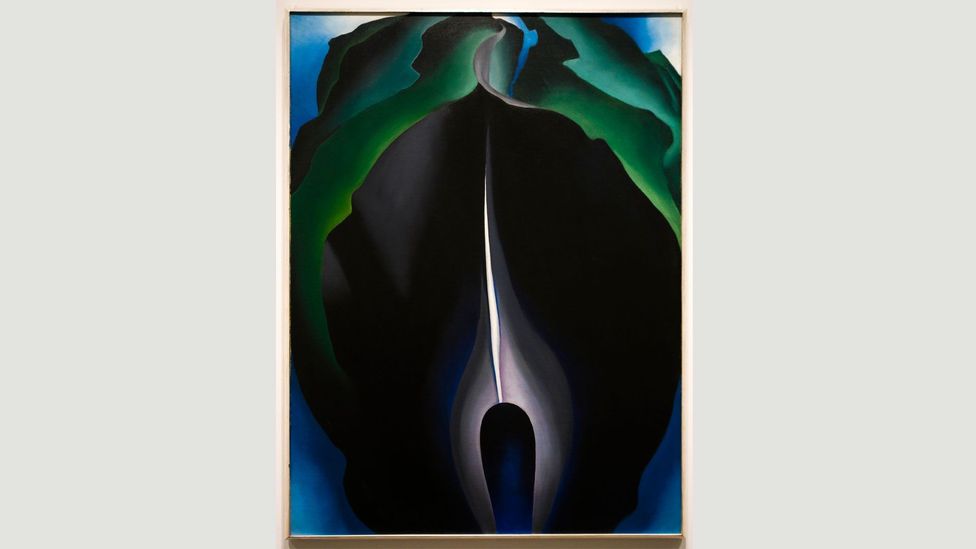 Georgia O'Keeffe's flowers recall female sex organs but also transform the petals and leaves into abstract, formal experiments (Credit: Alamy/Smithsonian National Gallery of Art)
O'Keeffe's flowers were deeply indebted to photography – above all by the images of her friend Paul Strand, whose photographs of plants exhibit a similar modernist obsession with getting to the essence of life. And photography, as practiced by artists of both sexes, overtook painting as the principal medium to explore the sex life of flowers. Imogen Cunningham's images of roses and lilies, with their thrusting stigmas and fainting petals, appear as almost indecent carnal synecdoches.
Edward Weston, another master of black-and-white floral photography, found the erotic side of peppers – shooting their curving surfaces with the same attention others brought to (human) nudes. And even by the late 20th Century, when more explicit sexual imagery had become commonplace in the domain of contemporary art, flowers still functioned as a vehicle for sexual metaphor. Consider Nobuyoshi Araki, the Japanese photographer who is to heterosexual sadomasochism what Mapplethorpe is to its gay variant. He remains best known for his images of women trussed up in ever more baroque rope bondage. Yet for more than three decades Araki has also shot erogenous, up-close colour photographs of lilies, roses, and tulips, his lens thrust between their petals with almost indecent immediacy.
Mapplethorpe hoped his flower pictures would make people see his overtly sexual photos in a different light (Credit: Robert Mapplethorpe Foundation/Phaidon)
Love is a flower, John Lennon sang; life itself is a flower, if you can trust Ace of Base. We invest them with almost unsupportable symbolism. And even in our contemporary moment, when it seems no representation is too explicit, we still need flowers to stand for something beyond themselves. Too much so, perhaps.
Mapplethorpe, towards the end of his too short life, explained that his early homoerotic and sadomasochistic photography had overwhelmed the interpretation of his flower images ­– a sentiment that O'Keeffe would have understood, but against which Araki would surely bridle. "I thought that it would make people see things differently," he said. "But what happened was that they took the cocks and fused them onto all the other [pictures] instead of the other way around." Sometimes a flower signifies a more lascivious thing, and sometimes a flower is just a flower.
 If you would like to comment on this story or anything else you have seen on BBC Culture, head over to our Facebook page or message us on Twitter.