Skirting the issue
They are like birds of paradise swirling around each other in a mating dance. Except their wings are layered petticoats and tasselled shawls, and they are not wooing but body slamming, hair pulling and landing flying kicks. They are the 'fighting cholitas', or cholitas luchadoras, female wrestlers in what is Bolivia's answer to Mexican lucha libre. "The cholitas are indigenous women who were neglected because they were on the margins of society, but… since Bolivia has been ruled by Evo Morales, who has indigenous roots, they have gained more recognition," Daniele Tamagni tells BBC Culture. The Italian photographer [won a World Press Photo Contest prize](http://www.worldpressphoto.org/collection/photo/2011/arts-and-entertainment/daniele-tamagni) for his photographs of the cholitas, images which have now been collected as a chapter in [the book Fashion Tribes](http://www.abramsbooks.com/product/fashion-tribes_9781419713903/).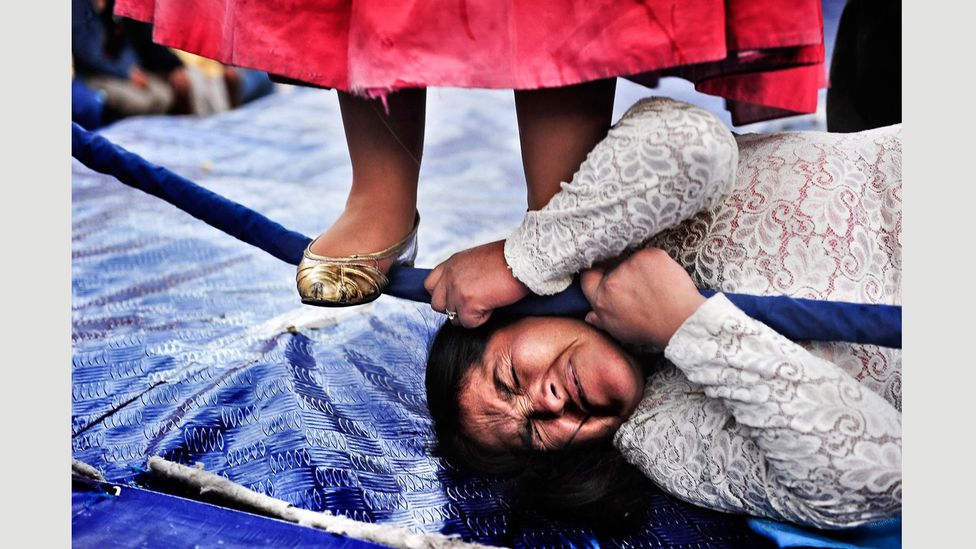 Frown, girl, in the ring
This photo shows Polonia Ana Choque Silvestre (known as Carmen Rosa la Campeona), and Julia la Paceña, who are best friends in real life and enemies in the ring. Carmen Rosa founded the group Las Diosas del Ring (Goddesses of the Ring), whose motto is 'combine strength and violence with grace and elegance'. The cholitas started fighting professionally at the start of the 21st Century in the city of El Alto; Tamagni took these photos in La Paz in 2010. "Due to the rising interest in their dress, the cholitas have gained success in a masculine traditional sport like wrestling." He believes the choreographed fights are a chance for the cholitas to establish their place for themselves. "In a way, they do a battle that is real, because it's wrestling, but also metaphorical… in a macho society where men have the power, the women are respected when they fight," says Tamagni. "Often the cholitas fight with men – it is symbolic of changes in Bolivian society – of identity, roots, and gender roles."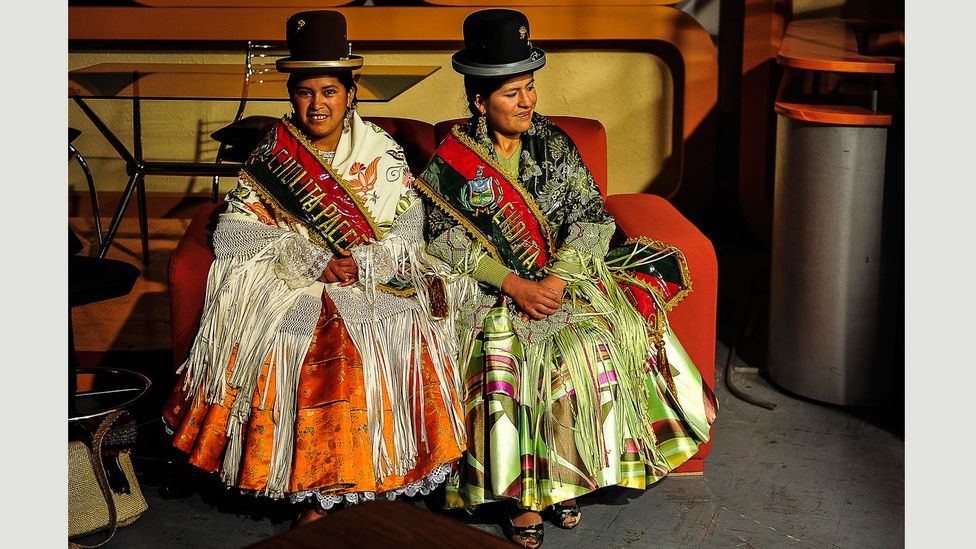 Stomp and splendour
These two women won the Miss Cholita competition, judged on how well they combine the traditional dress of multi-layered skirts (or polleras), tasselled cloaks, Borsalino hats and hair braids. "What interested me was the elegance, which in this case is related to their indigenous roots, in contrast with most South American beauty pageants, where the stereotype of beauty is more Western. In this case, it's related to tradition and not a globalisation of aesthetics." That's something Tamagni aimed to highlight throughout the projects brought together in his book, which features seven subcultures from around the globe. "With Fashion Tribes, I wanted to show the diversity in terms of identity of different cultures, particularly in the South of the world. These women represent how… you can have such a rich knowledge of tradition, elegance, identity."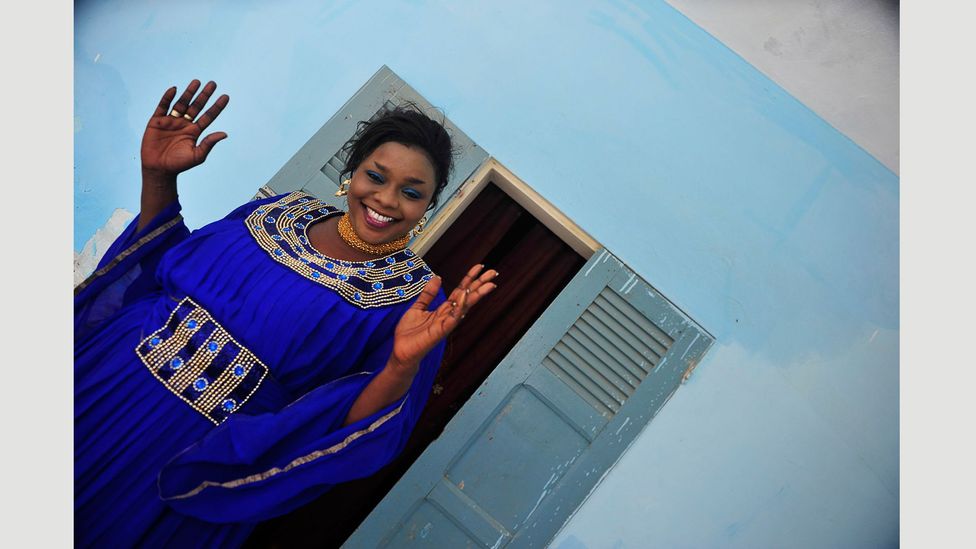 Taking the bead
Tamagni's photographs from Senegal include models, fashion designers – and women known as dirriankhe. In the Fashion Tribes chapter from Dakar, French journalist Emmanuelle Courrèges explains that "the secrets of dirriankhe charm are something all Senegalese girls learn as part of their heritage" – including when to use bine-bine, or dial-diali, bead necklaces worn around the waist. "The sound they make endows them with great erotic power," she says. "The younger ones let their bine-bine ring; the mamans (mamas) wouldn't dare to anymore." This photo shows Doraba, who told Tamagni: "Men are afraid to approach us, because they know we have very strong personalities. They are drawn to our incomparable elegance, but at the same time they are afraid of our impressive physiques and the self-confidence we exhibit in public." The dirriankhe compete in the Miss Diongoma competition, founded in 1992. "Religious leaders disapproved of the theatrical display of these plus-size women," writes Courrèges. "But this pageant – where women walk the runway in several traditional outfits and reveal their skills – is also a way of resisting the flattening effects of globalisation."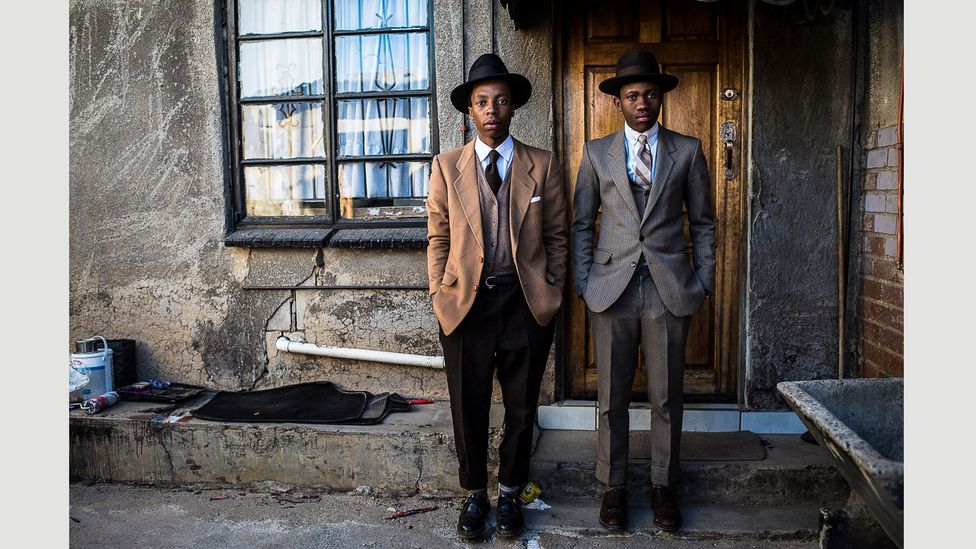 Dapper dreams
Wanda Lephoto and Kabelo Kun¬gwane are known as the 'Sartists', or 'sartorial artists'. The fashion students have become famous in South Africa for what they wear. According to the former fashion editor of Elle South Africa, Asanda Sizani, "Through dress, they explore themes of politics, history, and culture, drawing from South African, Italian, British, and American vintage style, especially that of the civil rights movement era." Tamagni was impressed by their look. "I really admire their passion for fashion," he says. "They combine vintage clothes from their parents with a modern creative avant garde." He believes that how people like the Sartists dress can have an effect beyond fashion. "They're based in a poor township in Johannesburg – the contrast between their elegance and the area where they live is amazing," he says. "They're an example of a creative expression coming from a township, showing off their ideas through fashion and trying to make concrete their dreams."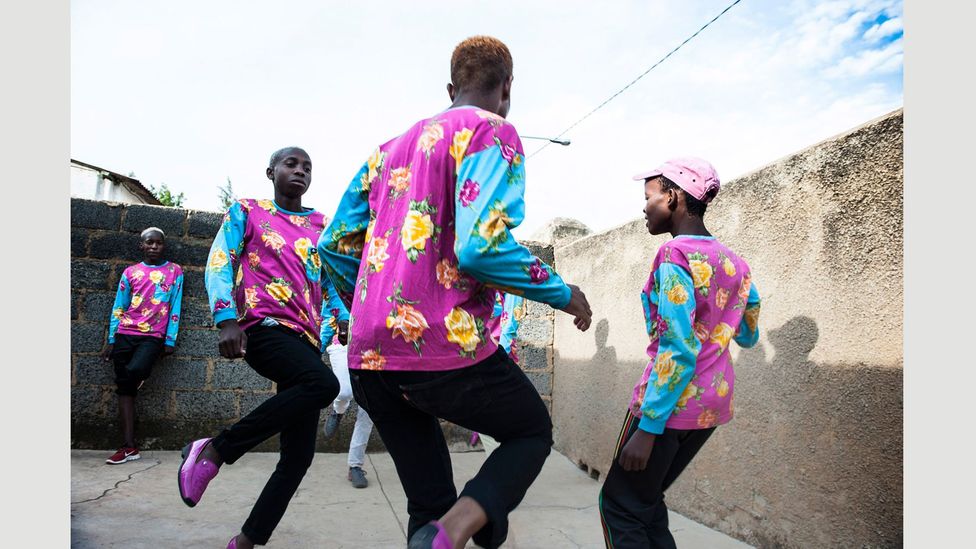 Bling battles
Another group that has emerged from the Johannesburg townships confronts their background head on. "These teenagers go by the name of Izikhothane – part of this word means 'bite me' – it's a group of young people from Soweto who are between 14 and 16 years old," says Tamagni. "They wear expensive brands to show off in an extreme way their consumerism – they're really provocative, in a way. The word 'bite me' is an aggressive way to show that they don't just buy and wear, but for them money is nothing." According to Fashion Tribes, "Izikhothane is a Zulu word meaning 'to lick', but it has now become street slang for 'bragging'. It has its roots in the early days of the movement, which first emerged around 2010, when 'Izis' would deliberately spill packets of custard, considered a treat by many poor black South Africans, and then ostentatiously lick it off their hands and clothes." The group take part in dance battles, trampling on – and even setting fire to – their designer possessions. "Izikhothane are the wild, controver¬sial born-frees who raised eyebrows for burning banknotes in public," writes Sizani. "They have been known to tear up money and destroy their own cellphones. The whole country has debated whether their lifestyle is a clever statement or wasteful stupidity." Despite this, Tamagni tells BBC Culture, the group is admired because "they create rebellious movements where the clothes become a weapon to demonstrate something more".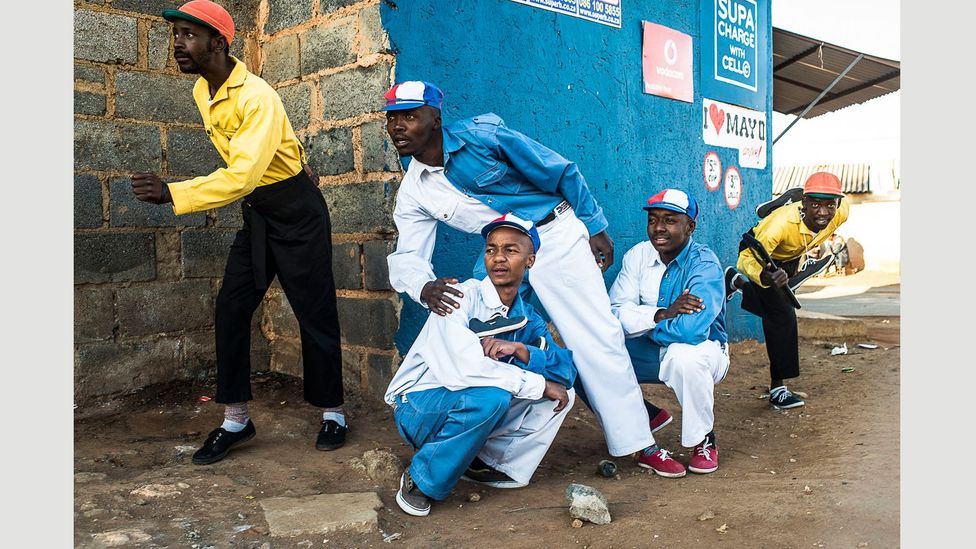 Sole power
"This group is called Tembisa Revolution, they are from a township called Tembisa in Johannesburg that used to have a bad reputation – but this young group of dancers and musicians, they brought a lot of positivity to the area," says Tamagni. He believes that young people from townships experimenting in dance, music and fashion "testify to changes in South African society, where there are possibilities to move beyond all the difficulties and differences". Writing in Fashion Tribes, Sizani argues that "What has been most important about these key style tribes is that, in South Africa, they have started a conversation. All have made us sit up and take notice, look and listen… These spirited crews stand out for having created their own culture." Tamagni agrees. "The name 'Tembisa Revolution' is meaningful in terms of how they want to represent themselves to society and give an example to the people living there," he says. "What really excited me was to see their energy and motivation – when we organised a dance in the street all the people stopped to watch. Their music style comes from a traditional South African dance that has inspired people like Beyoncé or Lady Gaga, and they improvise a lot – they do tap dance with shoes that have recycled cans attached, because the tap shoes were too expensive." Sizani sums up the message of the style tribes: "We are young and liberated and have something to say. We acknowledge the painful history of our country, yet we look forward."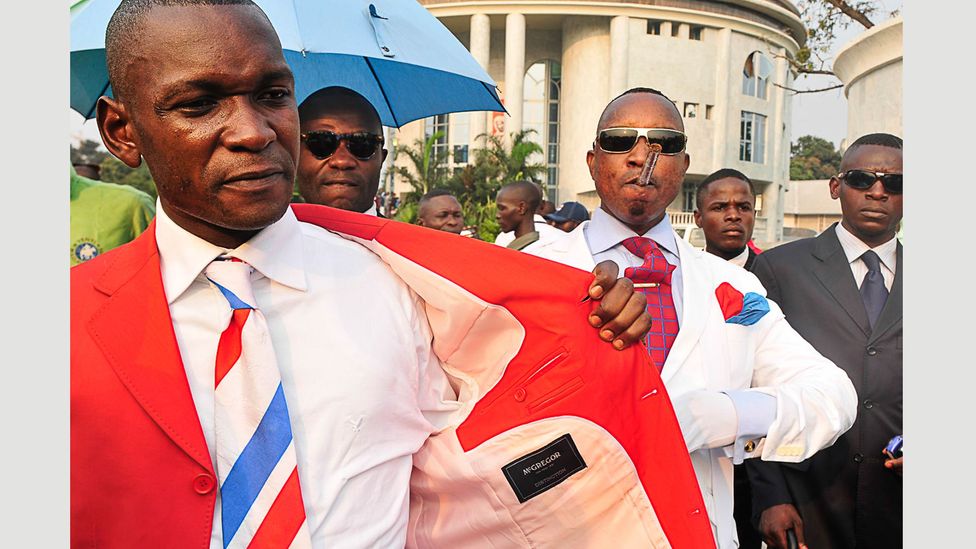 Design for life
The conflict between a colonial past and today's independence has helped to shape another fashion tribe, one that first brought Tamagni global attention. "This was a picture I took in 2008 – it was my first project for this book, where I was in Brazzaville doing a documentary for Africa magazine," says Tamagni. He was documenting Congolese dandies, or sapeurs. "They define themselves as the most elegant of Africa, an exclusive movement that was born before the independence of Congo, when the first Congolese immigrants returned from France – they brought this style of Parisian elegance and they transformed it with their own colour, accessories, with their own creative individual style – so it's really a combination of Western brands with their own inventive creativity." In another photo, two young sapeurs display that combination through their accessories. "One of them wears the colours of France – blue, red and white – and the other the yellow, green and red of the Congolese flag. It's again this relationship between Africa and the West, there is a sort of challenge where there is a devotion to France – because Congo was a French colony – but also rebellion, to say 'We Congolese can be as elegant as French people' – it's always a sort of imitation, provocation – a relationship between the West and Africa." And, as with all the style tribes, their impact travels far beyond fashion. As one of Tamagni's subjects, Manthe Ribane, explains, "You can come from the dingiest place, but it's about how you are going to see yourself, as trash or gold? Nobody knows your struggle or what you have left behind at home. It's how you are going to present yourself to the world that matters most."