It is 30 years since the world's worst nuclear disaster. Fiona Macdonald explores the work of Andrej Krementschouk, who has documented destruction – and new life – at Chernobyl.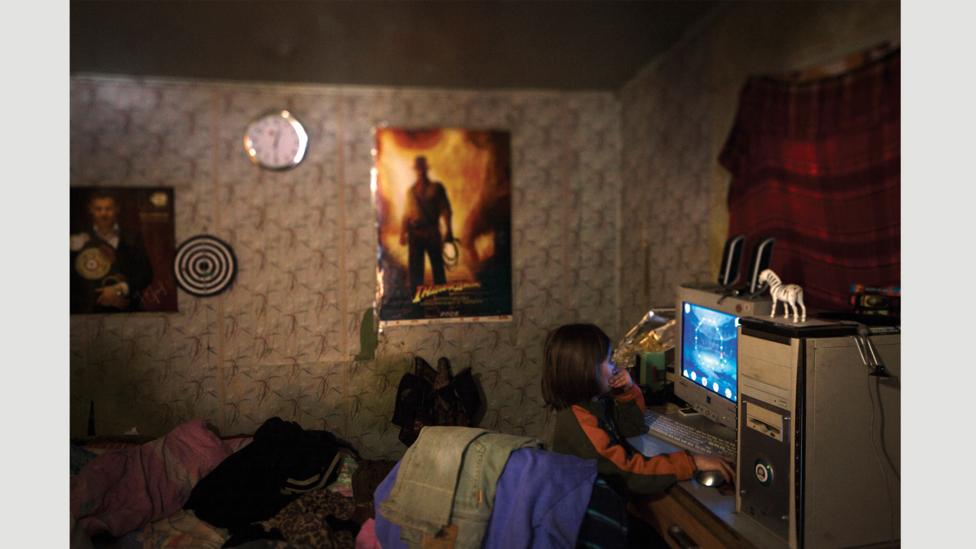 "This place is a symbol for what mankind is capable of doing to themselves. For destroying what they have built." Since 2008, [the Russian photographer Andrej Krementschouk](www.krementschouk.com) has been visiting Chernobyl, and the restricted 30km (18.6m) radius around the destroyed reactor. His images show the destruction and the regeneration at the site of the world's worst nuclear disaster. "There are even people living in Chernobyl, which isn't quite as contaminated with radiation as Pripyat," he says.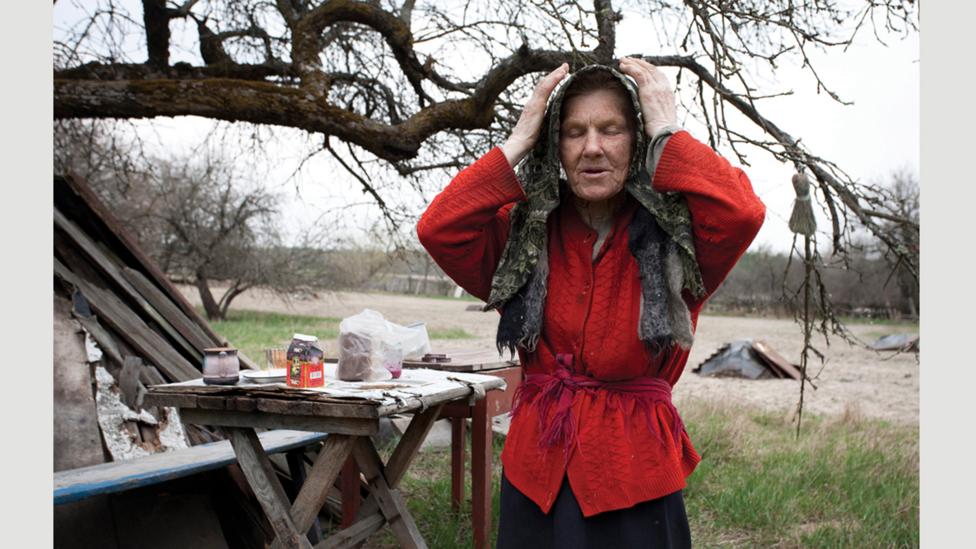 Collected in two books published by Kehrer Verlag, [Chernobyl Zone I](www.artbooksheidelberg.com/html/detail/en/andrej-krementschouk-978-3-86828-200-9.html) and [Chernobyl Zone II](www.artbooksheidelberg.de/html/detail/en/andrej-krementschouk-978-3-86828-210-8.html), Krementschouk's images reveal both the tragedy of what has been lost and the hope in the people who remain. In the second book, photography expert at Hamburg's Museum of Art Esther Ruelfs writes: "We often imagine the world after the Apocalypse – thanks to Hollywood movies – as a ruined cityscape. The sun barely penetrates through thick gray clouds obscuring the sky. Chernobyl might serve as emblem for such apocalyptic visions." But, she argues, in photographing the people who have returned illegally to their hometown in the 'forbidden zone', Krementschouk's images "confound our expectations of what a post-apocalyptic landscape is supposed to look like, showing fences overgrown with lush greenery, grass growing up through the cracks in the streets, and meter-high weeds backlit by the setting sun".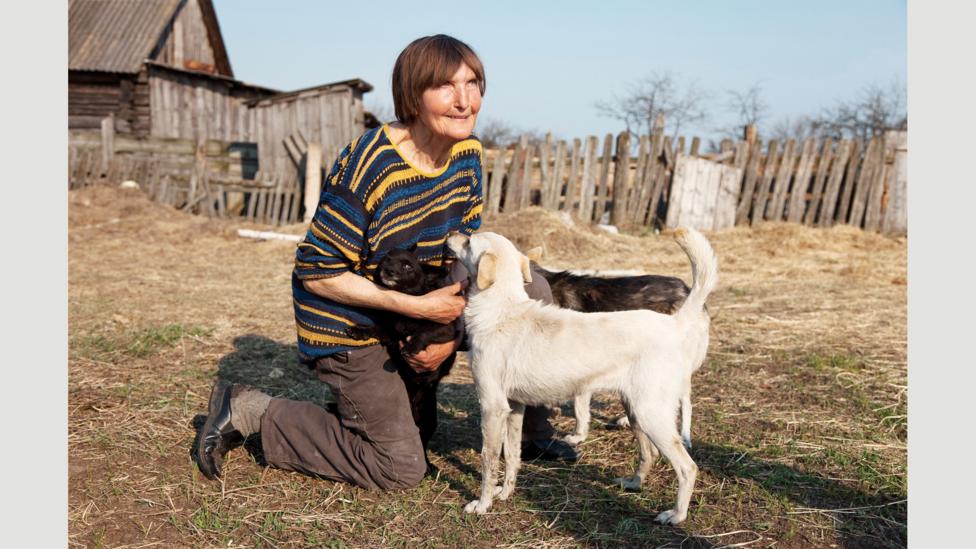 Chernobyl Zone (I) brings together Krementschouk's photos of the rural landscape and portraits of the people who refused to leave their homes, despite the danger of radiation. "We look onto a tranquil, peaceful world, a positively paradise-like, apparently pre-industrial idyll," says Ruelfs. "Humans live in close symbiosis with animals, slaughtering takes place at home, apples ripen on the windowsill."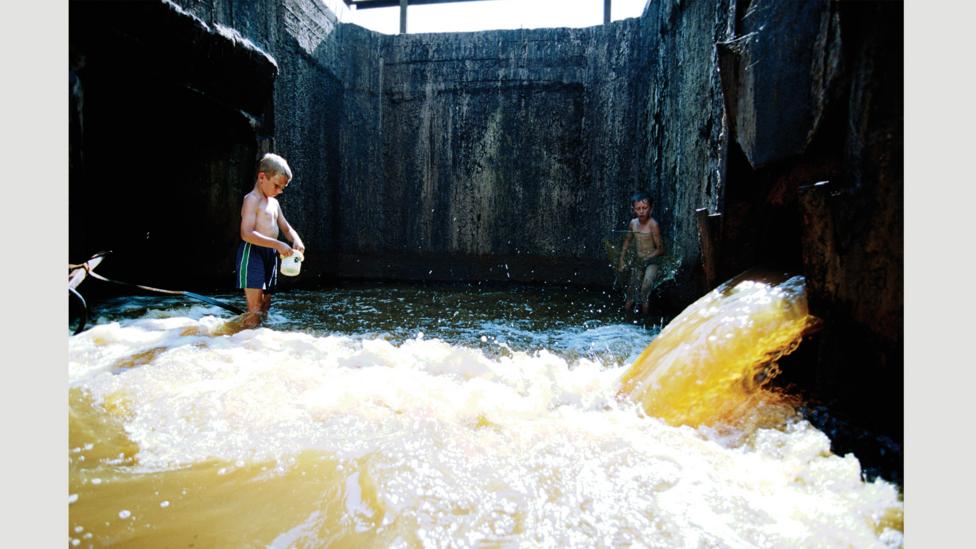 Yet although some of the landscape images appear almost bucolic, there is still a sense of unease about Krementschouk's photos. "The water in the calm stretch of river is black as ink," says Ruelfs. "And the toxic yellow of the water in a big pool where children are playing likewise acts as a dire warning of the doom lurking just behind the beatific calm."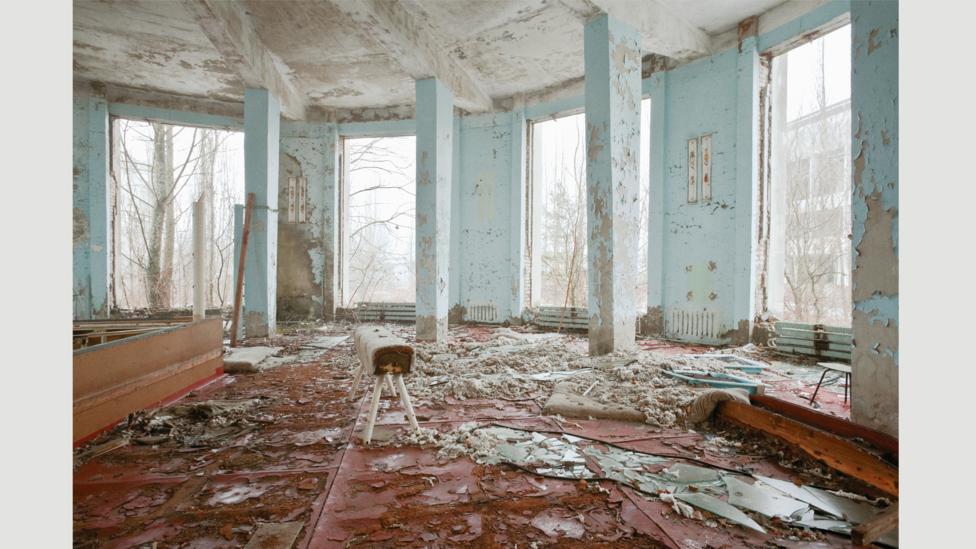 Chernobyl Zone (II) is empty of human life, simply marking the absence of people. Krementschouk has photographed the deserted urban zone of Pripyat, just 4km (2.5m) from the reactor, which was evacuated on 27 April 1986. At the time of the accident, the Ukrainian town had a population of 49,000. "What is left of the town reminds us of our own mortality," he says. "Chernobyl is the name which stands for the catastrophe, but Pripyat is the truly unbearable place."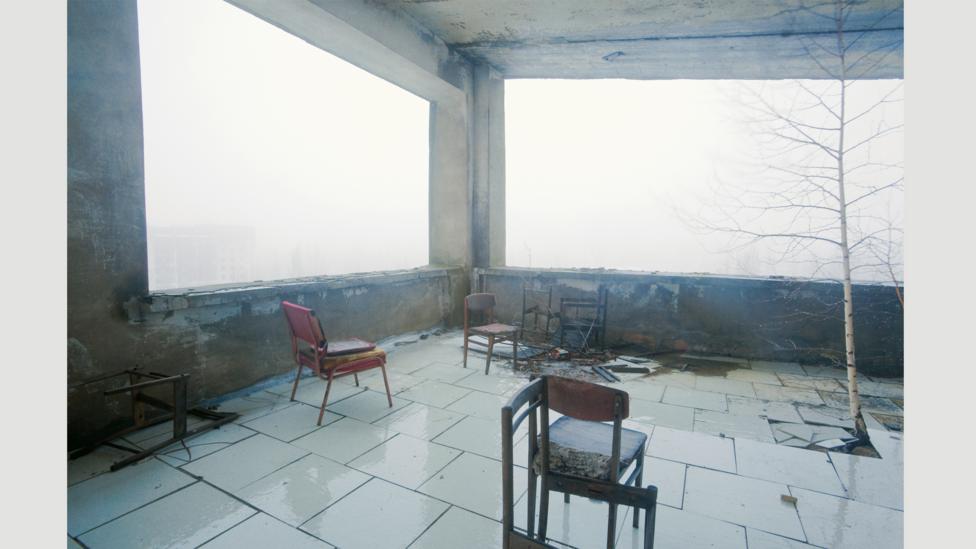 The evacuation was carried out so quickly that only hand luggage was permitted on the buses. In Chernobyl Zone (II), Wolfgang Kil points to the potency of one of Krementschouk's images: "A young birch tree growing up between smashed floor tiles in the middle of a barren room that no longer has any windowpanes. The scene is a multistory building evidently not ruined by any violent event, but rather abandoned in a headlong rush by its residents," he writes. "They didn't even bother to straighten the footstools and chairs. An infernal slumber has gone on for so long here that the trees have taken back the high-rises. A disturbing scene: the planet after we are no longer there."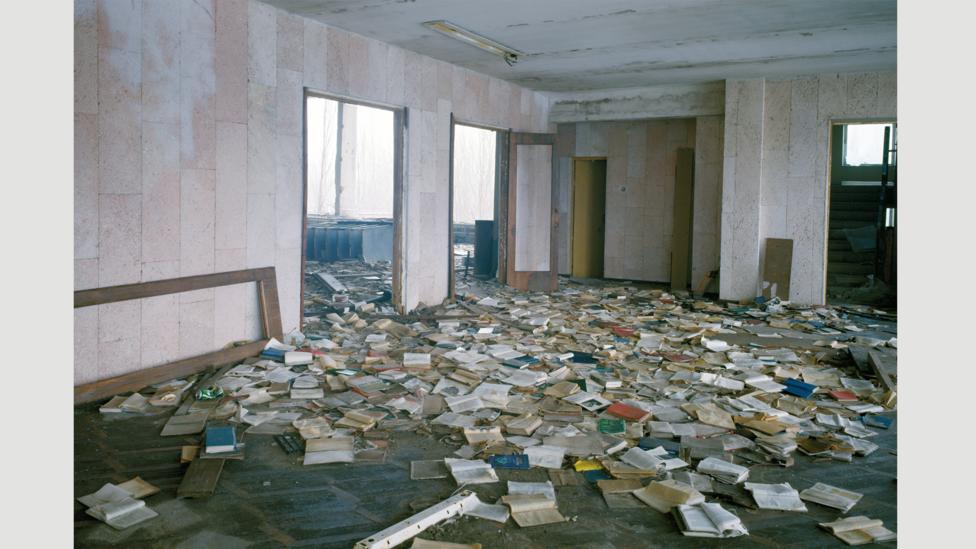 Yet even in the images of what appears to be a ghost town, the abandoned objects can be reminders of a different time. "What's left of the inhabitants' belongings comes from a bygone era; everything is mildewed, decayed, faded," says Krementschouk. "I found things in the homes that I remember from my childhood in the 1970s and 80s. A package of macaroni, a cabinet, a toy lute, fading pictures on the wall. It was like stepping into the past. It sounds absurd, but there, in the middle of the restricted zone, I was able to recognise again the country where I was born."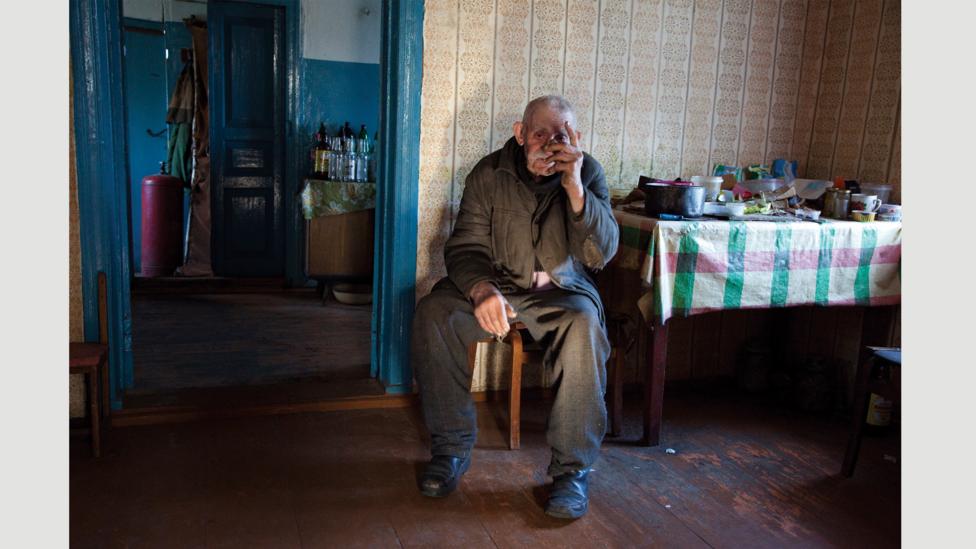 The photographer told Wolfgang Kil: "One meets up there with a part of the past when one was happy." As Kil writes, "What he opens up for himself (and for us) is the hidden door to the world before the catastrophe. By going through that door, he places himself shoulder to shoulder with those who are unable to find words for their mourning."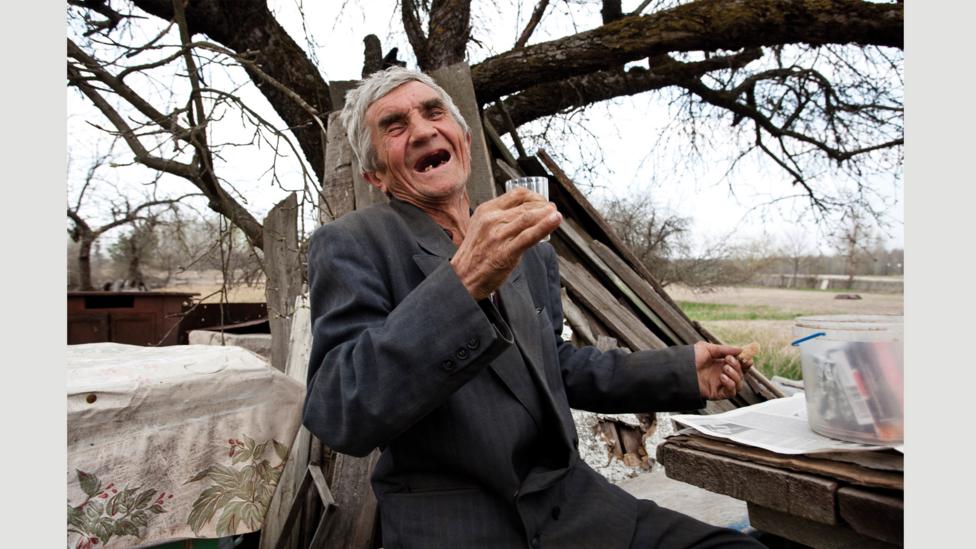 Krementschouk's images do not just dwell on the horror of what happened. As Ruelfs writes in Chernobyl (I), they "show how human and nature reconquer the contaminated terrain". According to the photographer, "There's something almost magical about the zone. Nature grows exuberantly, wild animals reproduce." And they show the bravery of the people who remain. "They have returned to their homes, where they can feel free. Having been born here they refuse to leave, even if that could mean they will have to die sooner."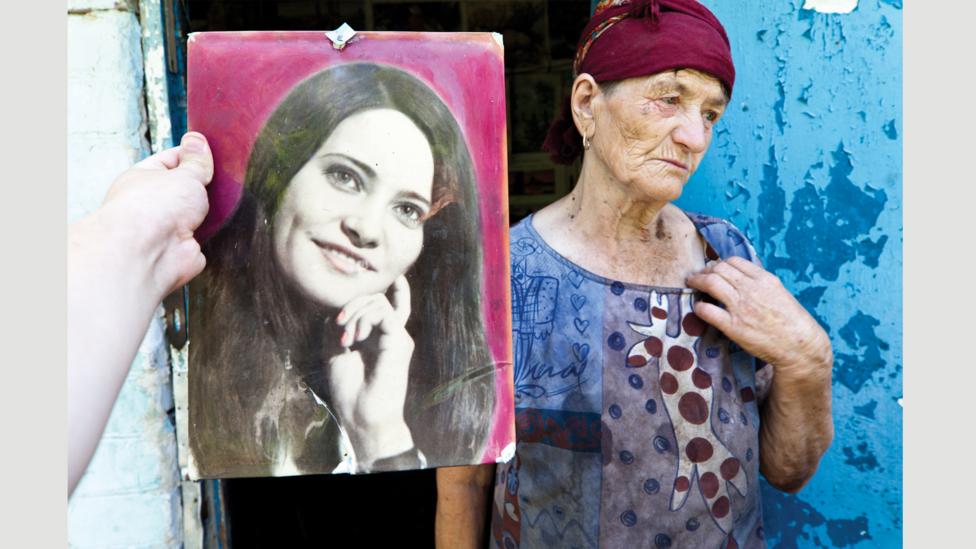 "We don't know what to think of all this horror," said one witness to the events, "Chernobyl cannot be measured either with our human experience or with our human sense of time." And it cannot be summed up in words, either. In the only text written by Krementschouk that appears in the books, he says: "As I cross out one inappropriate word after another, all I'm left with is a single phrase. A phrase that I cannot help uttering when I think of all the people who helped me, the people whom I was lucky enough to meet in Polesya, in that desolate wasteland in Belarus and Ukraine: Thank you."